Images courtesy of Alexander McQueen
Alexander McQueen brings mushroom-inspired fashion to NYC
The British house returned to New York City for the first time in over 20 years to present its AW22 collection, inspired by magic mushrooms.
Images courtesy of Alexander McQueen
Yesterday, as golden hour illuminated the windows of an old warehouse building at the Brooklyn Navy Yard, Alexander McQueen staged their first show in New York City in over two decades. The last time the storied British house was on US soil, for SS 2000, Lee 'Alexander' McQueen presented his 'Eye' collection in the middle of a category four hurricane, his models literally walking on water down the runway. "[New York] has always supported McQueen and it's part of our creative family," creative director Sarah Burton said backstage after the show. "It is part of our community, a place that has always welcomed us, and this season I want to honour that."
To set the stage for a show celebrating this sense of community, of connection, Sarah took a similarly naturalistic approach for AW22. The airy waterfront space was transformed with sky-high wood chip piles recycled from trees that had fallen down naturally, and which will be returned to nature as fertile clippings. If last season took us into the clouds, McQueen brought us back down to earth last night, with a collection inspired by some of the planet's oldest living organisms: mycelium.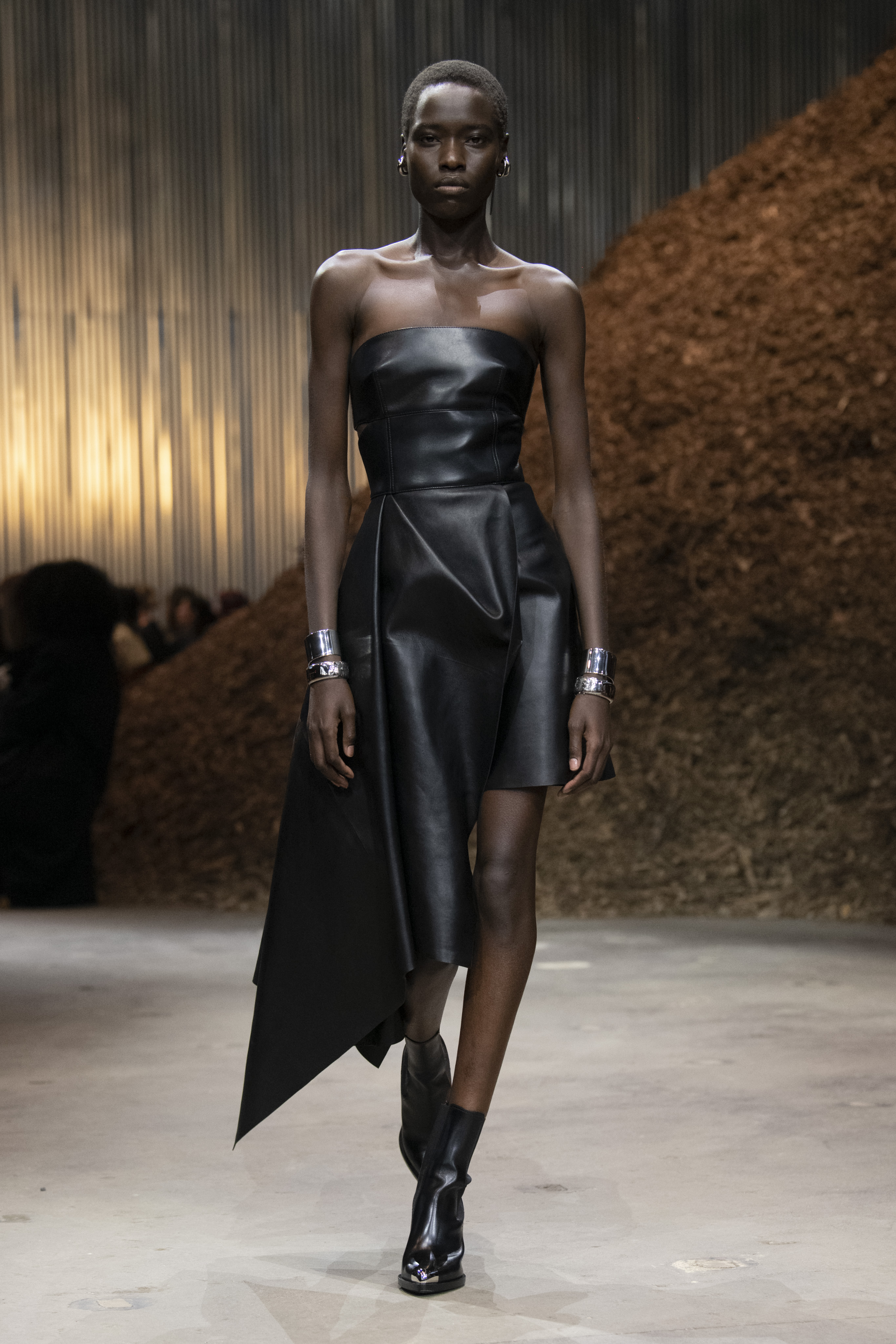 Magic mushrooms have been having a moment for quite some time now, from the psychedelic fashions they've inspired over the past few seasons to increased recreational usage, and their medicinal properties when it comes to treating mental illnesses like anxiety and depression — as well as developing plant-based alternatives to leather. As we become more versed in their healing powers we might all have mushrooms on the brain, but one thing that's not often discussed is the interconnecting power of mycelium within the oldest community of all: nature. "When a tree is sick, it can send out messages through mycelium to tell other trees that it's sick, and the other trees will send food and water back to the tree to heal it," Sarah says, illuminating the communication mechanisms of this magical underground community. "I loved the idea it was all these communities talking together and helping each other, which is how we work in the studio."
Hence, Sarah and her team looked to photographs of fungi to inspire this season's looks, specifically the bulbous gowns that sprouted up from the runway as if being unearthed from the dirt. These deconstructed corset dresses – done in vibrant yellow, chartreuse and black – channel the silhouettes of mycelium, themselves, with asymmetrical skirts and voluminous necklines. They were made from recycled poly faille – in fact, 85 per cent of the fabrics used in the collection are 'sustainable' – taken apart and then beetled in Ireland to create a magnificent crumpled effect.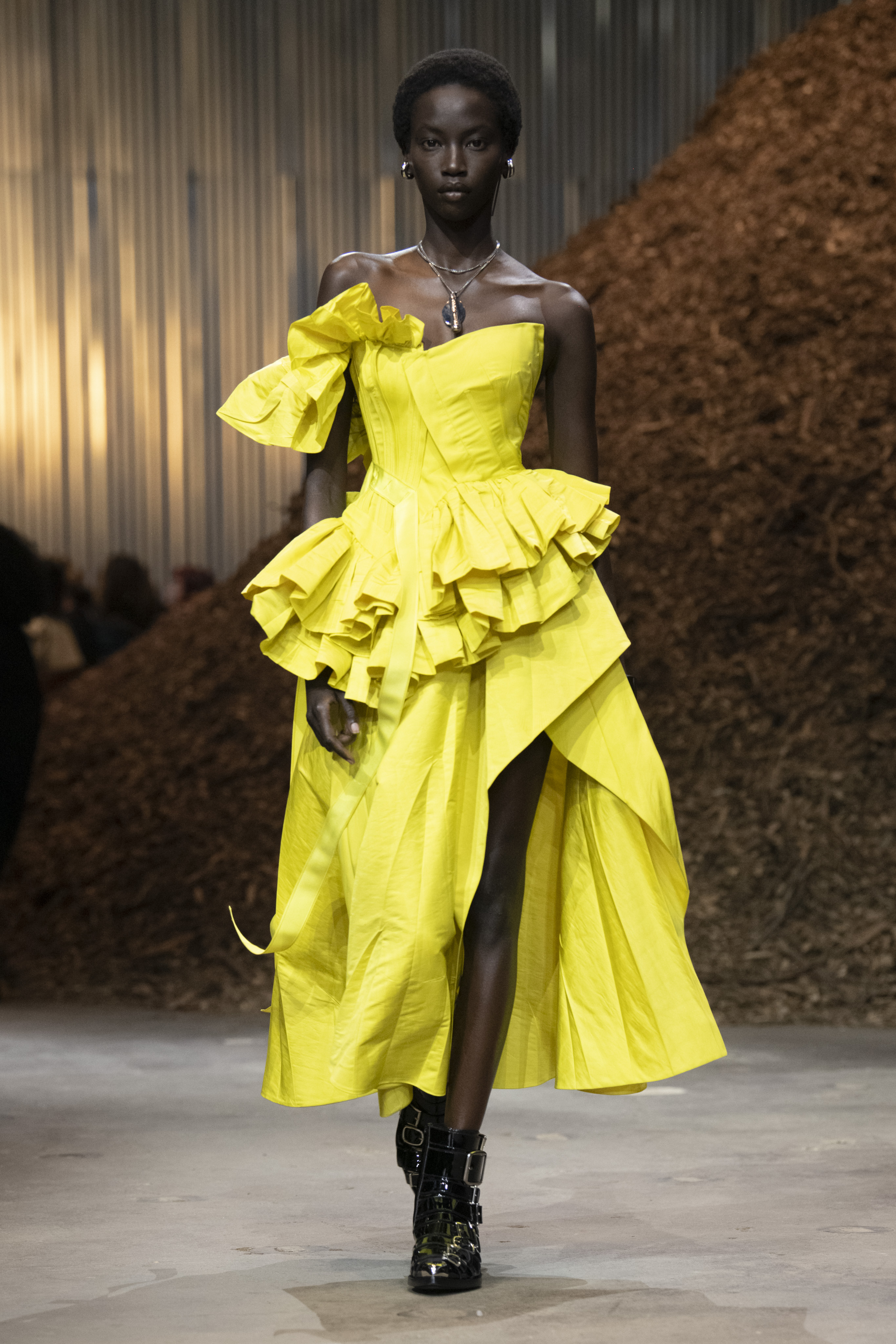 "I wanted them to have this sense that they were almost buried under the earth," Sarah explained. "So we made the whole garment and then completely flattened it, took it apart under the back seam and beetled it. It's a very old linen pressing machine that completely crushed the dresses."
The AW22 collection is also about duality, which has always been a part of the McQueen DNA. "If you look at mushrooms, in nature, there are these incredible colours that are completely natural. And the thing about a mushroom is it can be healing or it can be toxic," Sarah says. As such, the voluminous silhouettes of the gowns are contrasted with structured jersey bodycon dresses and a sharp tailored wool coat, slashed at the side to reflect the gills on a mushroom's underside. The bright eye-catching colorways are set against more neutral hues, mostly black, featuring a range of versatile leather jackets that are either off the shoulder, sliced up the arms or at their ends – flitting around the models legs like the base of a tree.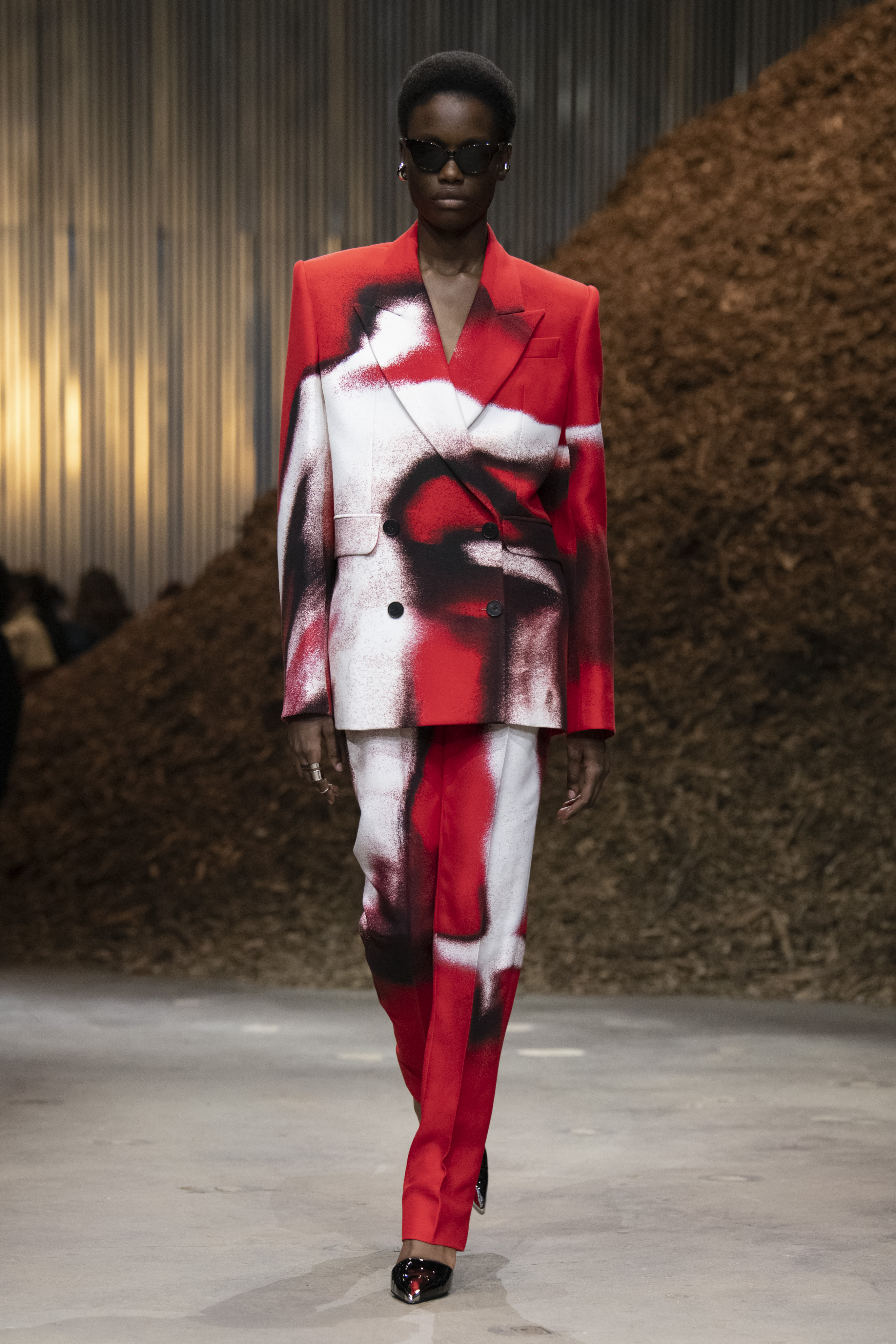 The mushroom as a metaphor for interconnection and community between people certainly anchors McQueen's AW22 collection, but what also shines through after everything that's happened over the past few years, and the utter devastation of our current moment is a glimmer of hope. "When we returned to the studio after Christmas, there was a huge mushroom growing outside on our balcony and what was amazing was it was coming out of a concrete floor against the window," Sarah shares. "It made me think, you know, maybe whatever humans do to the world, nature will survive. It was a very beautiful thing, that you know, it can conquer all. It will prevail."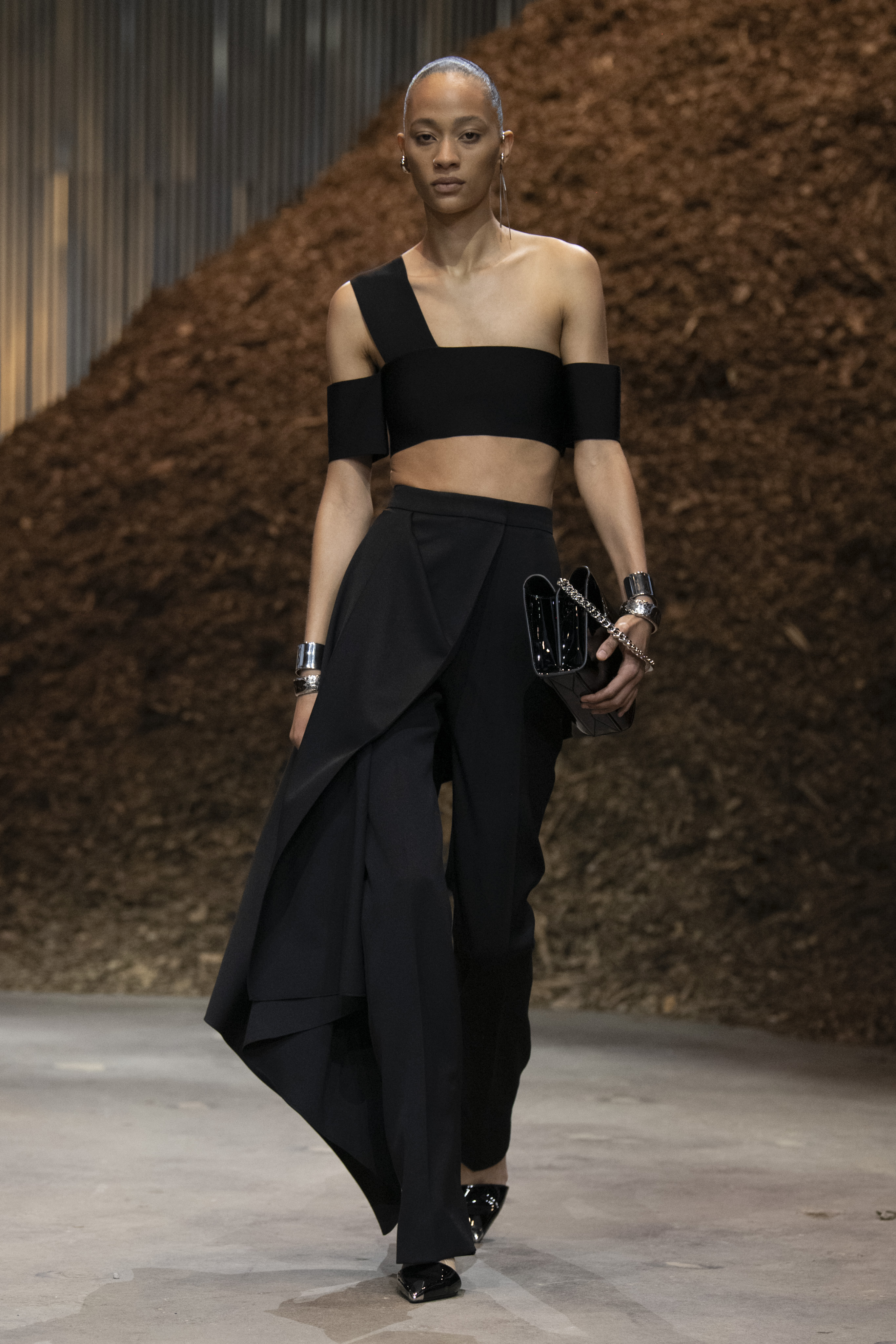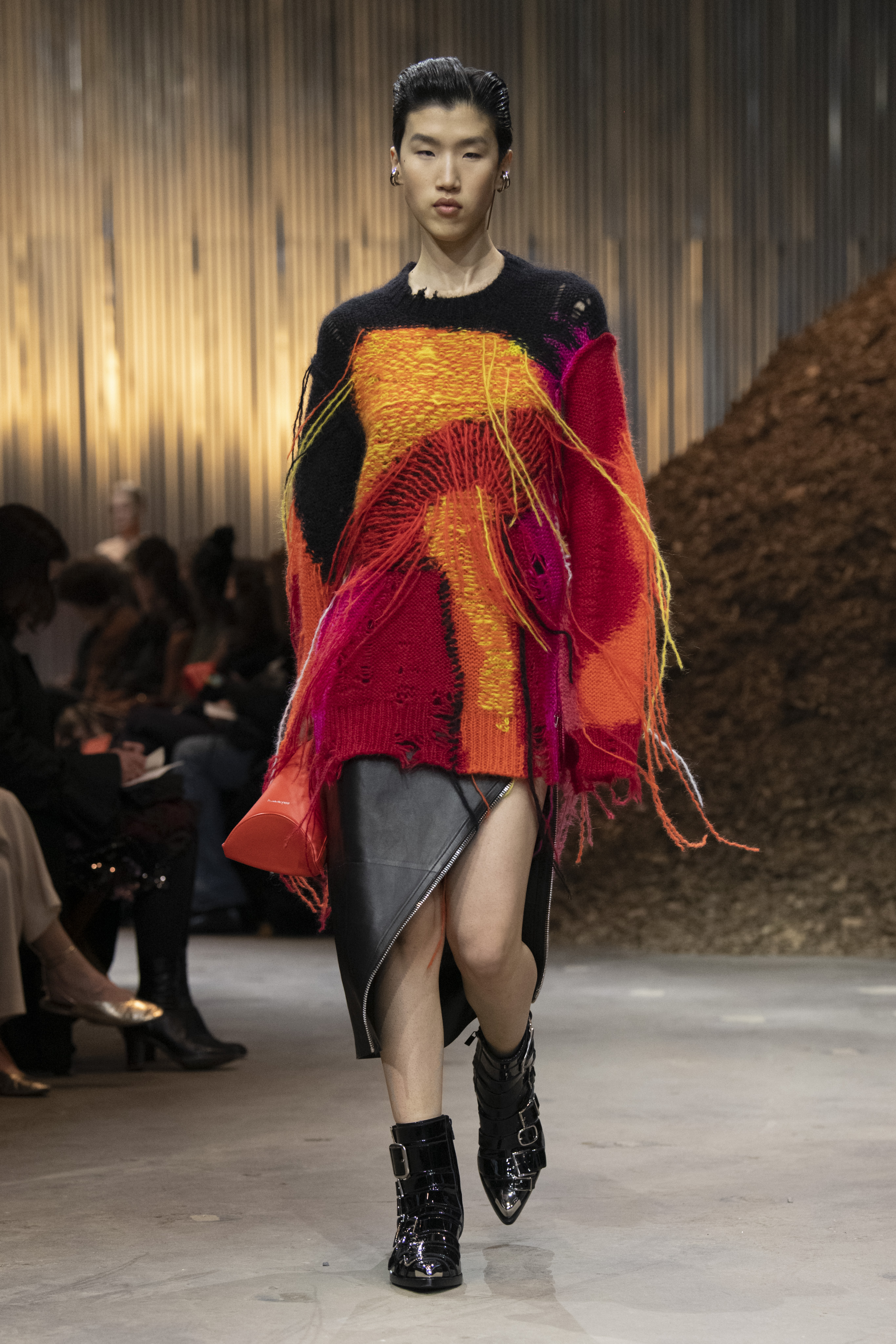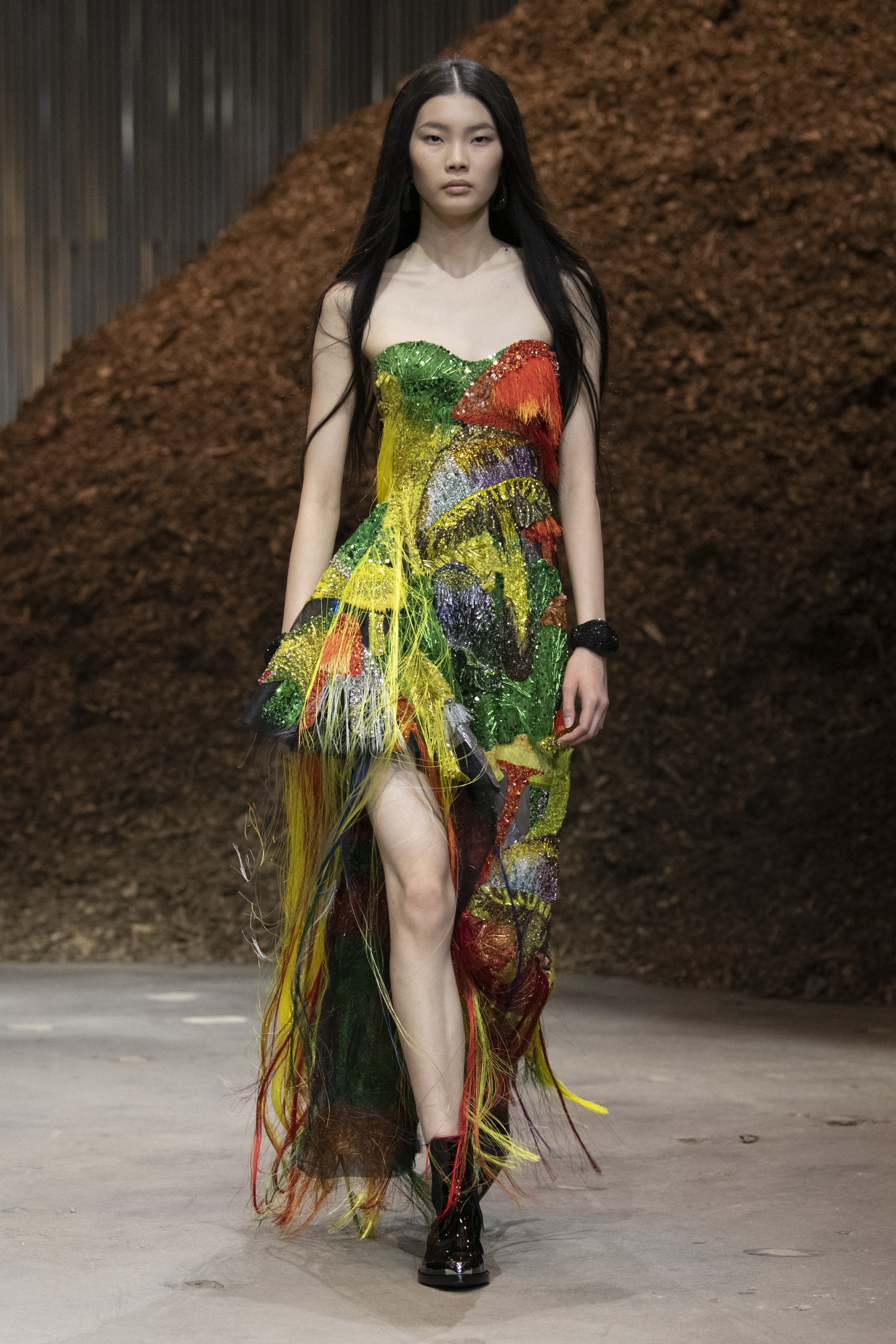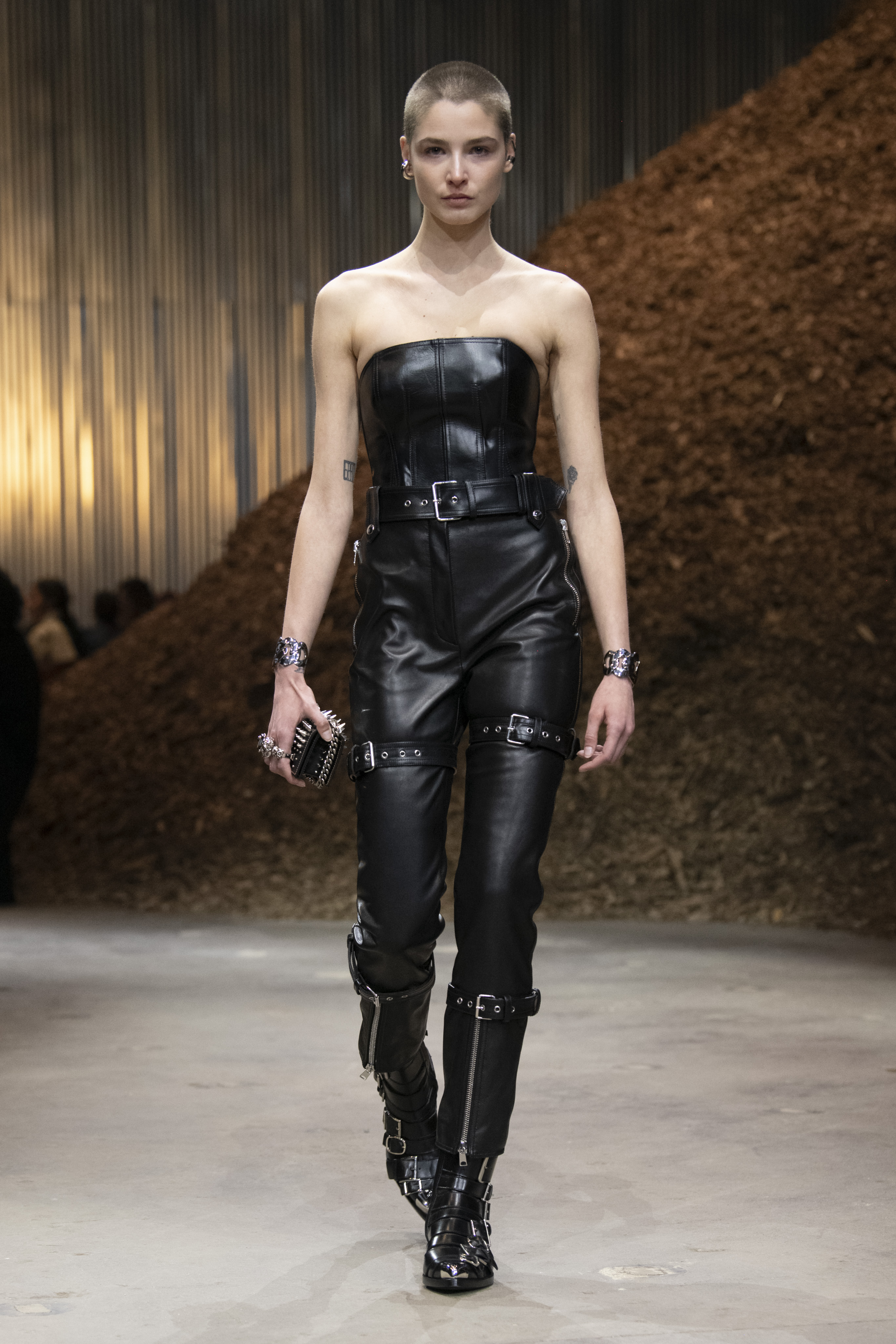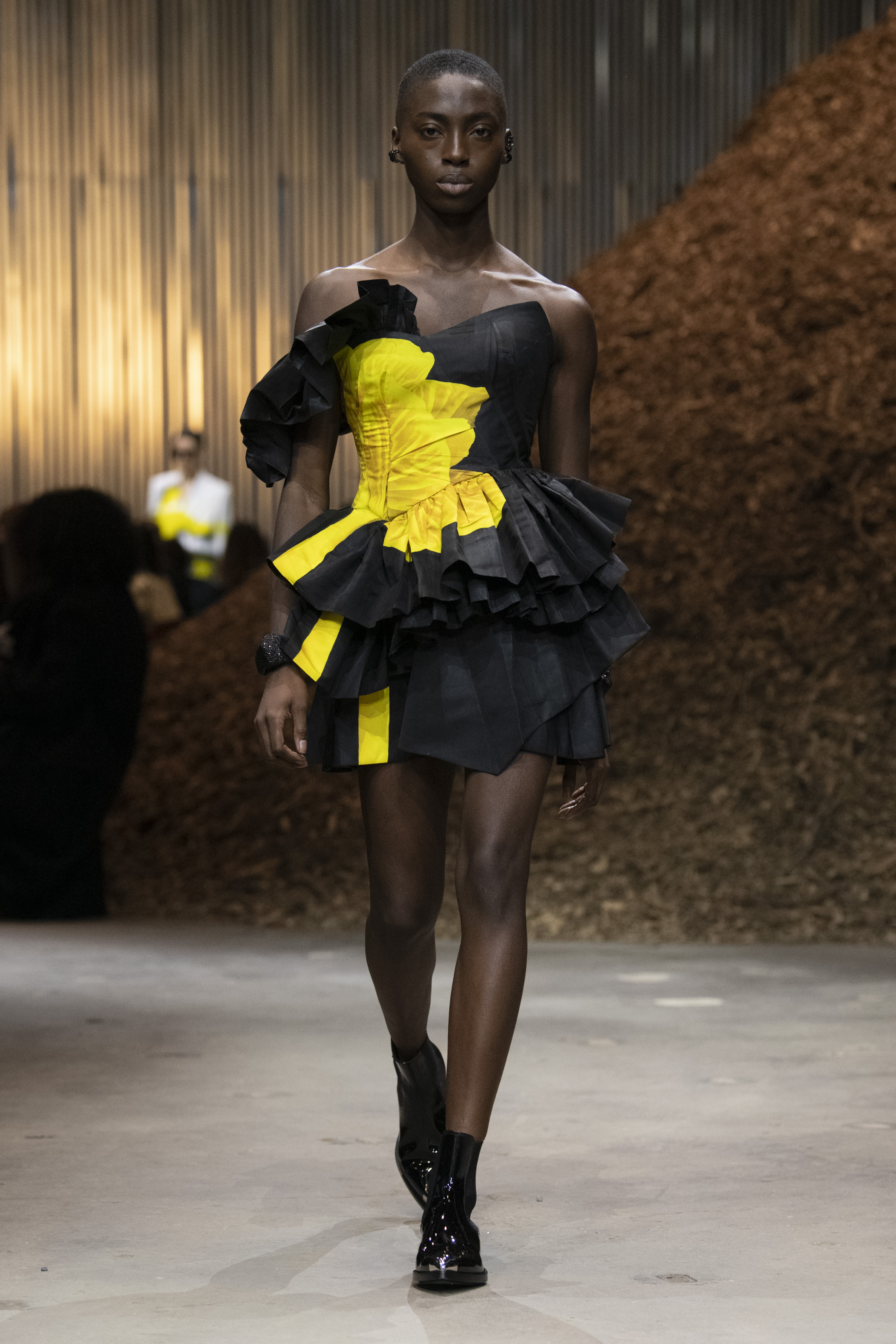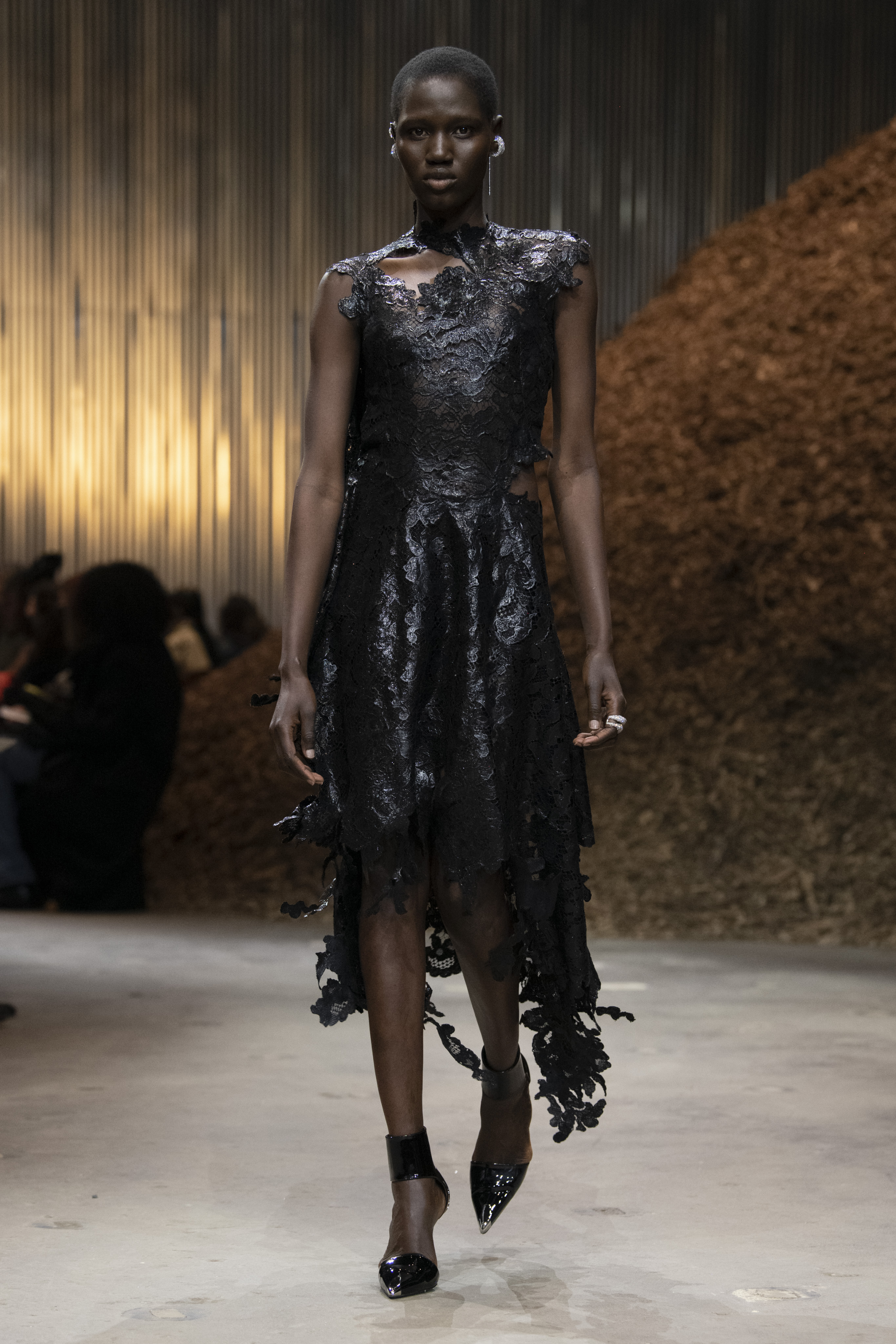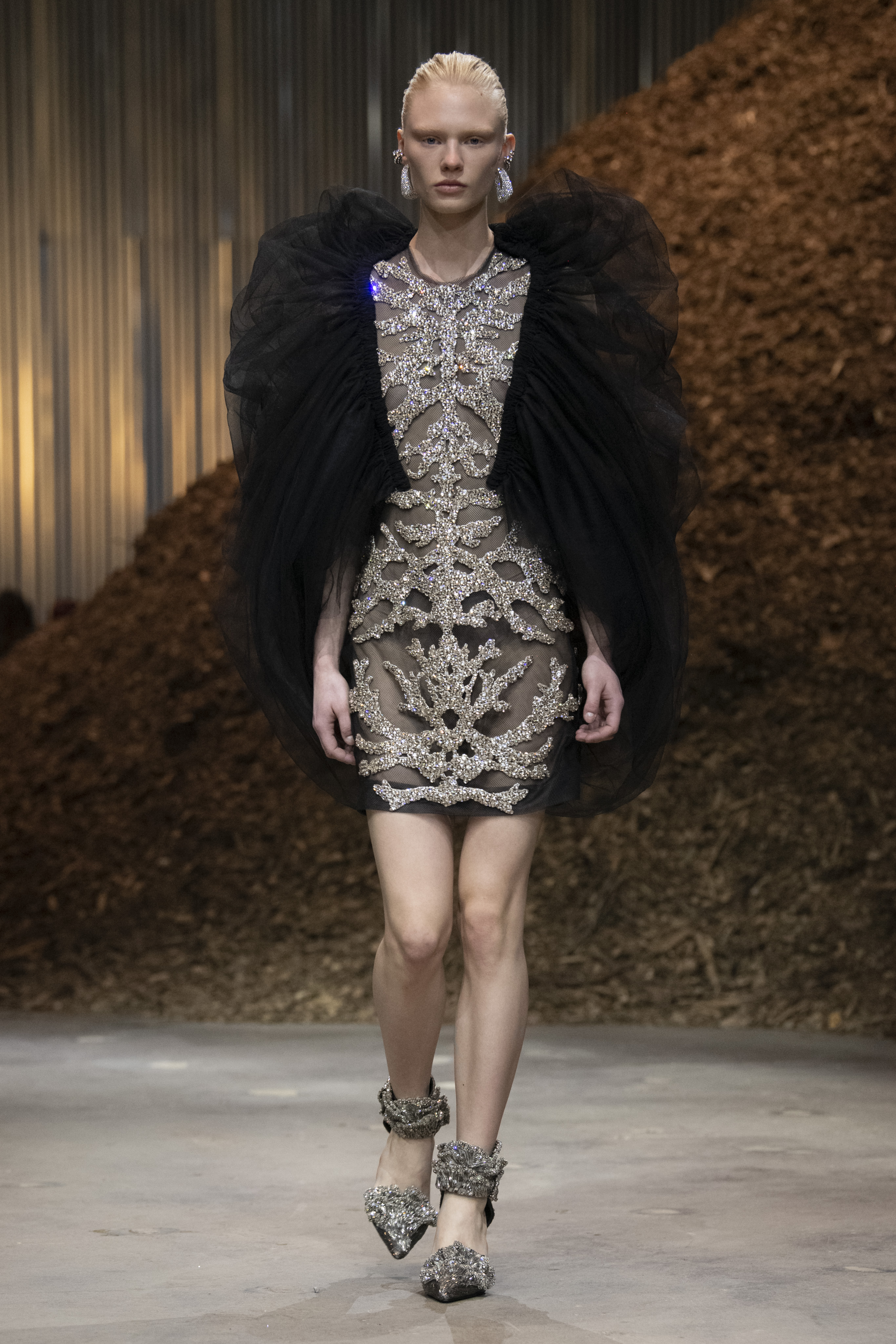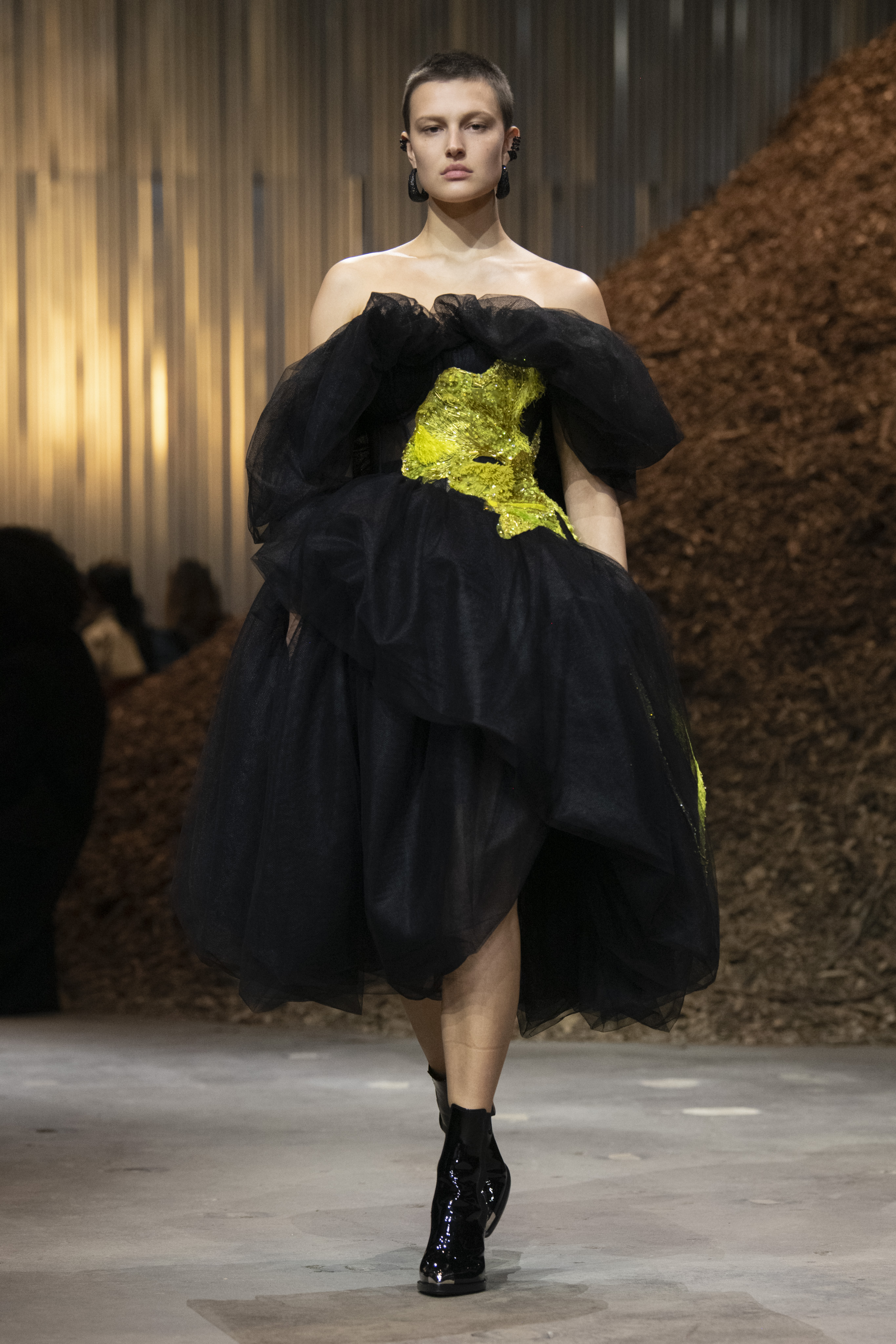 Follow i-D on Instagram and TikTok for more on fashion.
Credits
---
All images courtesy of Alexander McQueen.