Photo by Gary Null/NBCU Photo Bank/NBCUniversal via Getty Images via Getty Images, by Jim Smeal/Ron Galella Collection via Getty Images, by J. Merritt/FilmMagic and Marc Piasecki/Getty Images
A guide to Céline Dion's style evolution
In naked dresses and Dior tuxedos, the French Canadian sensation was a style star long before her viral Vetements moment.
|
22 December 2021, 8:00am
Photo by Gary Null/NBCU Photo Bank/NBCUniversal via Getty Images via Getty Images, by Jim Smeal/Ron Galella Collection via Getty Images, by J. Merritt/FilmMagic and Marc Piasecki/Getty Images
Céline Dion has been the "Queen of Adult Contemporary" since the 90s, when she emerged from her Québec teen idol origins and onto the international stage with mega-anthems like "The Power of Love" and "Because You Loved Me". She's since claimed the title of Canada's all-time bestselling artist and been named a Billboard Icon. In the late 2010s though, the singer added another distinction to her seemingly endless list of accolades: Queen of Couture Week. Céline has become one of fashion's street style stars to watch for her daring, humorous and, dare we say, camp-y fashion moments. Whether wearing Y/Project's infamous 'janties', breathtaking Iris Van Herpen gowns or one very meta Vetements hoodie, the singer always puts her best Manolo Blahnik x Off-White stiletto'd foot forward when it comes to fantasy dressing.
But what new fans of Céline's fashion might not realise is that she has always been one of pop music's foremost style stars. In 1993 — before Carrie Bradshaw and Kate Moss — the then-emerging singer made a splash at the Grammys in one of the 90s formative naked dresses. By the end of the decade, she was making red carpet fashion history in a Galliano-for-Dior tuxedo. And her Y2K looks are just as outré and fun as you'd expect from the chanteuse, who brings a certain French Canadian je ne sais quoi to dressing up, whether she's sporting bedazzled takes on 90s minimalism or no-holds-barred interpretations of 2010s opulence. Here, we take a look back at Céline Dion's style evolution — from the 90s through to today.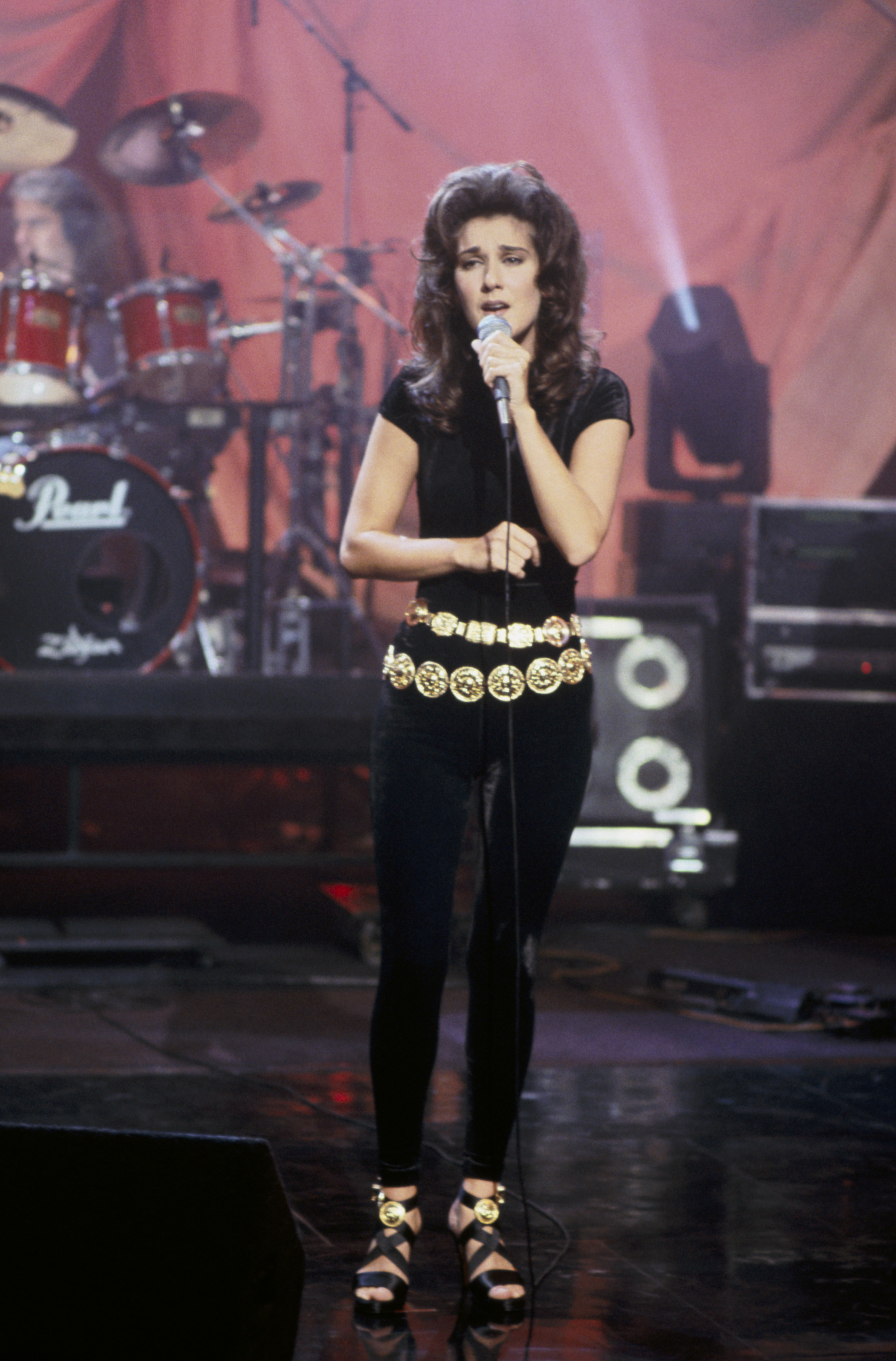 Performing on the Tonight Show with Jay Leno, 1992
After winning 1988's Eurovision Song Contest (representing Switzerland, we're not sure why either), Céline was catapulted from her French Canadian origins to international fame. The singer's breakthrough era bridged the 80s and 90s, spanning her Eurovision win and the launch of her star-making 1993 album The Colour Of My Love. Along with her sound — which evolved from soft rock to adult contemporary — Céline's early-career style reflected the transitional nature of the period. Think 80s-by-way-of-90s prom dresses, nylon leggings, Versace corset gowns, acid-wash jeans, big hair and biker jackets. Here, she performs on The Tonight Show wearing a look that merges the best of both decades: minimalism, Jazzercise, Versace and gaudy gold accessories.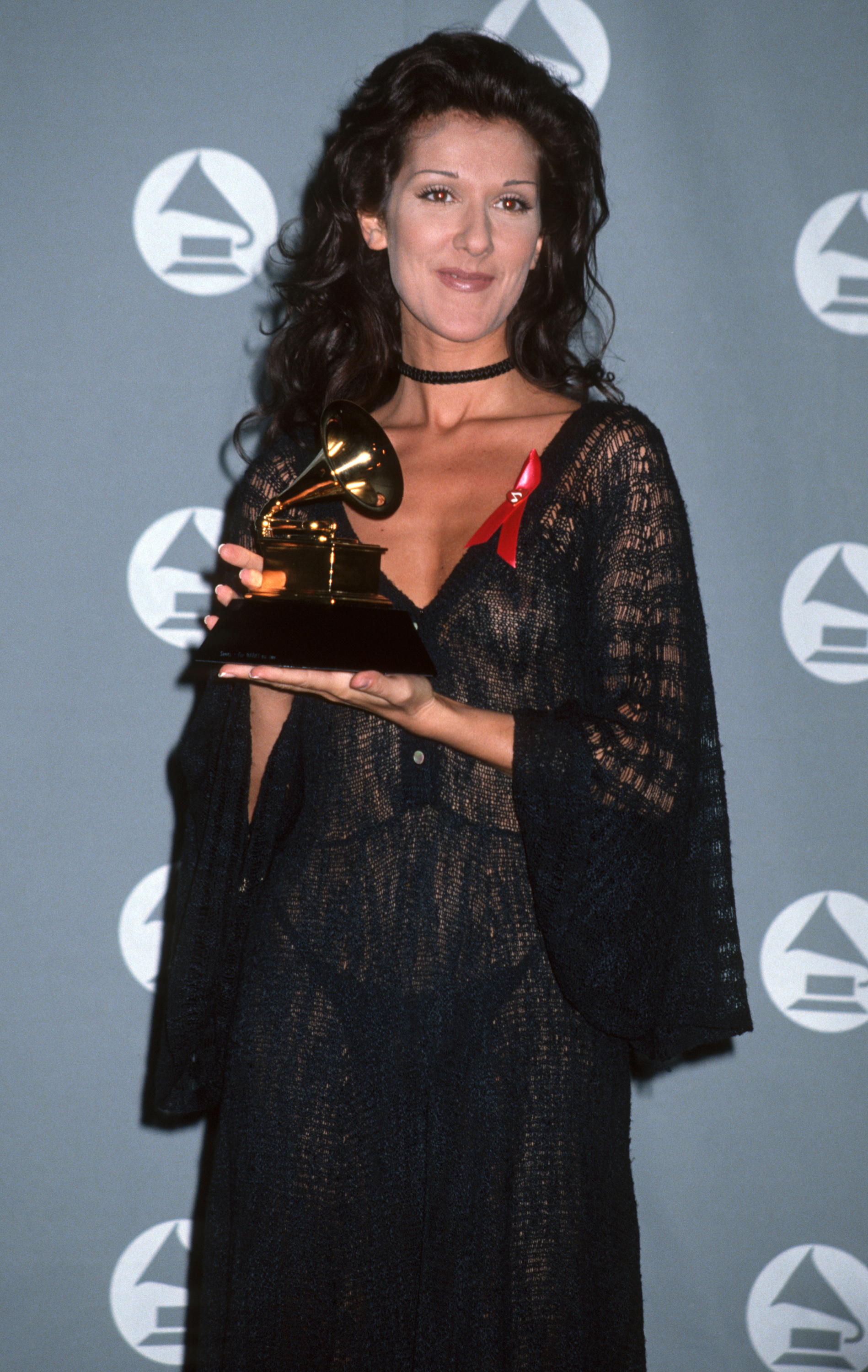 At the Grammys, 1993
In 1993, Céline lent her vocals to Disney's Beauty & the Beast, recording the film's titular track alongside American singer Peabo Bryson. The single earned Céline her very first Grammy award — the first of five in the decades to come. To scoop the prize, Céline wore a sheer crocheted dress accessorised with skinny eyebrows, a choker and her lacy thong. This underrated (and, honestly, pioneering) exposed-thong look was the singer's first major "fashion" moment, a sneak peek into the many risk-taking looks that would follow.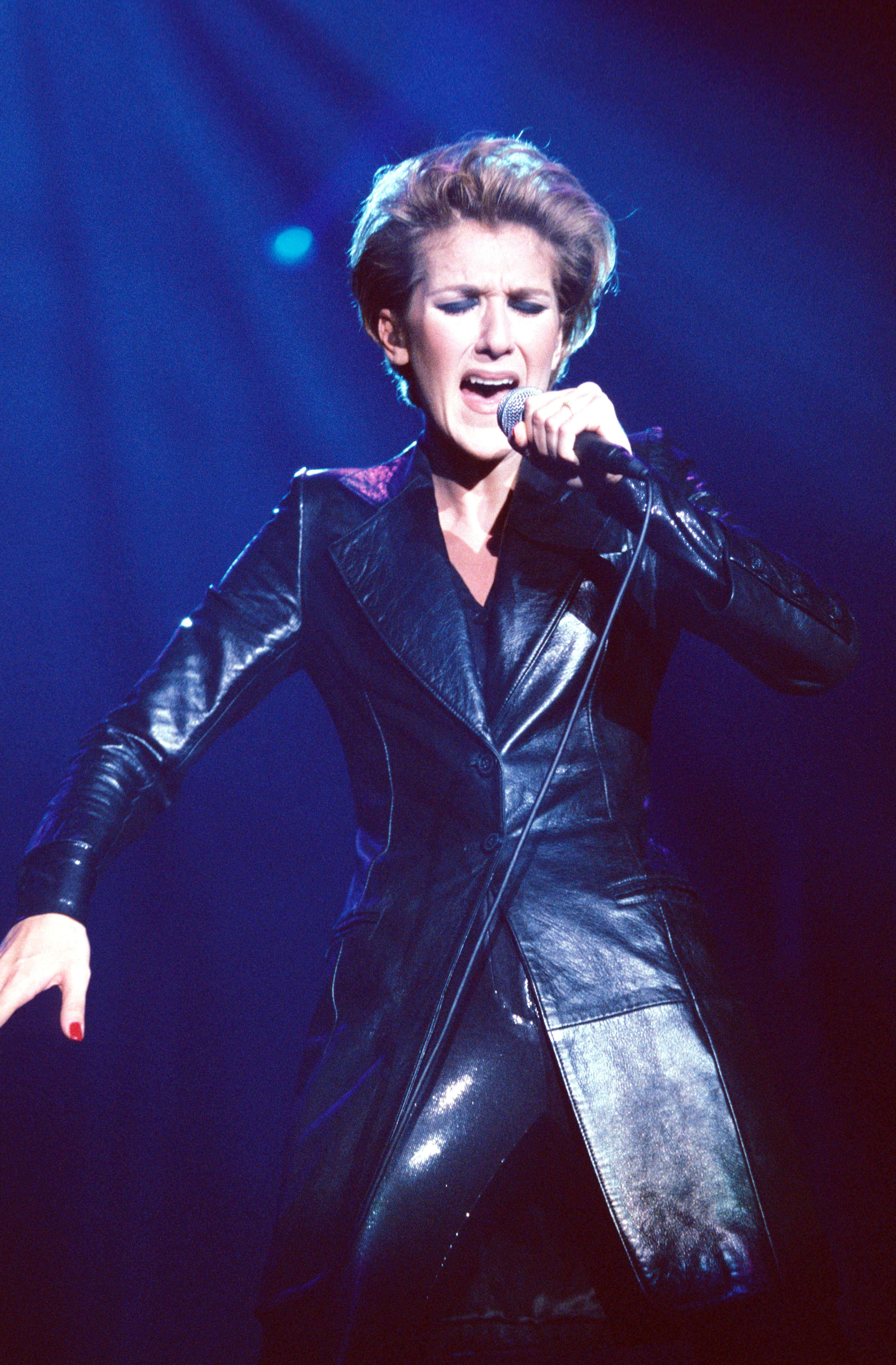 In concert, 1995
By 1994, Céline had fully embraced simple 90s dressing with androgynous suiting, crop tops and column skirts, slinky slips, pleated miniskirts, fuzzy cardigans and sweater dresses. Here, performing in 1995, she wears the kind of sleek leather suiting that defined the era.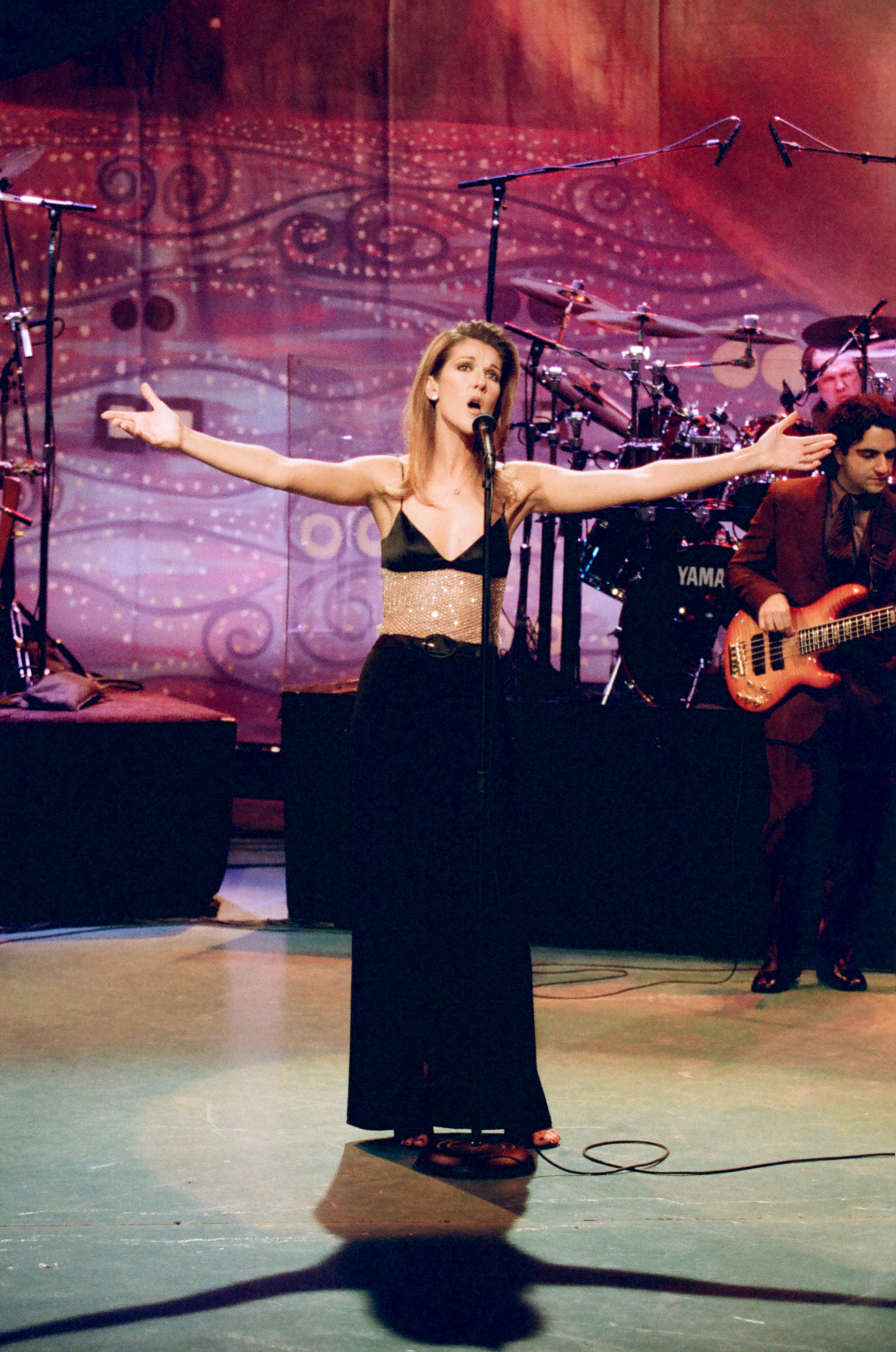 Performing on The Tonight Show, 1997
The end of the 90s saw Céline take a more glitzy, glamorous approach to the decade's pared-back fashions. This crystal-embellished two-piece, worn to perform on The Tonight Show, is one of Céline's first forays into the bedazzled, maximalist fare that would soon become her signature.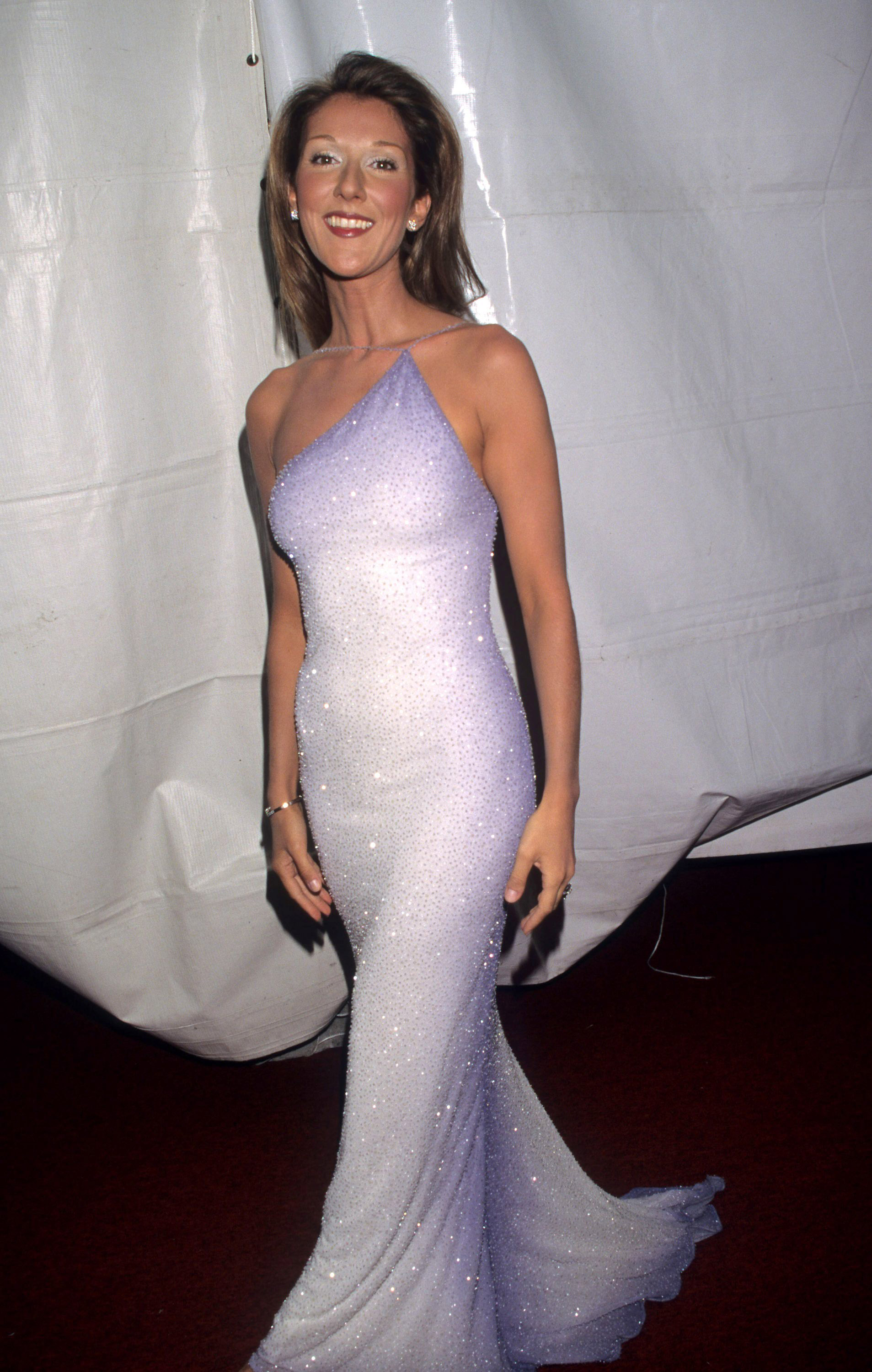 At the Grammys, 1998
Welcome to Céline's "My Heart Will Go On" era. During the press tour for the iconic Titanic single, Céline sported a string of glistening, beaded gowns reminiscent of the icy look she wore in the single's music video. Her iridescent dress for the 40th Grammy Awards — held in place by a single thread of crystals around her beck — epitomised this mood. She wore it to perform the aforementioned doomed ship theme before taking home the Best Pop Collaboration award for her duet with Barbara Streisand, "Tell Him".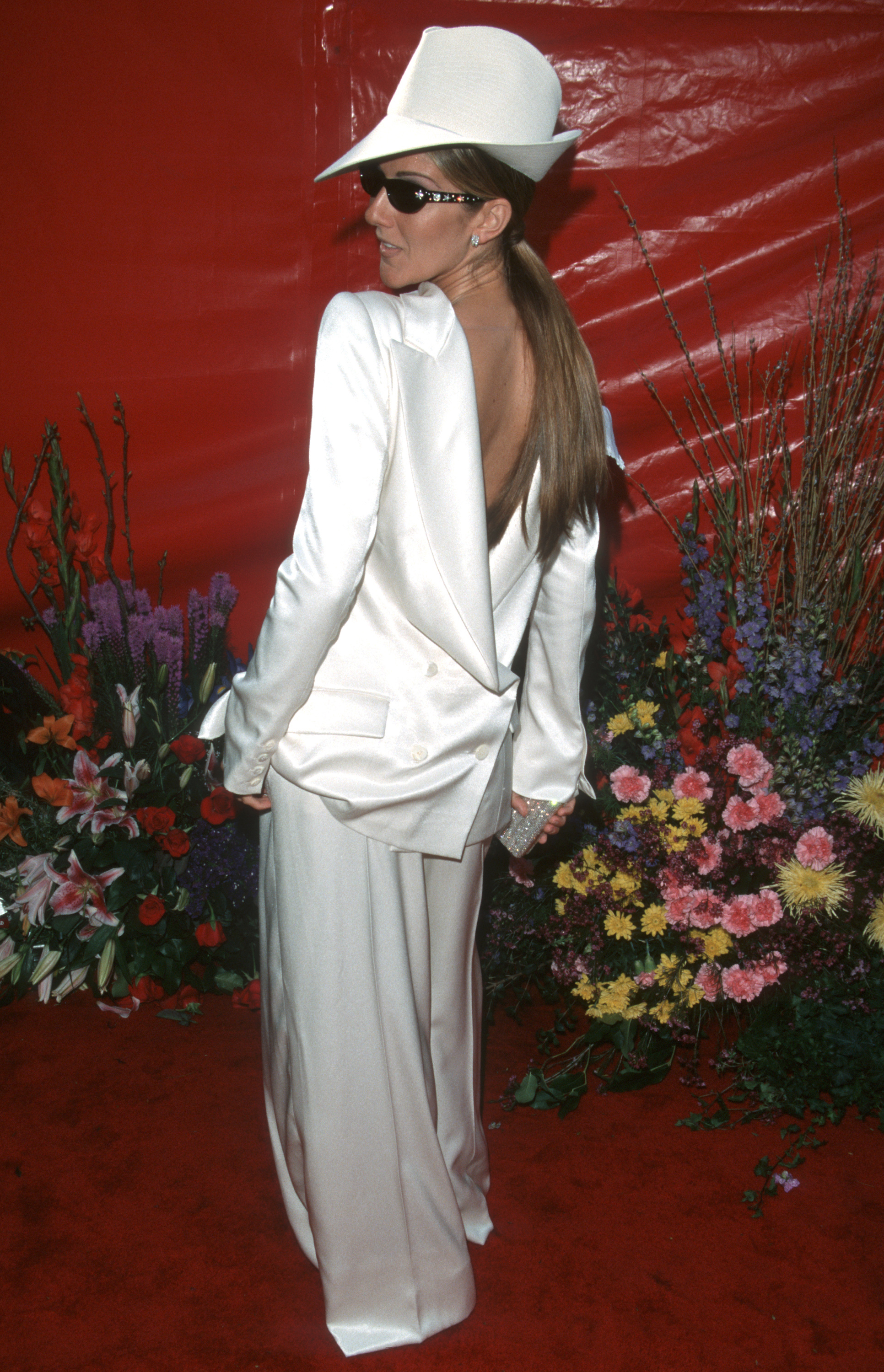 At the Academy Awards, 1999
With one Galliano for Dior look, Céline transformed from musical legend to fashion icon. In 1999, Céline shocked red carpet onlookers and fashion critics alike when she wore a reversed tuxedo on the Academy Awards red carpet. In an era where red carpet dressing for women was limited to dresses and gowns, Céline's Dior look was a risky choice, indicative of the singer's fearless approach to dressing up.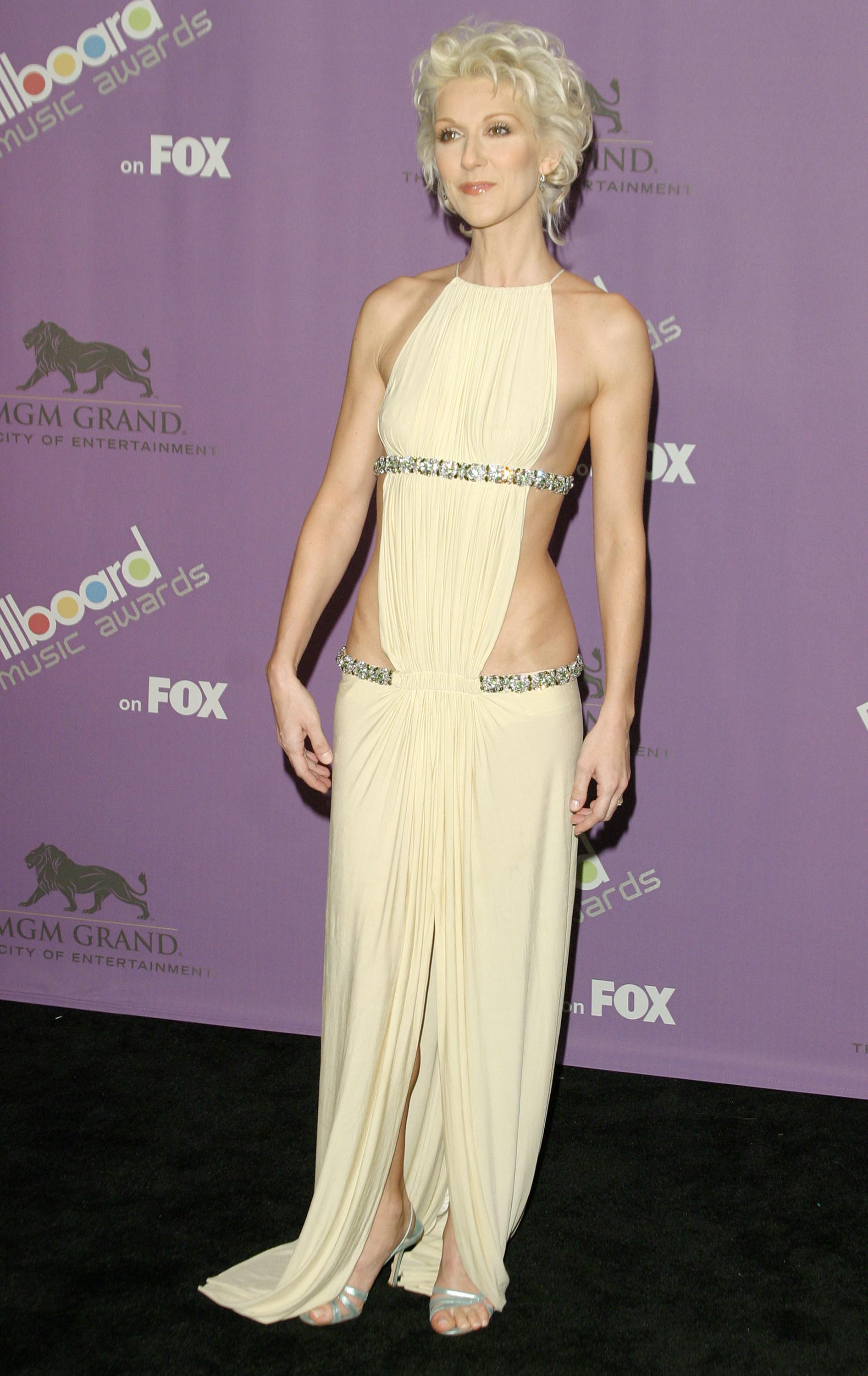 At the Billboard Music Awards, 2003
Remember when Céline wore a Juicy Couture tracksuit to perform at VH1 Divas in 2002? What about the handkerchief top she donned for her Superbowl performance the same year? Céline's Y2K style was all about the era's slinkiest, sexiest and trendiest looks. Think cowl-necked dresses, hip huggers-and-fringed belts, lacy 'going-out' tops, sporty pink, fur boleros and, of course, the thin, useless scarf. Here, to the 2003 Billboard Awards, she wears one of the era's signature jersey dresses: a glitzy hip-revealing number by Alexandre Vauthier.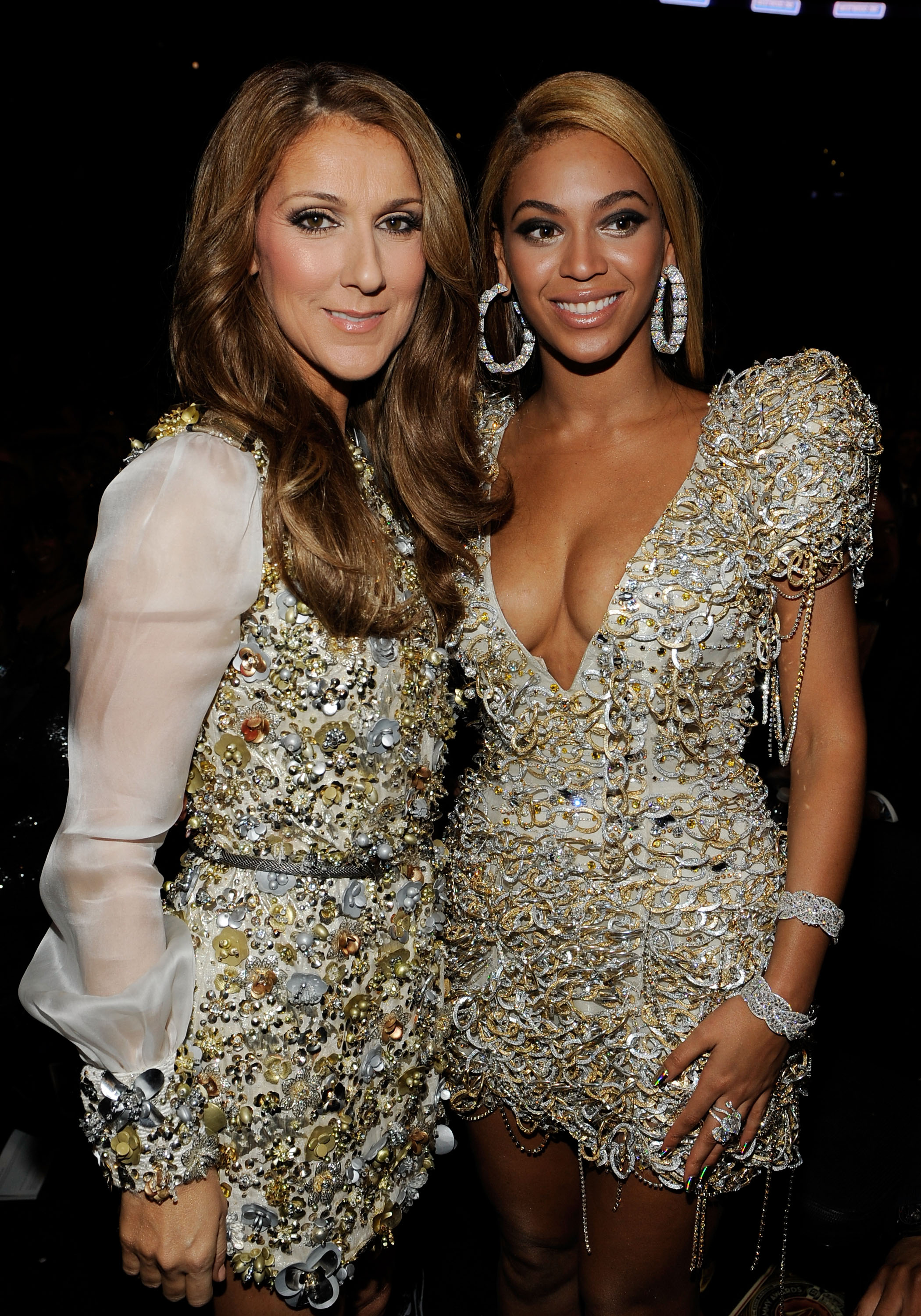 At the Grammy Awards, 2010
The late-00s was a time of Christophe Decarnin's Balmain and an onslaught of bedazzled party dress. Everything was sequin-spangled, bead-embroidered and crystal-encrusted. Between 2008 and 2013, Céline wore sparkly, stiletto'ed looks looks by the Parisian label to festival performances, to her iconic Caesar's Palace residency and even off-duty. It goes without saying, Balmain's SS08 collection basically outfitted the singer's "Taking Chances" tour. Her turn-of-the-aughts era style reached its zenith, however, at the 2010 Grammys, where she wore both a Balmain blazer and this ultra-encrusted Aquilano.Rimondi minidress.
At Paris Couture Week, 2016
Summer 2016 marked Céline's first trip to Paris Couture Week. With the aid of super-stylist Law Roach, the singer made an instant splash with avant-garde looks from Balenciaga and Off-White. The week's most memorable outfit, however, was, hands-down this Vetements Titanic hoodie — a tongue-in-cheek nod to the singer's mega-hit. But this Internet-breaking outfit wasn't Céline's first (or last) style homage to the 90s blockbuster. In 1998, the singer wore the film's "heart of the ocean" necklace to the Academy Awards, where she won for the movie's song. And in 2019, she stepped out at (you guessed it!) Paris Couture Week sporting Vetements' take on the iconic neck piece in an ultra-meta homage – not only to the film, but to her earlier references.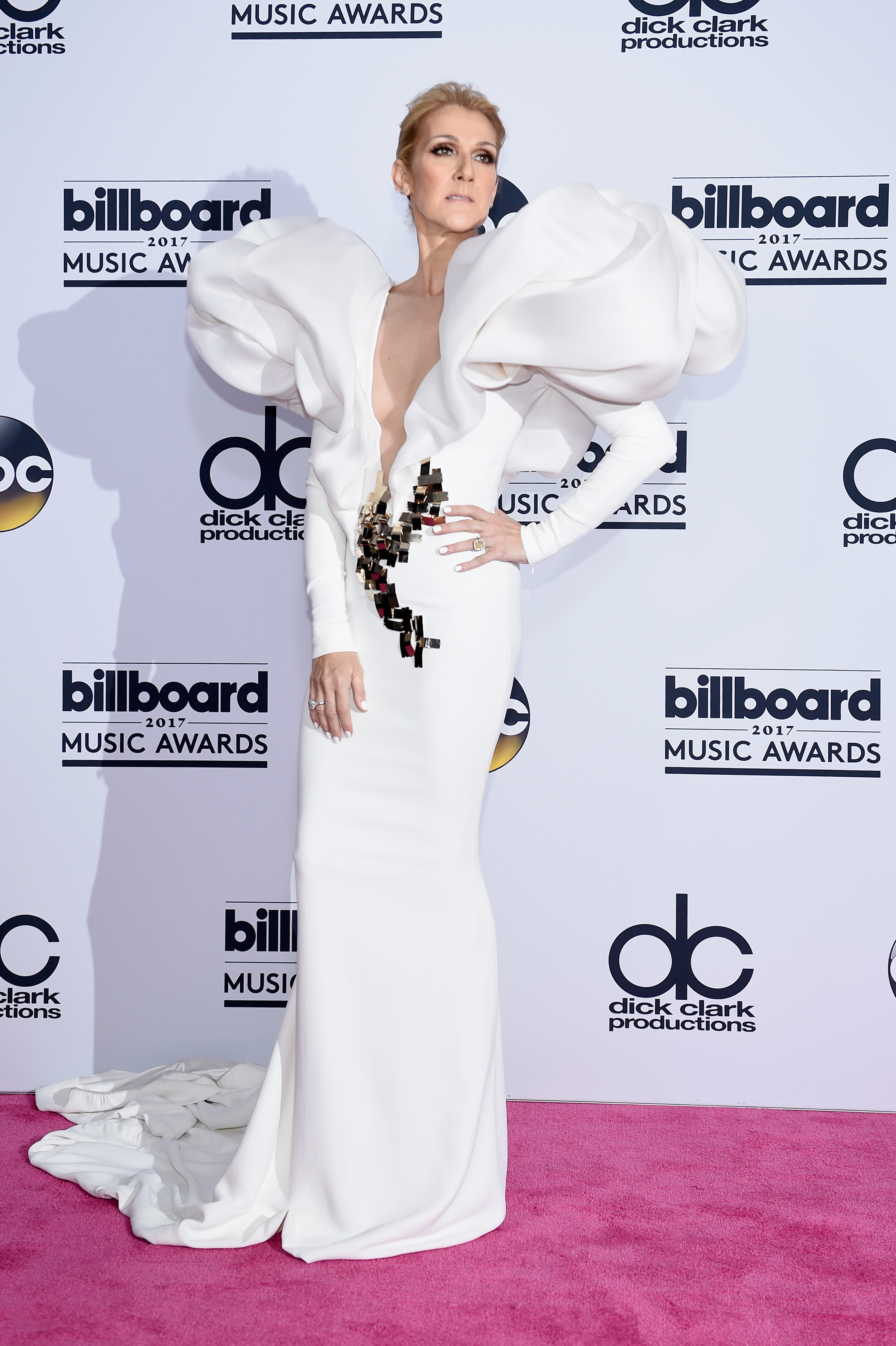 At the Billboard Music Awards, 2017
For Céline, 2017 was the year of the train: dramatic dresses with extra baggage that evoked a couture, old school glamour. To the Grammy Awards, she wore a plunging Zuhair Murad number, and to the Beauty & the Beast premiere, a sleek powder blue ensemble. In the arena of extra-long gowns, however, Céline's Billboard Awards look stole the show. After winning the Icon Award, Céline performed "My Heart Will Go On" wearing a Stephane Rolland confection that some fans likened to a certain iceberg.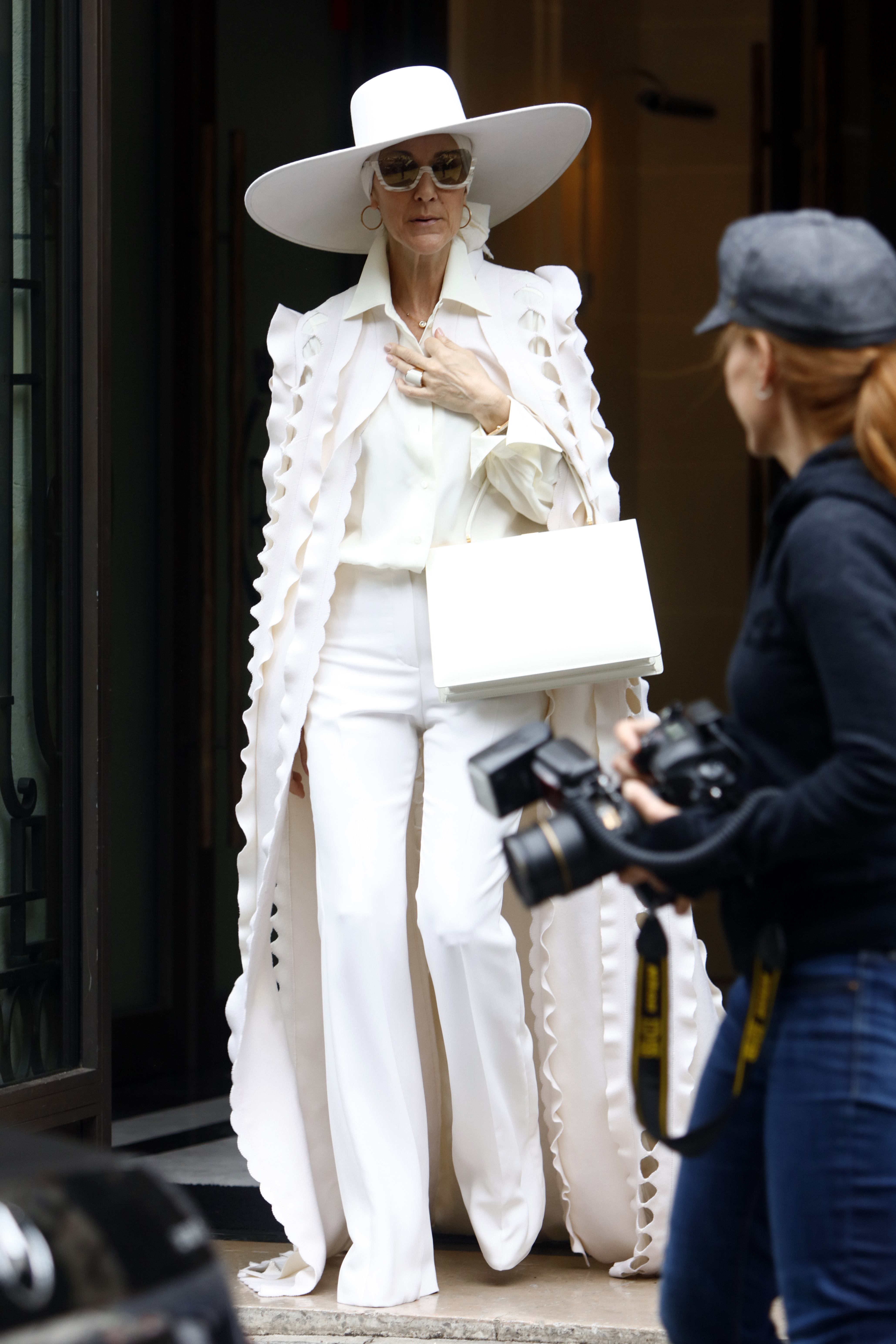 At Paris Couture Week, 2017
In 2017, Céline returned to Paris Couture Week — this time, as a front row staple and one of the season's most anticipated style stars. While Céline wore a series of major looks throughout the week (Giambattista Valli, Alessandro Michele's Gucci and longtime favourite, Balmain), her most memorable couture moment was captured one week after the event. Exiting her Paris hotel room in the wake of Fashion Week, Céline wore a head-to-toe Ralph & Russo look reminiscent of her iconic Dior tuxedo moment nearly two decades earlier.
On tour, 2018
With the help of mega-stylist Law Roach, Céline has worn some of fashion's most-hyped brands and coveted items: Margiela hybrid blazers, Vetements T-shirts, Chanel catsuits, and Balenciaga tracksuits, to name a few. Midway through her 2018 tour, Céline took to Instagram to show off one of her all-time buzziest looks: a Raf for Calvin dress and Manolo Blahnik x Off-White boots.
At Jean Paul Gaultier's "Fashion Freak Show" in Paris, 2019
In 2019, Céline returned to Paris for another whirlwind week: she laughed, she cried, she wore obscene amounts of Alexandre Vauthier. Here, she sports an ultra campy look by the Parisian designer — complete with sparkly shades, fishnet veil and body glitter — to fête Jean Paul Gaultier's 'Fashion Freak Show'.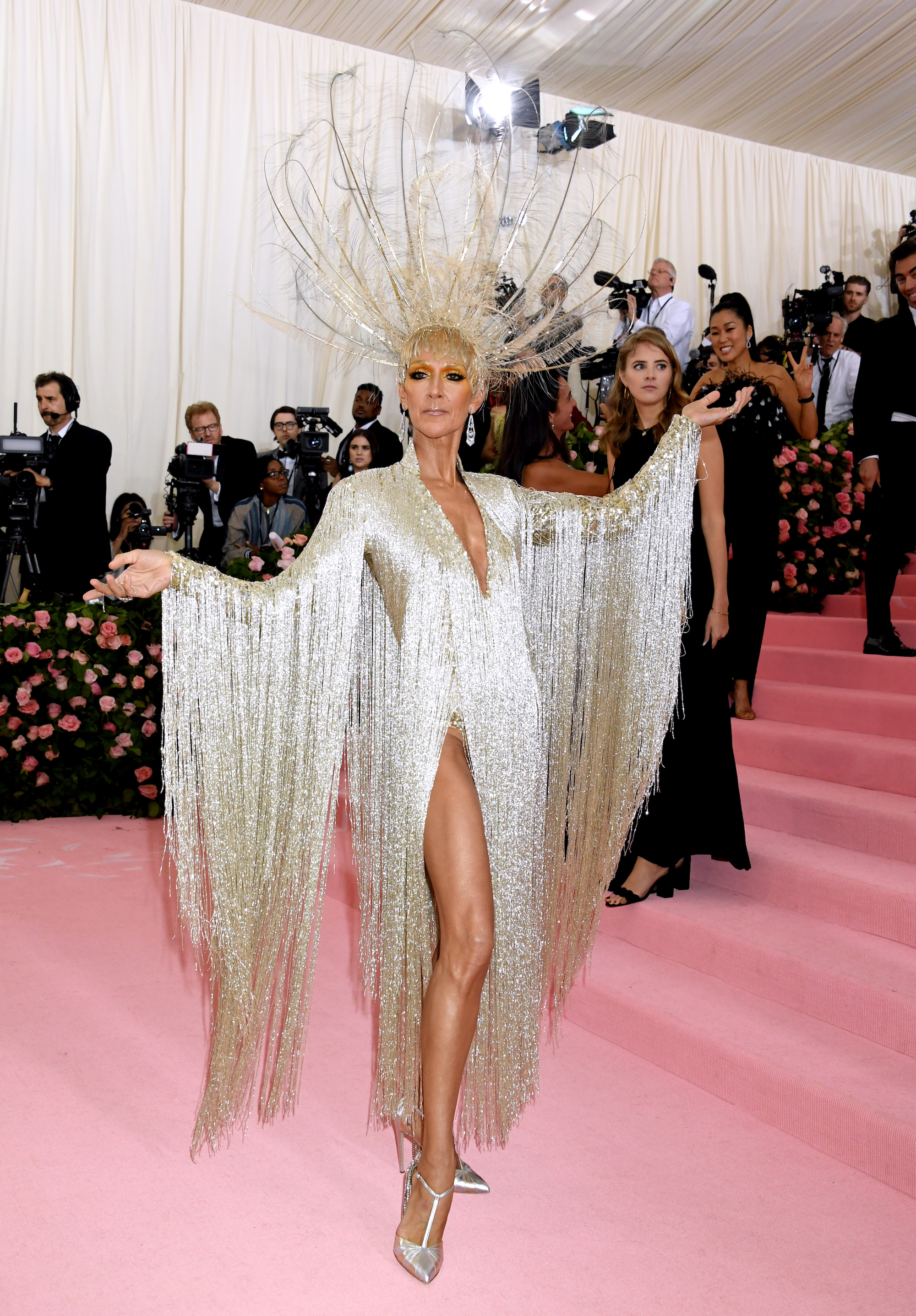 At the Met Gala, 2019
A fan of self-referential outfitting and outré headwear, Céline is one of pop culture's campiest icons. So, of course, when the chanteuse was invited to 2019's camp-themed Met Gala, she showed up in one of the night's most fabulous, campiest looks: a larger-than-life fringed gown with her most extravagant head-piece yet.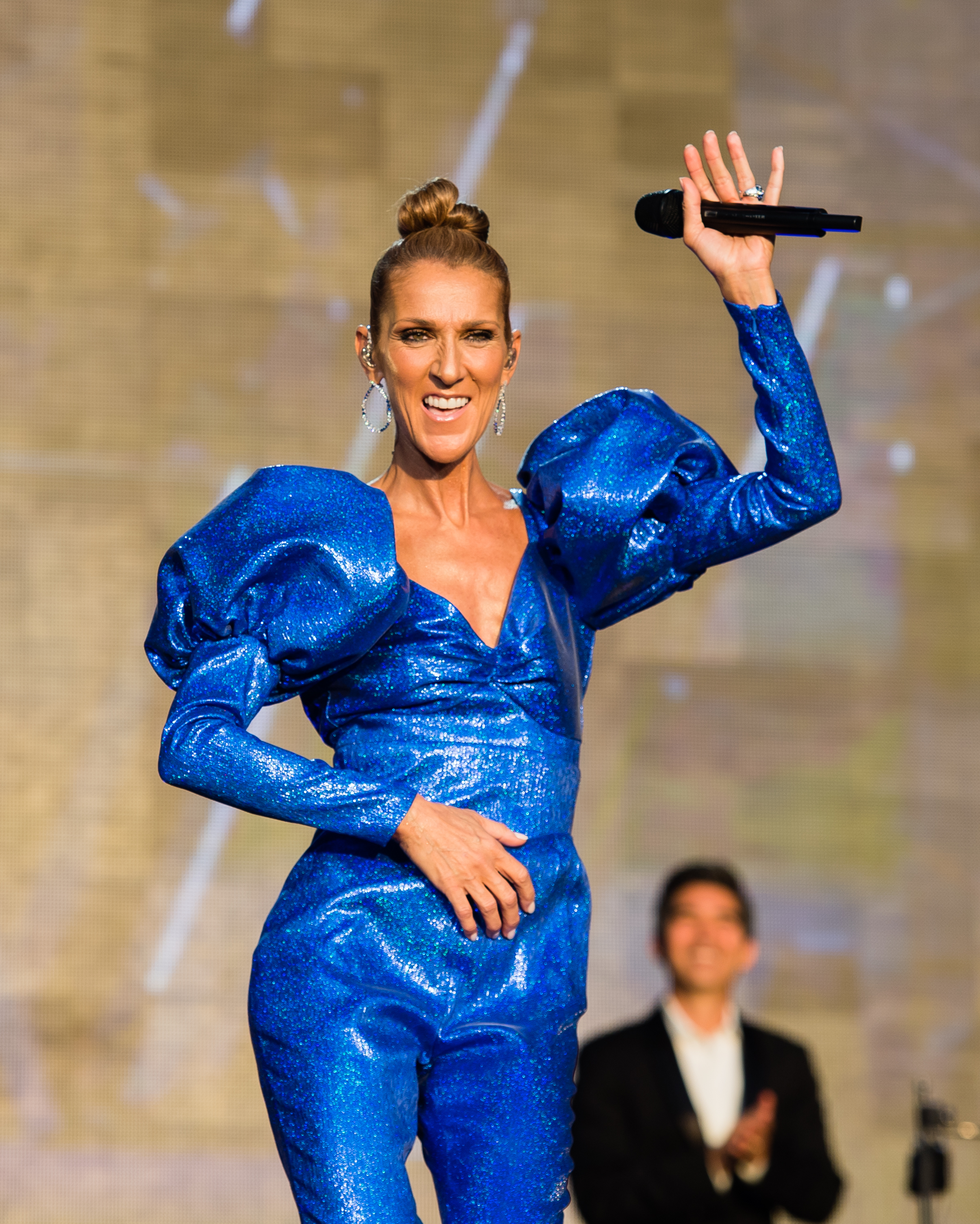 At British Summer Time at Hyde Park, 2019
In 2019, Céline brought her couture sensibilities to the stage. During her Courage tour, the songstress donned massive tulle gowns and major poet sleeves. At the annual British Summer Time festival in Hyde Park, she wore shimmering Rodarte and billowing Vivienne Westwood.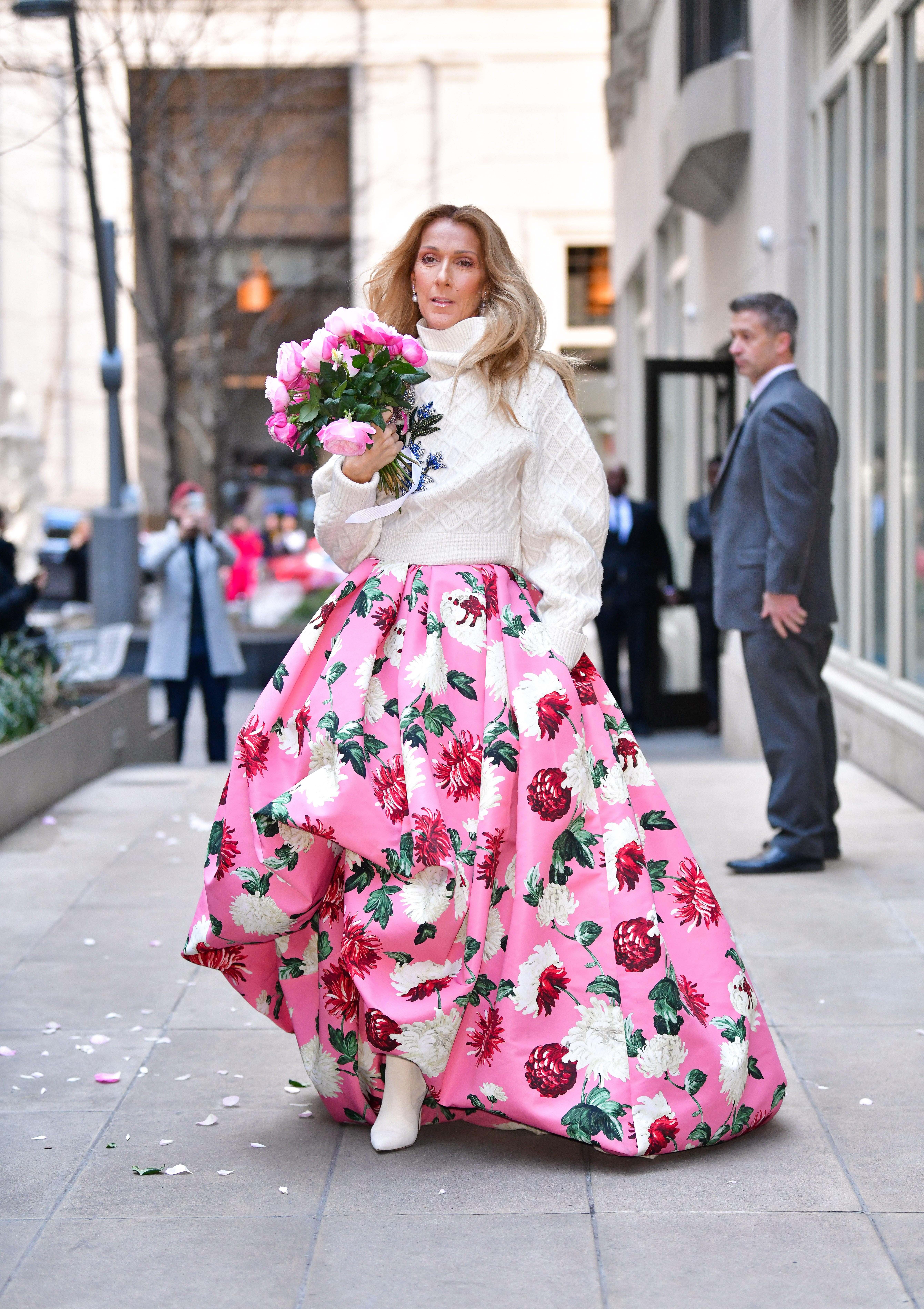 In New York City, 2020
In early 2020, not even a week after fashion month wrapped up in Paris, Céline returned to NYC to make the city's sidewalks her own personal catwalk. In town for a concert series at the city's Prudential Center, her hotel exit looks did not disappoint, with runway-worthy nods to Peter Do, Moncler Genius and Michael Kors. The singer closed the week of immaculate outfits with a floral Oscar de La Renta ensemble complete with her own IRL rose bouquet, no doubt an homage to Audrey Hepburn's iconic Funny Face couture.
At home, 2021
Of course, Céline hasn't let the pandemic — all its lockdowns, tour cancellations and stay-at-home orders — put a damper on her fantastical approach to dress. From 2020 to now, she has taken to Instagram to show off a series of immaculate at-home outfits, including Marine Serre catsuits, chic ski-wear and flowing velvet gowns.