Loewe taps into the surreal for AW22
Replete with car-dresses, balloon shoes and sheer latex looks, Jonathan Anderson's latest collection exemplified the tension at the house's core.
Images courtesy of Loewe
Loewe's AW22 show opened with a series of stiff-yet-sculptural leather dresses that had a windblown effect, almost like the marble or bronze draped clothes worn by statues. Together with the earthen-hued set, which was scattered with British artist Anthea Hamilton's leather pumpkins, it set the tone for an elemental collection that Jonathan Anderson described as "primitive", "irrational" and "pleasantly disturbing" in the same sentence. Something about those opening dresses had a touch of leather car interiors, while elsewhere there were the jagged hems and primal pelts of The Flintstones and a continuation of slinky, sexy surrealism that Jonathan started exploring last season, pivoting away from exaggerated puffed-up silhouettes towards artists such as Meret Oppenheim and Lynda Benglis. "I think, in a weird way, the last one was an incredibly optimistic show," he reflected afterwards. "This one is about unknowingness. Where does this character stand in this brown room, which kind of feels like it's been dug up? I like this idea of evolution and this idea that we grow out of things and then we grow back into them."
Fashion shows are all about seeing clothes in-person — and perhaps, intentionally and slightly subversively, Jonathan also decided to flip that notion on its head and show clothes frozen in time, moulded into mid-movement. There were tongue-in-cheek spandex dresses (of which we've seen many on the catwalk and red carpet) stretched over the silhouette of automobiles as something new. The idea behind it was motion, something that designers across London, Milan and Paris have kept reiterating with clothes that take on the shape of a physical gesture or posture; an emphasis on 360-degree silhouettes in quiet rebellion against forward-facing imagery. If some of the earlier looks in this show were about movement, albeit in stasis, then the later looks were about objects trapped in time. Slinky, diaphanous jersey dresses came with red stilettos trapped in them, almost as if they were buried underground to become future fossils. Those leather dresses came in jaunty silhouettes — slightly asymmetrical sleeves, a jagged hem, and a loose-fitting simplicity — that was repeated throughout the collection in various fabrics, like stiff organza and humble-looking upcycled felts and raw wools.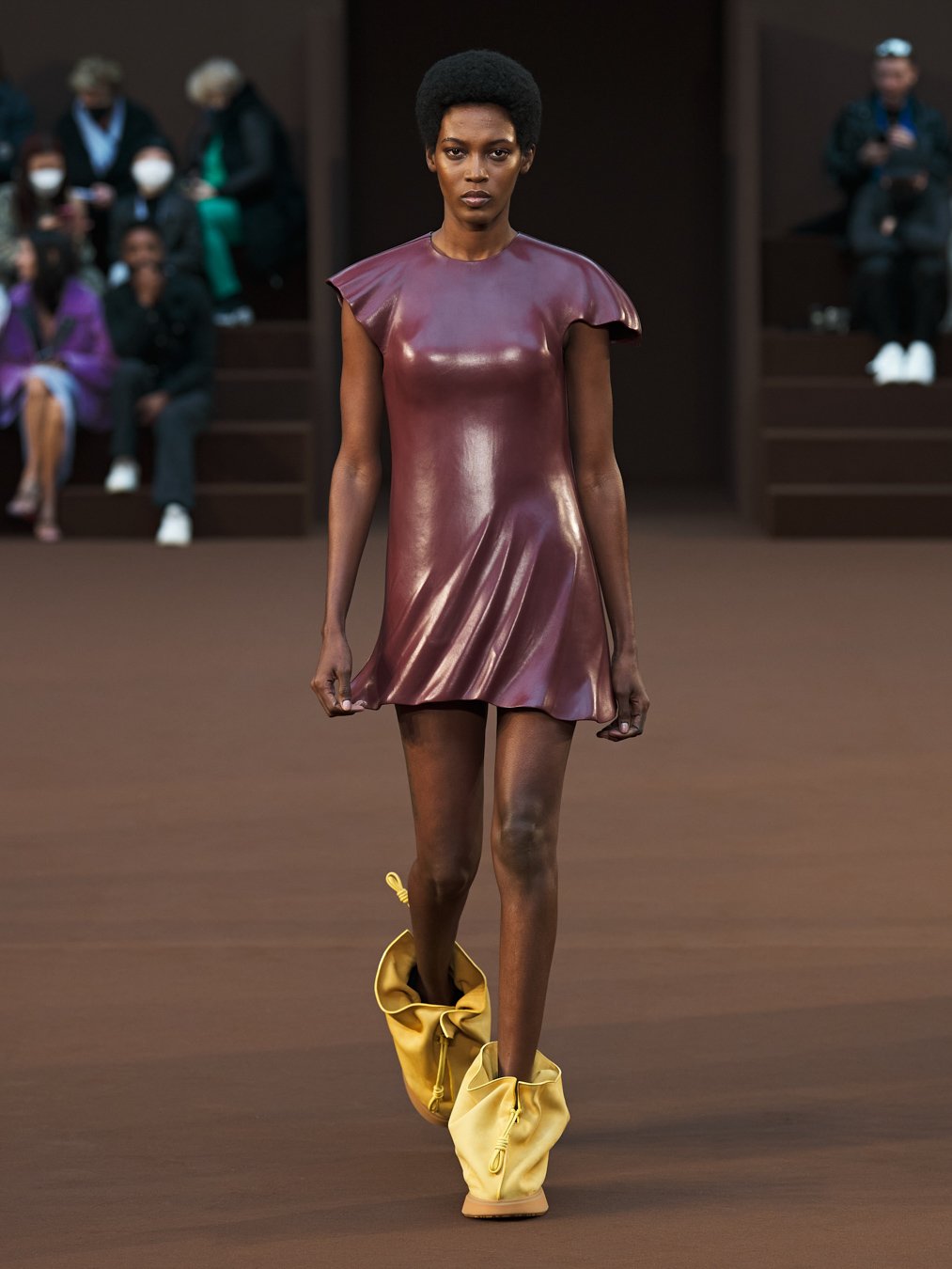 Just in the same way that the giant pumpkins on display at the show — which were crafted from leather by Loewe's artisans — invited you to touch them, or even embrace their supple muscularity — so, too, did the myriad textures that were on display in this collection: moulded leather, felt, sheer latex, tweed, giant knits, 3D printed fibres, trompe-l'oeil silk, high-shine resin. Shearling enveloped the legs in cigarette-thin trousers, suede on the outside and waistlines overflowing with raw fluffiness. If they signified comfort and animalistic primitivism, the latex tank tops that they were paired with hinted to kink. That said, I'm starting to think that Jonathan Anderson's biggest kink is fashion itself. Every season, he lays down the gauntlet for highly conceptual shows with strong art-world references and yet, between the car-shaped dresses and balloon breasts, there are clothes that could find a home in your wardrobe, rather than the gallery space. This time, it was great wide-leg trousers, puffed-up leather bomber jackets, sculpturally draped wool coats and long, slinky dresses with personality prints.
Loewe shows are increasingly becoming blockbuster entertainment for fashion spectators. At times, they are even hysterically funny. Car-shaped dresses, for crying out loud! Resin lips and saggy balloons placed on bustiers, or encased in mummie-like straps hugging the body! Jonathan said that the latter represented tension and ephemerality. "It will pop. It won't last forever," he pointed out. Make of that what you will, whether it's a sartorial clickbait or a prophetic observation about the female form. Part hysterical, part serious. Totally nonsensical. Therein lies the real, and brilliant, tension of Loewe.