Images courtesy of Dover Street Market
Seasonal renewals and archival grail sales at DSM: What's in Fashion?
Your one-stop-shop for this week's fashion news to know.
Images courtesy of Dover Street Market
Of course, no matter what side of the pond you're on, you were already going to spend your weekend perusing the installations and rails at Dover Street Market. But if, for some godforsaken reason you weren't, make sure you change your plans instantly! From AW22 collections hitting the London space to rare 90s and 00s vintage pieces taking over the NYC store — DSM is the place to be! In more fashion news, Valentino have announced their new DiVas, Priya Ahluwalia directed a film, LUAR have a secret pop up shop coming, the LOEWE Craft Prize 2023 applications are open and Katya Zelentsova has launched her AW22 line. It's been a busy week! Here's what's in fashion.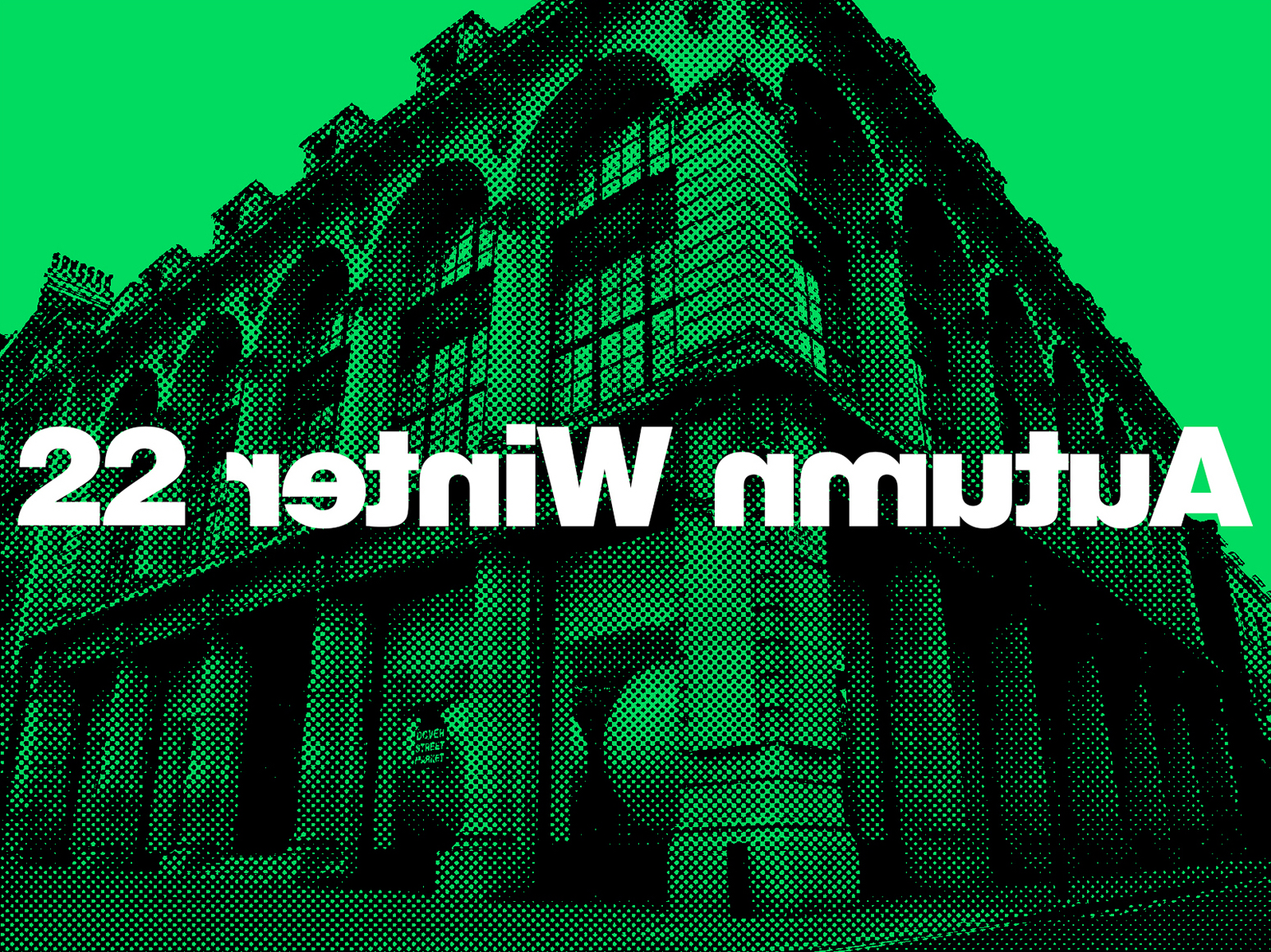 Shop the new collections at DSM London….
Yes, we know that the height of summer isn't really when you want to turn your thoughts to the cooler climes on the horizon, but if there's one good reason to get excited about the fact that autumn's just around the corner, it's this: Dover Street Market's seasonal renewal! Yes, though it feels like just yesterday that we watched the AW22 shows parade down the runways, they're finally hitting London's chicest shop floor. Of course, you'll find full drops of the latest collections from brands within the Comme family, but that's not all! You'll find exclusives from the likes of Gucci and Palace, and new labels like young British label Rabbit. If there's one thing in particular that we'd pick out as a total must-cop from the new haul of goodies arriving at the Haymarket style emporium, it's without doubt this exclusive version of Kiko Kostadinov's instantly iconic Trivia bag. Rendered in glossy, glittery fuchsia leather, it's the perfect bag for the seasonal transition, bringing poppy flair to Laura and Deanna Fanning's deliciously warped baguette. Run down to get yours before they're gone! MS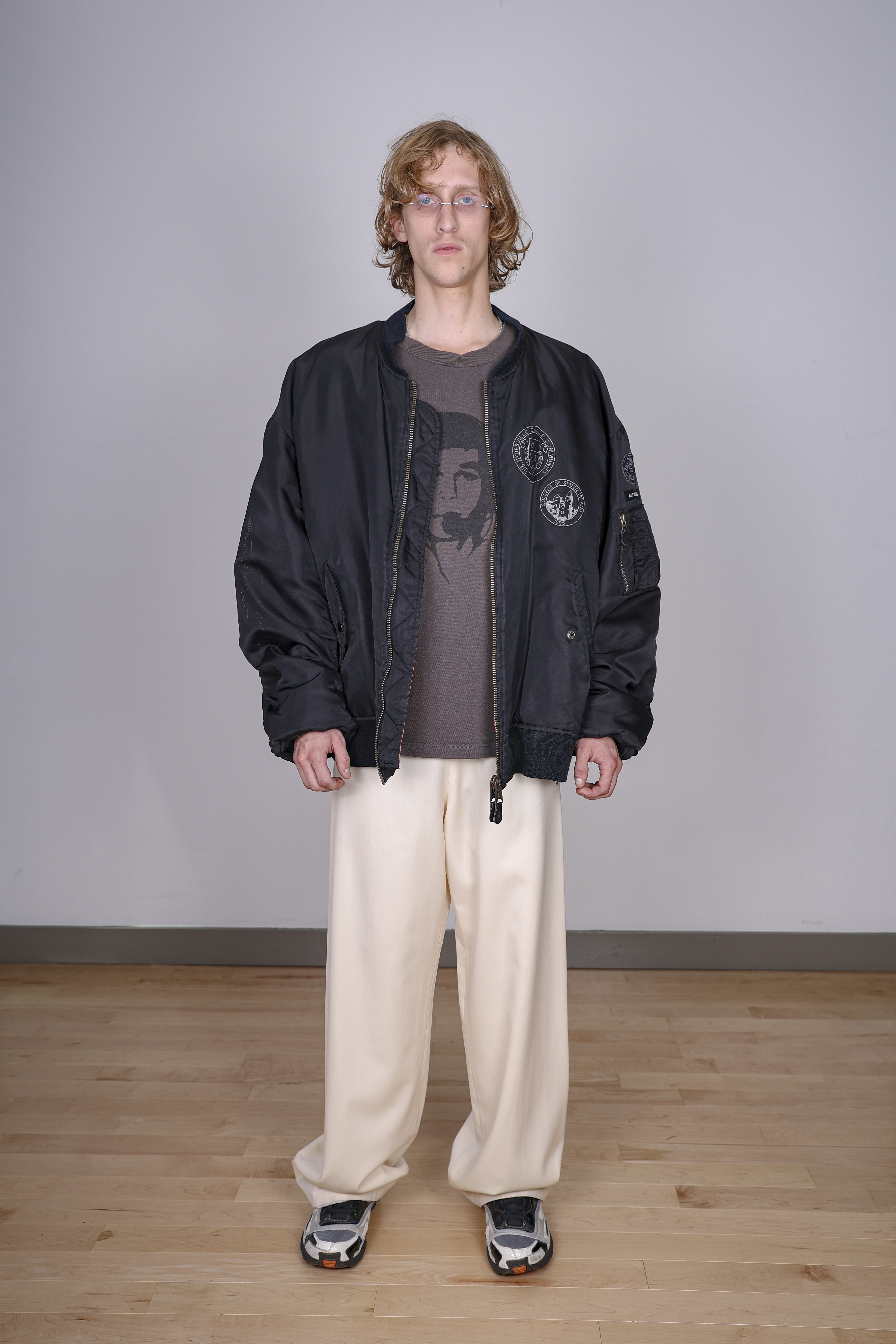 …and cop a piece of fashion history at DSM New York!
While they're bringing the new over at the London branch of Dover Street Market, this weekend at the New York outpost, it's all about celebrating the old. In a truly one-of-a-kind event, the Midtown concept store will host a sale of pieces collected over the past two decades by one of fashion's most esteemed archivists: David Casavant. The owner of some of the most coveted menswear pieces in recent fashion history — think early Raf Simons bombers, late 00s Prada full looks — he's earned a reputation as the man that celebrities like Rihanna, Kanye and Lorde have on speed dial when they really want to pull out the stops with their looks. Now, with 26 pieces from his collection — each affixed with a David Casavant Archive label — going up for sale at DSMNY this weekend, living artefacts of fashion lore can be yours! To toast the occasion, we caught up with David to discuss how the sale came about, the shifts he's seen in menswear during his time as a collector and his favourite picks from the sale.
Hi David! First off, how are you feeling ahead of the sale? How does it feel to part ways with pieces you've spent so long carefully collecting and archiving?
I feel excited! I've just enjoyed using it as a creative outlet. Designing this first release from the archive has been a way to express another layer of what my archive is about. I think there's a lot that hasn't been explored in the idea of resale so I like trying to be an architect in the uncharted territory of what "resale" could become.
What prompted you to organise this archive sale? And why does now feel like the right time for it?
I've been wanting to sell but I was waiting for the right way to do it. I came to the realisation that I didn't get the point of being 90 years old and being able to say "I kept it all!"

My priority has always just been being creative and I wanted the archive to evolve in that respect, to be more all-encompassing. I've also been frustrated for a while with not being able to connect to the public with what I do. There have been a lot of requests and demand to be able to buy the pieces and I think it's cool that now, after all these years, the pieces have my mark on them when they pass hands. It adds another story and component for whoever the piece goes to next.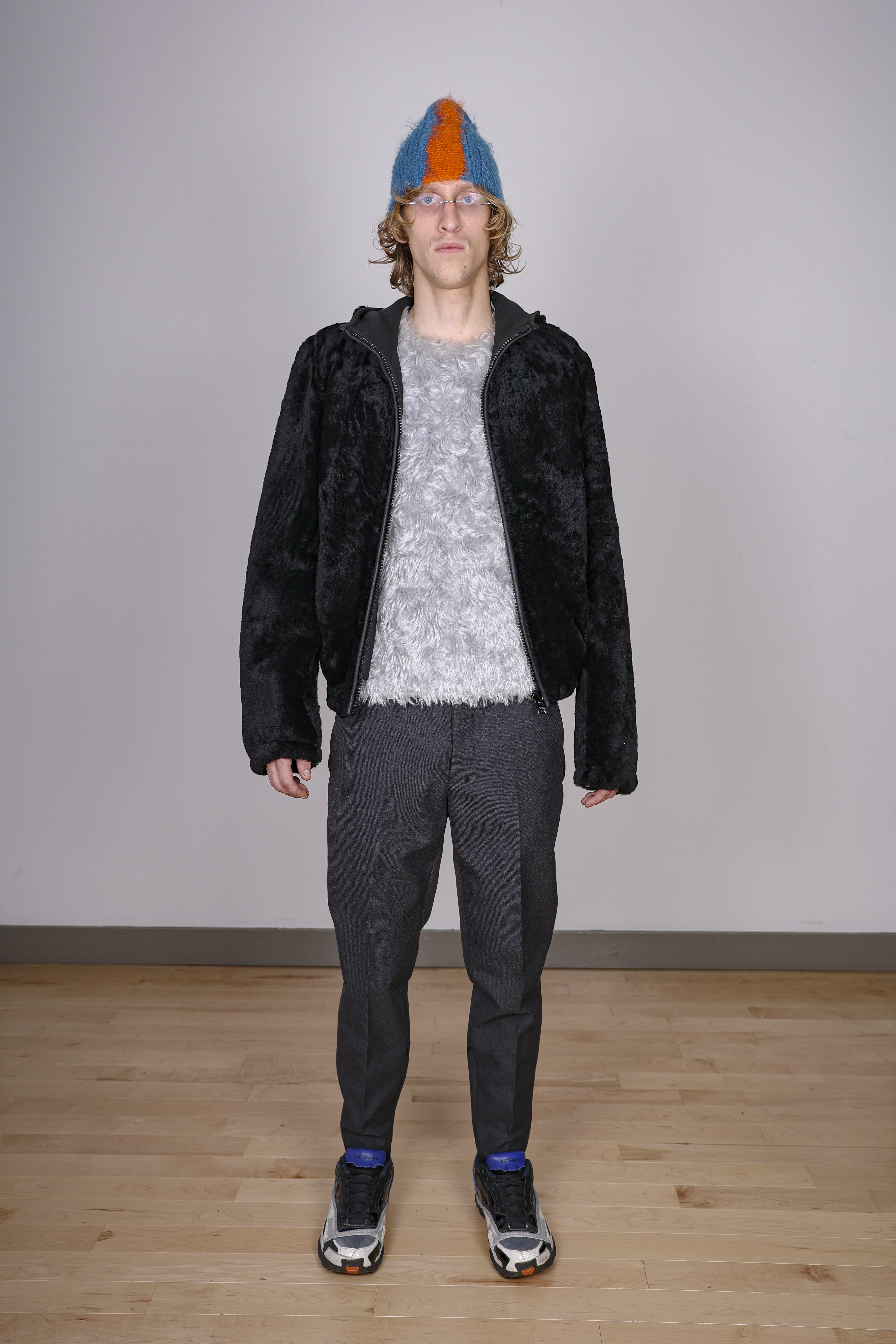 What was it that first prompted you to start collecting in the first place?
I just loved clothes. I liked the fantasy and story of them. I was just fascinated by the design and creativity that went into them. Even if I didn't wear something I just loved owning it. The first designer I was drawn to was Raf Simons. There were very few men's only designers at the time that were as avant-garde. Menswear was thought of as just an accessory to women's collections for the most part.
Over the time that you've been collecting, what would you say have been the most notable shifts in how people engage with luxury menswear?
It has a much larger and younger audience now. It isn't dismissed as much now and it is much cooler to be into it. The internet has expanded the interest in it, for sure, and so, as the internet became bigger, so did menswear.
What is the importance and relevance of the fashion archive today?
I think people just take the idea of owning clothes more seriously and less frivolously. It's looked at more as an investment and people realise that clothes should be kept for a lifetime.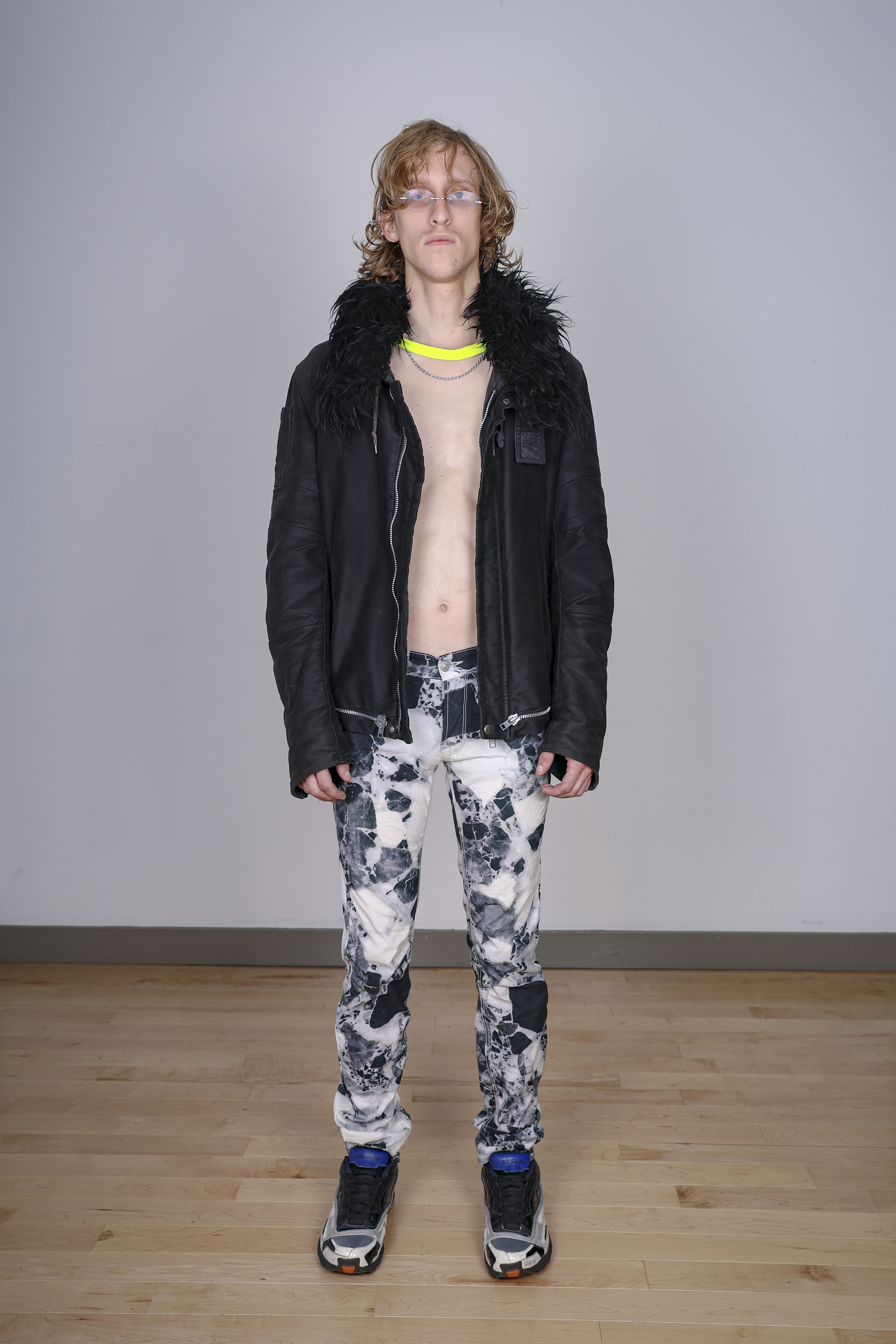 Many of the pieces included in the sale have incredible stories behind them. What are the standouts for you?
The Raf Simons AW00 patches bomber, for sure. It's really iconic and a huge piece for me to release back into the world. I remember I got it because Raf wore it on the cover of Fantastic Man magazine.

When I first was loaning to Kanye, I remember Virgil wore it for a photo he posted. And I think Lorde was actually the first to wear it, which was way before me or these clothes were given any attention. Rihanna then wore it for the Bitch Better Have My Money release which was amazing. And I've worn it a ton myself as well! It has a lot of history and stories, and I think it's cool that someone else can now own it if they want. It's a cool combination of celebrity memorabilia and the object itself being a rare museum-level fashion item.
I also included a full new look from Prada men's AW07 collection. That was the teddy bear season. I was maybe 15 or 16 when it came out and I was obsessed but couldn't afford it at the store or anything like that at the time, but, over time I bought the pieces on the resale market. To me, that season is the height of Prada making menswear. I've never seen anything like it.
Priya Ahluwalia has directed a short celebrating Indian and Nigerian films
Call Priya Ahluwalia a triple threat because not only is she a sustainability-pioneering LVMH-prize-winning menswear designer, and an author of multiple photo books, she is also a short film director. Her latest, made with House of Gucci director Ridley Scott's creative group Black Dog Films, is called Beloved. Released alongside a pop-up store and party for her AW22 collection entitled "From Bollywood to Nollywood", that explored her dual Indian and Nigerian heritage away from the European gaze it's so often seen through, Beloved celebrates Black and Brown love stories. It's also a love story to the film industry, cinematography and soundscapes of both countries that make up Priya's ethnicity. "Bollywood and Nollywood films were one of the few places I could experience people like me in ways mainstream media didn't represent us: love, joy, glamour, entertaining, passionate, vulnerable," Priya said in a statement. "Now, film has become one of my favourite mediums to showcase stories from my community, as well as my collections. I love how film has the power to connect to its audiences, transport them and drive emotional engagement." Give Beloved the Best Picture Oscar now! TG
Applications for the LOEWE FOUNDATION Craft Prize 2023 are now open!
Attention artists, designers and craftspeople: submissions are now open for one of the creative world's most coveted awards, the LOEWE FOUNDATION Craft Prize 2023. Launched in 2016 to support excellence and originality in creating objects and to seek out talents uniquely moving the world of craft forward in terms of revolutionary techniques and stunning aesthetics, each year the winner receives a huge 50,000 Euros to support their practice. This year, entries will be whittled down to a shortlist of 30 by a panel of industry insiders, such as artists, essayists and curators, along with previous finalists of the award including leading South African ceramist Andile Dyalvane and Korean woodworking furniture maker Jung Myung Taek. All finalists work will then be included in an exhibition in New York where a jury — that includes LOEWE creative director Jonathan Anderson and the prize's 2022 winner, Dahye Jeong, who impressed with her horsehair baskets weaved by ancient Korean techniques — will decide on the winner in spring 2023. Open to everyone across the globe, get your applications in before 25 October 2022 at loewecraftprize.com. TG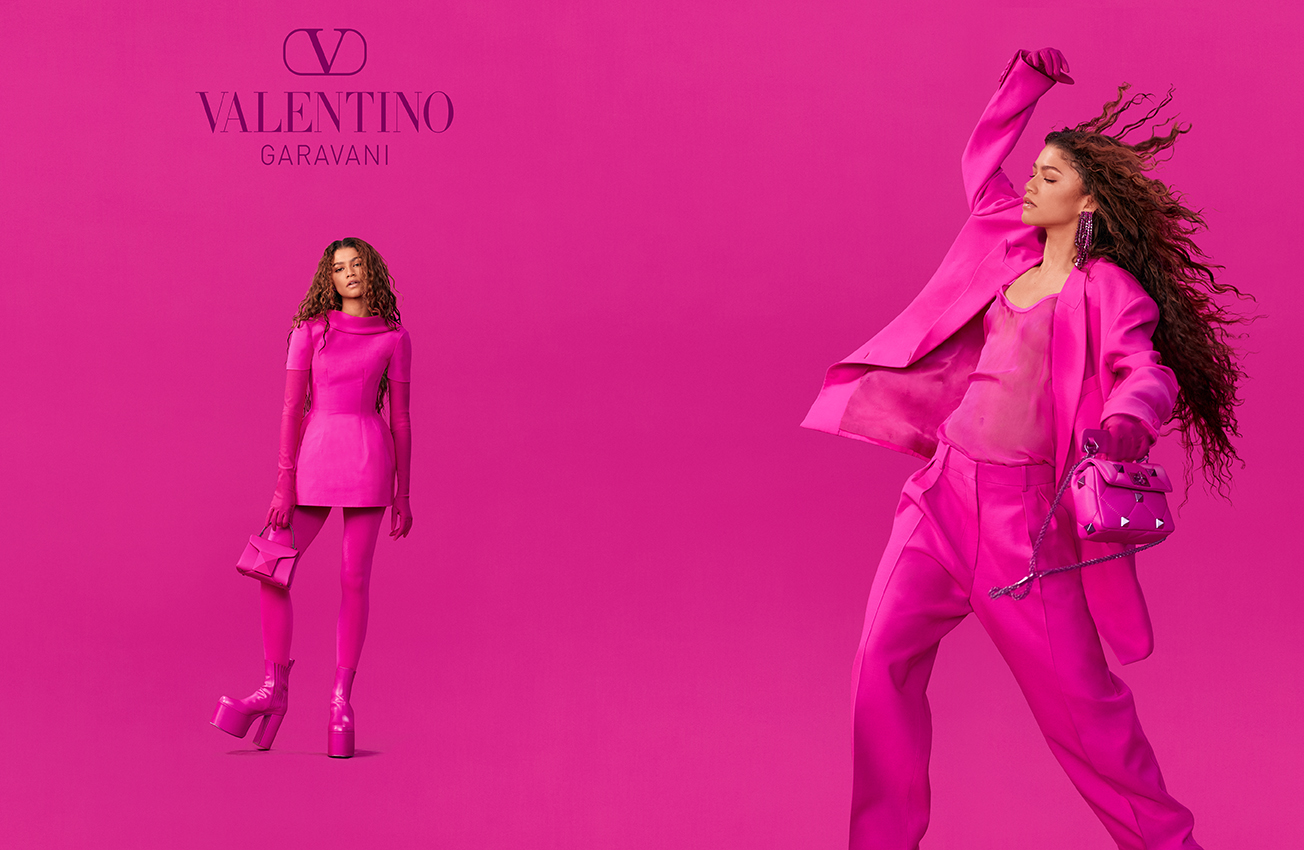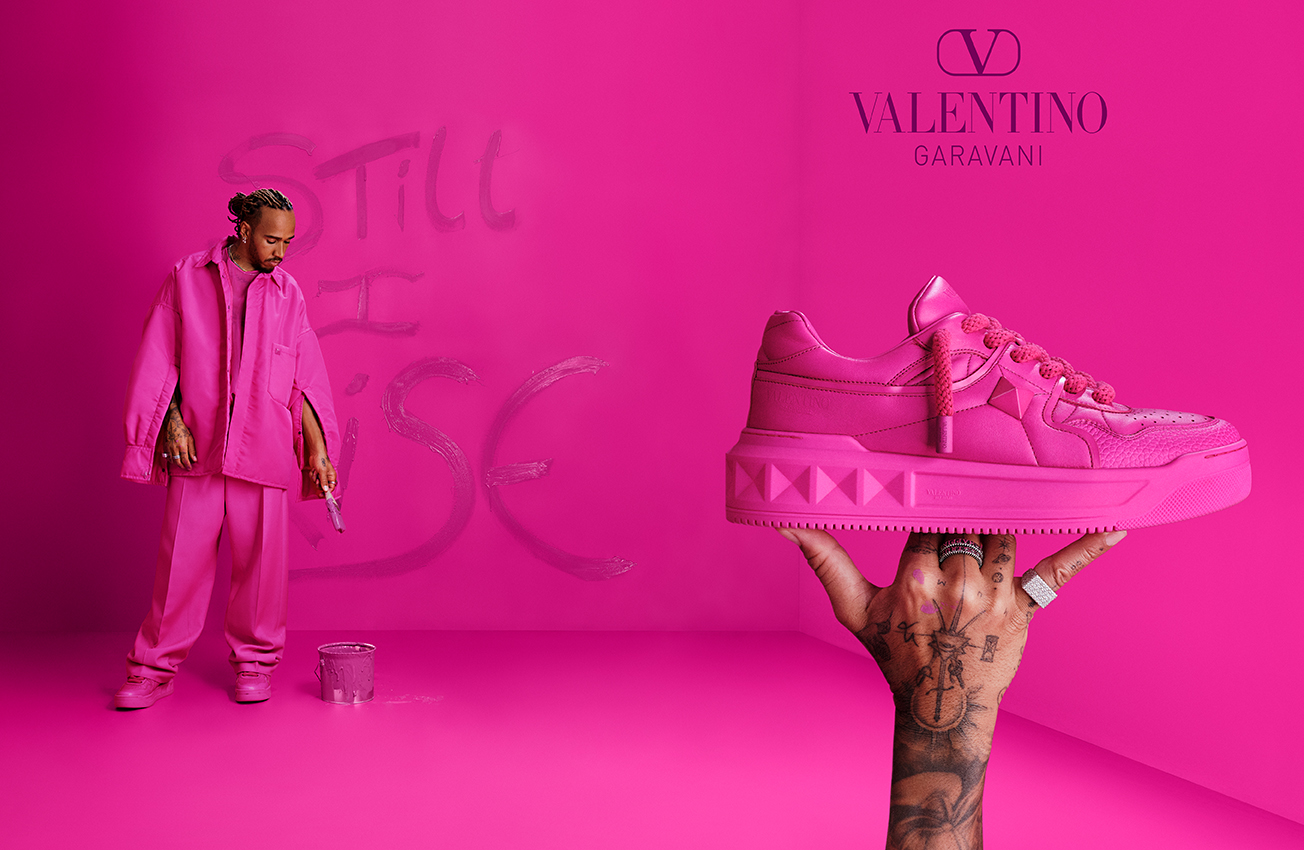 Zendaya and Lewis Hamilton are now hot pink-clad Valentino DiVas
A diva might be a female version of a hustler, as Beyoncé once iconically sung, but Valentino's DiVas represents those who are key figures shaping contemporary culture and its vision, leading diversity and uniting us all through their work. DiVas, stands specifically for Different Values, and for the faces of the Italian luxury fashion house's AW22 campaign, Pierpaolo Piccioli has chosen two thriving stars at the top of their game and completely revolutionising their industries. On the womenswear side, that's the most exciting actor of the moment, Zendaya. For the menswear campaign, that's 7-time Formula One world champion Lewis Hamilton. Both wear androgynous monochromatic looks in that shocking vivid hot pink that blanketed the entire collection when it hit the runway in spring, and will make everyone (especially Margot Robbie's Barbie and Ryan Gosling's Ken) go feral when it is released. Catch us not wearing any other colour for the entire Fall 2022 season. TG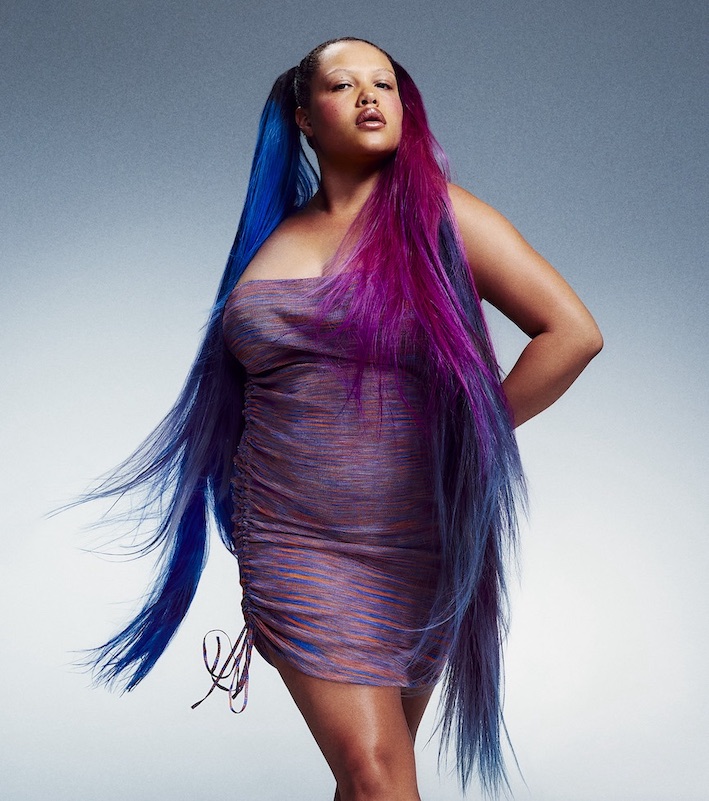 Get the 90s Barbie look with Josh Wood Colour
90s babes may remember the Barbie Totally Hair doll, the best selling Barbie doll of all time, with ankle-reaching crimped hair and aggressive bangs alongside psychedelic mini dresses that looked like it could be worn by a Six Chick in the movie 13 going on 30. Well, now that doll is turning thirty, flirty and dirty, and to celebrate Mattel have relaunched the doll in a new bodily and racially diverse line up, as well as special hair dyes in collaboration with hair-colourist-to-the-stars Josh Woods. Barbie x Josh Woods Colour hair glazes come in three different styles. There's soothing pink quartz, oceanic blue reef and a subtle yet chic peach blush, that can all be layered, paired and blended to produce some stunningly retro results, as seen in a campaign featuring models Alva Claire and Charley Dean Sayers. The hair glazes can be purchased from joshwoodcolour.com or at his atelier in London where you can experiment and go wild with all the colours. Imagination, life is your creation, after all. TG
A LUAR pop-up shop is coming to NYC for one day only — and with a new Ana Bag!
Some old people say Gen Z humour is broken and those people, tbh, would be correct. That nihilistic, hyper-niche meme culture that has taken over TikTok that doesn't make sense unless you've seen five other specific viral videos on the internet, also plays a major role in NYC-label LUAR's latest campaign. To announce their one-day-only pop-up shop coming on August 9, 2022, footage of the Prada Marfa art installation in Texas is yassified to look like a LUAR installation, which is then dueted with old clips of Kylie Jenner, Doja Cat and Cardi B seemingly reacting to the news. It really shouldn't be funny, and yet we laughed. "The Marfa building reminds me so much of myself. I always feel like I stand out everywhere I go and when you wear LUAR, it's the same," the brand's founder Raul Lopez told i-D. "I want to convey that feeling of always being the sun walking into a room full of snow — everyone melts. That's what it feels like when you wear a LUAR bag or garment."
Look closely at the window displays of these deep fakes and you'll notice the brand's iconic Ana Bag are on show but in a new colourway, vibrant orange ponyhair, which will be on sale within the new currently-secret space. "I feel like we all live in our own utopia, it's more so what you make of it and how you express yourself. When one wears the Ana bag, I want them to belong to the LUAR world. It's definitely far from perfect, but I try to make everyone feel equal regardless of social standards. I also love how we live this surreal life via social media platforms." To find out the location of the pop-up shop this Tuesday, make sure your eyes are glued to Instagram the evening prior where the mystery location will finally be unveiled. TG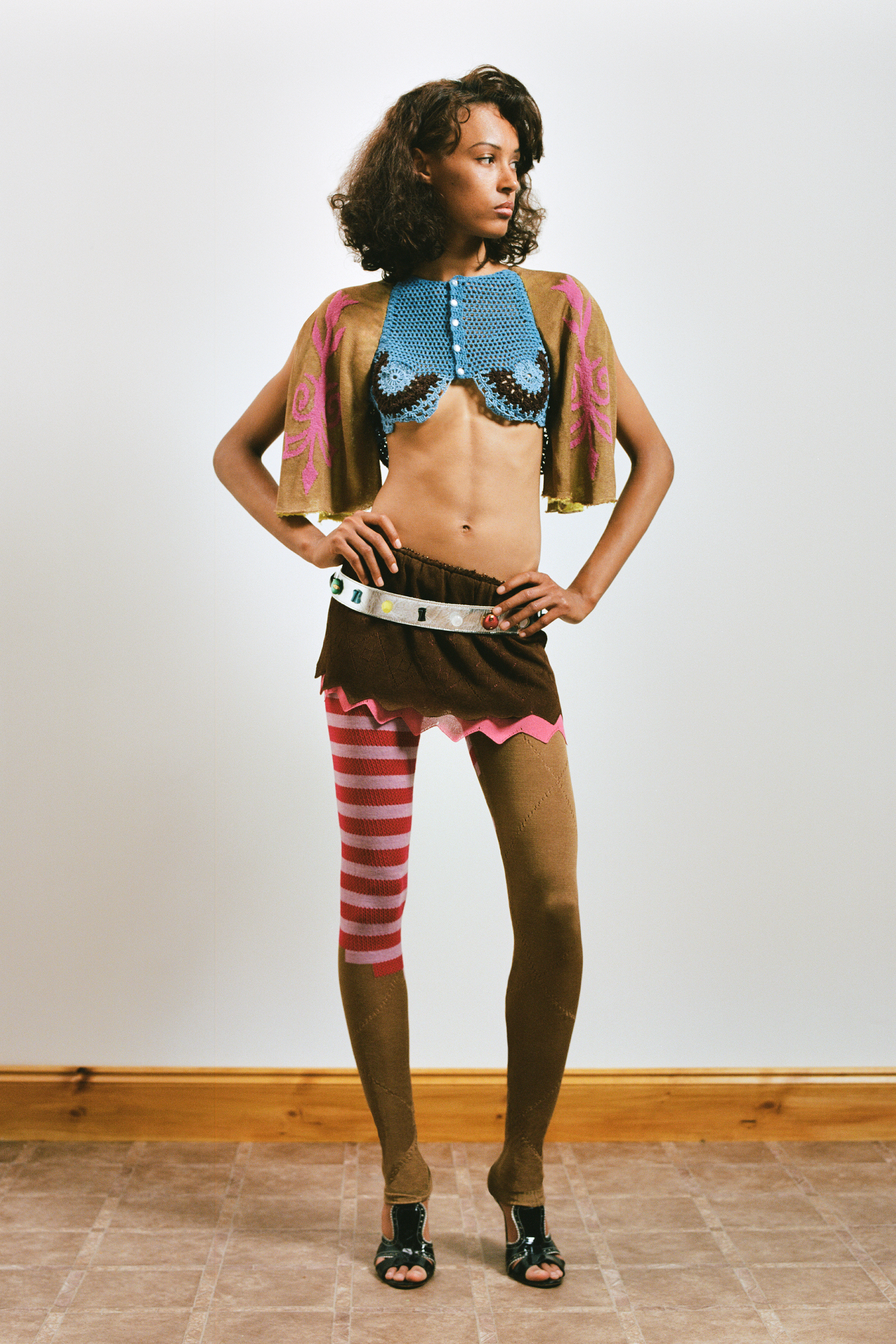 Chic staycay wear? Katya Zelentsova's got you covered
While there isn't a set title for London-based designer Katya Zelentsova's AW22 collection, "I'd subtitle it 'Steampunk Resortwear'", she tells us. While resortwear typically conjures mental images of swathes of bright printed silks, black-out sunglasses and leisurely kaftans worn in places like Bodrum, Hydra or Capri, the holiday memories Katya's latest body of work draws on are of those spent at home. Referencing her mother's finest jerseys and trips with her grandma to the local leisure centre, breezy summertime staples — itsy-bitsy miniskirts, sequin spangled boleros and bralette tops with ruffled sleeves — are reimagined in fabrics and techniques imbued with rigorous sense of handwork, as if crafted over the course of long summers spent at home. Think: bouclé intarsia lace, glitzy stoning and zingy crochet. Here, Katya gives us the full lowdown on the thought process behind the collection.
Hi Katya! How would you sum up the spirit of your latest collection in three words?
Sentimental hotfix. Modern romance. Staycation wardrobe.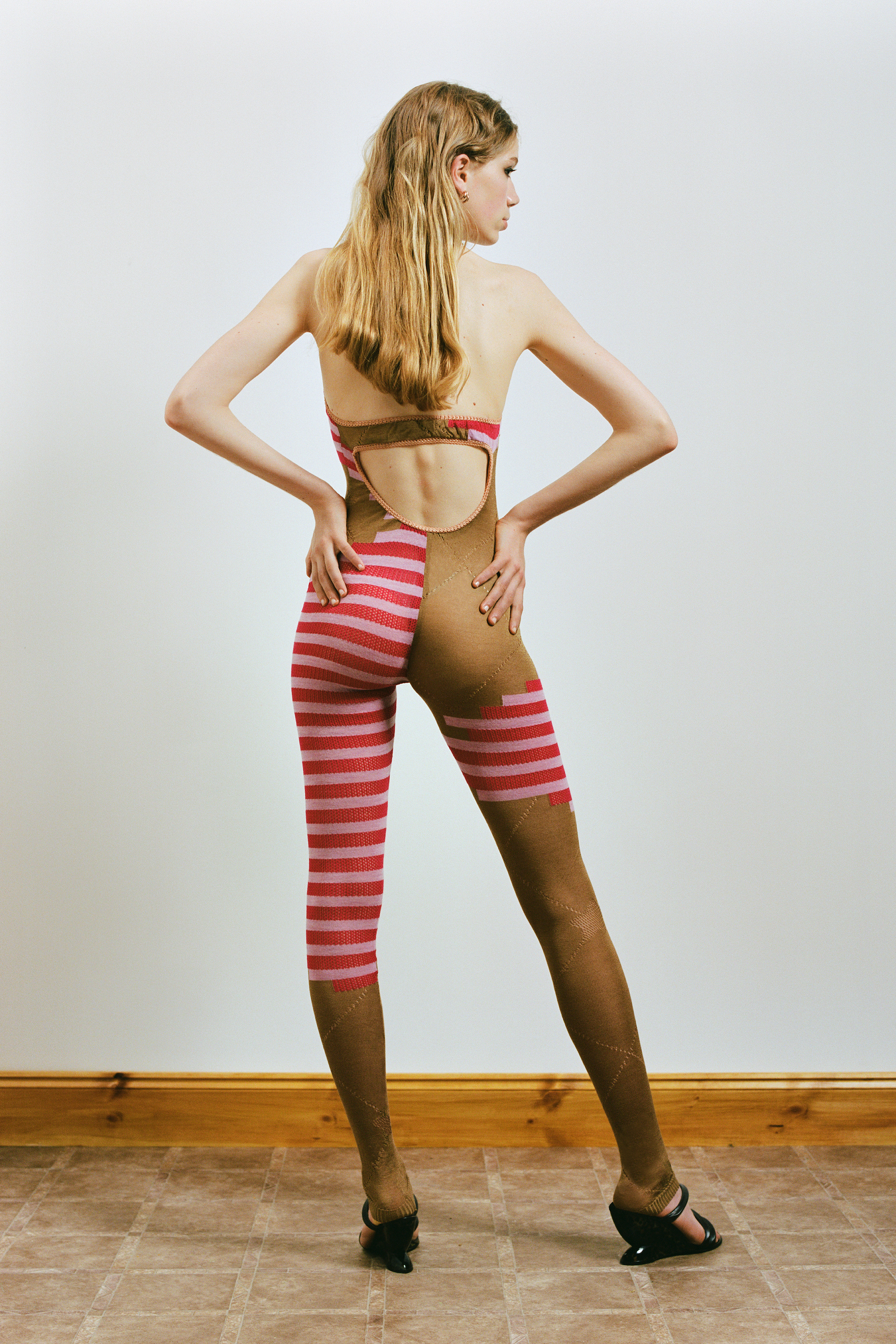 What was the main jumping-off point for it?
As usual, it was sulking. I wasn't able to leave London and go home and see my family for one-and-a-half years during the pandemic and I spend a lot of time thinking about staycations. The one that came to mind the most was going to this local leisure centre/wellness resort with my grandma as a kid. I'd spent a considerable amount of my childhood there playing giant chess and vandalising the mosaic fountain outside the main entrance (sorry!). I swirled around in some of these crochet ideas and tried to rework from memory some of my mom's finest jersey pieces, but it was going very slowly. Then I came back to this idea in December 2021, after working for a year and doing my first SSENSE collection. I guess in a way this is me trying to piece the mosaic pieces back together.
Give us three images that were on your moodboard.
The first image of two girls leaning against a wall and looking moody is from a 1985 issue of Knitting Magazine — packed with attitude. The second is a scan of my membership book from that resort/leisure centre in my hometown that I used to go to during the summer with my nan, laid over an image of mosaic tiles from an old-school resort. And the third one is a photo of Lee Miller wearing a racerback studded gown. I was looking into relaxed jersey eveningwear and this was a perfect reference.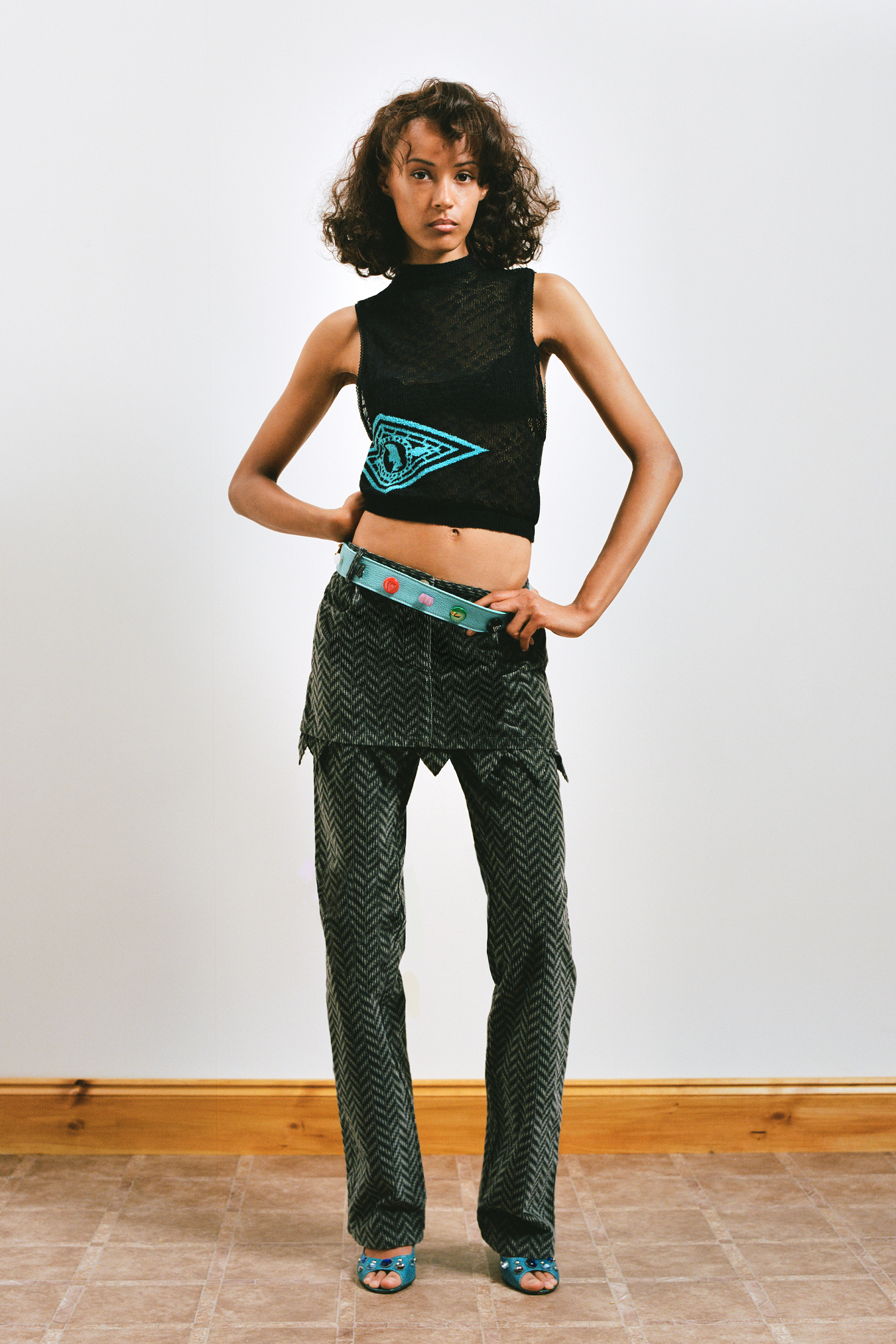 Is there a particular piece or look that you think of as the cornerstone of the collection?
One of the first pieces I worked on was the studded gathered cowl neck top and handkerchief skirt. I've carried this silhouette, inspired by my mum's jersey handkerchief dress, through the collection but it really kicked off all the draping for me. And then the pattern, first applied in studs and then redrawn and knitted as lace, is also integral. I think it captures the relaxed mood of the collection — these are pieces you throw on to take a stroll around the garden, but if you're feeling like it you can also upstage the ballroom dancers entertaining you at dinner.
What style icon do you see wearing the collection? Where are they, and what are they wearing from it?
Is it too much to ask for Karen O, M.I.A, Santigold and Azealia Banks to form a supergroup N.A.S.A. style?
Tagged: