Fendi AW20 looks to a dystopian future
This Silvia Venturini Fendi presents technical, innovative and adaptive clothes suitable for surviving the end of the world.
Mitchell Sams
Ooh, baby, it's cold outside ... Hold on a minute. It's July 2021 and it is freezing. Winter is coming, but it's bringing tropical sunshine with it. Welcome to the future, a world where temperatures have soared (or plummeted), ice caps have become molten and natural weather patterns and seasons have been thrown into disarray.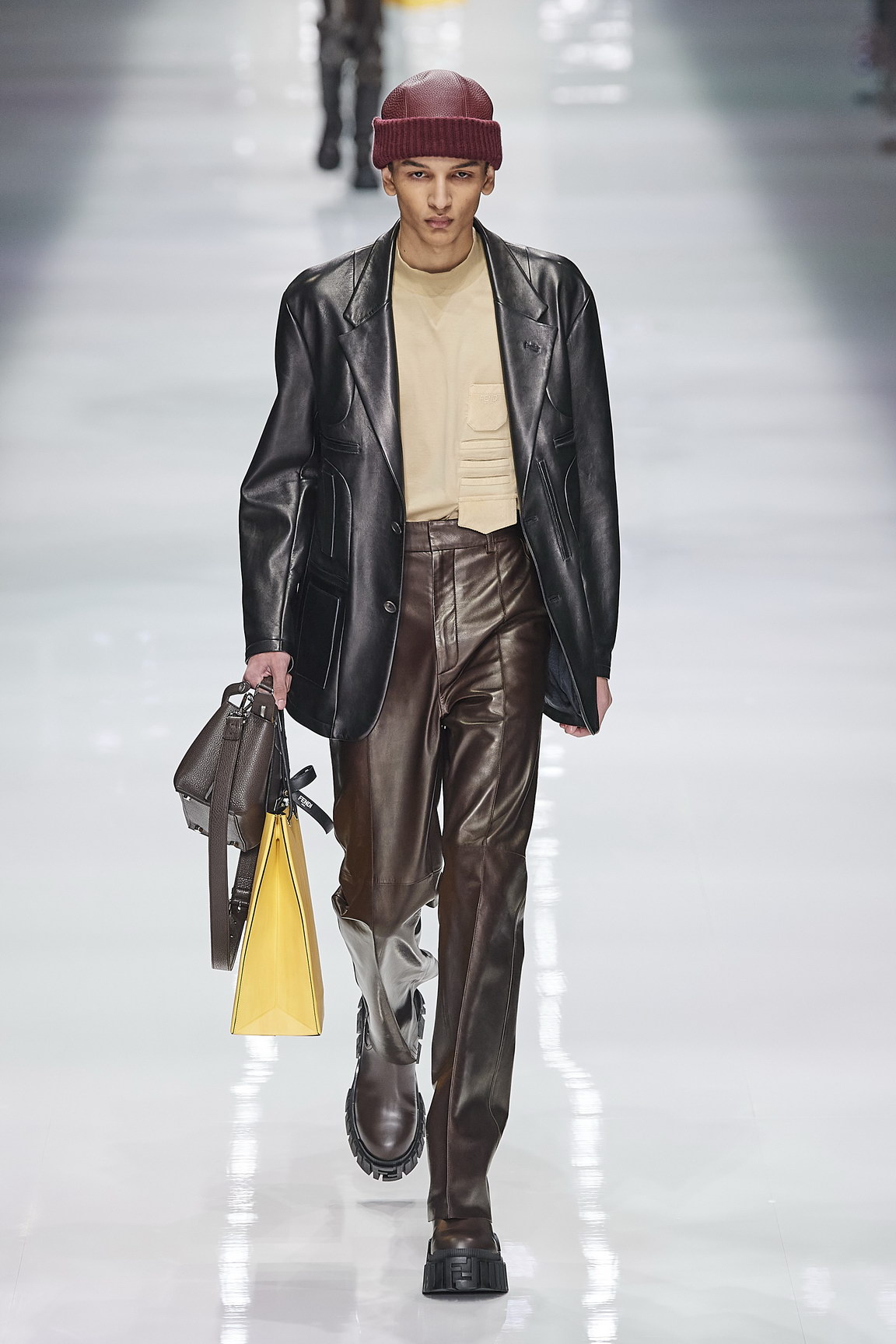 For its AW20 menswear show, Fendi looked ahead to this dystopian future, ending with a potent -- if not romantic -- gesture to what's in store. To summarise: Models stood by as their winter-white ensembles were scanned by UV lights and transformed into Fendi's distinctive yellow right before our eyes. "We have to be prepared to live in hard times," Silvia Venturini Fendi declared after her show. "The idea of having a fabric that changes having been effected by the sun is something that is strong because I really believe we are all effected by what is happening around us. You go outside with the elements and you become sun-kissed. You're like a wild animal."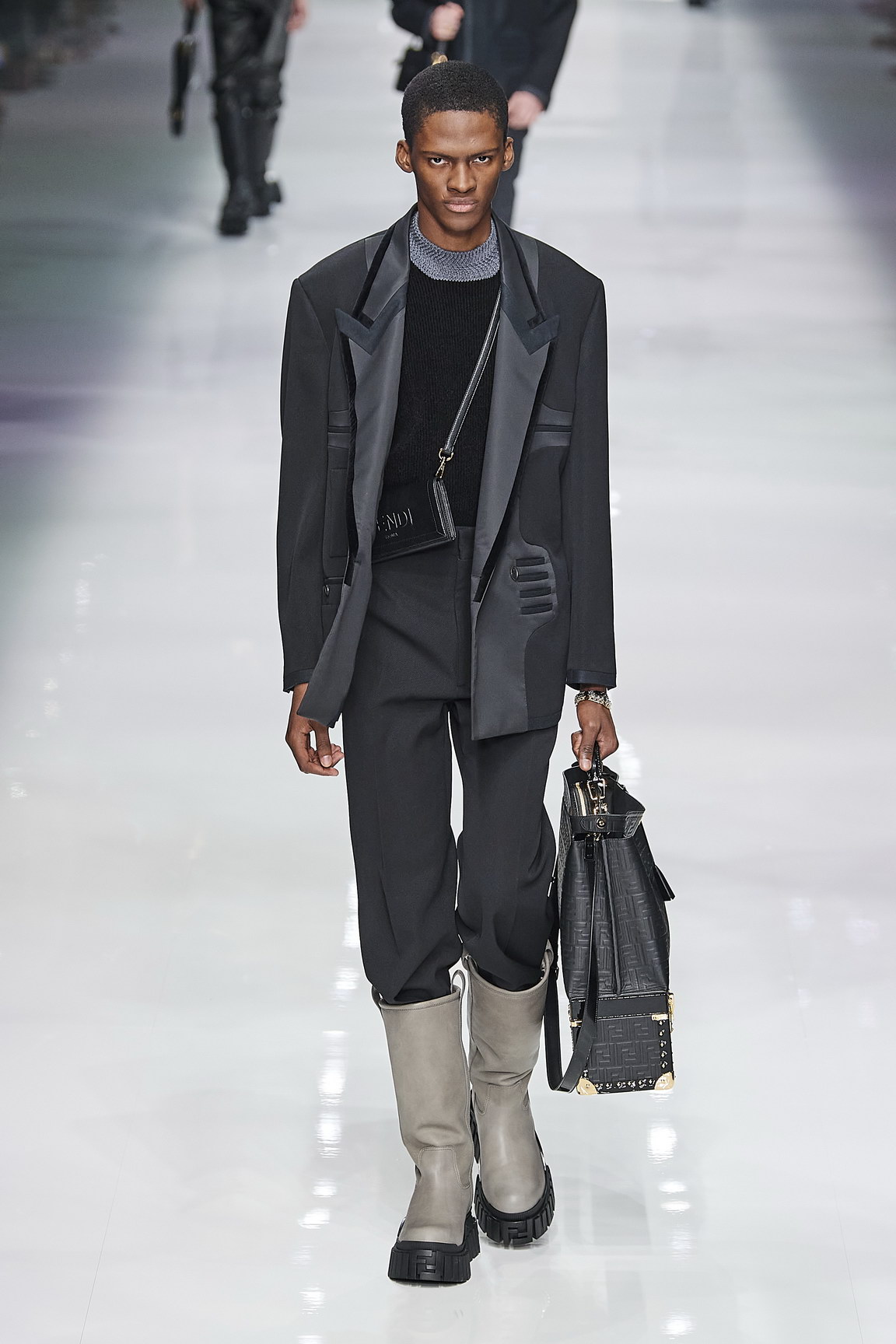 The theatrically techy moment was the first photochromic menswear moment on a European runway. Fendi collaborated with Japanese label, Anrealage, whose designer Kunihiko Morinaga was the first to use UV colour-altering fabric technology back in 2013. But that was just one bit of a show that was all about the confusing times (and seasons) we live in.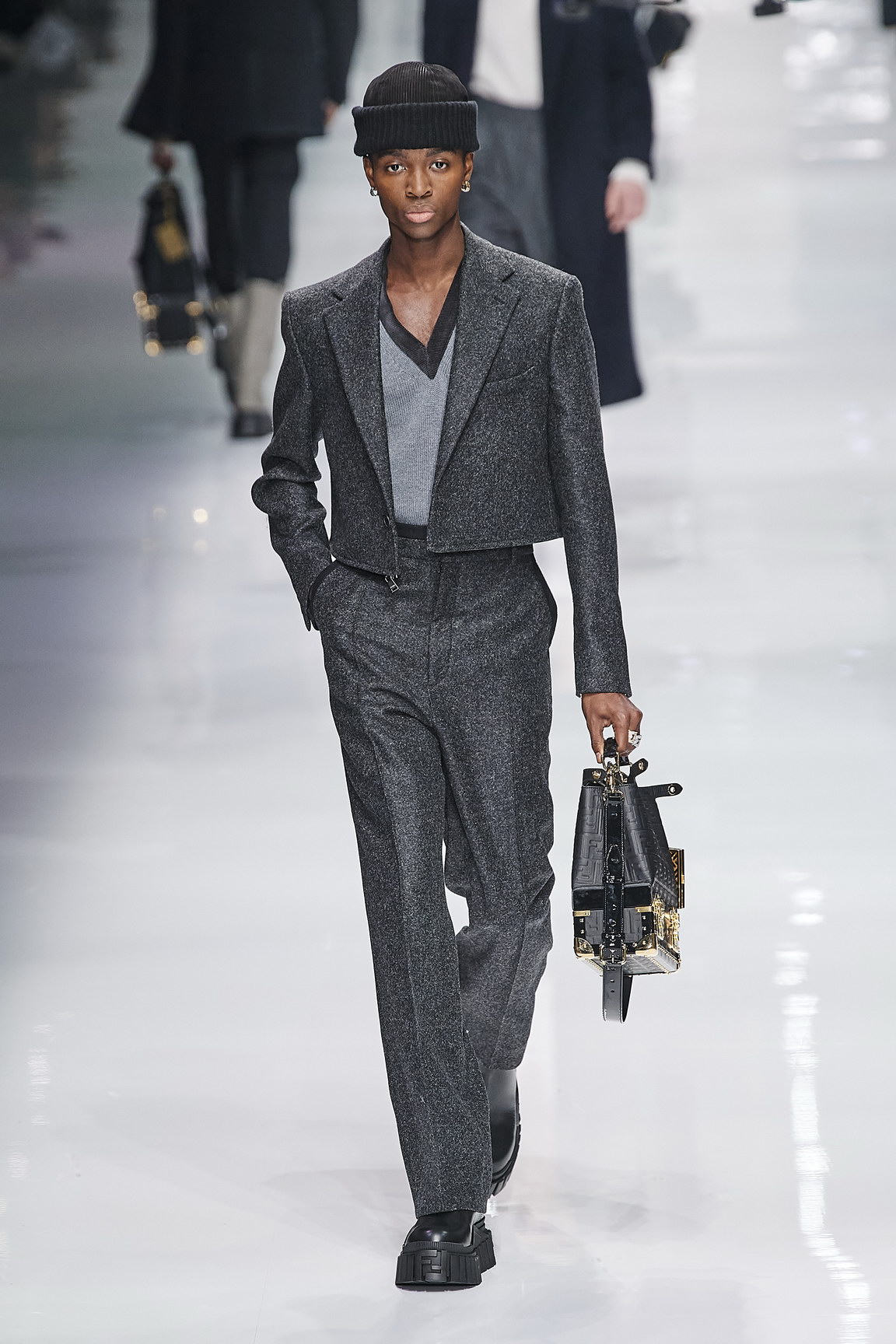 Leather tailoring and heavyweight boots had a utilitarian toughness, whole and plush shearling coats and balaclavas had a protective warmth. Yet plenty of it was worn with cashmere crop tops and sleeveless knits, the sartorial equivalent of summer hot-water bottles. Some of the neatly-tailored coats even came deconstructed with zips that allow you to turn it into an abbreviated jacket. The idea being that you can "fractionate it", as Silvia put it. "You can get the coat, go out in the winter, but when sun arrives in the day, it's like its summer and you can go out with your little bolero." Buy one, get one free.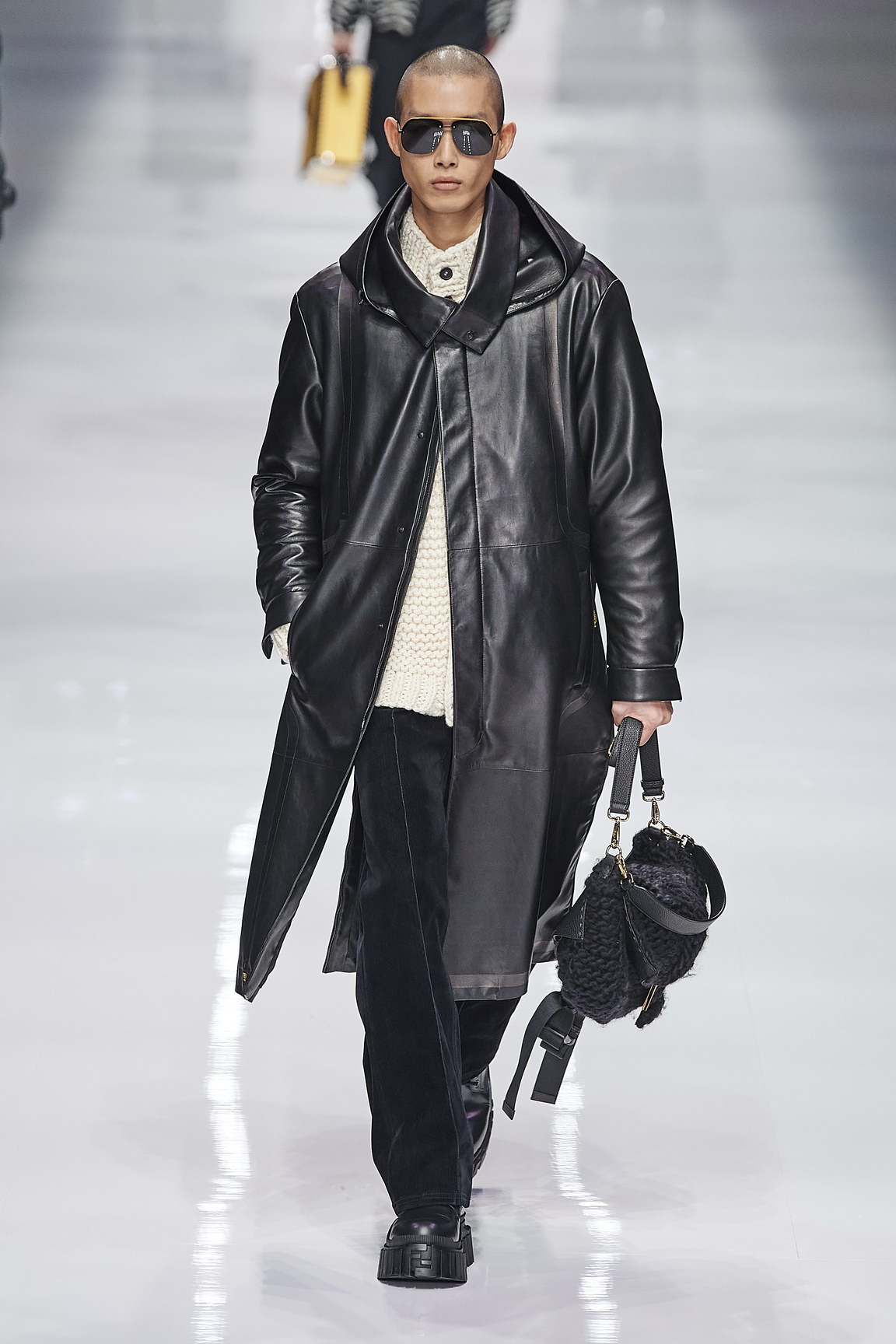 Consider it a silver lining to this mind-boggling era, one that can turn golden yellow any minute. Fashion is currently grappling with its role in the climate crisis and designers are reflecting upon the changing ways in which we live, and shop. That's probably why the models also came out carrying giant Fendi shopping bags, looking like they'd just hit the boutique on Via Monte Napoleone.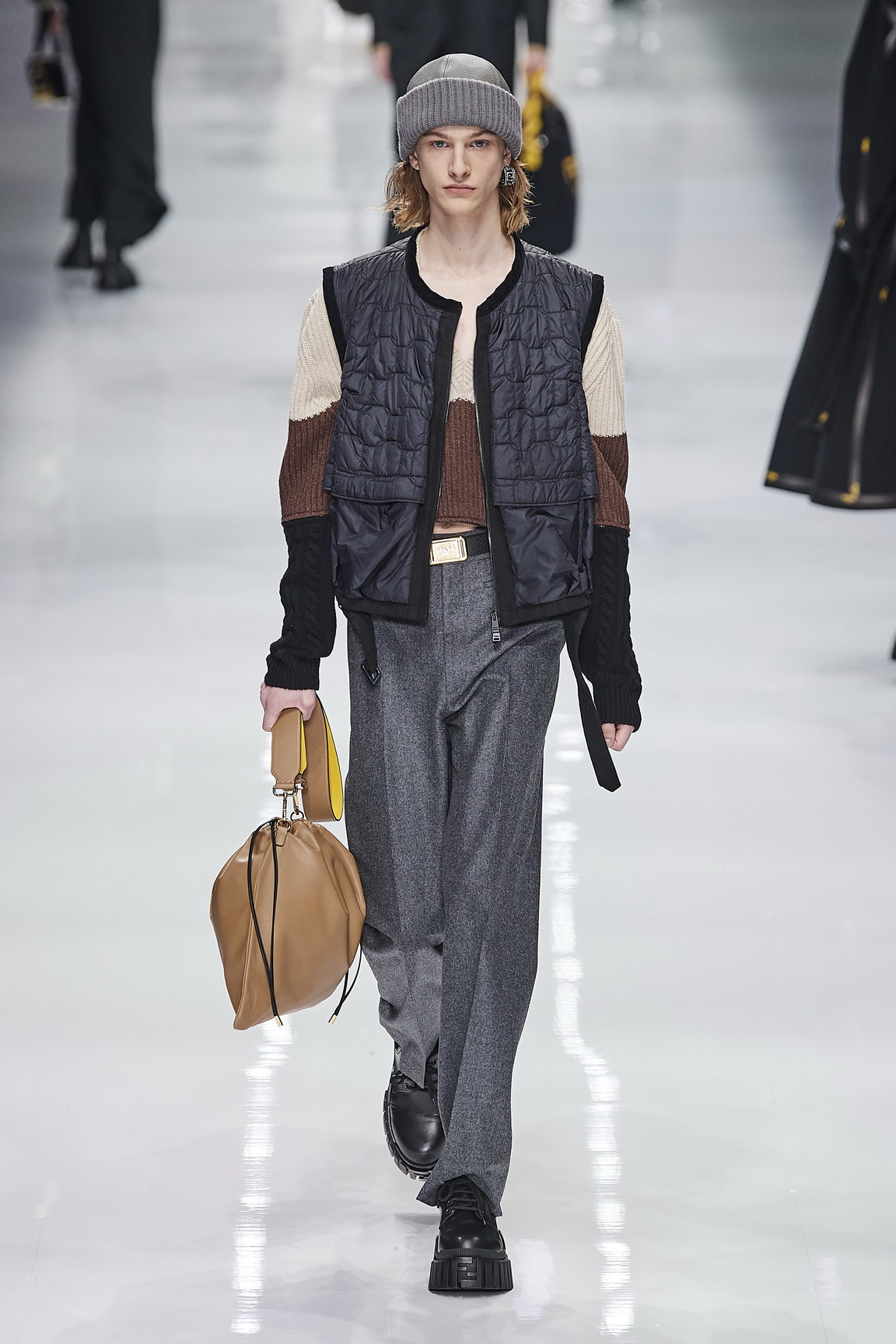 The message: whatever happens, Fendi will survive. Sweeping trouser-skirt hybrids in Melton wools and pinstripes also nodded to the cultural zeitgeist — a mediation on the classicism of menswear for a generation that is dismantling traditional gender conformities. "Looking at classicism doesn't mean we go back to old rules," Silvia said. "You embrace new rules, the new feeling, the new attitude. Any kind of person, man or woman, can have a piece of this collection in their closet." Not only that — they can also wear it any time of year.