The intimacy of a queer poet's home inspires Per Götesson AW20
In a kitschy living room, models channelled the tragic story of one of the 1960's most satirical, high-camp poets and playwrights.
|
06 January 2020, 11:45am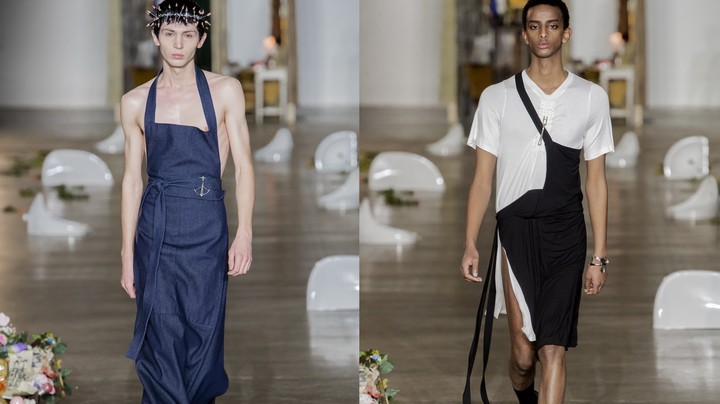 Photography Mitchell Sams
Islington has long been a refuge for London's queer artists. In the 1960s, the satirical, high camp poet and playwright Joe Orton lived there with his partner, the actor Kenneth Halliwell. They had a flat on Noel Road and would visit the local library to steal and deface book jackets; many of which ended up pasted on the wall of the flat they shared. But it was a love story that would end tragically: a romance marred by bitterness and mental illness that led to Joe's murder at his partner's hands, who took his own life shortly after.
Today, Per Götesson lives near the flat where Joe Orton lived; his story – ending aside – epitomising a culture of community and togetherness the designer insists is greatly needed in 2020. And so, for the set of his AW20 presentation, long-time collaborator Tony Hornecker has strewn roses and Duchamp-esque urinals down the runway, a collaged statue of a pissing cherub its crowning glory centrepiece. Models emerged from a room in a kitschy decor house, its walls plastered with torn-up photographs that have been marked by the students Per teaches at LCF. The whole set-up is an homage to Joe Orton's winking sense of humour.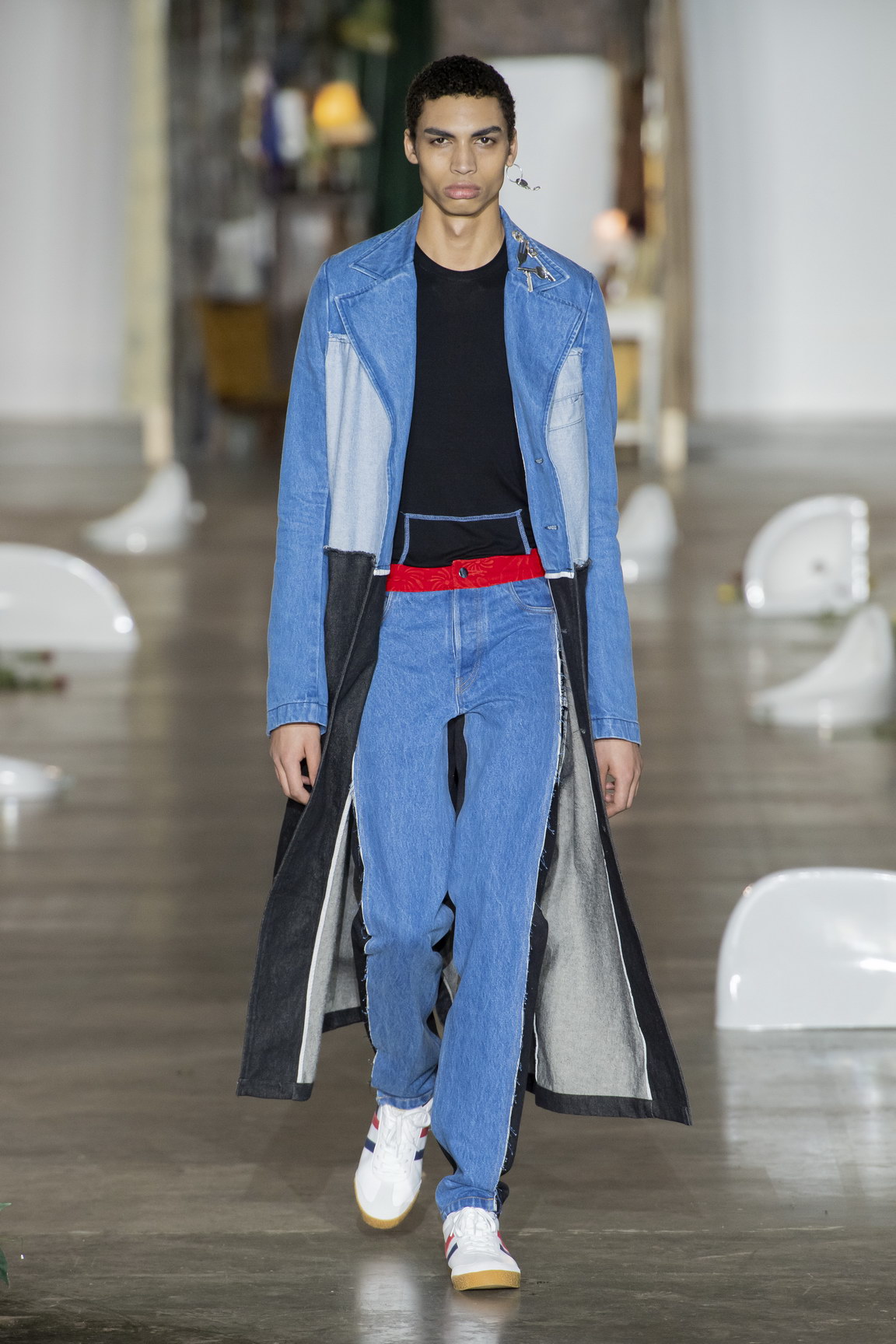 That love for collage and patchwork manifests itself in Per Götteson's clothes too: a collection that veers away from the clinical to feel like it's lived a life already. A medley of denim throughout -- Per's go-to material -- is reinvented: hoodies made from innovative 3D-designed patterns are ruched to the point of becoming crop tops, layered underneath loose, summer blazers. The acid wash effect is transferred onto a T-shirt dress with a sewn-in apron motif – another prevalent feature of his AW20 line-up.
In one look, perhaps the collection's stand-out, an apron with trailing straps is emblazoned with the image of a gazing figure from a 1970s magazine; the product of Per's collaboration with Patrick Waugh. The lilac, crushed velvet trousers its paired with, stitched and ruffled with for texture, create a delicacy that taps into Per's signature trait: to deconstruct typically masculine silhouettes and imbue them with something less so. The crimson, crushed velvet apron is as violent as it is sensual.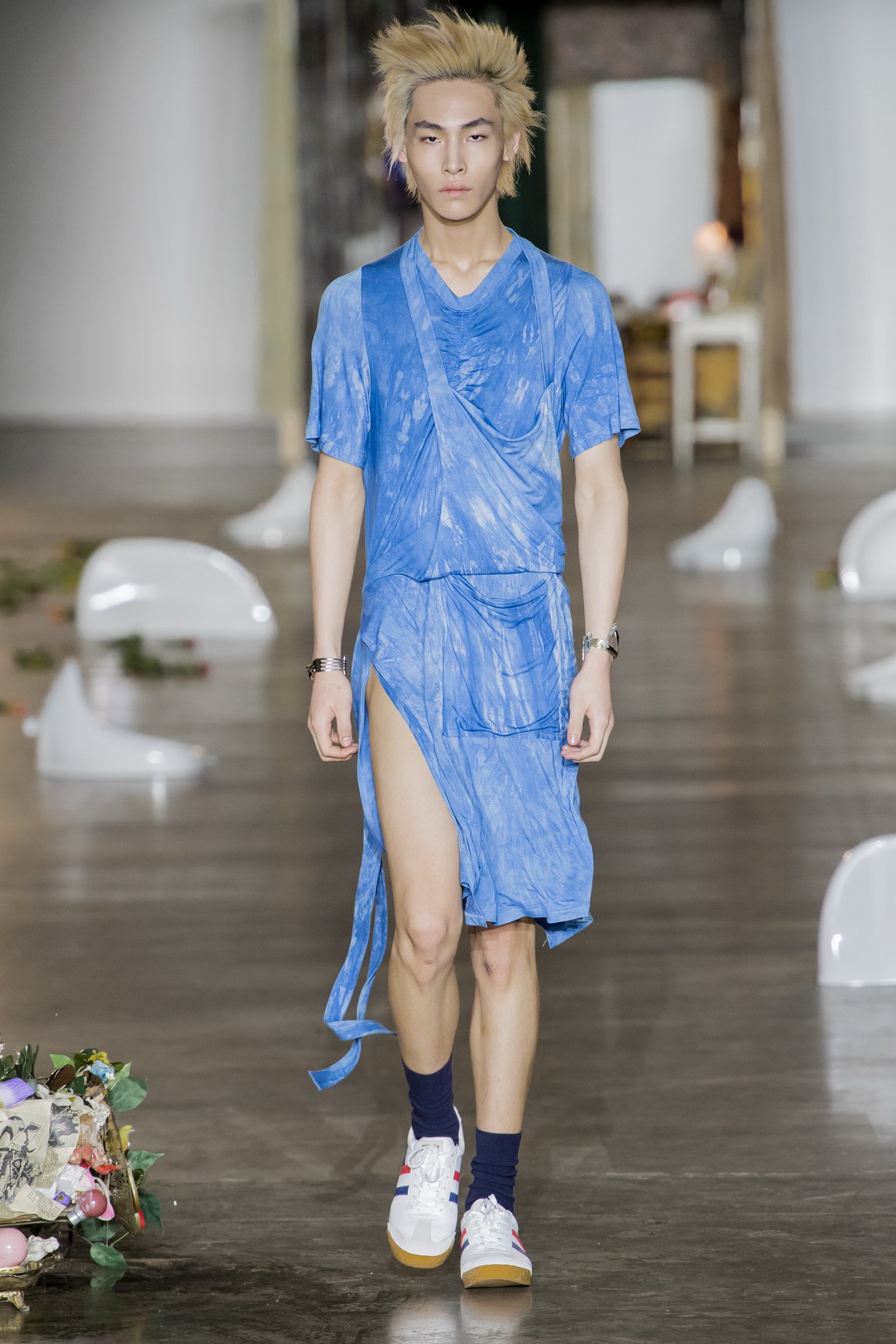 From the panels of many garments -- like jackets that twist denim and jersey -- peace symbols and key brooches hang, the work of Per's partner, jewellery designer Husam El Odeh. The couple have been working together on some of the most memorable moments in Per's catalogue thus far (who could forget the cracked Meghan Markle and Prince Harry brooches from SS19?), but the sweet sign-off of the final look is one to trump them all. In a floor length denim apron, cinched at the waist to give a dress-like silhouette, a boy wears a crown of thorns; a symbol of pain and sacrifice at the hands of another. The thorns in this interpretation are short, sharp pencils.
Communication is vital, Per points out, but its power can be lethal too. When the police found the bodies of Joe Orton and Kenneth Halliwell, 63 years ago near Per's home, a suicide note was attached with a reason for Kenneth's actions: 'If you read his diary, all will be explained …'.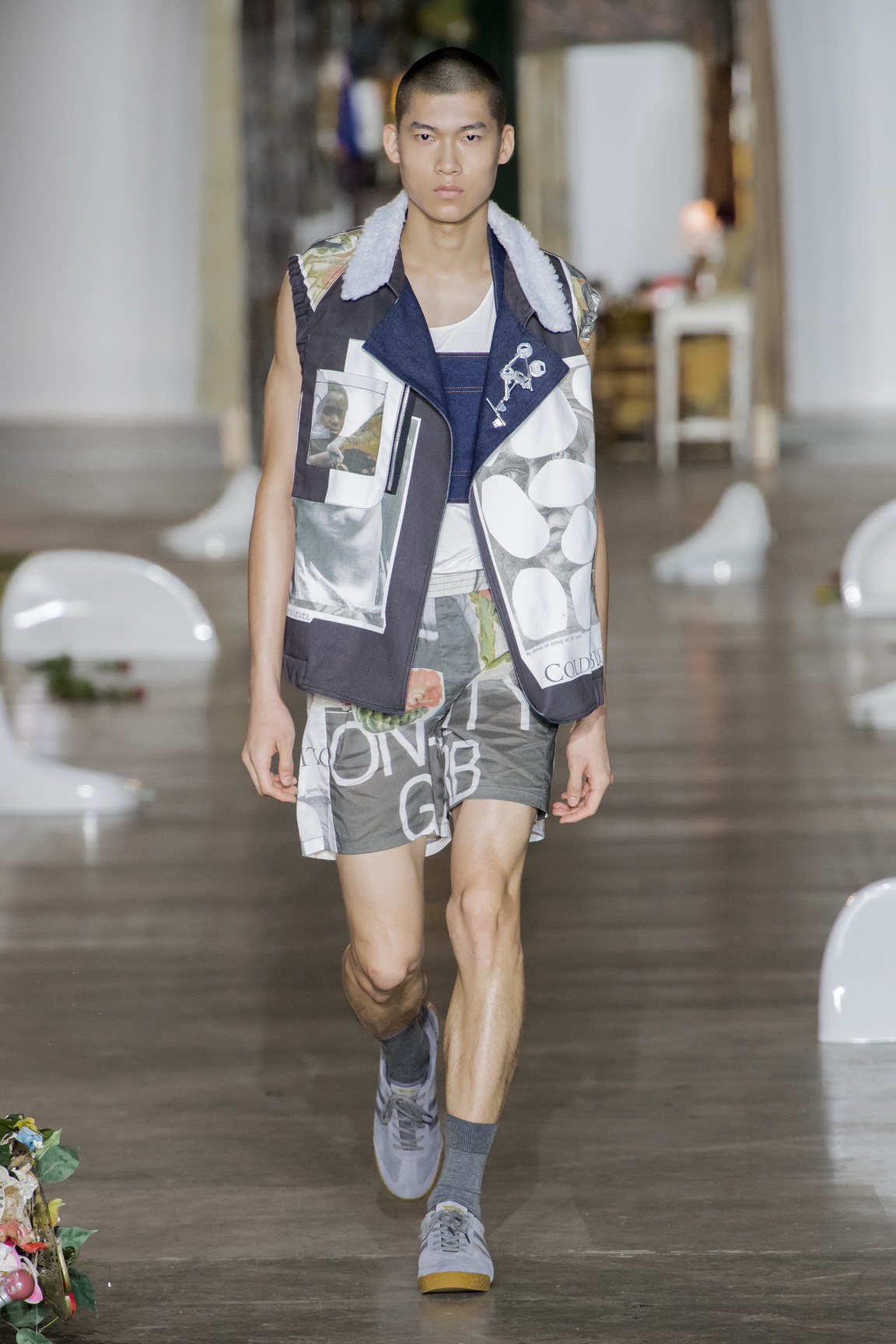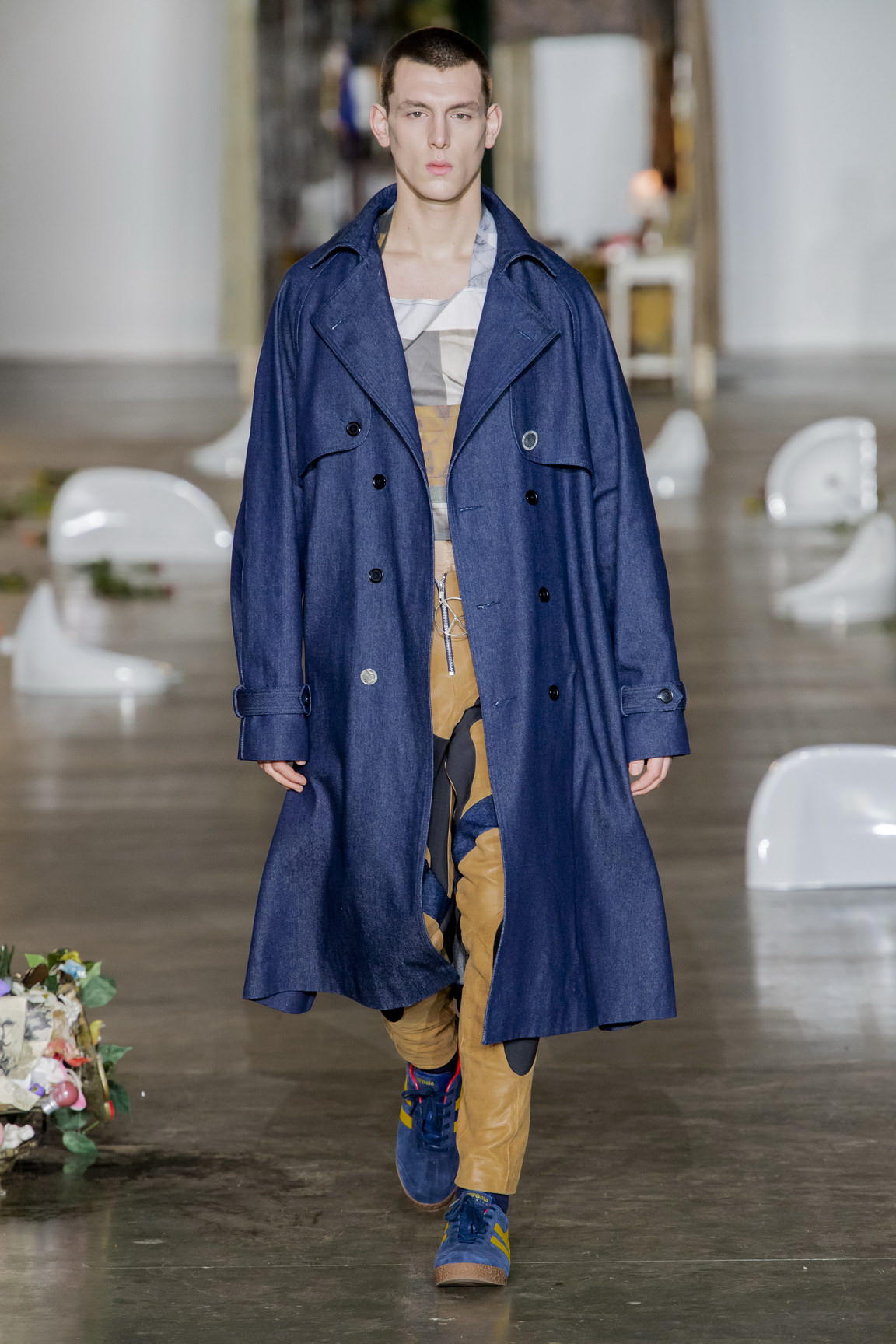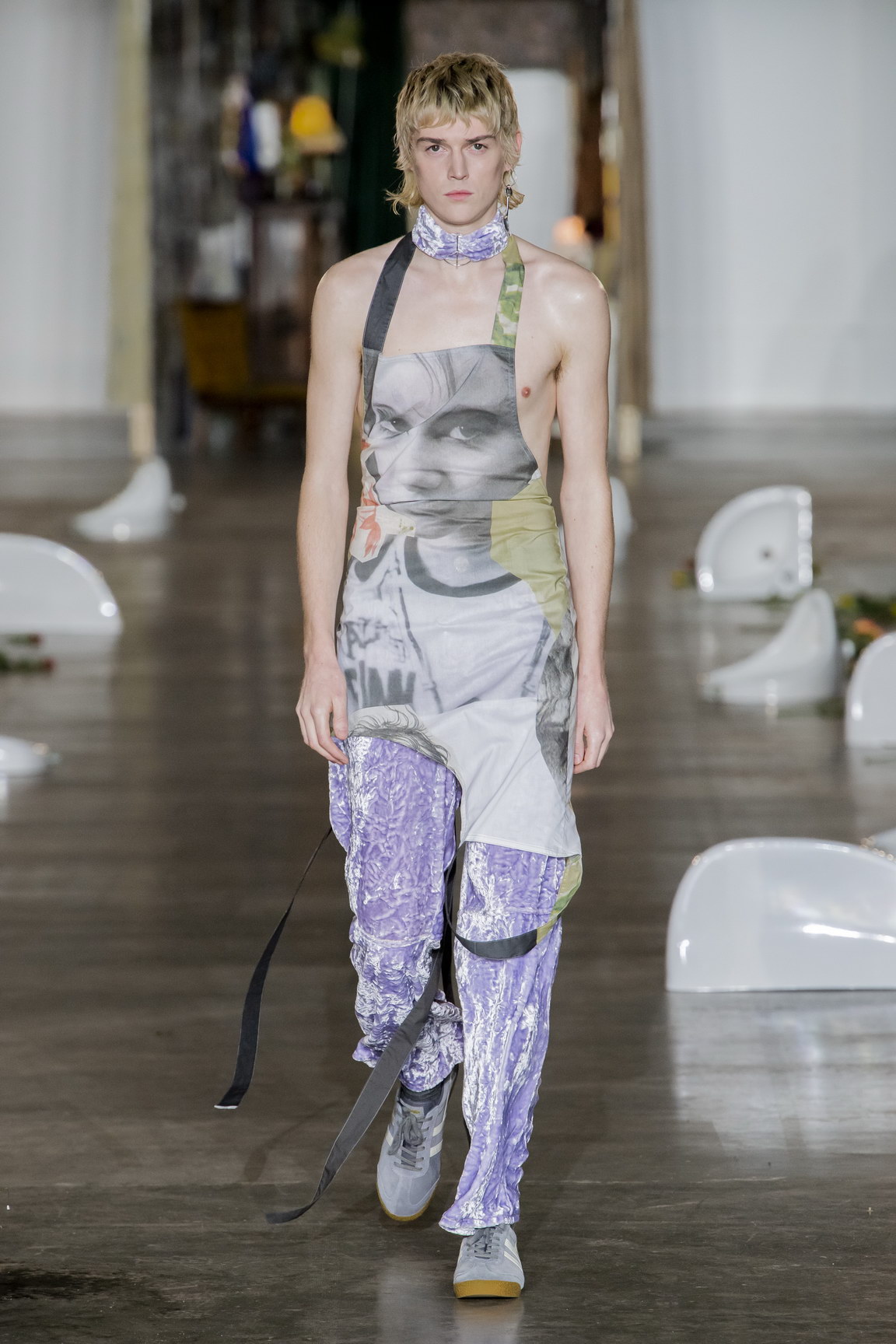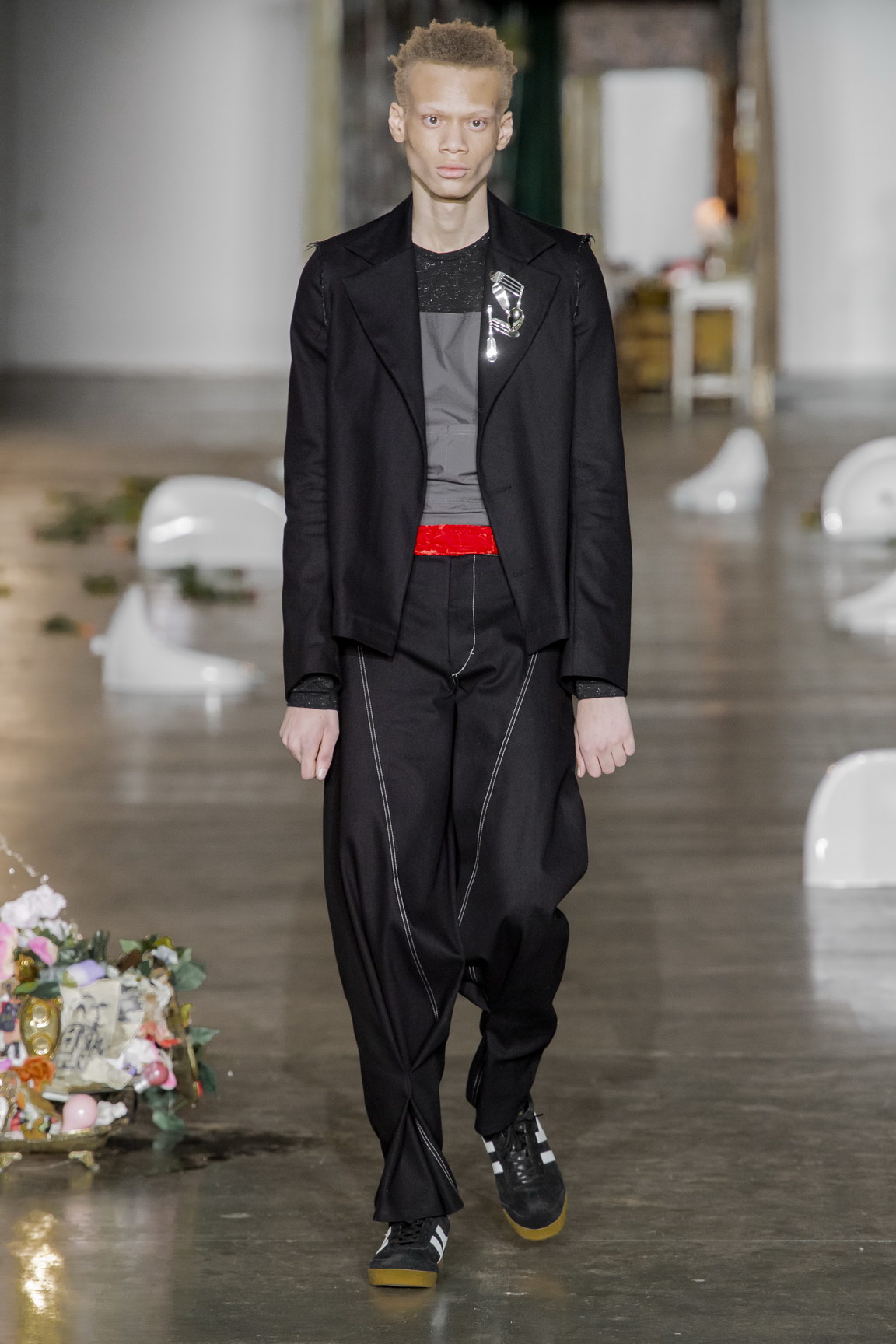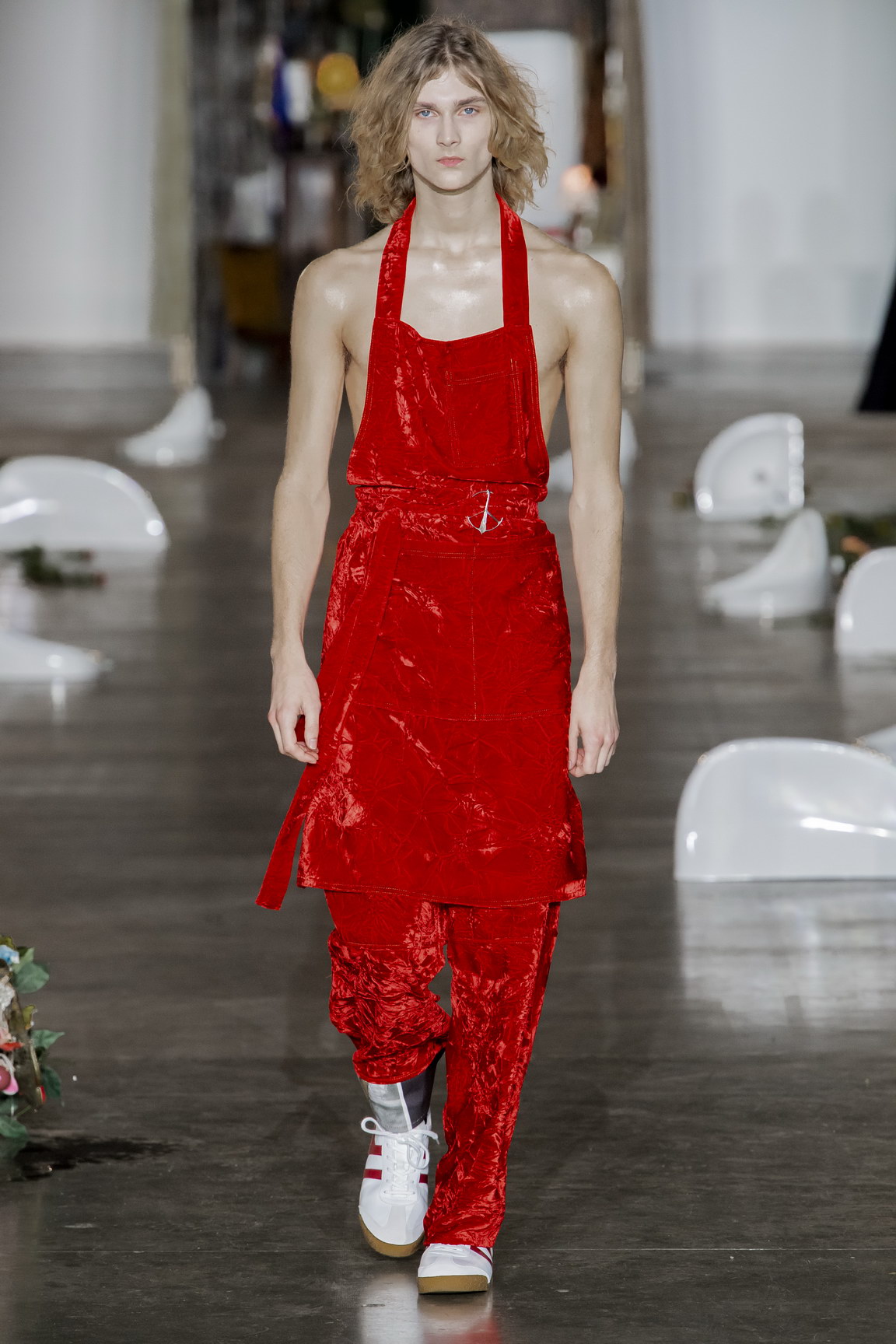 Credits
---
Photography Mitchell Sams