Photography by Azra Khamissa and Mous Lamrabat
The designer creating modern and minimalist henna art
Azra Khamissa's contemporary designs are reviving the traditional art form for younger generations.
Photography by Azra Khamissa and Mous Lamrabat
Henna art has been practiced in many parts of the world for centuries as a form of expression and celebration. For artist and designer, Azra Khamissa it is a meditative practice for connecting with other women and experimenting with her own contemporary designs. As a Canadian with South-African Indian heritage and growing up between Toronto, Dubai and Melbourne, Azra has been inspired by these eclectic blends of cultures and experiences which strongly influence her work.
Her designs have become insanely popular on instagram, as she revives this traditional form of art for younger generations with her cool minimalist designs. Azra uses henna to depict subjects that genuinely really fascinate her — the different phases of the moon, palm trees, bones and yep even baby hair. Her work has recently been re-posted across the globe and she's built up a large following in the two years since she decided to pick up a henna cone.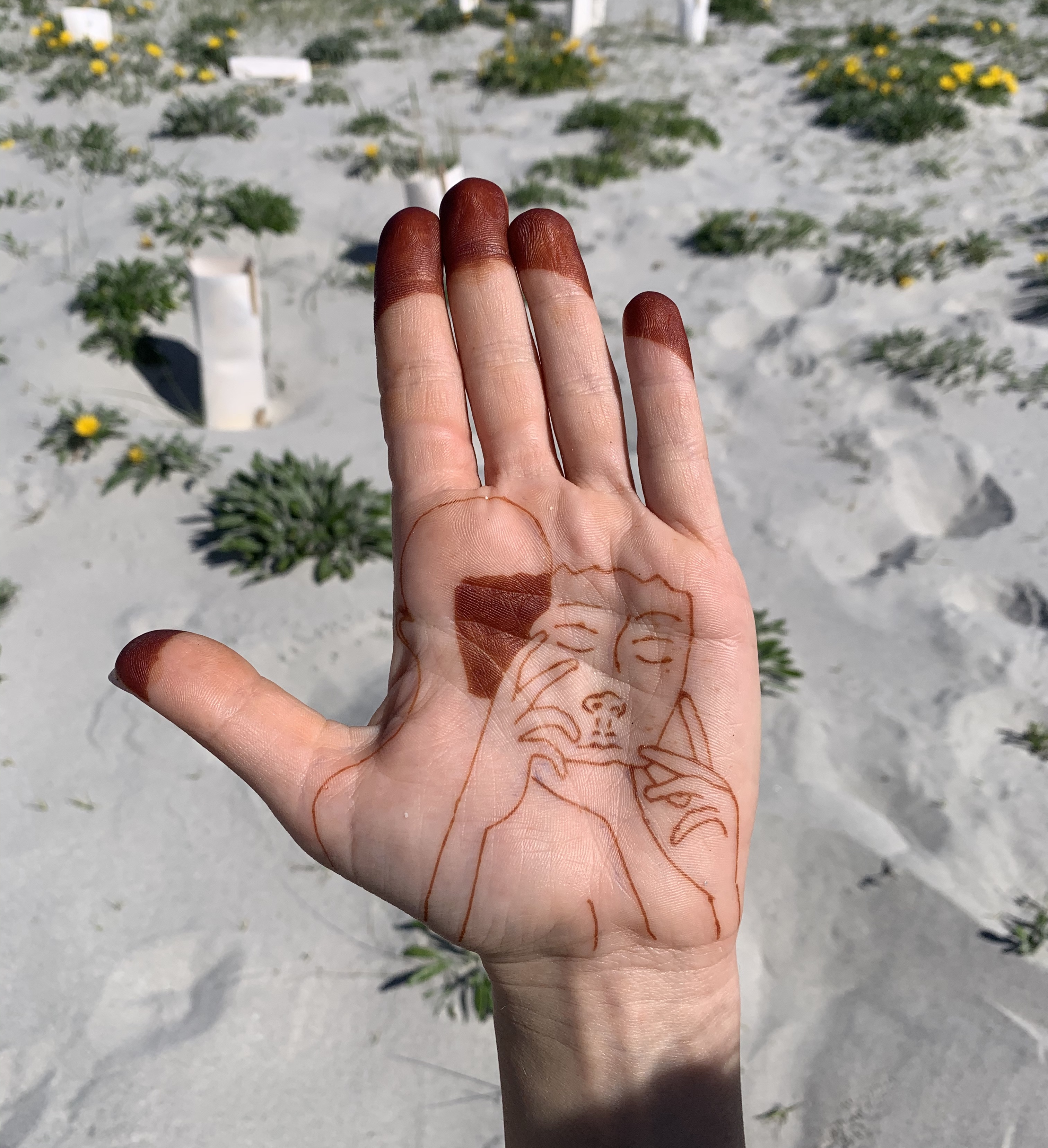 I've always seen henna with really intricate, classical designs — very different to your designs. How did you get into it?
Growing up we always applied it at weddings and for celebrations, like Eid and it was always intricate Indian designs. About two years ago I started exploring henna with my own designs. The first design was basically just a simple solid colour circle in the centre of the hand. We ended up photographing it and seeing how beautiful it looked in the images kind of manipulated my views on it. I was used to seeing it on my own hands only and maybe took it for granted.
I started posting photos and was surprised by the reactions I got. From there I started exploring, loving it more and connecting with it more. I mainly would do circles, moons and geometric shapes at first because it is actually not easy to use a henna cone!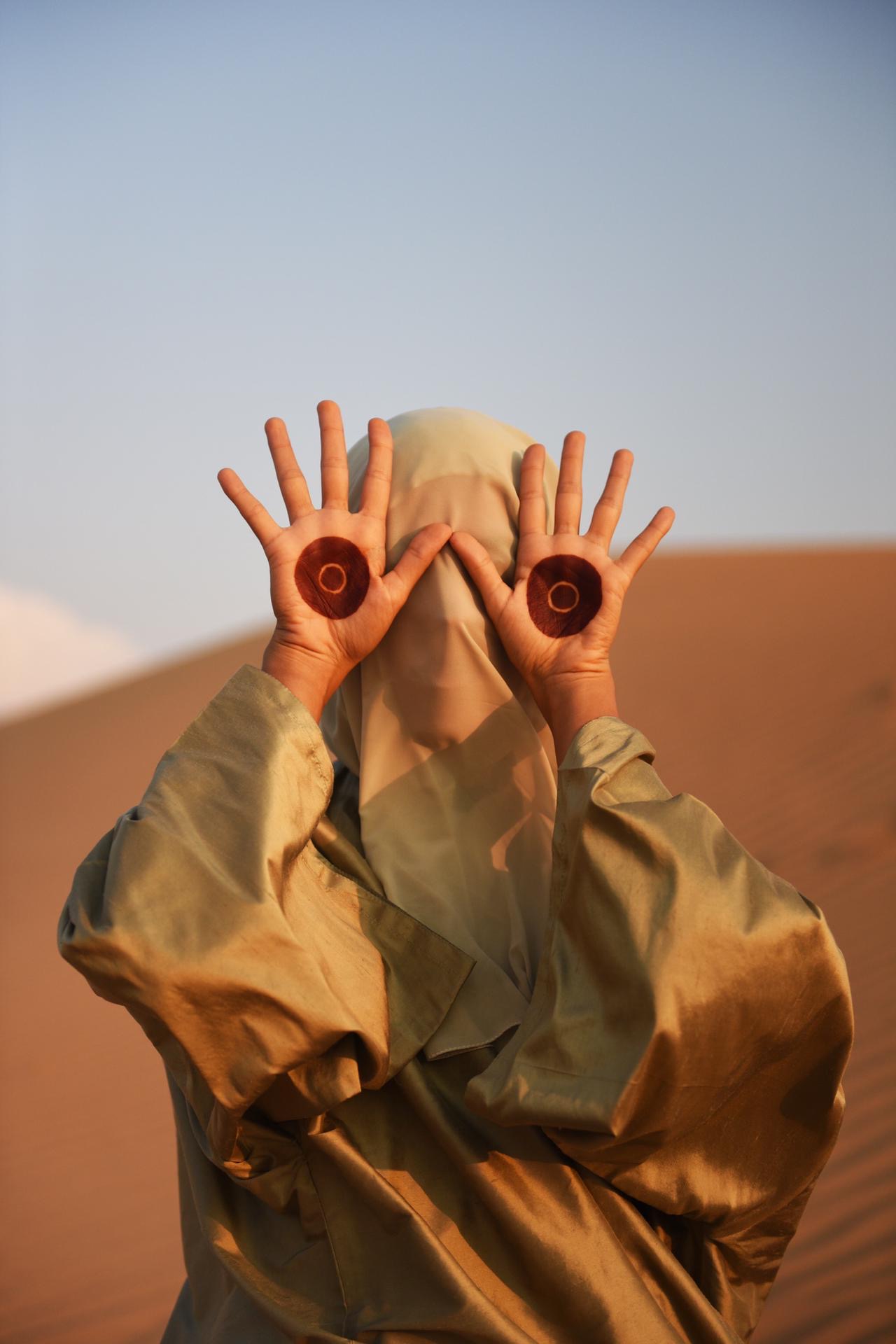 What inspires your unique contemporary designs?
Henna is part of my culture — we have always done it in my family. I am especially close with my grandma and she has always loved it. When I lived in Melbourne, I became really inspired by tattoo culture. I did a lot of travelling around Asia and in those years met a lot of heavily tattooed people for the first time and have always loved how it looks — particularly solid coloured tattoos and that inspires a lot of my designs.
There's also a big overlap between my designs and what I call 'the grandma bedouin style' because in many parts of the world, older matriarchs would wear these simple block prints. I then like to add in something that makes it a little more contemporary. I live on the outskirts of Dubai and the desert is very close. I go there as much as I can, I find it extremely calming — I think those old Dubai feels also inspire my work and I love to shoot my work in the desert. Having lived in many different places, it has been a real culture contrast being exposed to so many different norms and I've definitely taken inspiration from each.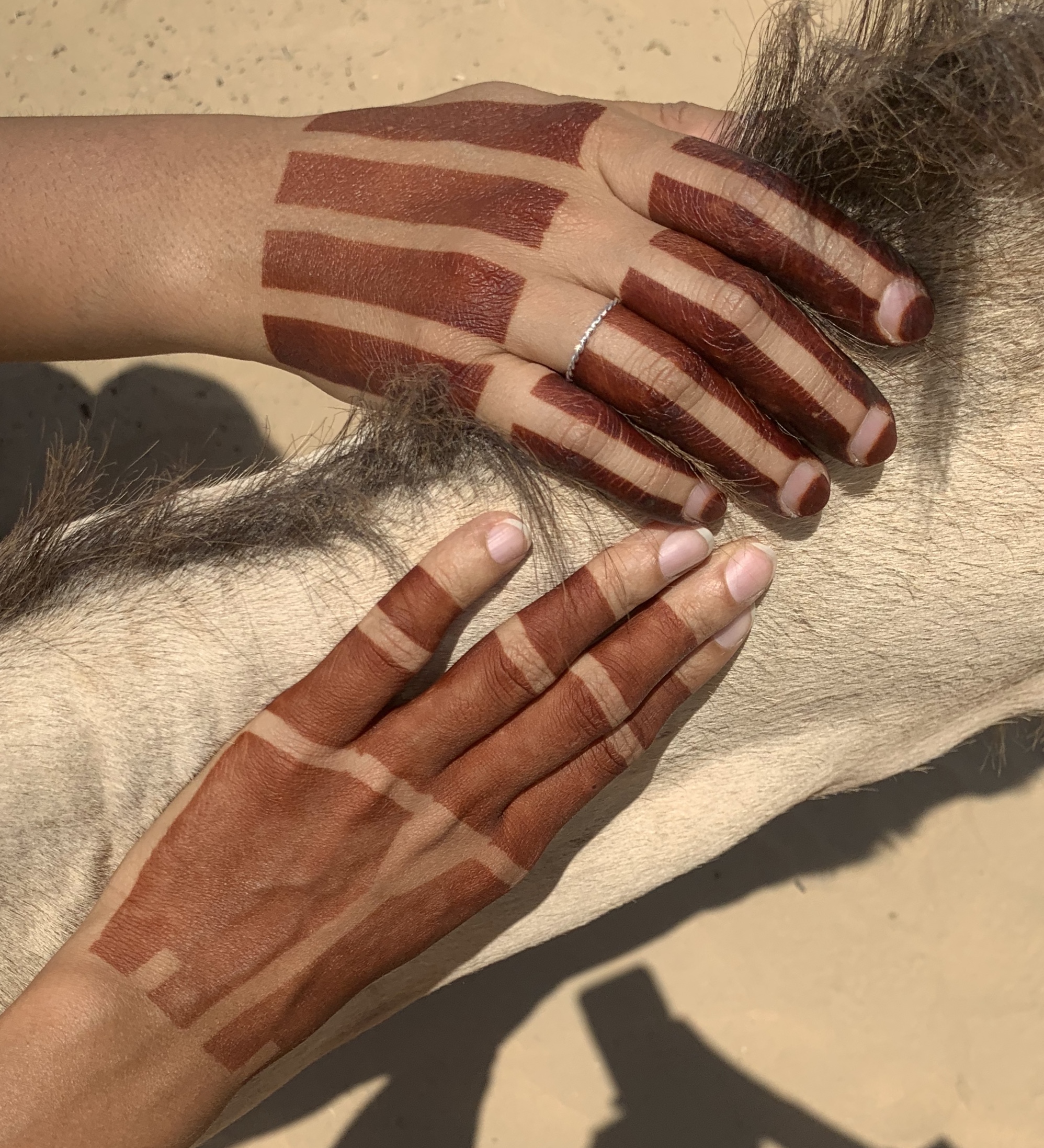 What is it about henna that you connect with?
When I do it for myself, it's usually quite late at night. I'll put Netflix on and that's when I'll do my designs and experiment. I keep it on for an hour or so while it dries. It's me time — it's therapeutic, relaxing and also cooling. I'll usually have an idea that I want to execute —the last one I did was topographic lines.
When I do workshops and pop-ups, I love the feeling of strong female connection because it's this space where women feel comfortable exploring their expressive side and I really like that element. There aren't that many spaces for women to do that but the idea of henna as a women's circle or space has been around forever.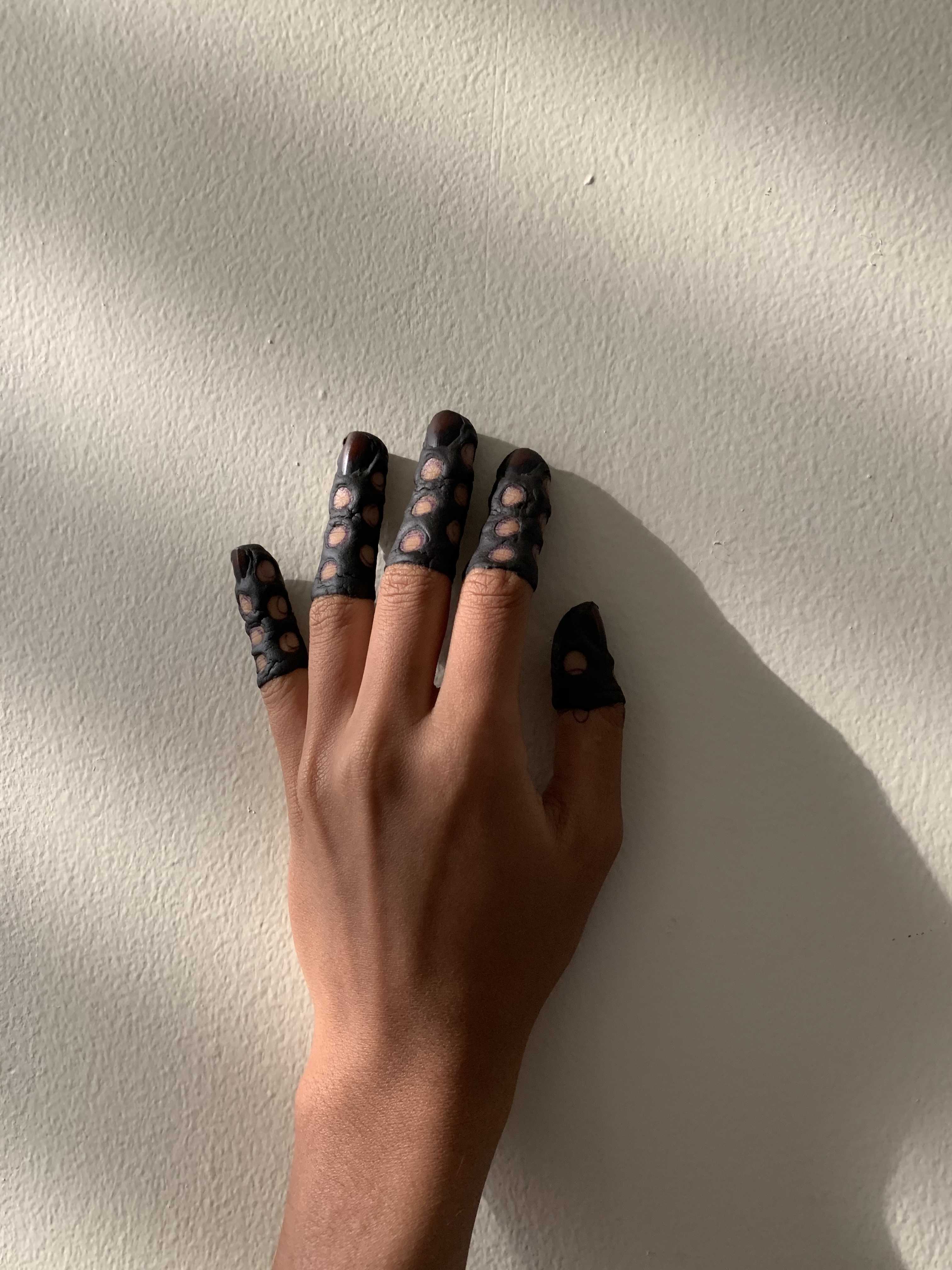 How do you find people react to your designs?
I get DM's from people everyday who get together and try out my designs and send me pics, which is really cool. Sometimes people will be like, "l tried but look at how bad this is" or they'll be proud at what they've achieved or how they've improved.
My grandma sometimes will tell me off and say my designs are too simple or minimal — she prefers henna to be more traditional and prefers floral designs, which I understand. It's not the style she is used to — but occasionally she will really like my work and it makes me so happy because it is definitely rare!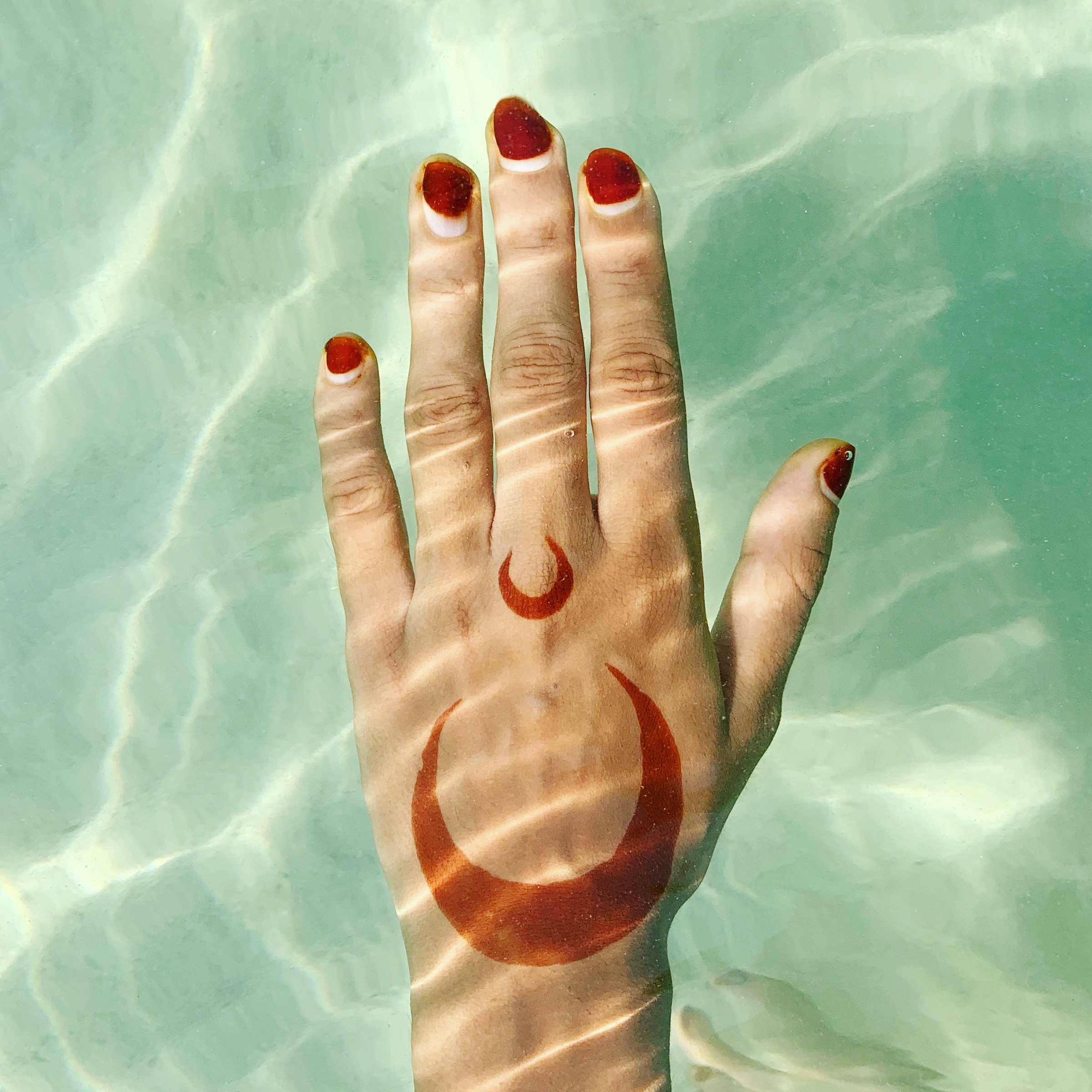 What are some of your favourite projects that you've worked on?
Doing a design for Gucci recently was a real highlight. Working with their team and hearing that the team in Italy loved my work, yeah that was cool. I also do pop-ups where we pick a space and tell people to come — everyone is welcome. That's where I feel that community and female energy, everyone will be connecting and chatting and since applying henna is a personal thing, you can get deep quite quickly — it's generally not small talk, you know?
I have found a lot of people irrespective of gender or geography have an appreciation for it which I really like. I get Instagram messages from so many different people across the world that connect with it and that means a lot.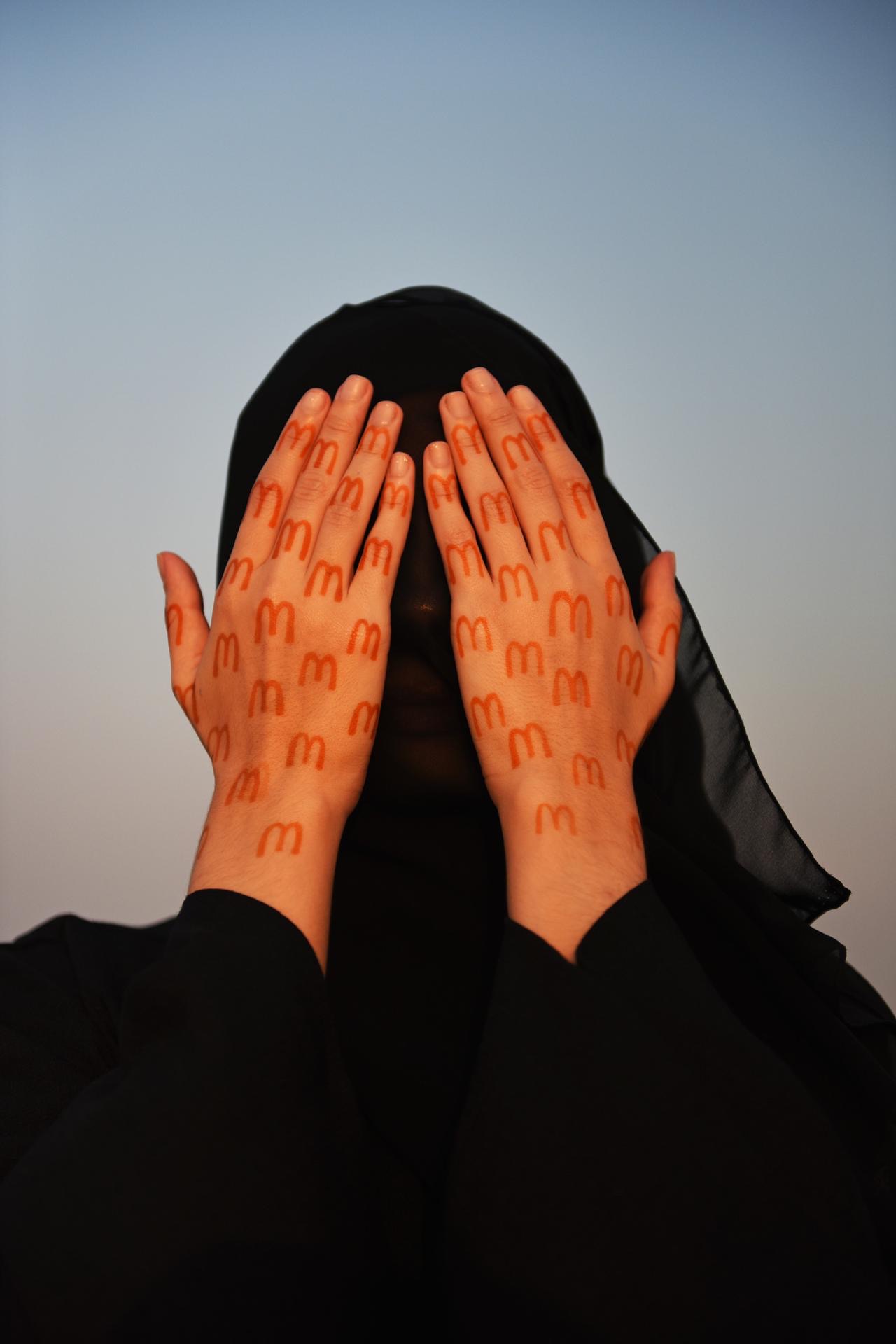 What are you looking forward to?
Definitely exploring henna nail art more - that's something I want to get into. There's also an exciting campaign for Asia that I'm also looking forward to working on its release.
With everything going on in the world right now, how are you feeling?
I work with a lot of brands and events and of course everything is postponed right now. Henna is obviously a gathering space and a form of social bonding so that is a little bit sad but it definitely needs to be on hold for now and it'll be even more special when we can safely re-start.