Everything you missed at the Oscars last night
Because who has the time to stay up to watch all of that honestly? Sleep is important, guys.
|
10 February 2020, 12:00pm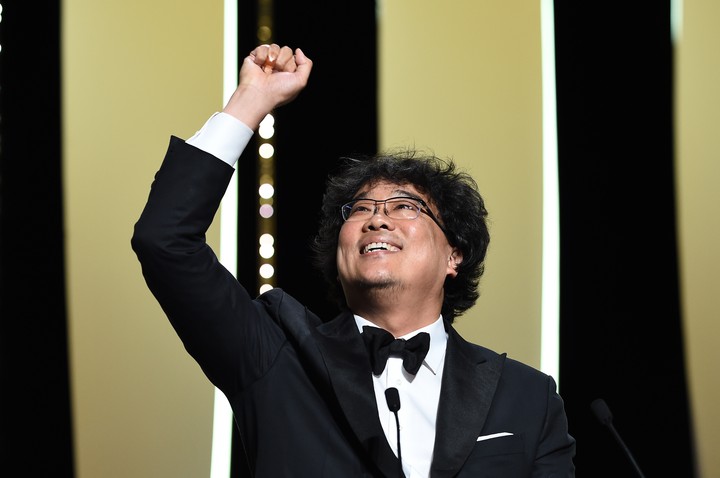 Getty Images
What. A. Night. In case you missed it -- and if you're reading this, you probably did -- last night was the film industry's big night, and the 92nd Academy Awards certainly gave us a lot to talk about. From historic wins to subtle protest fashion, from luxe trackies on the red carpet to batshit musical moments, this was an Oscars ceremony to remember. But look, save yourself the hassle of scrolling through Twitter and trying to decipher all those memed moments that happened after you fell asleep. We've got it all together in one place, so you can pretend you watched it all happen in real time. We won't tell on you.
Parasite made history
With the Academy's history of elevating white, male stories in recent years -- cough, Joker, cough -- many people were anticipating a win for 1917 or the Batman film as this year's Best Picture, despite the fact they were up against the groundbreaking and more deserving Parasite. Which makes Bong Joon-Ho's historic win last night all the sweeter. The South Korean filmmaker picked up no fewer than four little gold statues for Best Director, Best International Feature Film, Best Original Screenplay, and Best Picture -- the first non-English language film to ever bag the latter. Predictability? We don't know her.
Natalie Portman and Beanie Feldstein went political with their fashion choices
Sometimes you watch a red carpet and you're like, oh a strapless column gown in a neutral colour? For the Oscars? Groundbreaking. But this year we saw some interesting choices: rejoice! Natalie Portman, for one, made a subtle nod to the Academy's lack of diversity, wearing a cape (a cape!) bearing the names of female directors snubbed by the Oscars. And Booksmart's Beanie Feldstein accessorised her white sequin Miu Miu dress with a blue ribbon raising awareness for the ACLU, a group which advocates on behalf of marginalised groups.
And Timothée Chalamet championed the formal tracksuit
Never one to disappoint on a red carpet, last night Timmy showed up wearing a Prada tracksuit accessorised with a big brooch and a white tee. It's very "chic 50s mechanic in an off-Broadway performance of Grease meets surly-but-talented PSG footballer at a post-match press conference" and we're here for it. Does this mean we can start wearing trackies to all formal events please say yes?

Keanu Reeves brought his mum as his date!
This is too wholesome. Just lovely. Look at them!
Spike Lee paid tribute to Kobe Bryant in custom Gucci
Following last year's outfit which paid tribute to Prince, Spike Lee chose to remember the basketball legend with his Oscars 2020 suit, a custom Gucci design in purple and yellow, reminiscent of Kobe's Lakers colours. The filmmaker, who had known Kobe for years and directed Kobe Doin' Work, a 2009 documentary depicting a day in the sports star's life, completed the look with a pair of Nike Kobe 9 Elite "Strategy" trainers and lapels bearing Kobe's jersey number.


Joaquin continued to champion veganism in his Best Actor acceptance speech
Joaquin Phoenix is really using his platform for good this awards season. Following a BAFTA acceptance speech which drew attention to a lack of racial diversity in the film industry, a brief sojourn to an Extinction Rebellion protest and his decision to wear the same suit to each event in an effort to champion sustainability, the actor spoke out about veganism in his speech last night. Taking the stage after nabbing Best Actor for his performance in Todd Phillips' Joker, Joaquin told the crowds, "I think at times we feel or are made to feel that we champion different causes. But for me, I see commonality. I think, whether we're talking about gender inequality or racism or queer rights or indigenous rights or animal rights, we're talking about the fight against injustice." Paying tribute to his late brother River, the actor added, "we go into the natural world and we plunder it for its resources. We feel entitled to artificially inseminate a cow and steal her baby, even though her cries of anguish are unmistakable. Then we take her milk that's intended for her calf and we put it in our coffee and our cereal." Hear hear.


Janelle Monae celebrated diversity in a powerful opening musical number
The opening performance must be nerve-wracking, but Janelle set the bar high with her musical number, inspired by children's TV presenter Mr Rogers. Wearing Rogers' trademark red cardi with her own trademark hat, Janelle launched into a hectic-but-wonderful performance of his theme, "It's A Beautiful Day In The Neighbourhood", leading into her own 2009 track "Come Alive". Accompanied by dancers dressed as characters from Joker, Midsommar, Us, Queen and Slim and Dolemite Is My Name, Janelle announced to the audience: "Tonight we celebrate the art of the storyteller, those voices long deprived". She also included call outs to Parasite and an allusion to "Oscars so white". Eminem could never (side note: who on earth booked him lol).
And there was a Cats tribute, obv
Here's Rebel Wilson and James Corden dressed as big cats. I hate it here.