Photography Mitchell Sams
Prada AW20 was an off-kilter take on what sexiness means today
Miuccia breathed new life into bourgeois staples, from shearling jackets to wintery great coats, business suits to demure pencil skirts.
|
21 February 2020, 10:18am
Photography Mitchell Sams
The set for Prada's AW20 womenswear show picked up, thematically, from where AW20 menswear left off. An abstracted piazza, a deconstructed statue -- Atlas holding the world aloft. Soft red light, floral murals, and waved lines tracing paths across the floor. There was little kinship, however, between the collection itself and its SS20 predecessor, an ode to the chicness of the 70s, to lightness and luxury.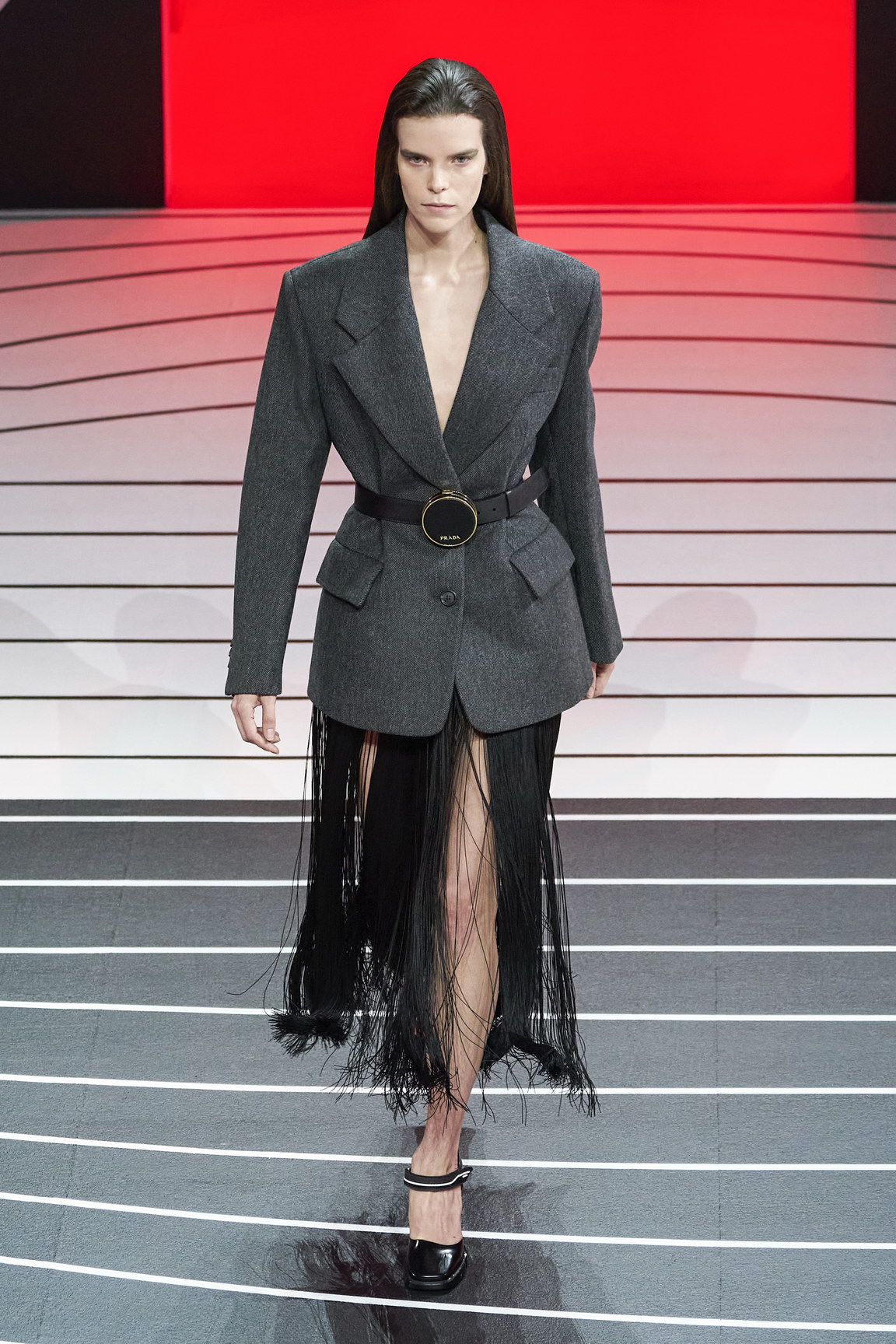 This time around, it began with two heavy, winter coats, last season's woman travelling through colder climes. That silhouette was promptly ripped up and rebuilt, with the looks that followed revelling in the diversity of Prada's codes and history — fierceness and intelligence, considered sexiness, radical cuteness, militaria and nylon — finding new expressions within these niches. While it may have been called "Surreal Glamour", it was about all about the interplay between strength and femininity, finding authority in the agency of women -- "the paradoxes of delicacy and strength" as the notes said, and how these concepts intermingle and build one another up.
In the clothes, this translated to a shredded, off-kilter sexiness, soft power in pastel tone. It was dramatically nipped in at the waist in silhouette, or else oversized, blocked out, taking up space.
It played muted reserve — a palette of khaki, grey, beige — against exuberance — those pastels, pops of primary colour, fringing, shredded skirts, tassels, exaggerated pleats. It found joy in the heaviness of material. Two highlights were just that, the big nylon puffa blazers, belted over and paired with leather skirts and bright pink boots; and the armless shearling jackets, their subtly too-large proportions dwarfing the body, painted and coated as if to resemble glazed sweets. It seemed to take the rudimentary items of a bourgeois wardrobe and find new meanings in their coded histories; the business suit, the fur coat, the power haircut, the demure skirt. Each was a garment weighted with its particular connotations, but Miuccia wanted to find new perspectives through which to read these familiar histories.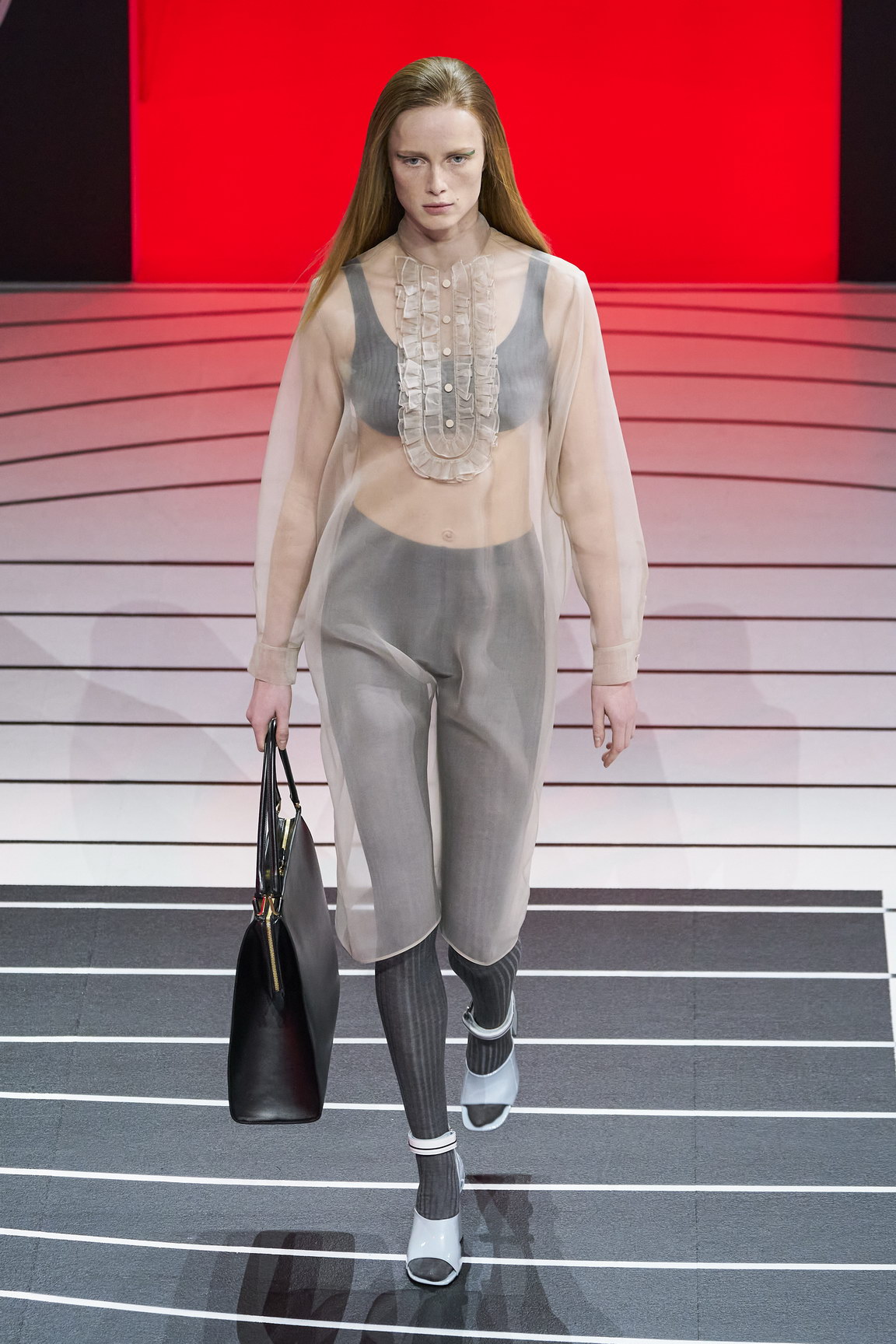 The elephant in the room was, of course, Raf Simons, with rumours of him ascending to Miuccia's throne, or at least taking over some part of the empire -- whether Miu Miu or menswear -- hotting up recently. The biggest nod to Raf could've been the soundtrack — a mix of orchestral violins, pulsing new beat and techno. On the strength of the ideas here though, it's clear that Miuccia is not ready for retirement yet.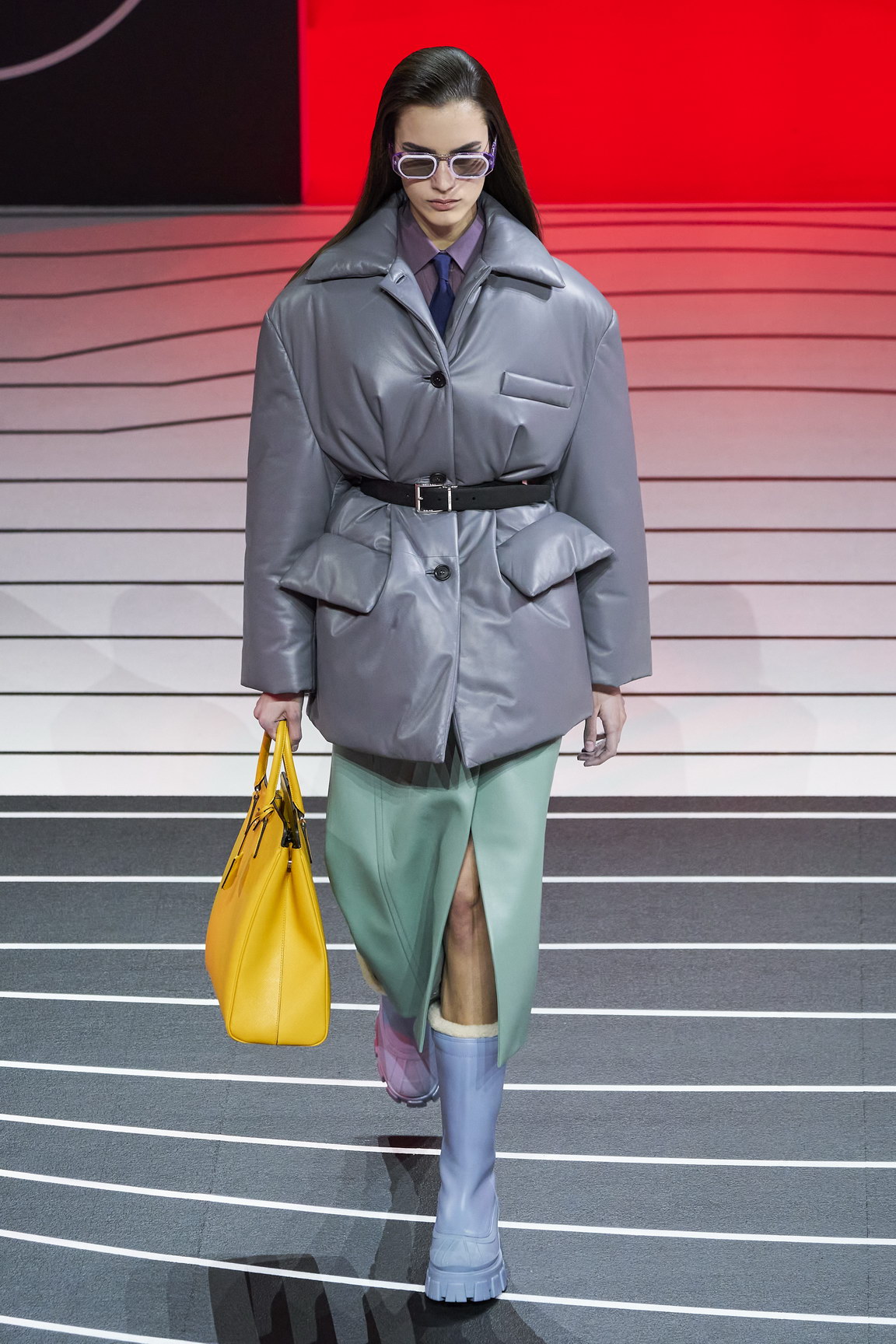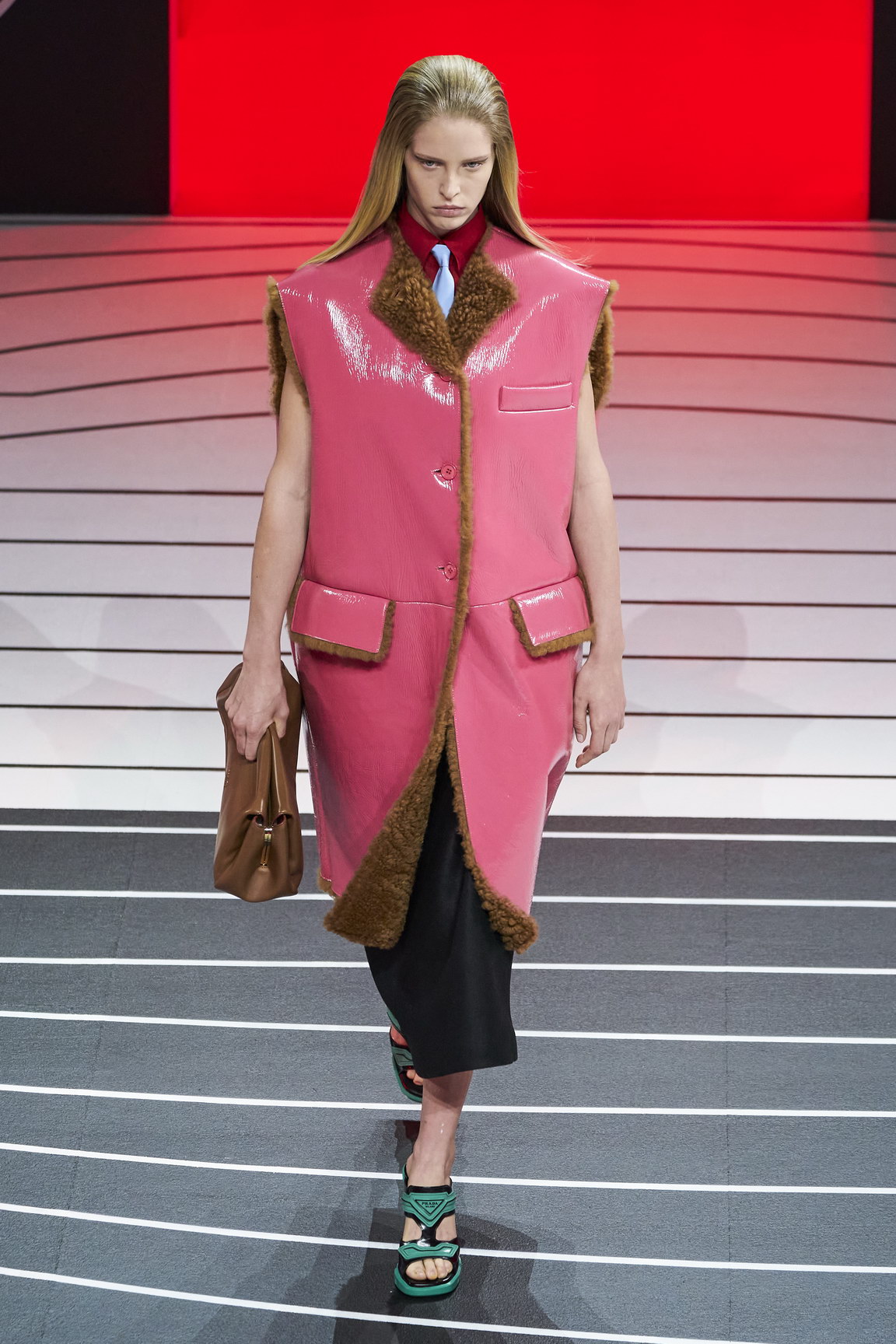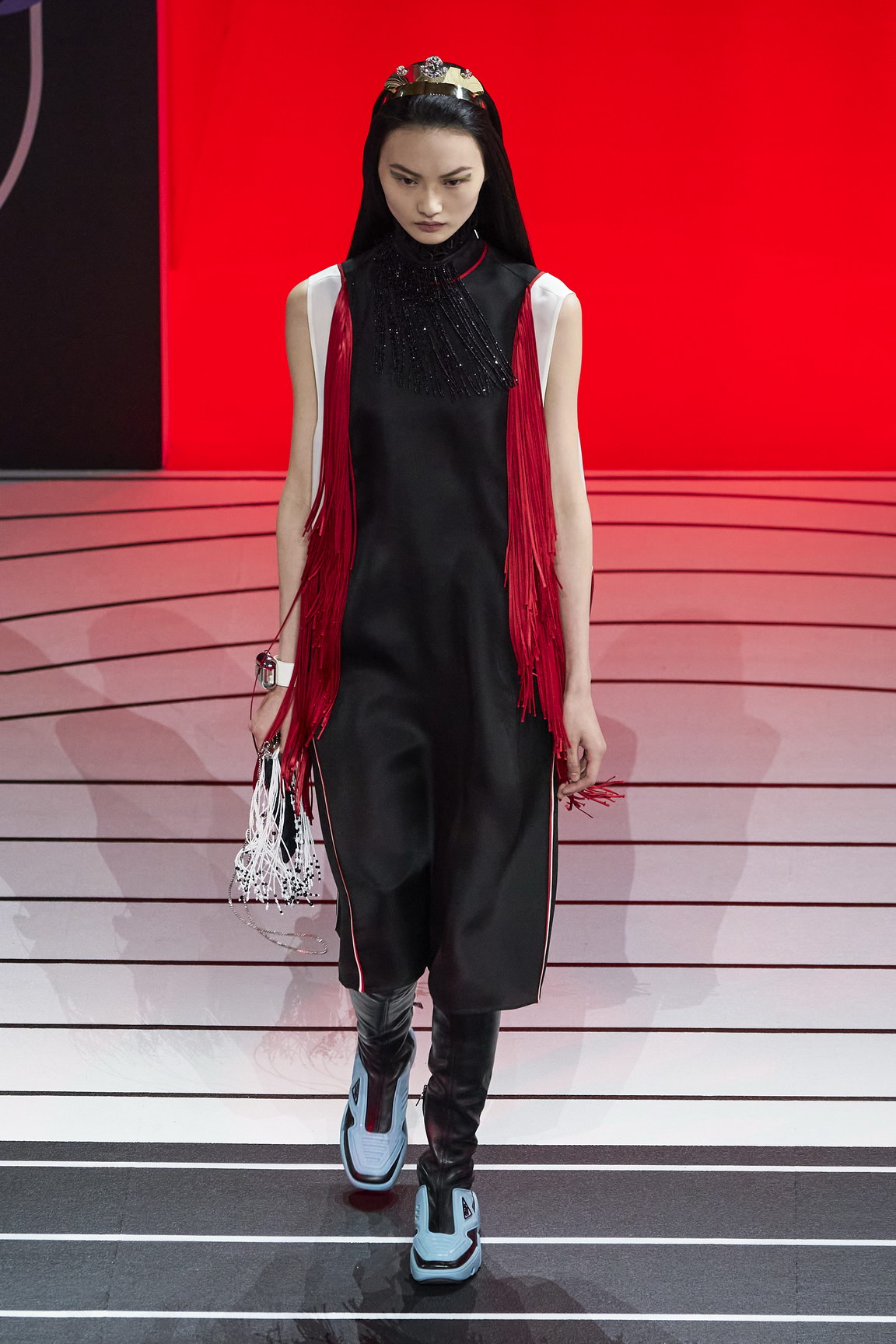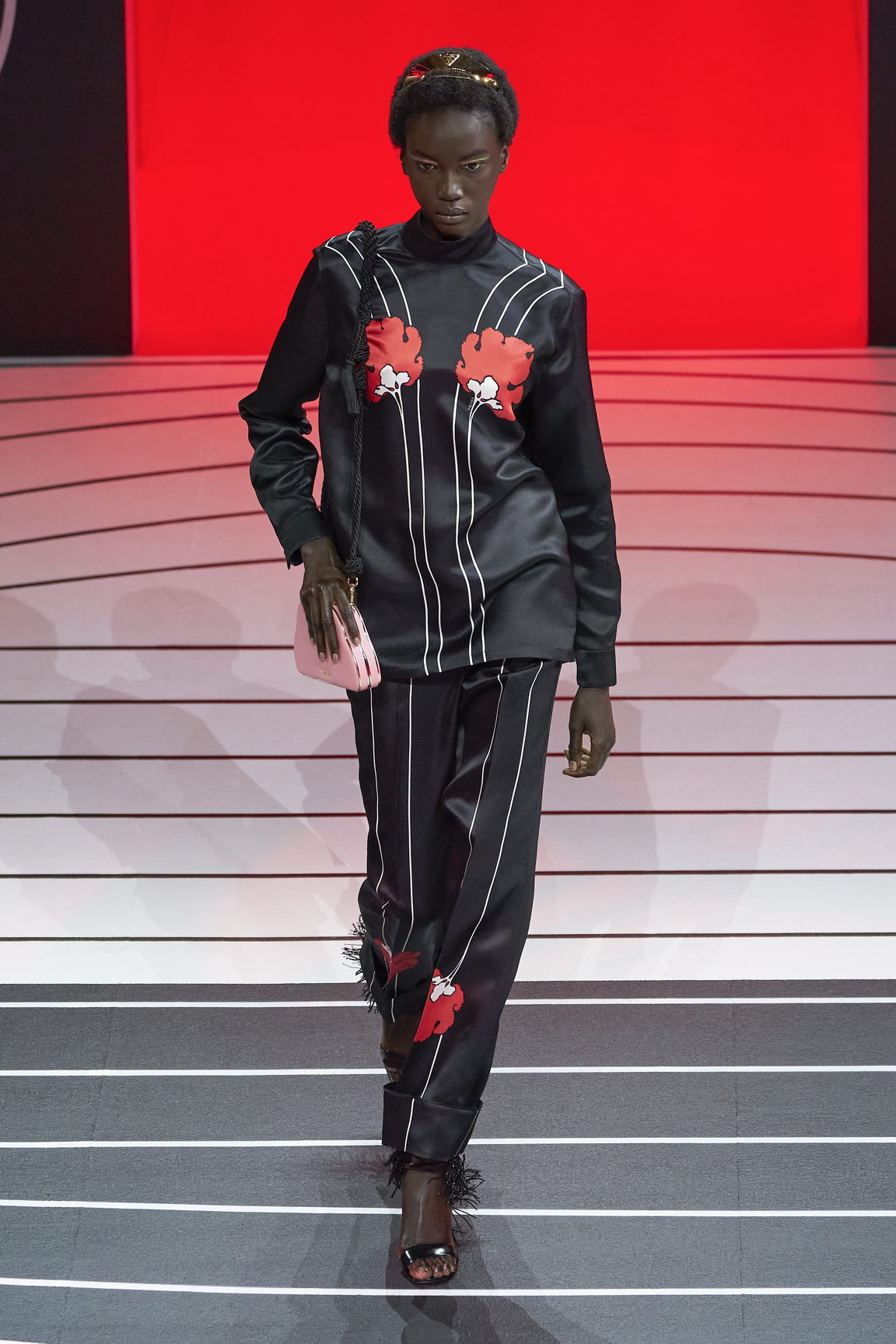 Credits
---
Photography Mitchell Sams
Tagged: