Photo by Walter Daran/Hulton Archive/Getty Images.
7 of Edie Sedgwick's most iconic outfits
The original 60s it girl and Warhol muse almost set her signature leopard print coat on fire.
Photo by Walter Daran/Hulton Archive/Getty Images.
Andy Warhol once proclaimed, "In the future, everyone will be world famous for 15 minutes." Though this statement's validity seems to grow exponentially each year, it certainly does not hold true for Warhol's muse, Edie Sedgwick. An OG it girl and superstar of the 60s, Edie's legacy has far outlasted the starlet's 'fifteen minutes of fame.' Born into a high society family in California, the heiress studied art at the prestigious Radcliffe College before moving to New York City in 1965. After meeting pop artist Andy Warhol and joining The Factory -- Warhol's studio-cum-production-company -- as an actress, Edie rose to fame in the city's underground scene and caught the interest of the mainstream media for her singular style of dress. During her short time in the limelight she starred in countless Warhol productions, graced fashion spreads in the pages of Vogue and Life and inspired songs by some of the era's most celebrated musicians. Past the 60s and into the 21st century, Edie remains one of the more recognizable and most-referenced style icons of all time. Here, we chronicle the life and times of model-actress-socialite Edie Sedgwick through some of her best looks.
In Vogue, 1965
On her 21st birthday, Edie received a large trust fund from her grandmother, dropped out of Radcliffe College -- the women's counterpart to Harvard -- and moved to New York to pursue a career in modelling. Edie's look suited the era's style -- think Twiggy's frame, Jean Seberg's cropped haircut, Jean Shrimpton's keen eyes -- and she was quickly scooped up by Diana Vreeland. Introducing Edie to the pages of the fashion bible, in what would become her most iconic photograph, Vreeland writes, "[Edie] is shown here arabesquing on her leather rhino to a record of The Kinks." And an it girl was born.
With Andy in 1965
Close friends and artistic collaborators, Andy Warhol and Edie Sedgwick were the duo of the 60s. The pair met at a party in 1965 and Edie soon became a staple at The Factory. After Edie made a couple of cameo appearances in his earlier works, Andy would go on to give her the lead role in over 11 of his films. At a party in 1965, Andy and Edie twinned in a couple of metallic lamé looks -- perhaps an homage to The Factory's foil-covered walls.
In Life Magazine, 1965
"This cropped-mop girl with the eloquent legs is doing more for black tights than anyone since Hamlet," reads the copy accompanying this Life Magazine photoshoot. Edie was already a fashion icon in 1965 and, in that year, the magazine commissioned an entire spread on her famous black tights. The elevation of Edie's hosiery to the year's must-have piece, however, was accidental. "When I was with Andy Warhol, I was dancing jazz ballet twice a day, so I just wore my leotards. But Vogue photographed me in leotards and a T-shirt as a new costume," she explained. In this particular photo, Edie wears a dress by avant-garde designer Rudie Geinreich with a pair of sheer black tights.
Her signature striped shirt, 60s
Edie's tee of choice was a striped number in the style of the era's Beatnik subculture. Inspired by authors and poets from Jack Kerouac to Allen Ginsberg, the Beatniks were a youth subculture that arose in the 50s and 60s. Their uniform -- wool sweaters, plaid shirts and striped T-shirts -- permeated the mainstream so that even Audrey Hepburn and James Dean were wearing breton stripes. Affiliated with the Beats (Kerouac even appeared in Warhol-produced film Couch), the Factory scene adopted some of their sartorial inclinations, with not only Edie, but also Warhol donning the emblematic striped shirt.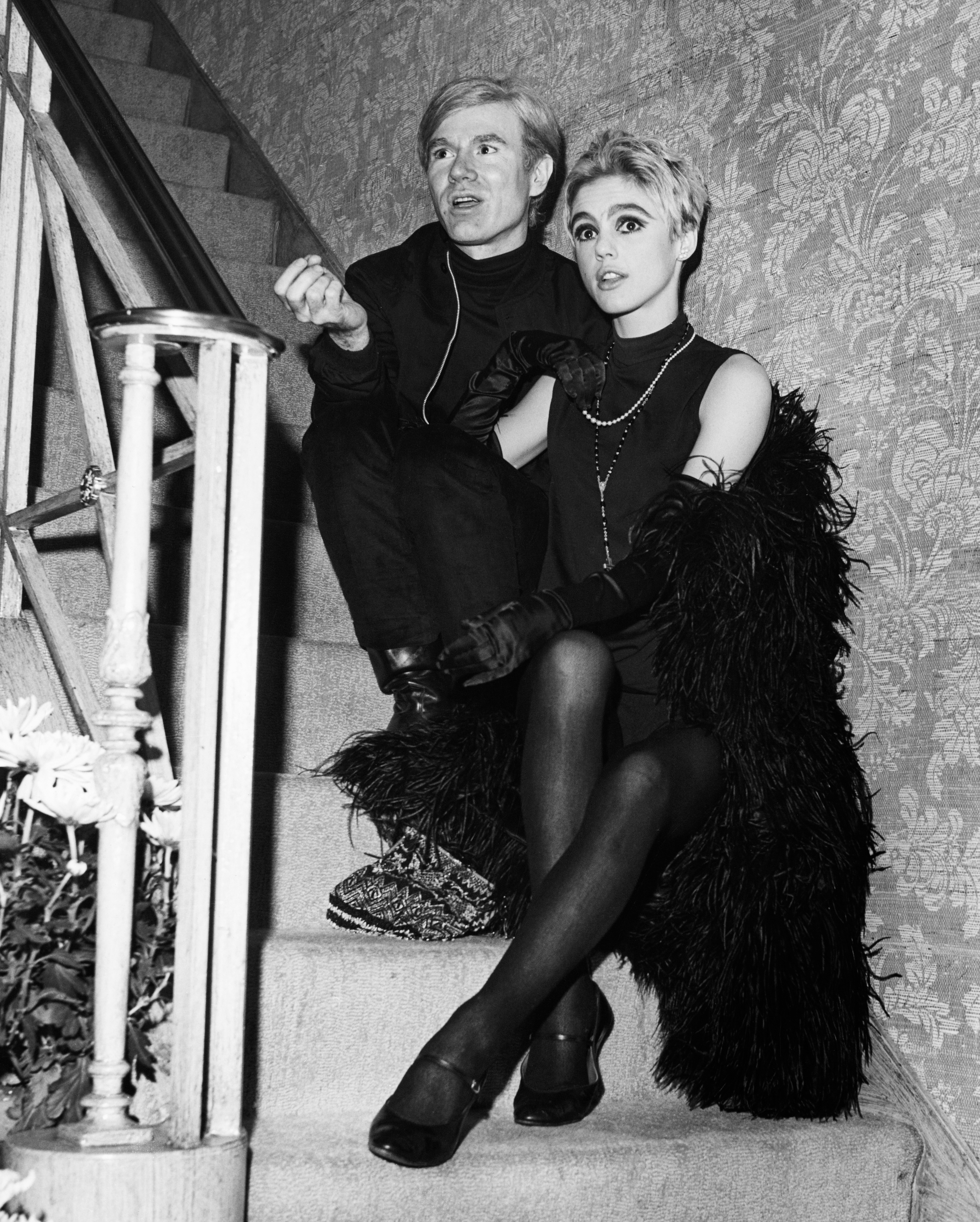 At the New York Film Festival, 1965
Edie's choice accessories have been immortalized by singer Bob Dylan. Some have speculated that his 1966 song "Leopard-Skin Pill-Box Hat" was inspired by the starlet. Others have alleged that "Just Like a Woman" was written about Edie -- specifically, the line "her fog, her amphetamines and pearls." Edie was rarely photographed without at least one statement accessory: a smattering of pearl necklaces, satin evening gloves, or, most famously, her chandelier earrings.
At the launch party for Vidal Sassoon's salon, 1965
Edie's signature chop was inspired by Warhol, himself. Upon moving to New York and subsequently meeting the artist, Edie cut her long brown hair and dyed it silver to match his. Here, she attends the opening of Vidal Sassoon's salon -- the 60s hairdresser known for popularizing the bob, and giving Mia Farrow her Rosemary's Baby pixie and Nastassja Kinski her blonde Paris, Texas lob. To the launch party, Edie sports her own Sassoon-approved crop alongside her hallmark earrings.
The leopard print coat, 1966
It's tough to conjure a mental image of Edie without even just a bit of leopard print. Either the billowing cat-patterned muumuu from Ciao! Manhattan or a printed waspie. And, of course, her famed leopard skin coat, perhaps thrown over a shoulder or laid out like a blanket. This Warhol photobooth picture commemorates Edie's storied relationship with her beloved coat. Dubbed by the starlet herself as "the most beautiful coat in the world," she claims that it was given to her, in the middle of the street, by one of her many admirers. It followed her to many a Factory party and beyond, and even survived a massive house fire that Edie claimed destroyed all her belongings, save for the coat, which she kept at her bedside.