Inside the sci-fi fantasy world of Puppets and Puppets
How Carly Mark and Ayla Argentina's artfully-minded, cult label became exactly what New York Fashion Week needed.
|
18 February 2020, 5:38pm
Photo by Pierre Crosby.
If not for the oblong work table ostensibly taking up space in what once was Carly Mark's living room, her Greenwich Village apartment would very closely resemble a museum. The large wooden shelves are home to art and design books that provide ample standing room for the curious objects on display: the egg-topped jewelled slides and powder blue mules that were worn in Puppets and Puppets spring/summer 20 show. In its current state, however, it functions as the much too small design room for Carly and Ayla Argentina, who together are responsible for the artfully-minded fashions of indie upstart Puppets and Puppets.
"We love to live with our children," Ayla says, referring to the wacky, left field accessories they've become known for. She's toying with the placement of a resin chocolate chip cookie, made by sculptor and frequent collaborator Margalit Cutler, that will act as a belt buckle of sorts on a light grey linen top with yellow trim. The technicolor silks, satins and spandex that make up their third collection hang behind her, while a mannequin and this season's colourful mood boards -- the silhouettes drawn by Ayla and painted by Carly -- partially obscure the light coming in through the window of their second floor walk up.
"We have to move out after this season, because you'll see in my bedroom that under the bed is season one and in front of the bed is season two," Carly says, two days before Puppets and Puppets autumn/winter 20 show. "I'm very proud of them, so I'm happy seeing them every day. The hard part is having six or seven people in your house. That's fine when you live in a thousand foot space, but this is a 400-square-foot space."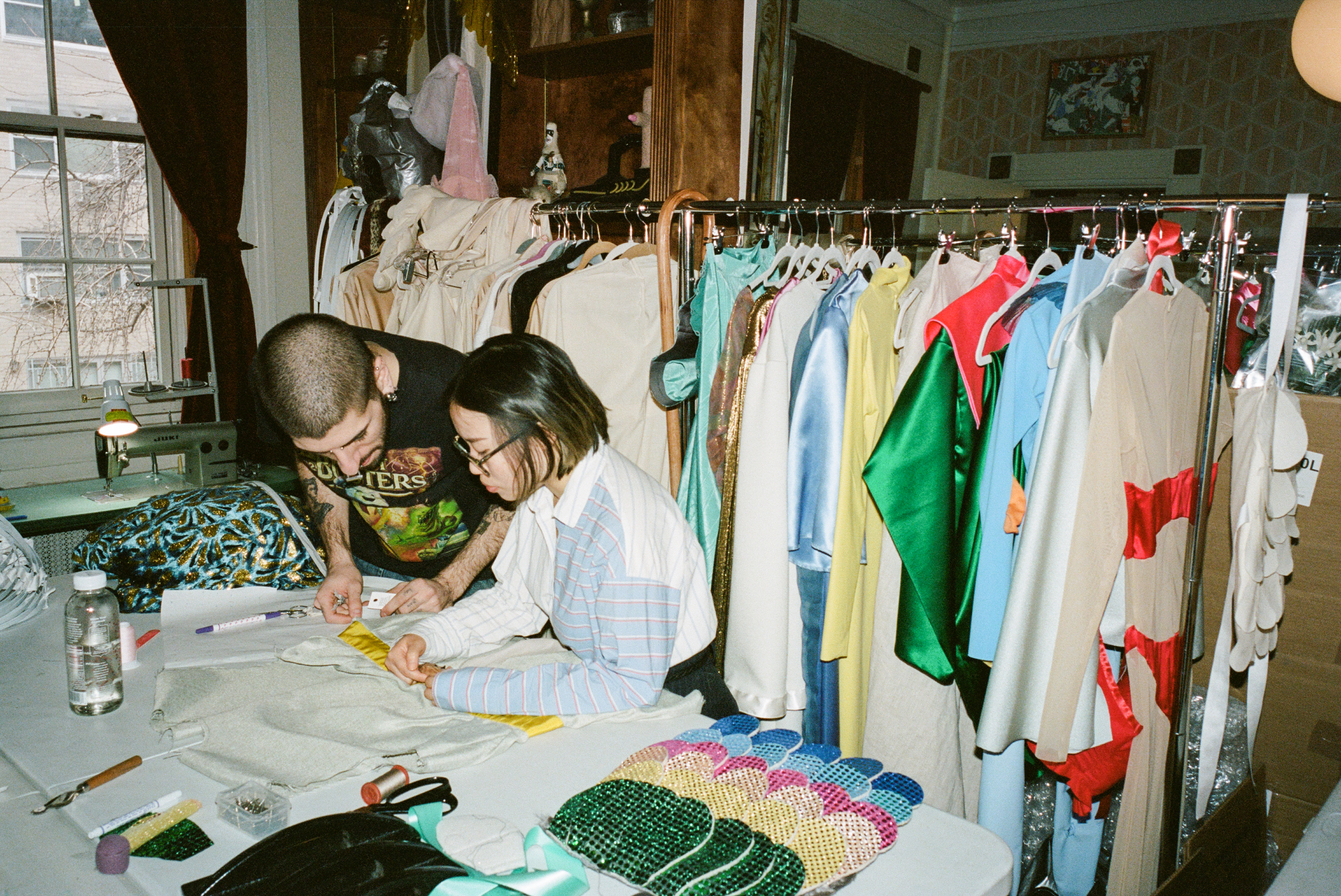 Since starting their collaborative fashion venture just over a year ago, Carly and Ayla have not only outgrown their work space, but exceeded the expectations they've set for themselves. Their working relationship began with Carly's multimedia art pieces -- Ayla assisted Carly in making costumes for her sculptures and short films -- which served as a satirical, vibrant commentary on commercial food packaging and consumer culture. From there, they decided to make the leap from the art world to the fashion world, though their slightly unconventional designs certainly fall somewhere in between the two. They settled on the name Puppets and Puppets, a reference to the act of dressing models for the runway, and an homage to Carly's tiny Chihuahua terrier mix named Puppet.
"We knew that if it went fine, but wasn't great we could write it off as an art piece we did," Carly says of the pivot. "And if it felt right, then we could keep going. But it went so well. It was so fluid and the reception was great."
Puppets and Puppets' first collection put the fresh-faced designers on the map, with its shiny checkered separates and sculpted platform shoes. The second caught everyone's eye. It was inspired by everything from Russian czar vestments to the archetypal American capitalist uniform, accessorised with egg carton shoes, dangly eggshell earrings, and bondage-style sunny-side-up egg bralettes. The clothes themselves, and their cult-like following made up of downtown art kids, solidified their rightful place among an exciting group of young designers intent on disrupting New York Fashion Week as we know it.
For Carly and Ayla's third collection, which showed at the beaux arts-inspired Prince George Ballroom on February 10, exactly a year after Puppets and Puppets' debut, they paid homage to the illustrations of the French cartoonist Jean Giraud, better known as Moebius. He created detailed storyboards for classic science-fiction films like Alien, Tron, Blade Runner, and Legend. But it was his colourful drawings for Alejandro Jodorowsky's Dune, one of the most famous films never made, and a desire to create a collection that was predominantly costuming that inspired this season's fantastical, character-driven looks.
"We knew that we wanted to do a collection that was primarily costuming for multiple reasons," Carly explains. "One, because we love costuming. Two, because the experiences we've had in fashion so far have been relatively positive, but there are powers that be that are telling us to go into production and become more marketable. We want to push back against these things because I think New York needs it. I think fashion needs it."
Puppets and Puppets have asked to be included in the official NYFW calendar, but to no avail. The designers have a hunch that it's because their garments aren't the most marketable. This, however, has only bolstered their reputation as a subversive brand, showing off-site, in an increasingly diverse climate that's rooting for the success of underdog designers. "We're both contrarians. But it's in our favour because if we weren't, we'd be doing what everyone else is doing. We'd be making things that are marketable, and we'd be making streetwear," Carly says.
Their approach to this season's show also sets them apart from their peers in that Carly and Ayla chose all of their models last October, presented them with a selection of illustrated "characters" to choose from, and collaborated with them on their looks. "We brought the models in and we said to them, 'Choose your player!' It was a conversation," Carly explains. "We're not just building out these garments to a fit model size. Every single garment is built out to the specific measurements of the person that chose this specific look. We want to put someone in a garment that they love and feel empowered by too."
The Puppets and Puppets process makes this as much of a runway show as it is an exercise in storytelling. The models in this case are not puppets at all, but a cast of characters, many of whom have become mainstays season after season. The casting includes Richie Shazam, Jane Moseley, Eartheater, Bobbi Menuez, Danny Bowien, Ali Marzella, Caroline Polachek, Rafaella Hanley of Lou Dallas, and Precious Okoyomon. "It's our friends and fam. They're all our muses. It's not just people we've picked out from Instagram," Ayla says. "These people are immersed in our lives, excited for us and excited about being a part of it."
In the same way that designers like Telfar and Vaquera have fostered a sense of community around their clothes, Puppets and Puppets are carving out their very own niche. Attending their shows, and in particular this last one, feels like sitting front row at an experimental theatre performance or walking into a new show at a contemporary art gallery, unsure of what to expect.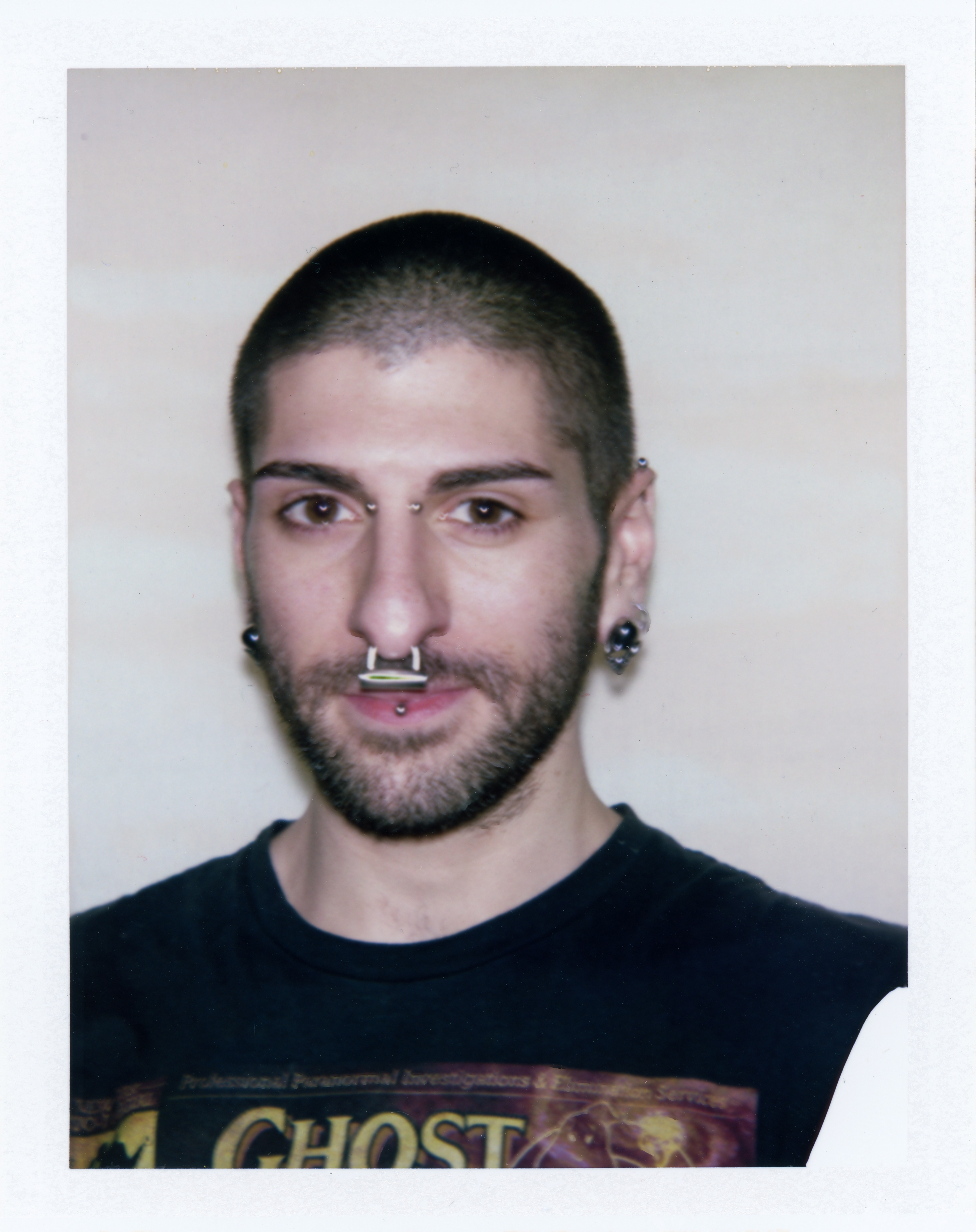 As an eager audience wondered what was in store for them last Monday night, in the dimly-lit ballroom, Bobbi opened the show. They wore a heavily-layered, spandex shepherd costume, aforementioned cookie on the waist, and wooden staff at the ready -- its clunking down the wooden runway would set the tone for the evening. The matching conical hat, made by Emily Michaels, would have made Moebius proud and Bobbi (somewhat) jokingly referred to the look as the "shepherd of the freaks".
"[Carly and Ayla] were very interested in making sure that people felt good in their body, in their gender and in their outfit, which is really fun and special and totally different from what is usually happening at a fashion show," Bobbi said backstage. "[Puppets and Puppets] is operating outside of a normative system of what is interesting, what is sellable, and what is attractive, so that is fun."
Richie stole the show, delicately tip-toeing down the runway in eye-catching, voluminous teal moiré trousers, matching corset, and wig. It would be a disservice to rank any of the characters' looks, but worth noting were Ali's sheer nude bodysuit, worn with gilded fairy wings; Jane's blue, sci-fi disco bunny; Coco Campbell's impeccably tailored suit and princess hat, cascading nearly 30-feet behind her; and the already ethereal Caroline's show-stopping, show-closing garnet crinoline gown.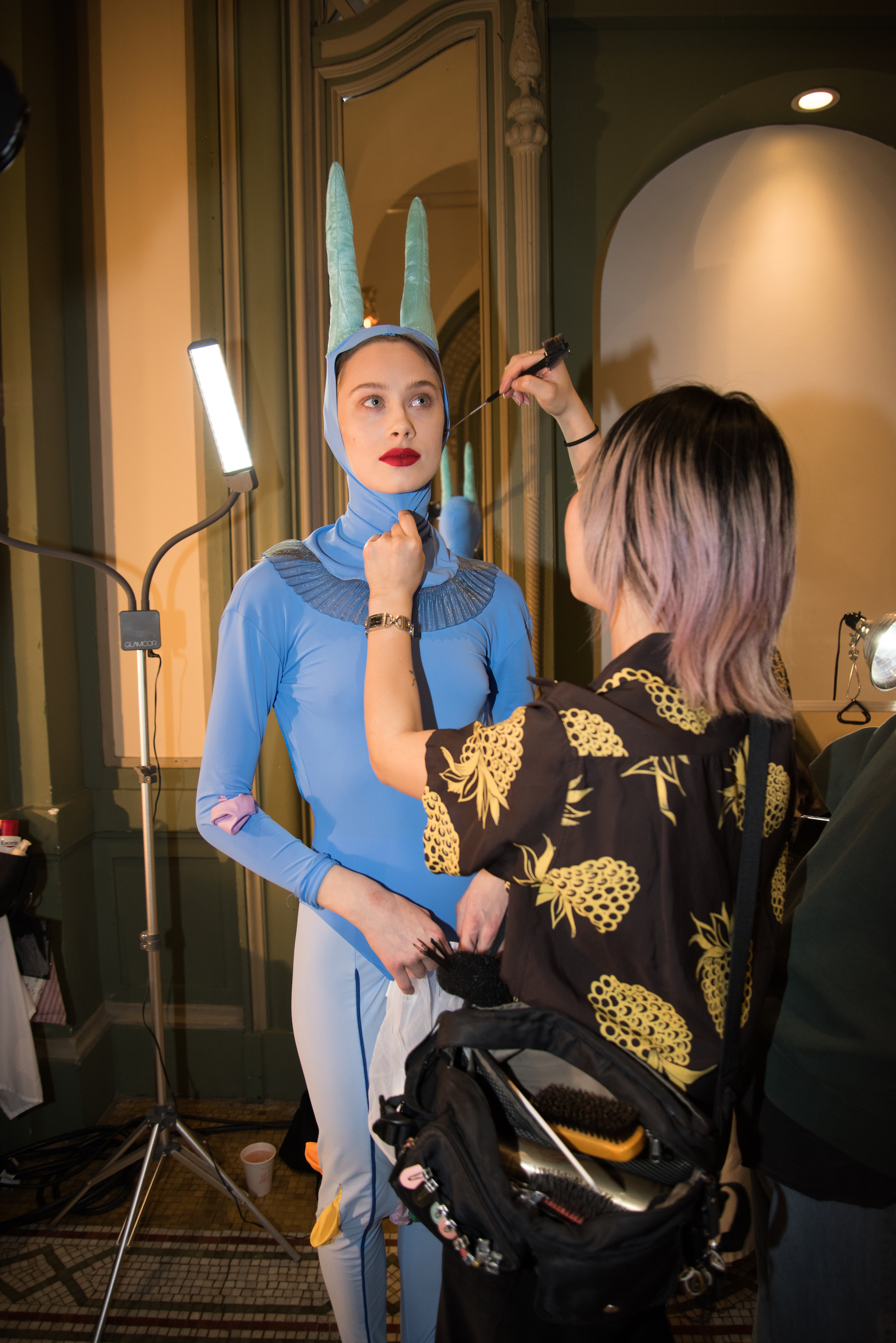 Under Carly and Ayla's direction, the models walked slowly down the runway in a way that was ever so slightly unsettling, but added to the theatricality of it all. The same can be said of their now signature quirky accessories and props, the latter custom made by Fin Simonetti. For this season, the designers built upon their previous food references -- after all, Carly is known for her Haribo paintings -- and worked with Cutler to channel the aesthetics of cute snack foods. Mini popcorn kernels, convincing cookies, and curious candies adorned many of the garments. And their stylist Stella Greenspan tied it all together deliciously.
"There's something to be said about a collection that's based on sci-fi illustrations made for a film, that says something to snacks," Carly explains. "As serious as we are about fashion, we're also not serious. We want to be funny and tongue-in-cheek. I think the sculpture really does that, to have these trompe l'oeil moments, these moments that are a bit left of what you'd expect and it just tells a different story. It elevates a look. And it's really fun."
At first glance, the garments might not appear to be wearable and once more, you won't be able to purchase them -- Puppets and Puppets design solely for the runway (for now), with the exception of a few past collaborations. But the pieces can be singled out and styled separately with ease. "Obviously, we love to do structural stuff with beautiful underpinnings and hoop skirts, really blow that stuff out," Ayla says. "But we have really beautiful blouses that can be worn on their own. Beautiful shift dresses. The bodysuits could be worn under anything you wanted."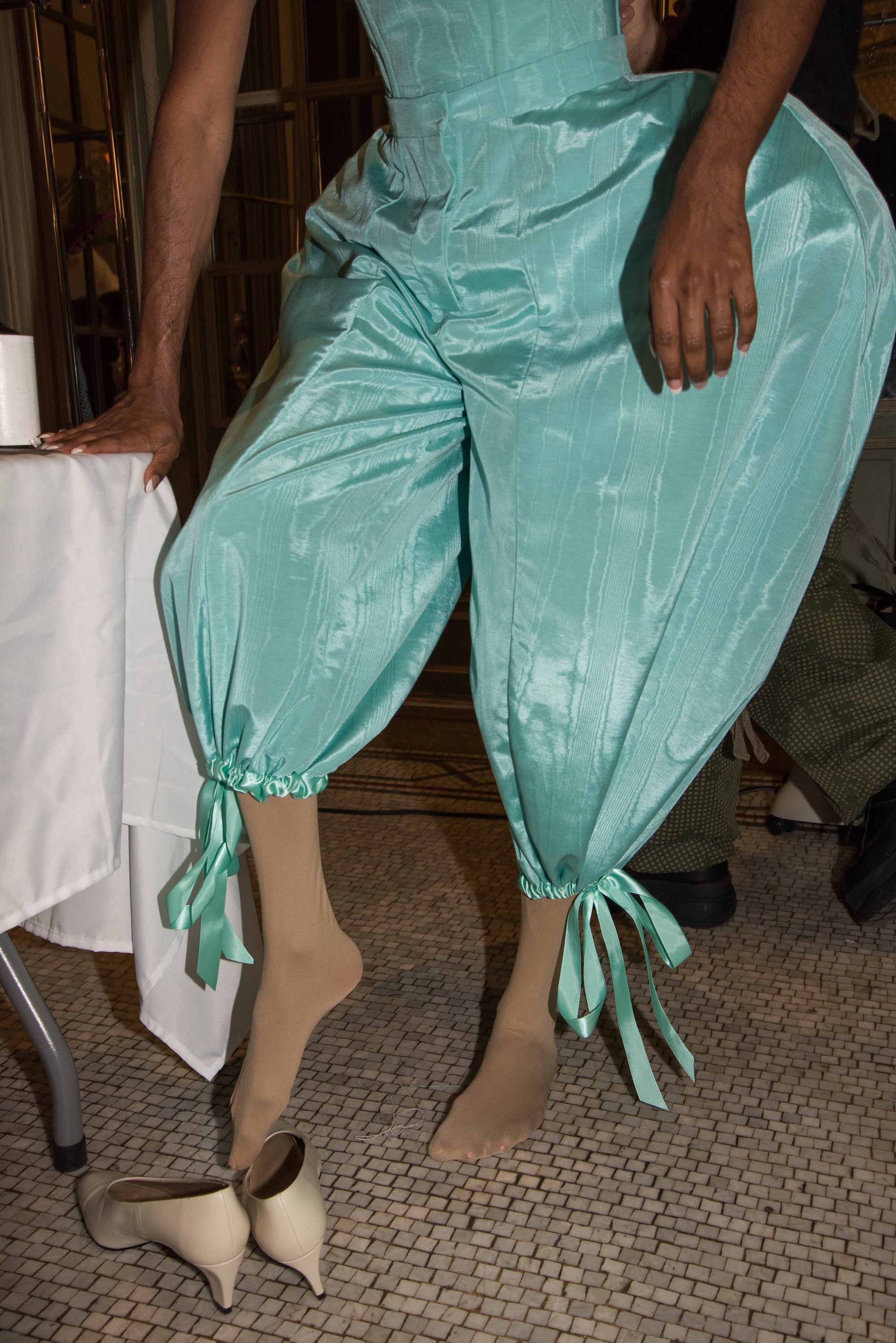 "I'm often the one trying it on and I know what I want to wear out," Carly adds. "I'm selfish, so we end up making things that I want to wear to a party. As out there as we can be, it's still something that you could wear to a great dinner."
The collection has been described as "more experimental than economical," "joyfully experimental," "weird in a wonderful way," and as giving the public "a reason to love American fashion again." All fair assessments made by writers and editors, who also noted a lack of excitement and a prevailing sense of boredom coursing through the heart of NYFW this season.
"It's a fresh take in a sea of monotony," Richie says, of Puppets and Puppets' approach. "It's just really special, unique, and personalised. It's very much their world and we're just orbiting around them."
At the end of the day, or fashion week rather, we're just thankful that Puppets and Puppets have let us into their illustrious, fantasy world at all; allowing us to forget where we were for just a moment. Before descending once again, out onto 27th Street, to bright city lights and the sound of taxi cab horns honking.