Justin Vivian Bond and JW Anderson want you to do Christmas right
The legendary performer and label have teamed up for a festive video series to help you live your best Christmas life.
|
17 December 2019, 12:00pm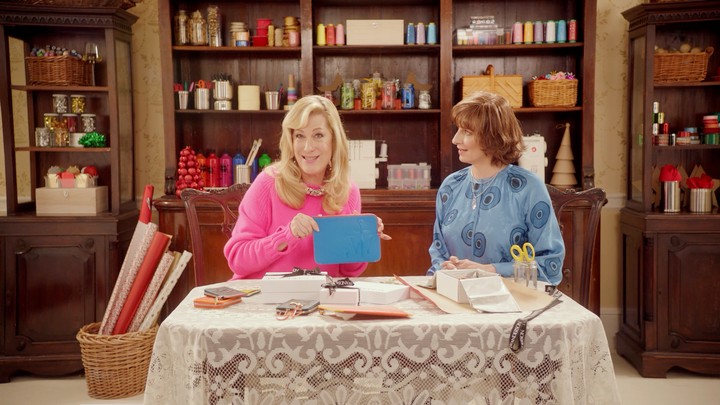 For years, Justin Vivian Bond has been one of the world's most singular performers. An artistic chameleon, nothing is out of their grasp. Whether it's their role as one half of iconic drag cabaret group Kiki and Herb, appearing in films such as John Cameron Mitchell's sexually fluid and totally liberated Shortbus, or starring in the recently opened groundbreaking operatic adaptation of Virginia Woolf's Orlando in Vienna, Justin Vivian Bond's talents are limitless.
Naturally, when Jonathan Anderson, an old friend of Justin Vivian Bond's, got in touch about working together on something for his fashion label JW Anderson, it was a creative match made in heaven. Together, over drinks in San Francisco, they cooked up the idea of doing a set of videos inspired by the Home Shopping Network. And thus celebrity spokesperson Sandie Stone was born.
Their first series of videos was for JW Anderson's SS19 bag collection. Along with her co-host Joyce Nawmen (played by Jill Pangallo), Sandie Stone (embodied by Justin Vivian Bond, obvs) pushed those purses like her life depended on it, blending the luxury and quality of JW Anderson's accessories with the high camp of television shopping networks.
Now, just in time for Christmas, Sandie Stone is back in "Sandie Stone's Homebound for the Holidays". After getting in a little bit of legal trouble for pilfering some designer swag from set (and nabbing herself a fetching police tracking ankle bracelet in the process), Sandie has found herself back home for Christmas. Luckily, she is joined by Joyce and her husband Irwin, who helps her get in the festive spirit.
The new video is accompanied by a limited-edition T-shirt featuring an illustration of Sandie and Joyce by artist Pol Anglada, with proceeds going towards akt, a charity supporting LGBT+ young people in the UK experiencing homelessness or living in hostile environments and finding safe homes, employment, education and training.
To find out more about the collaboration we gave Justin Vivian Bond a call to learn what it takes to become celebrity spokesperson Sandie Stone, what Sandie might do next and get some tips for a fabulous Christmas.
Hello Justin Vivian Bond. How are you?
I am divine, of course.
How did this projected with JW Anderson come about?
Last year -- I was on my way to San Francisco and I texted Jonathan that I was going to be there. We met for a drink as we hadn't seen each other for some time. I was doing my MA at Central Saint Martins when he was doing his fashion degree. He used to make things for me; we were friends back then. I actually sang when he showed his first collection. We just caught up and he suggested that we do something together. We brainstormed and he came up with the idea of doing this series of videos based on the Home Shopping Network.
How did you come up with the character of Sandie Stone?
We decided that there should be two people, my character Sandie and then a side-kick. I knew that my friend Jill Pangallo would be perfect for that. We basically showed up on the set and improvised [laughs]. That's how the characters came out about. "What's my name? Oh, I think it should be... Sandie!"
It seems that Sandie has a complicated past...
Well, she's a celebrity. Don't all celebrities have a complicated past?
I guess she's not the first celebrity to get an electronic tag.
Certainly not. Especially not in that business! In hospitality and lifestyle? All those lifestyle gurus do a little bit of time in the pokey, don't they?
The Home Shopping Network presenters have a very specific style and campiness to them. How did you prepare for such a role?
Jill is obsessed and has been for a very long time. I would watch sometimes... I thought they were really fun, but I didn't spend too much time watching them. But when we decided this was going to be the idea, I did my research and it was really fun. Also, I'm really into this rapport that happens when two people are enforced or assigned best friends, like they have on morning television and all of that. I love that dynamic.
When Sandie and Joyce are wrapping presents together, Sadie gives Joyce a look that really says, "I love you for the cameras, but I also think about murdering you."
Exactly, but we're going to have a nice Christmas together.
Are you a big fan of Christmas?
I can't think about it right now because I'm in Vienna making an opera, and I'm not going to get home until two days before Christmas, which really irks the shit out of me because I love getting my Christmas tree. The Christmas tree is the thing I look forward to all year. After Thanksgiving, I fill up my house with candles that smell like fir trees, and then I actually go out with my friend and chop one down, bring it home and decorate it. I'm not able to do that this year, so I'm a little bit of a bitter Christmas outcast until I can get home. But that's the price you pay for glory.
You must have brushed up on your Christmas skills for the video. What are your tips for a fabulous festive period?
My Christmas thing is, if you're able to manage it, to have some really nice friends in your life and spend some time with them.
As a singer and performer, do you have a Christmas classic that you like to sing?
My favourite is this Benjamin Smoke song "Somebody's House Always Burns at Christmas". Benjamin was a transgender singer songwriter from Georgia. For some reason, that one always cheers me up [laughs]. The other is a song by Melanie, a folk singer from the 60s and 70s who did this gorgeous song called "Tonight's the Kind of Night", which I actually recorded when I was working as one half of the duo Kiki and Herb. It's the most beautiful song.
After the Christmas period, what do you see next for Sandie and Joyce?
Well, I'm pushing for a cruise. I think they should be in some exotic locale. They need to be tour guides.
Spring/Summer. Floral print. A big hat.
Resort wear, darling! Resort wear!
You can catch the latest adventures of Sandie Stone on JWA-TV. The limited edition T-shirts are available here.