Photography Undine Markus
The book offering creatives a blueprint for post-pandemic life
Multidisciplinary artist Georgina Johnson discusses her debut book, 'The Slow Grind', featuring contributions from Bethany Williams, Ib Kamara and more.
Photography Undine Markus
Multidisciplinary creative Georgina Johnson is the progressive mind behind the arts platform The Laundry. In 2018, as the mainstream conversation around sustainability was gathering pace, she released a manifesto, drawing a clear line between environmental sustainability and mental health. Slow Fashion to Save Minds took a holistic approach to sustainability, encouraging people to "rebel against the pace and bars currently set" and "respect each and every person's creative and mental capacity."
Two years on, the manifesto has morphed into a book, which was due to be released next month. The Slow Grind: Finding our way back to creative balance is an anthology of essays and conversations from formidable people working across the creative sector, from Caryn Franklin to Ib Kamara. It is an attempt to decode and subvert the dreams we have been sold, to disentangle our desire from the way we have been conditioned to think.
Speaking over the phone from self-isolation, Georgina waxes lyrical on the state of the world and fashion's place within it. While the book launch has been postponed due to the coronavirus pandemic, the questions it contains could not be more timely or poignant. From mental health and the pressures placed on creatives, to education reform and empathy, the content is dark at times, but it is also honest and raw. In a time when connection is hard to come by, the conversations broached by Georgina's work offer just that.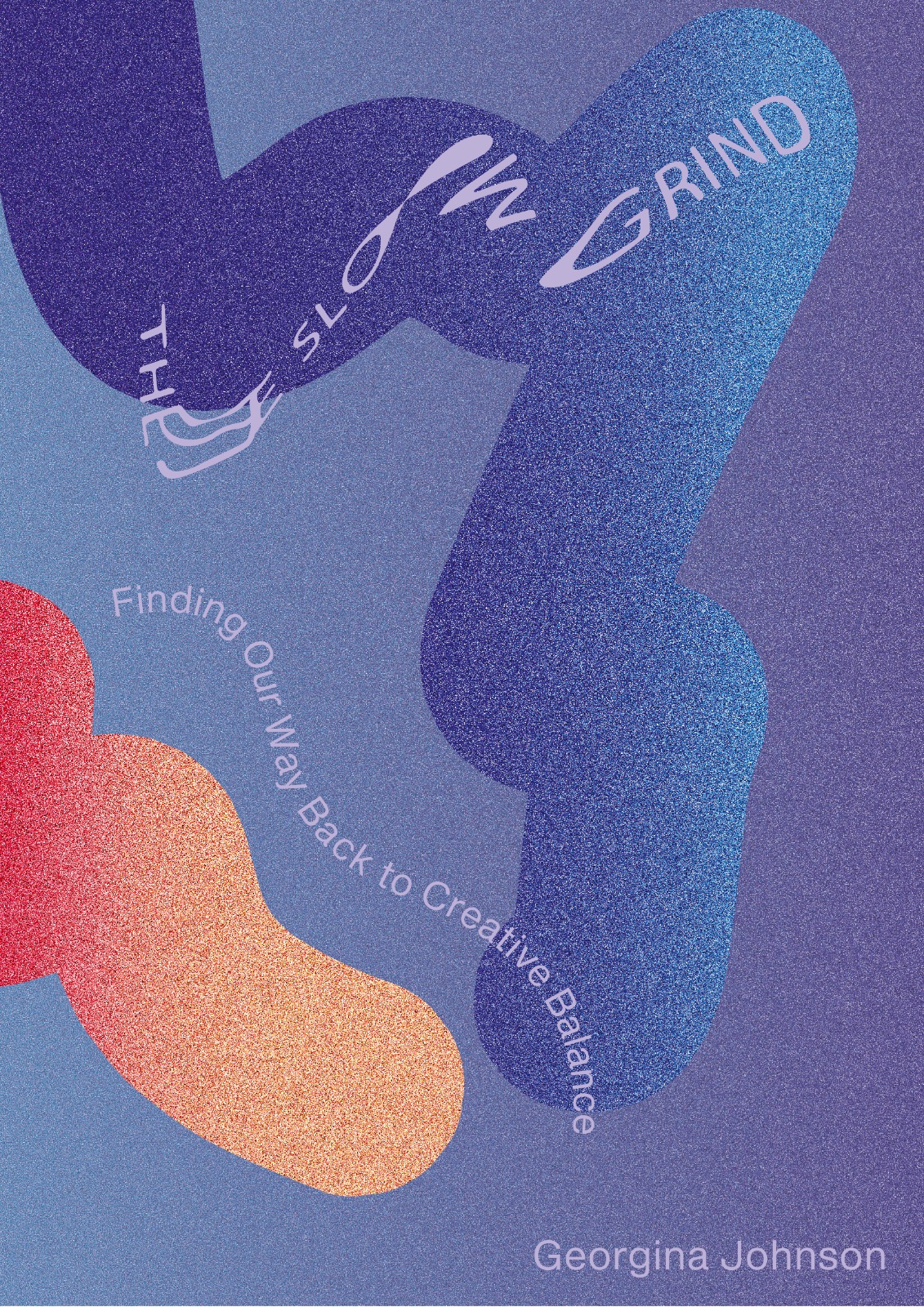 How are you coping with the pandemic?
We just had a second death in my family because of coronavirus. Both people had underlying health issues, but they were doing fine before this hit. In terms of my own mental health, it's weird but nothing new. When you're depressed, you face mental and physical isolation anyway.
I'm in a much better place mentally and recently came off antidepressants, but there are things I know I need that I can't take refuge in now, like other people and company. I'm coping though. I've moved out to Kent to isolate, so I can be with my sister and my cousin and they're kind of going through it. Because I'm coming out of the other end of depression now, I feel like I can support them by sharing my coping mechanisms. Simple things like going for a walk, trying to have a routine, or making sure you shower and get dressed.
Should we talk about the book?
I feel like we're already talking about it! It's obviously not a response to coronavirus, because I've been working on it for over a year, but a lot of the themes are relevant to our current situation. The conversations that coronavirus is magnifying — about decolonisation and environmentalism — have been happening in the shadows for decades.
Where did the idea for The Slow Grind come from?
I first applied for funding to make it when I was in the second year of my fashion degree, in 2014. It had a different name and contained different ideas, but it had the same central premise: I wanted to explore how people create, what influences them and how learning disabilities and mental health affect that. It was also asking how sustainable creative practice can be.
Anyone who has studied fashion knows how much is required of you. It's not healthy for one person to do that much work. I was also working part-time to support myself financially and taking night classes, because I didn't think I was being taught what I needed to know (I took self-funded classes in pattern-cutting and couture draping).
That year, I was diagnosed with dyslexia, at 22, which I feel played a big role in why I developed anxiety and depression. On paper, I never had a bad grade, but I had to work four times as hard to get there and I didn't understand why.
The book came from these experiences and the conversations I've had about them since. We need transparency.
How did your mental health impact your education?
At one point, I remember standing outside the library for half an hour, having a panic attack, because I was so anxious to go inside. It's a weird feeling, when you're so in your head that your body can't move. The impact hyper-acceleration has on you is unfathomable. You put your body through so much to be part of those frameworks, because it feels like it will get you somewhere.
In second year, I felt like I was going to die everyday; I couldn't stop crying. This was in 2013-2014, when there was no real conversation around mental health. People kept telling me it was just stress. They would offer me extenuating circumstances for one term and expect me to catch up the next. They didn't understand that they were asking too much of us. I would get home from university at 11pm and work at home until 7am. But none of that is necessary. I needed a break from education, but I didn't know how to rest or what a break should entail, so I went to intern for a year.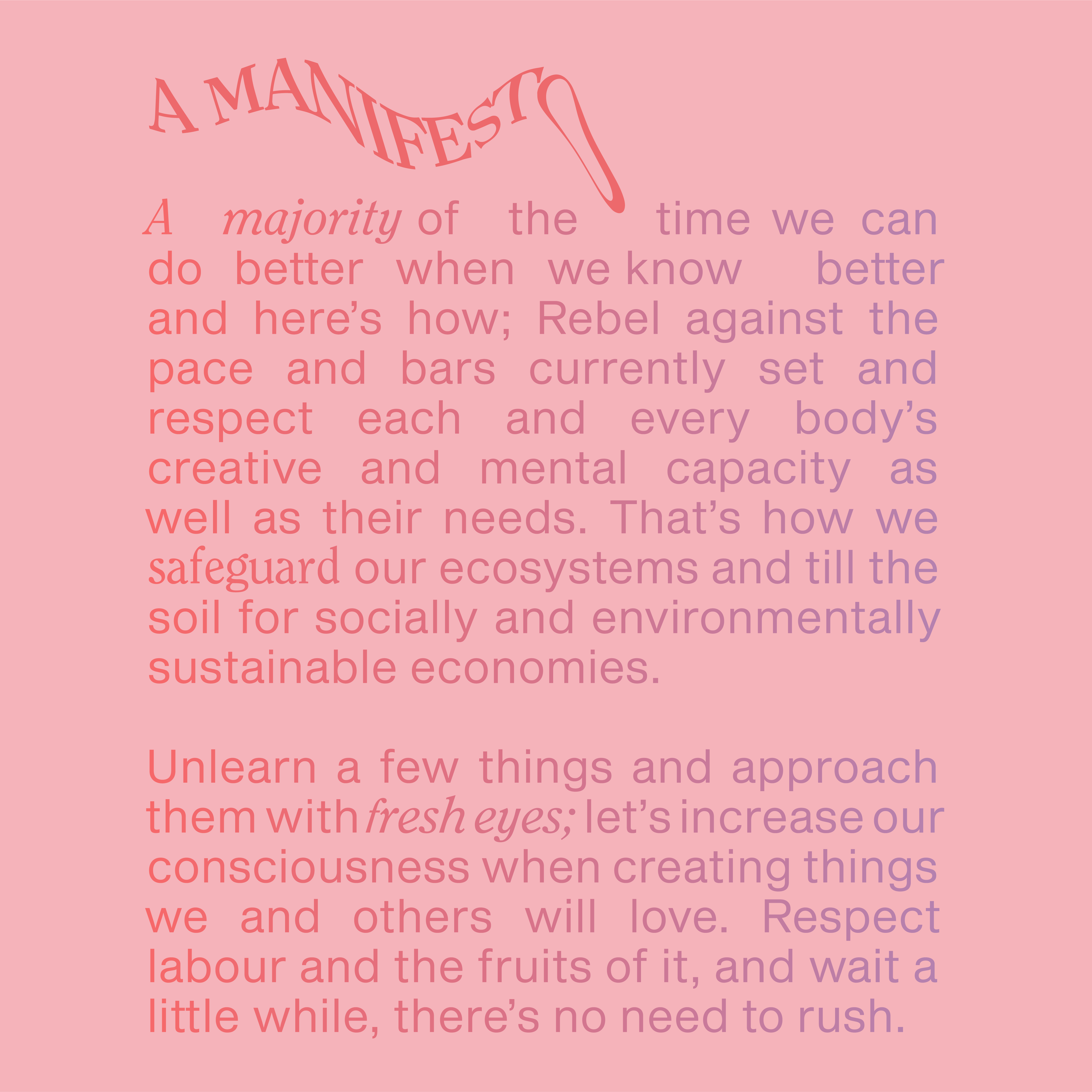 Looking back, how far from a break was that experience?
It was as far away from a break as possible. I was in a new country, where I didn't really speak the language and I had to make friends from scratch. There was no data roaming, so I was screenshotting Google Maps to navigate the city. I got to the studio really early and never knew when I would be leaving, because it was in the lead-up to Paris Fashion Week. I remember my hands throbbing from so much hand-sewing. I was running errands, picking up mad amounts of fabric that they wouldn't even use. It was like a treadmill that wouldn't switch off. I definitely learnt a lot, but it wasn't a great experience.
Do you feel like your experiences of studying and interning prepared you for the reality of running your own brand?
No. When I finished my degree, I was one of three people out of 200 to get a first, but I felt nothing. The trauma outweighed the result. Other people were trying their hardest to get good results, but I was just trying to survive. Nobody asks me what I got in my degree now. I started my own brand, because that's what we had been primed to do. I wanted to be a couture designer. At the time, the only Black person thriving in that realm was Marga Weimans. Trying to do that with limited time and money, I fell back into the same cycle of not eating, not sleeping and working seven days a week. I completely broke down.
How did your mindset change after that moment?
I don't think about fashion as my life and soul anymore. My life and soul is that I'm creative, and that can take any format. For a long time, I was sad about walking away from fashion, because I felt like it made me weak or seemed like I couldn't hack it. Now I consider it self-preservation. I had internalised capitalism to the point where I valued productivity over my life. It's the biggest lie of all. Now, I remind myself what matters by asking: Am I content in myself? Do I have good people around me? Am I able to push myself and support others? Am I being honest with myself? Do I feel balanced?
A lot of people have framed lockdown as the perfect time to be productive and faced backlash for that. It's as if the rest of the world is waking up to the lesson you learnt, that productivity cannot be your sole motivation.
It really can't. For some people struggling with mental illness, they can't work in a time of panic. When I didn't understand my own mental health, I am sure I was an arsehole to people. When you don't understand it, your responses can be really callous and blunt. We need compassion and empathy.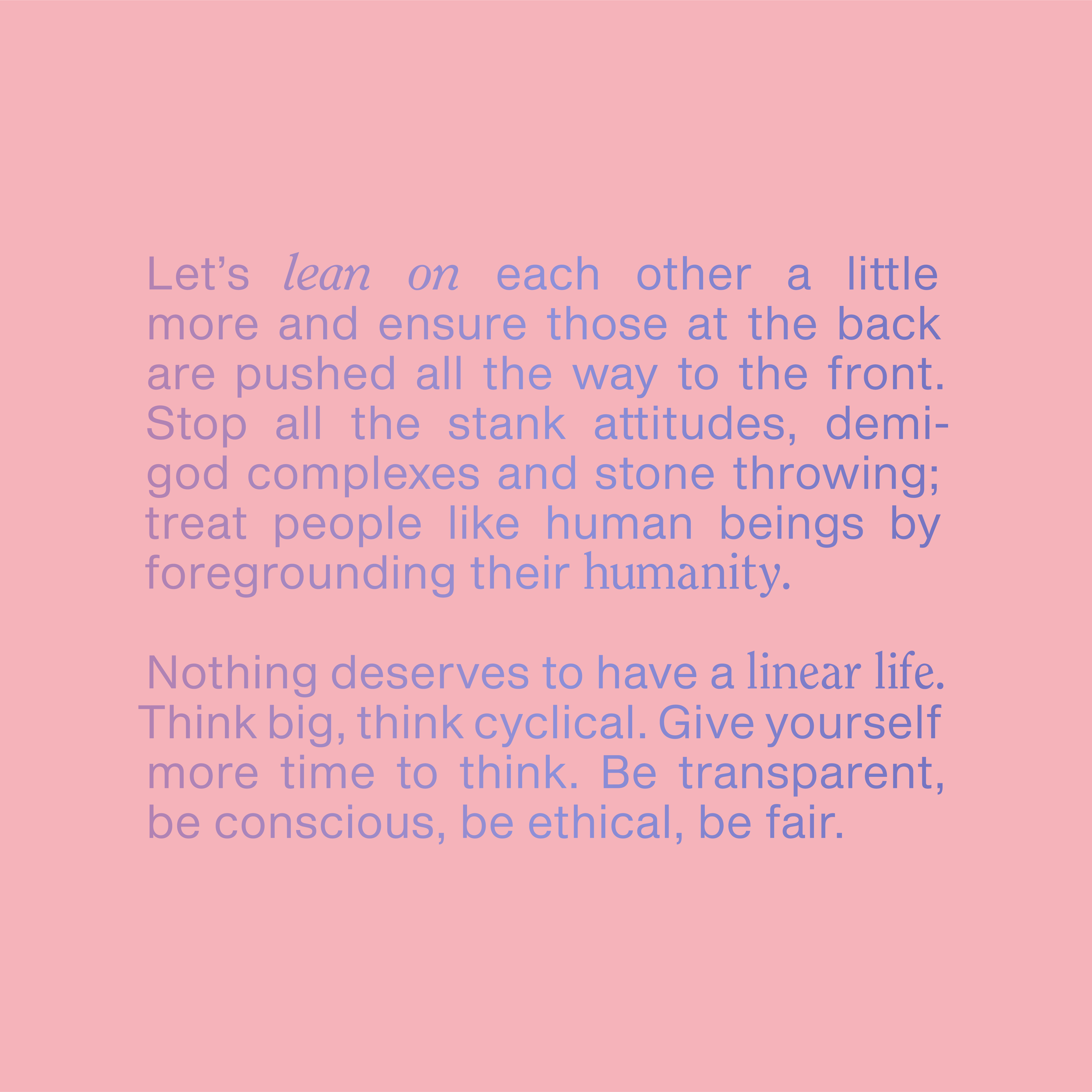 Sometimes, the reality of running your own brand doesn't match up to the dream.
I think everybody needs to start critiquing their desire. Why do we keep putting up with systems, industries and individuals that promote over-working to the detriment of your health? I think the industry is facing a very serious reckoning now, because production has stopped and fashion weeks will stop too. Graduates might not have final shows. It's really disheartening, but it's also a moment to step back and look at the whole. If we take the focus off the cosmetic, we can operate realistically, ethically and with transparency. We need to cut the bullshit. I don't care to be cool, I care to be healthy.
How might the book help guide people through this reckoning?
The book asks more questions than it answers. How can companies support freelancers who are struggling? How can we make sure people have a healthy environment to create in? How can we build an eco-system that doesn't drain creatives emotionally, financially and intellectually? It's asking you to consider your life, the way you respond to the way you live and the industries you are in.
This pandemic is showing us where the cracks in our society are and how we need to change. Hierarchy does not matter now. Competition does not matter now. I hope our priorities will shift drastically, because life will go on and we will need protections and strategies in place when it does.
The book and the manifesto both show how inequalities, systems of oppression and privileges intersect. Could you give us an idea of who the contributors are and what they wrote about?
Bethany Williams writes about distribution of wealth and economies of care. Maisie Skidmore talks about self-actualisation and how we need to rebuild the pyramid of needs. Tamsin Blanchard from Fashion Revolution talks about manifestos she loves and why we need a loose blueprint for life that guides us. Kimberly Jenkins has a brilliant conversation with assistant editor Tamar Clarke-Brown about fashion, race and education reform, how these things interlink and inform the next generation. Sara Arnold from Extinction Rebellion gives a 'climate change 101'. It's heavy and blunt, but now is the time for frank conversations. As a whole, the anthology looks at how environmentalism, race, mental health, hyper-acceleration, work culture and expectations are linked. It's an attempt to have this conversation holistically.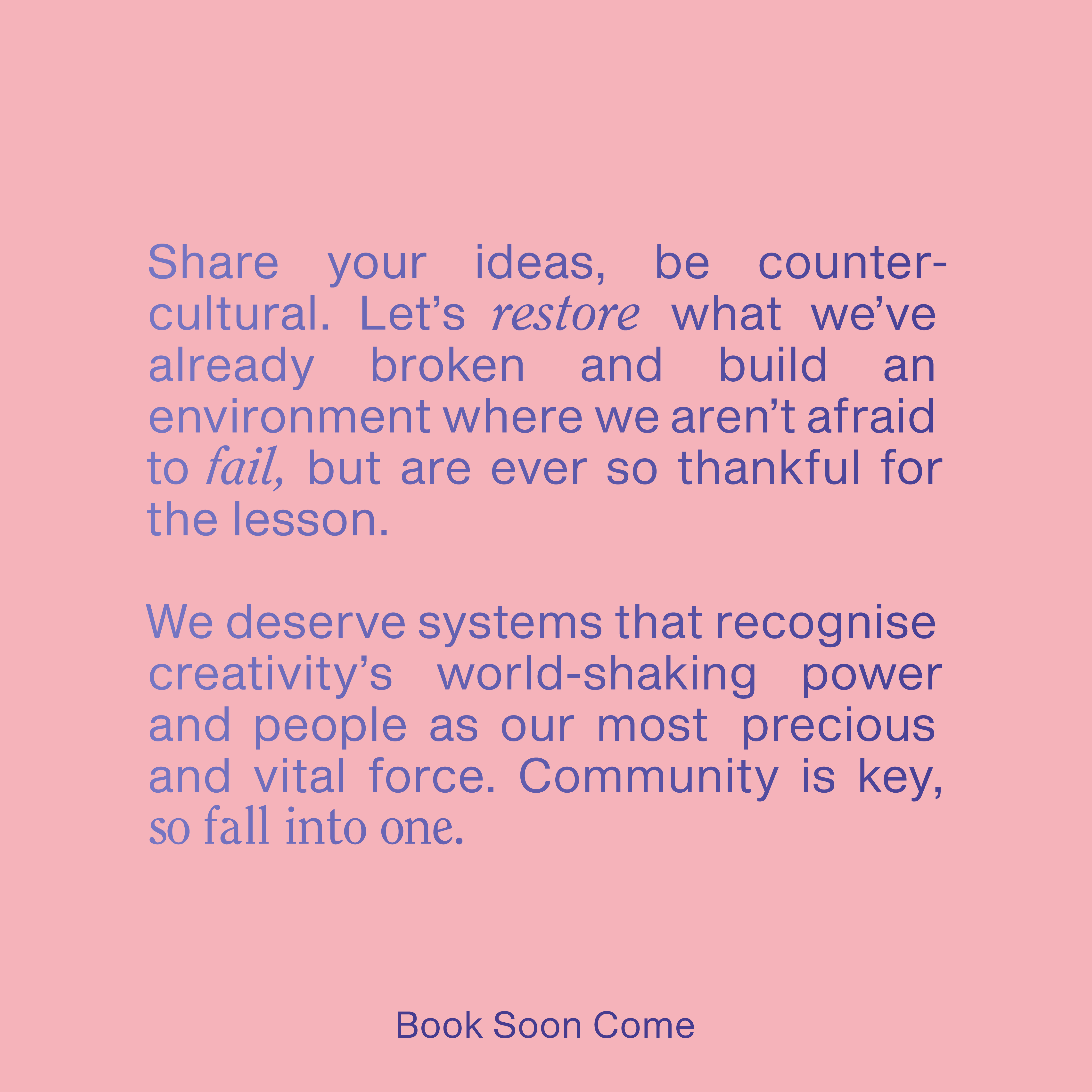 Why did you choose to turn the book into an anthology?
I never want to be the authoritative voice on anything, because I don't believe in that. Some people in the book have been moving in this space for decades and I look up to them — people like Orsola de Castro, Caryn Franklin and Tamsin Blanchard. People can be so scared to admit that others know more than them, but you only grow when you're open to learning. I don't know everything about material culture, so let me bring in Seetal Solanki to break it down. I don't know everything about my career accelerating at a pace I can't understand or control, so let me bring Ib Kamara in to explain what that feels like.
You had to postpone the book launch because of coronavirus — how has that made you reflect differently on the book and on publishing more generally?
I always wanted the book to be a physical thing, so you can cast your hand over it, see it in front of you and keep coming back to it. If you carry something with you, it is more likely to become your blueprint. I still believe this book can do that, but I wonder if it will feel as necessary. Collectively, our priorities are having to shift, but we need this to cultivate a different future. The final sentence of the foreword (written by Sumitra Upham) is: "To help us strategise for a future that we want to inhibit, I present The Slow Grind…" It's a yardstick for what we can do next.
Credits

---
All images via Josh Woolford