Meet the heartthrob stars of your new queer movie obsession
Set in Northern France, 'Summer of 85' is like a psycho-thriller cut of 'Call Me By Your Name'. Here, its lead actors explain why you'll love it too.
Photography Sam Hellmann
The two teenage lovers of François Ozon's Summer of 85 first meet in the sea off the Northern coast of France. A storm, which has been brewing quietly out of sight on a sunny day, suddenly looms overhead, wind and rain causing 16-year-old Alex's sailboat to capsize. He's flailing and shouting for help, scrambling to stay afloat. Then a boat cuts through the water, stallion-like, guided by his saviour. Or at least, someone who looks like one. He's taller and older; violently handsome. His name is David.
It's a name that's uttered almost constantly by Alex in a thick French accent throughout the movie, both in lovestruck exasperation and mournful longing. We know from the offset of the film that David is now dead — but the reason behind Alex's interrogation in the incident is not revealed until much later. You see it as a story of friendship and first love told in several swapping timeframes, building a sun-soaked and tragic portrait of what it's like to be young, queer and infatuated by someone you barely know, so much so that the loss of them will drive you to insanity.
Harnessing this vibrant and vast arc required the talents of two young French actors whose naturalistic screen tendencies would shine through — even if neither had grappled with material like this before. They are Félix Lefebvre and Benjamin Voisin, who play Alex and David respectively. As Alex, Félix is a comforting presence; malleable and sweet, dazzled by his darker and wiser counterpart. In real life, their personalities, when they speak to us over the phone, are reflective of their own characters. When Félix answers his call, he seems docile and smart. The busy, braggadocious murmurs of inner city Paris can be heard behind Benjamin's voice, more projected and enigmatic, spliced with the sputters and sparks of a cigarette lighter. That Benjamin, as smooth and cool as his character, chooses not to have Instagram ("I think being mysterious is better!" he says) is a testament to how greatly he fits into David's shoes.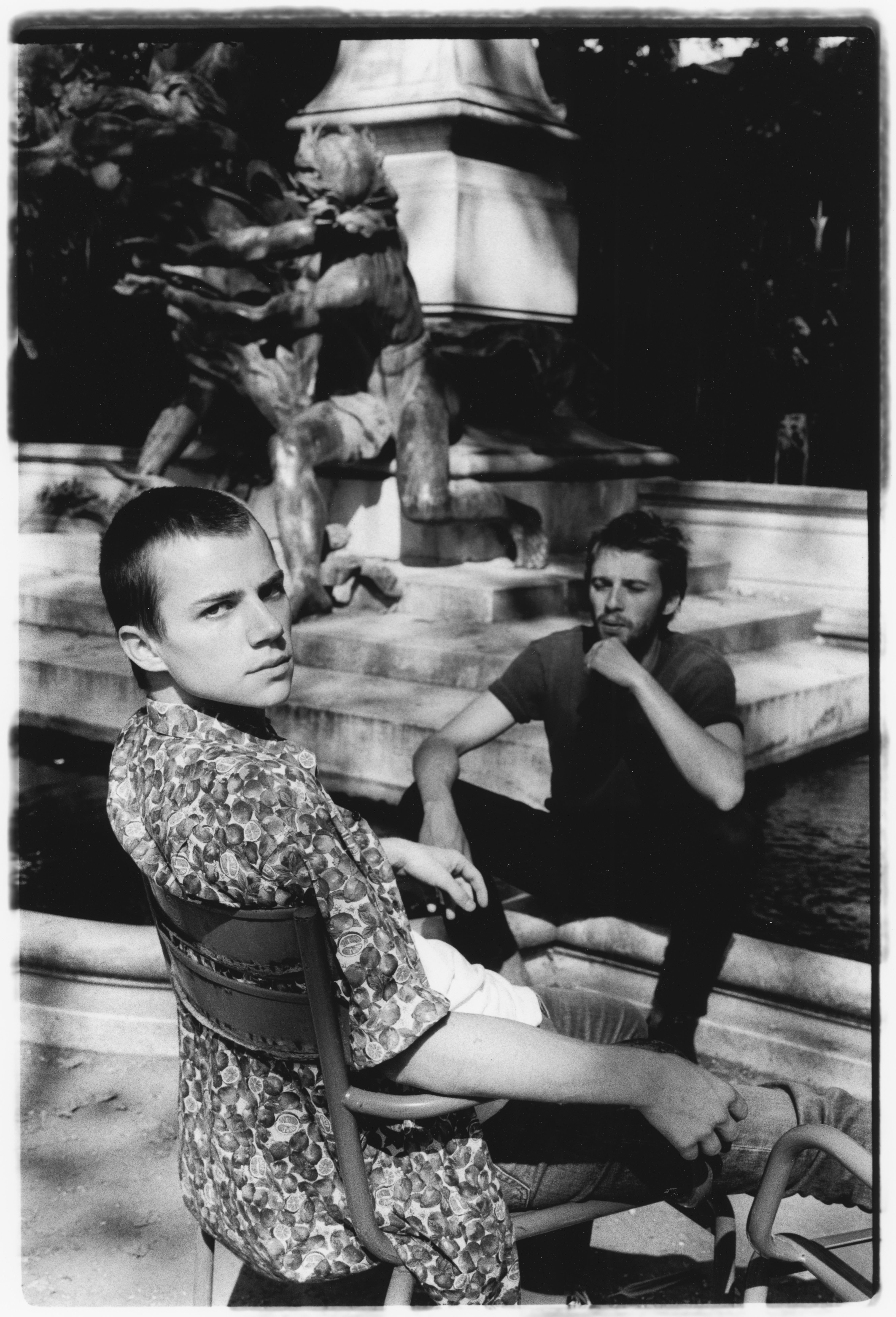 Though Félix and Benjamin have both acted on screen in the past, this movie — placing them both front and centre, and helmed by a French cinema legend — was a brand new experience. "I've never done something like this before," Félix tells us. "I'll probably never get to do it again."
They both went into it blindly. As the natural lead, Félix auditioned first, with Benjamin coming on board based on the chemistry the duo shared. There was no description of what the film was about before they auditioned, all they knew was that François Ozon was behind it.
In Félix's case, a reciting of the film's opening monologue turned into a call from his agent: François wanted to meet Félix face-to-face. "At the very beginning, he didn't tell me about this being a love story between two boys," Félix says now. "He told me about a big, great and important friendship; that it's going to be the journey of a young boy becoming a man and finding his way, you know? About the fascination that Alex is going to have for David."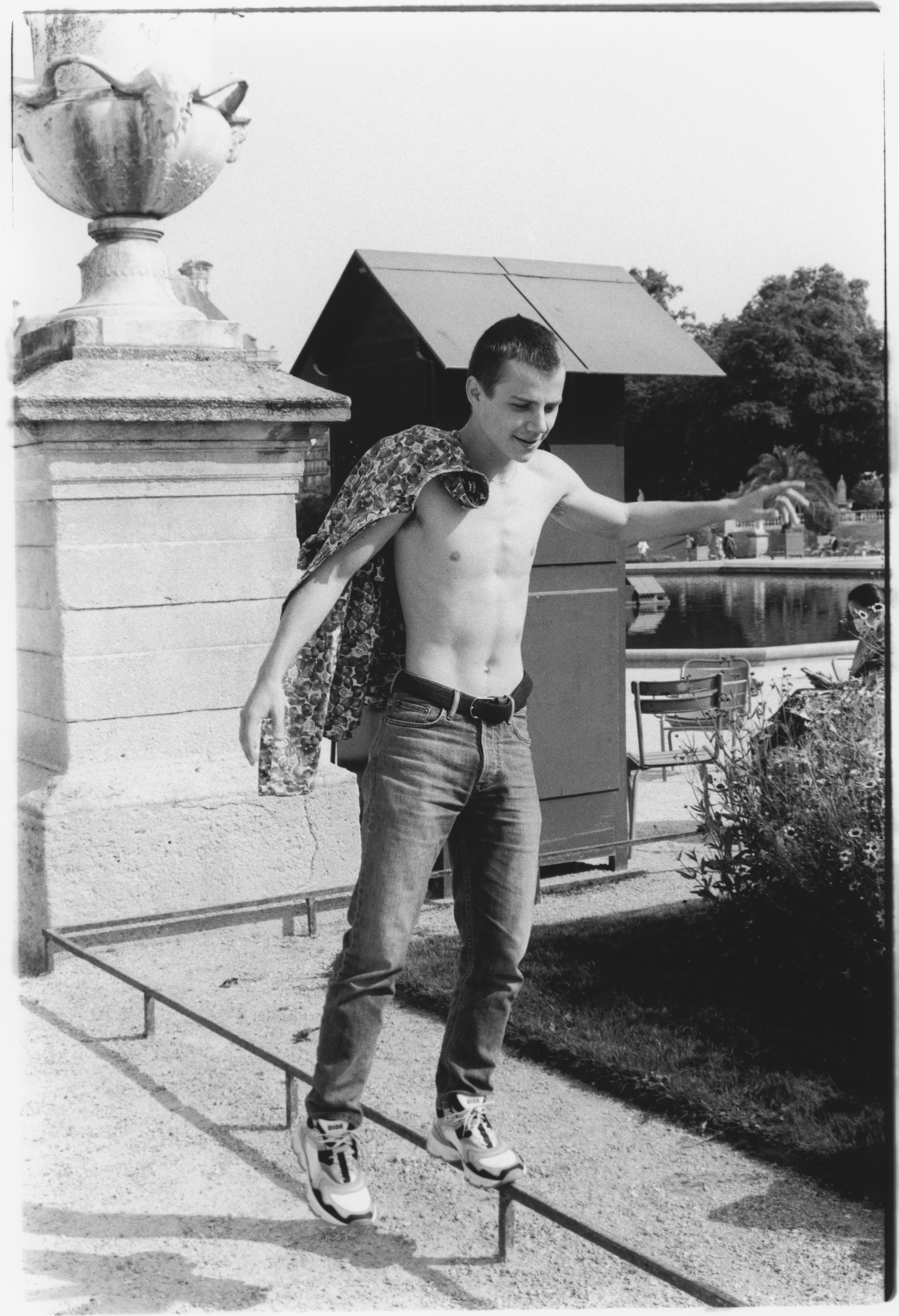 When they first met, shortly after Félix had been cast, François told Benjamin that his domineering character would be akin to a scorpion, almost preying upon this boy he had enraptured: "It's this animal that's beautiful, and for three or four hours [at a time] it won't move," Benjamin explains, "but he also has the potential to kill." It's the perfect descriptor for David and how Benjamin plays him: he's a volatile character who's so easy to fall for that you know his mere existence could eventually lead to his lover's demise.
François Ozon has a tendency to take a subject matter that may otherwise be fairly run of the mill, and skew it with a strangeness unfamiliar to his viewers. He can be a sexual satirist: 2017's L'Amant Double was a wild and erotic exploration of a woman falling in love with two twin therapists. But he also knows restraint and nuances surrounding subjects that require such treatment: he made a star from Marine Vacth in the teen sex worker thriller Jeune et Jolie, but also crafted a fine artist biopic, Frantz, in 2016. So here is the merging of all of his ideas: something sensitive and playful, dark but not so dark that you can't find the glimmers of silliness within it. Summer of 85 is as giddy as a first love, like an elevated, exuberant queer soap opera.
But neither Félix nor Benjamin attested to being academics of François' back catalogue before the shoot began. "I didn't know who he was until I met him," Benjamin says. "I had the luxury to see all of his movies while I was on the set. I'd go back at the end of the night, sit at my computer and see one of the 20 movies he'd made." He was witnessing François' techniques in their final form in the evening, while seeing them in progress and at work throughout the day. But like with most filmmakers, there's a disparity between the elaborate nature of what you see on screen and the semantics of what goes on behind the scenes. "We never spoke with François about the meanings of the scenes," Benjamin explains. "We play and see what happens! For me, that's the best way."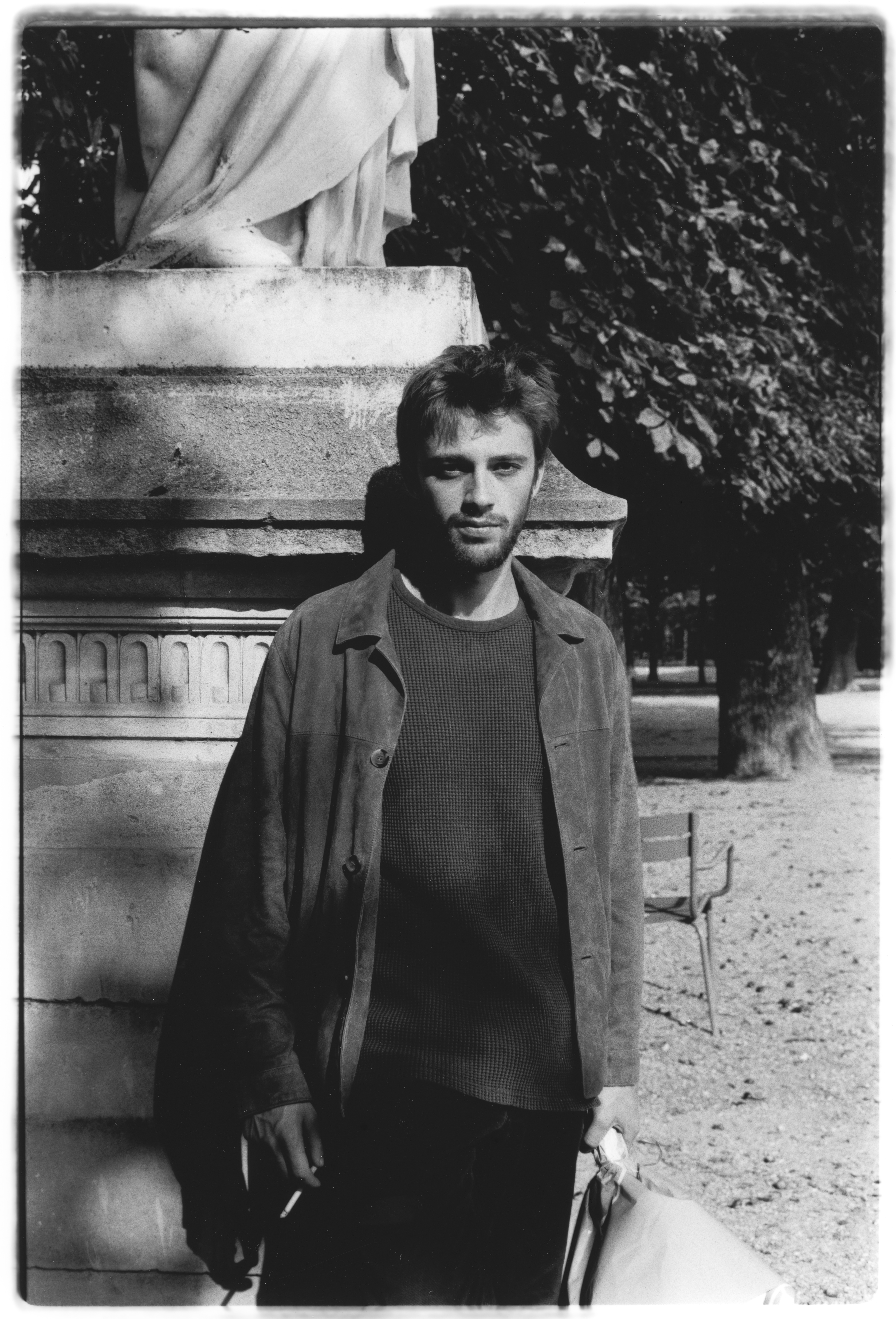 Félix too trusted in François' vision, but was fascinated by the setting in which the film took place: a small seaside community in Normandy in the mid-80s. Often via the tastes of his own mother, he soaked up the culture of that era before he got to the set. "I was watching the movies that Alex could have watched, and listening to what could have been his favourite songs. When I listened to those songs, I understood why they could dance and feel like this at that time." There was a lot of The Cure, Phil Collins, Michael Jackson and Bananarama in his playlists. "It was funny to see a generation I thought I knew, but didn't. One so different to the one we're in today: more colourful."
To pin down the connection the pair of them share, Félix and Benjamin spent time together, and worked out the ways in which their own relationship could combine with that of their characters. In the film, Alex wraps his arms around David's waist as they take a motorcycle trip from a carnival to the seafront, recklessly weaving in between traffic, seeking a thrill. "Like in the movie, Félix never had a motorcycle and I did," Benjamin says. "We spent every night together before the shoot [motorbiking around] the streets. When we met for the first time, we felt the same way about each other."
"Yeah, it's actually quite rare that you find somebody you have a real connection with," Félix adds. "We were believing everything each other was saying and doing, and it made it easy to evolve into our characters. And as people, we became friends. It was a real good time!"
The film, in all of its sun-soaked, Francophone glory, was set to premiere in competition at this year's Cannes Film Festival, a lustrous first step for a film indebted to the sea-lined coasts of France. Alas, the pandemic had other ideas. The film had its cinema run in France already and is rolling out throughout film festivals around the world, albeit mostly digitally. Benjamin is excited to hopefully experience the festival in the future (his next film Lost Illusions, starring Gerard Depardieu and Xavier Dolan, is expected to take him there). As for Félix? "It would have been great, because I love this movie," he insists. "But, you know, things happen the way they have to happen. I'm not gonna cry over what didn't happen, but I'm going to try to make what has to happen, happen. Does that make sense?"
It does. Still, what a balm a movie like this is in a time when we are forcibly disconnected from each other. A movie about love that's ferocious and fun. "It's kind of something we've lost for now," Félix says, sounding a little sad but hopeful that this film could help heal things. "Bodies touching; the love around us, without much to be concerned about except love itself." It's something that gives you full body shivers when you see it on screen in Summer of 85: a camera crawling down the exposed bodies of two young men madly in love, barely room for even breath between them.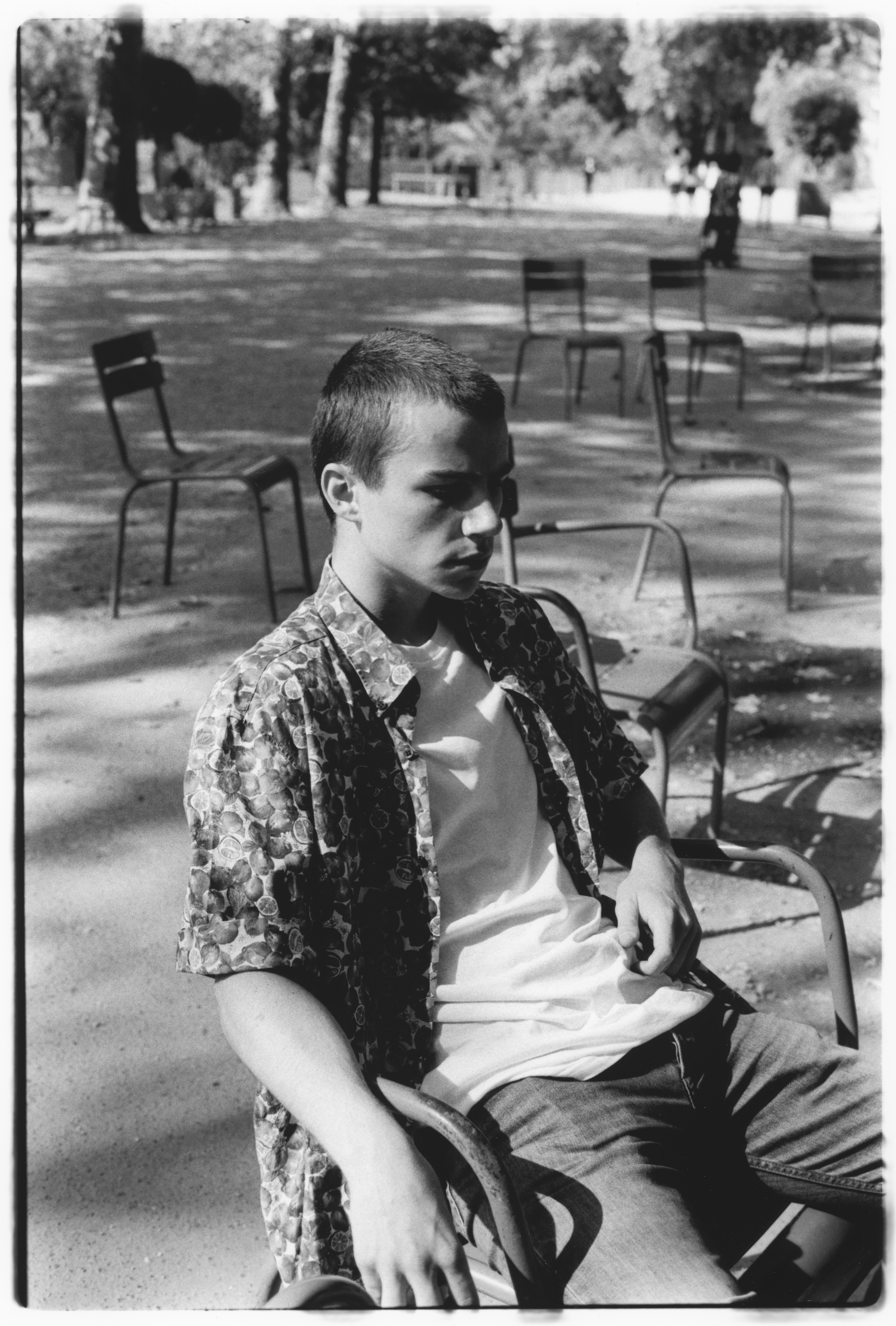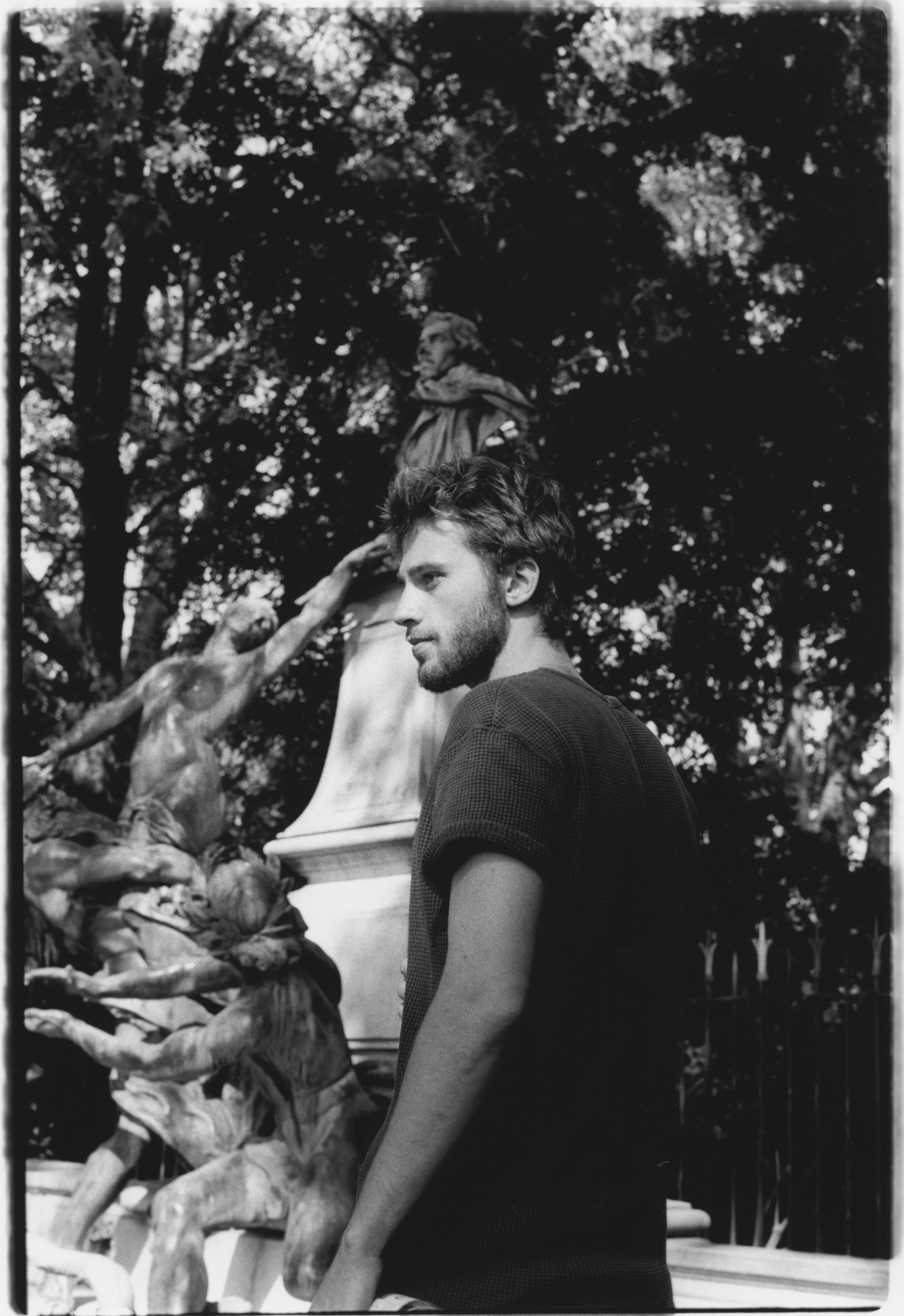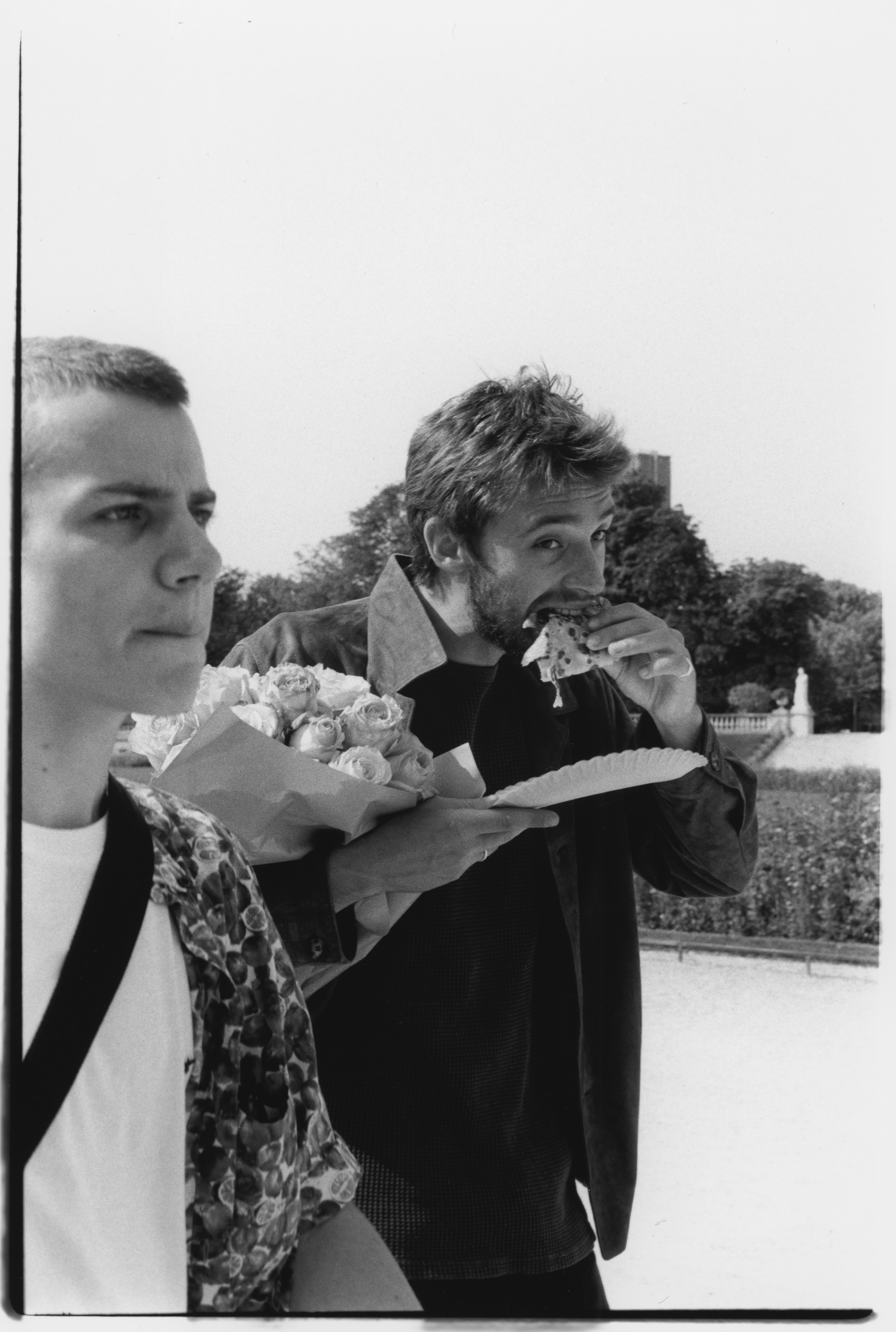 Summer of 85 will be released in cinemas and Curzon Home Cinema on 23 October.