Images courtesy of Philip Huang
See a new film that shows the secret world of Thai indigo
Finding Oasis, by the designers of Philip Huang, was made in collaboration with the cinematographer of 'Call Me By Your Name'.
Images courtesy of Philip Huang
Indigo, the divine, deep blue dye, goes through various cycles of popularity in fashion, and of course eternally lends itself to jeans -- although much of that is now synthetic. Have you every considered, however, where the dye originally it came from? Natural indigo grows in various strains worldwide, and in a new short film, Finding Oasis, we see the craftspeople of Sakon Nakhon, in the North Eastern Thai province of Isan, as they harvest and make the dye for label Philip Huang.
Philip Huang is in fact two people, designers (and partners in life) Philip Huang and Chomwan Weeraworit, who split their time between Bangkok and New York's Bushwick with their three children. They founded the label in 2016 after a serendipitous trip to the interior of the country to learn about indigo, which is called kram in Thai. Now, they've teamed up with famed cinematographer Sayombhu Mukdeeprom, who worked on Call Me By Your Name and Uncle Boonmee Who Can Recall His Past Lives, for a short film about the women who work with them.
Philip and Chomwan's initial curiosity for the process has turned into a full obsession with the ancient dye and the people who make it, which is evident from the beautiful film. "I wanted to introduce them and their journey, this coming home to the farm synonymous with oasis," says Chomwan. "In a way, this a parallel to Philip and I seeking a way to do what we love, that is different from what we are expected to do. To be able to reconcile the city with this countryside and community that we've gotten to know over the last five years."
Watch Finding Oasis, and read about their journey, below.
How did you come to split your time between Brooklyn and Bangkok?
Philip Huang: We were in living in New York and came back to Bangkok when we found out we were having twins. Aree (our eldest) was barely 2 at the time and we thought, "Why are we doing this in NY when we have family in Bangkok". For Chomwan, it's home and in a funny way I always felt a connection with Bangkok because of my family -- my uncle has been here for 30 years and one of my aunts too.
The plan was to go back to NYC six months or a year after the twins were born, but I think 8 weeks after she gave birth to the twins we took our first road-trip to Sakon Nakhon, and that changed everything.
This realisation that in Bangkok, you can still get things made by hand, that you can drive out of the city and be in the countryside and that you can learn from artisans, and we wanted to see how we can do both. So our HQ is still in Bushwick and we split our time (until COVID happened) between both, some years Chom is there more, others I am. But I'd say until this March we were 30%/50% of the time in NYC. The kids love it there, summers in NYC and summer camp, it was a split that made a lot of sense to us and I think we both always imagined living in two places and making that work somehow.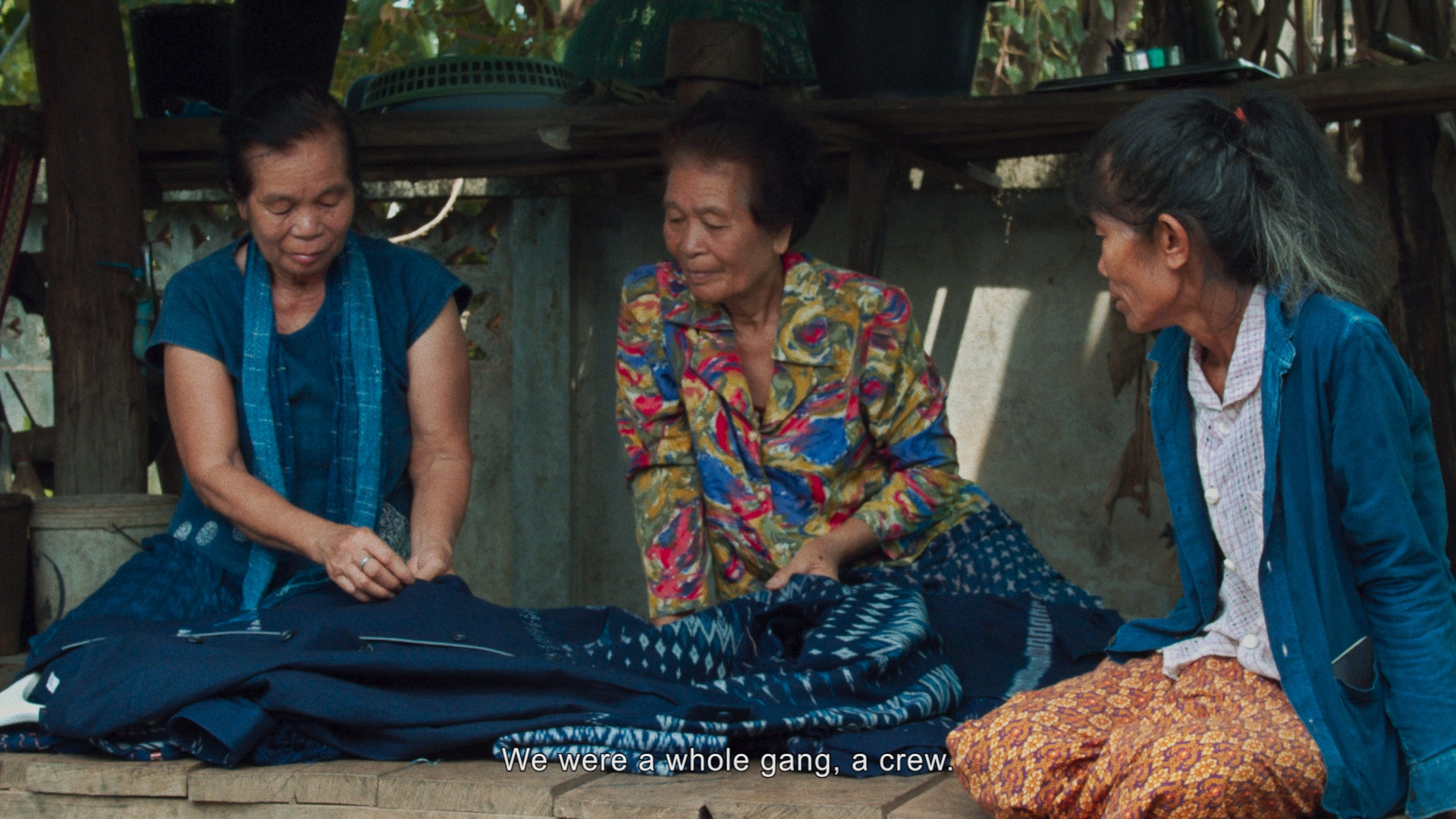 Tell us how you came to start the brand -- was it a natural extension of your relationship?
PH: When we first met, we were both travelling a lot, I was living out of a suitcase and there were items that were key, swimming trunks and t-shirts for example. For fun, we decided to do a capsule collection of swimming trunks with Chomwan's friend and it worked out. Then we realized that I lived in t-shirts then we should make them, so that both of us could wear our own t-shirts and then we would dye them and that's how it started.
Chomwan Weeraworit: After being with Philip for a little while I realized that he loves clothes (and looks great in them!) and it would be cool if he could make them too, especially when we were back in Bangkok and we had the resources. I had pattern-cutters and ateliers I worked with in the past, so it kind of organically morphed into a brand and more so when we found indigo and really started making things, we realized that it was a natural extension of what we do and who we are, so in that way I guess it is an extension of our relationship. Philip was already in fashion, is interested in process and making things, and I am interested in story-telling and creating a platform, also intent on realizing my thesis -- doing something that could make an impact for these communities and protect traditional knowledge was what I wanted to do. It made the most sense to do it together.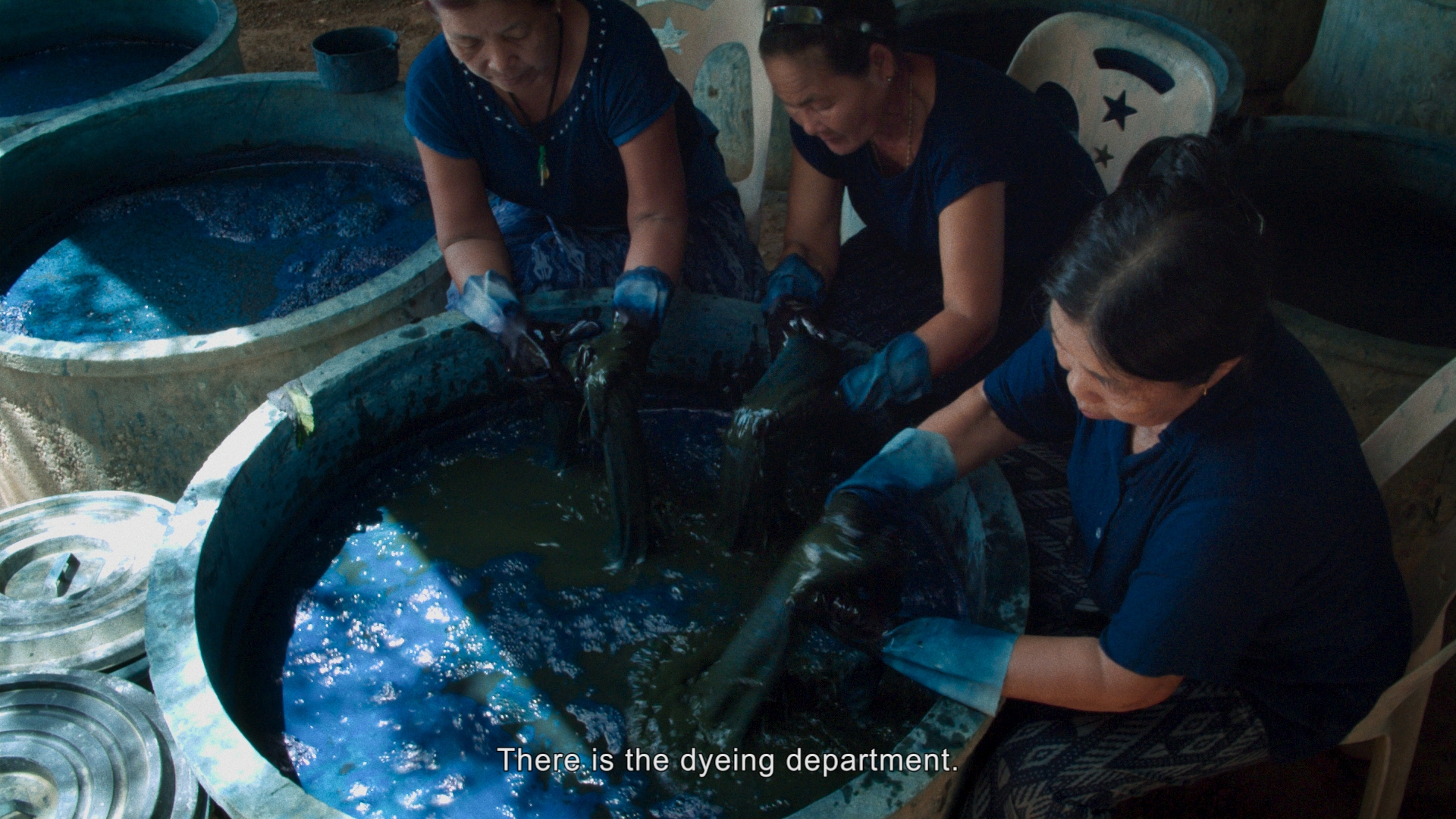 What first led you to the indigenous dyeing techniques of Thailand?
PH: We both decided that we wanted to try dyeing indigo, it happened when we were in different cities but we ended up doing an indigo workshop at the same time; me at Biaisou in Brooklyn and Chomwan in Chiang Mai at Studio Naenna. At this point in time we didn't know much about indigo in Sakon Nakhon except that from Chomwan's research that there was the most diverse artisanal textiles and natural dyes in Isan as a whole, and what we knew of Isan was through Apichatpong Weerasethakul's films.
CW: Indigo (kram in Thai) is synonymous with the farmers of Thailand, it is what farmers wear in the rice paddies and have done so for generations. I knew that this color existed but not much more than that, so we did some searching on the Internet and started to understand that indigo-dyeing and plant-dyeing were not just colors but part of a way of life that goes with weaving and farming, that this is what was used prior to synthetic dyes coming to Thailand in the late 1940's. With a close friend, Sakson Rouypirom, who has always worn indigo, we went to this One Village, One Product fair (OTOP) in Bangkok and met indigo dyers from Sakon Nakhon. A couple weeks later, we decided to drive up to Sakon Nakhon in search of the indigo and that's how it started. I guess it was curiosity more than anything and the desire to discover these techniques.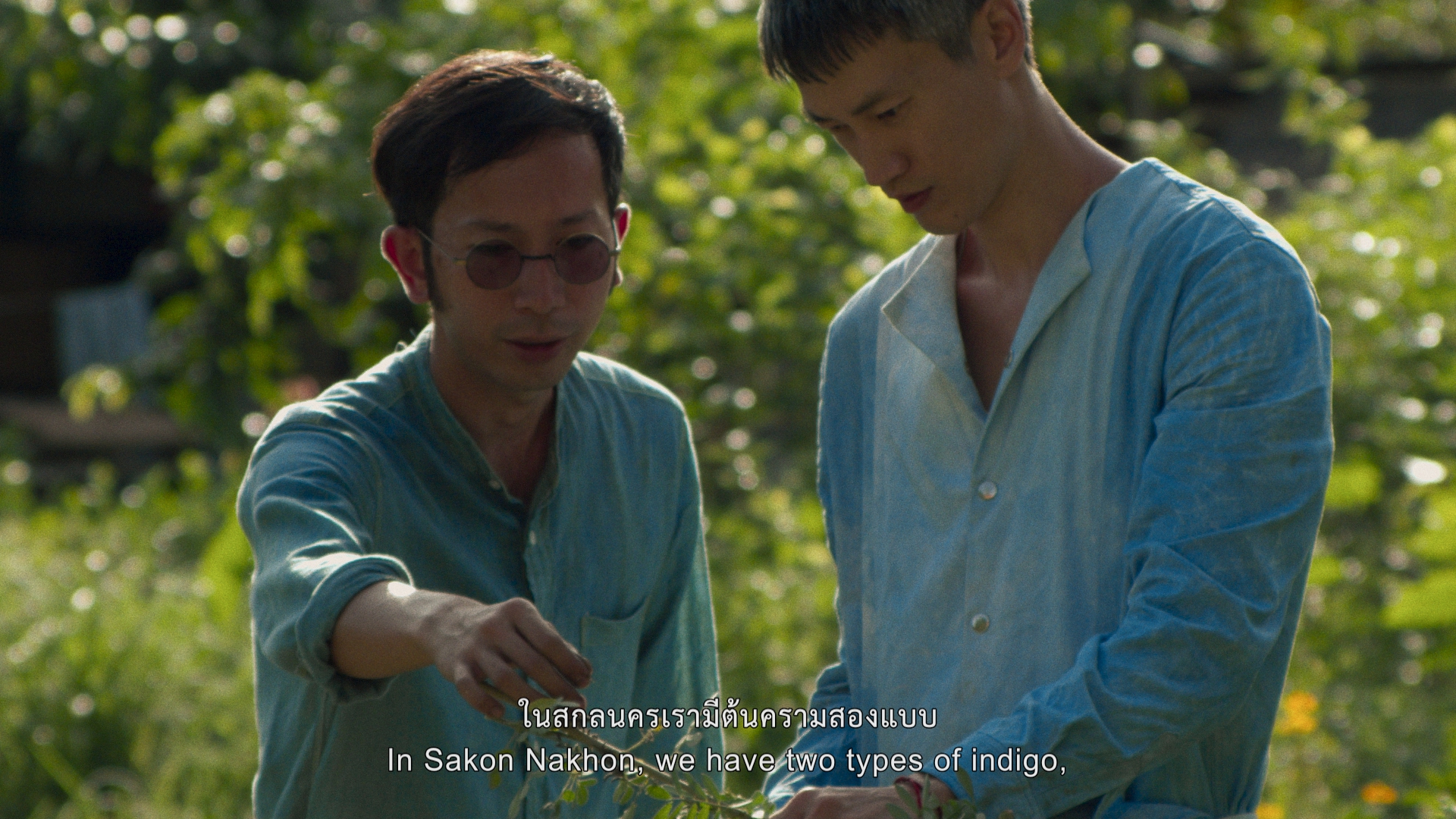 Can you tell us a bit about Sakon Kakhon, where you find your indigo?
We work with a few different villages in Sakon Nakhon, one village in particular is quite remote, and we've been working with them for the last 5 years. The people we work with are mainly older ladies, grandmas and aunties, many of whom have gone to Bangkok to work but have returned home to be with their families, to farm the land and to weave and dye as additional income to farming, but also to safeguard the tradition. The ladies we work with invite us into their homes, we eat with them, they cook, we bring snacks, we dye together. There are villages that are more organized than others, they are all different and the dyeing and weaving techniques differ too. There is a dedication to the craft, and a feeling amongst the grandmas that they are born to do this, taught by their mothers.
Today, more young people are getting involved as it is no longer seen as old-fashioned but probably there is less of this sense of duty as there are choices. Then there are the dyers and artisans we've met who are of our generation, they've come to Bangkok (or elsewhere) for school and university and returned to Sakon Nakhon to start organic farms, direct their family's weaving group and evolve the craft, take over family businesses such as herbal remedies, or to become master dyers, ceramicists, chefs making best use of the abundant and unique local resources. They are all friends and it's a really close-knit community, so happy that when we go to Sakon Nakhon we have our crew now to hang out with.
What is so special about indigo? Why do you think it has had such resonance throughout the centuries?
Indigo is a strong spirit, it is a living and breathing dye and has been around for millennia, 6200 years to be precise. With this amount of time in existence in nature and in culture, you realise that it must be not only resilient but adaptable at the same time to thrive throughout the centuries. The enduring quality of it is, at first glance, its beauty but once you go beyond that you see that this is so much more than a colour, derived from plants that have been around and journeyed across the Earth, it is also antibacterial, anti-microbial and offers UV protection, all of this naturally.
The colour is capable of a lot, can change and is versatile. It's ability to become a powder and have a weight and a clear use function enabled it to be a tool of exchange. On a practical level, when you think about it, woven fibers are white, no one wants to come back from the field in muddy white clothes – so the blue dye offers protection and probably was less of a headache for the wives, or in the dessert with the tuaregs, the indigo is a shield and in retains its colour, if it were white it would be dusty and dirty.
Obviously natural dyes are at the heart of your process, but what inspires the cut/styles of your garments?
From the very start we made it our mission to merge age-old traditions with the future, in clothes that we want to wear right now. The notion of the "future" here is not the bleak future viewed from where we are right now but a hopeful future, like as if viewed from another era, a future that is much more naïve, that could be if things went a different way, an alternative narrative, starting from when spaceships were hand drawn and models for them hand-made. We are deeply inspired by Stanley Kubrick's 2001:Space Odyssey and the portrayal of what is beyond earth, the exploration of time and the juxtaposition with the primordial.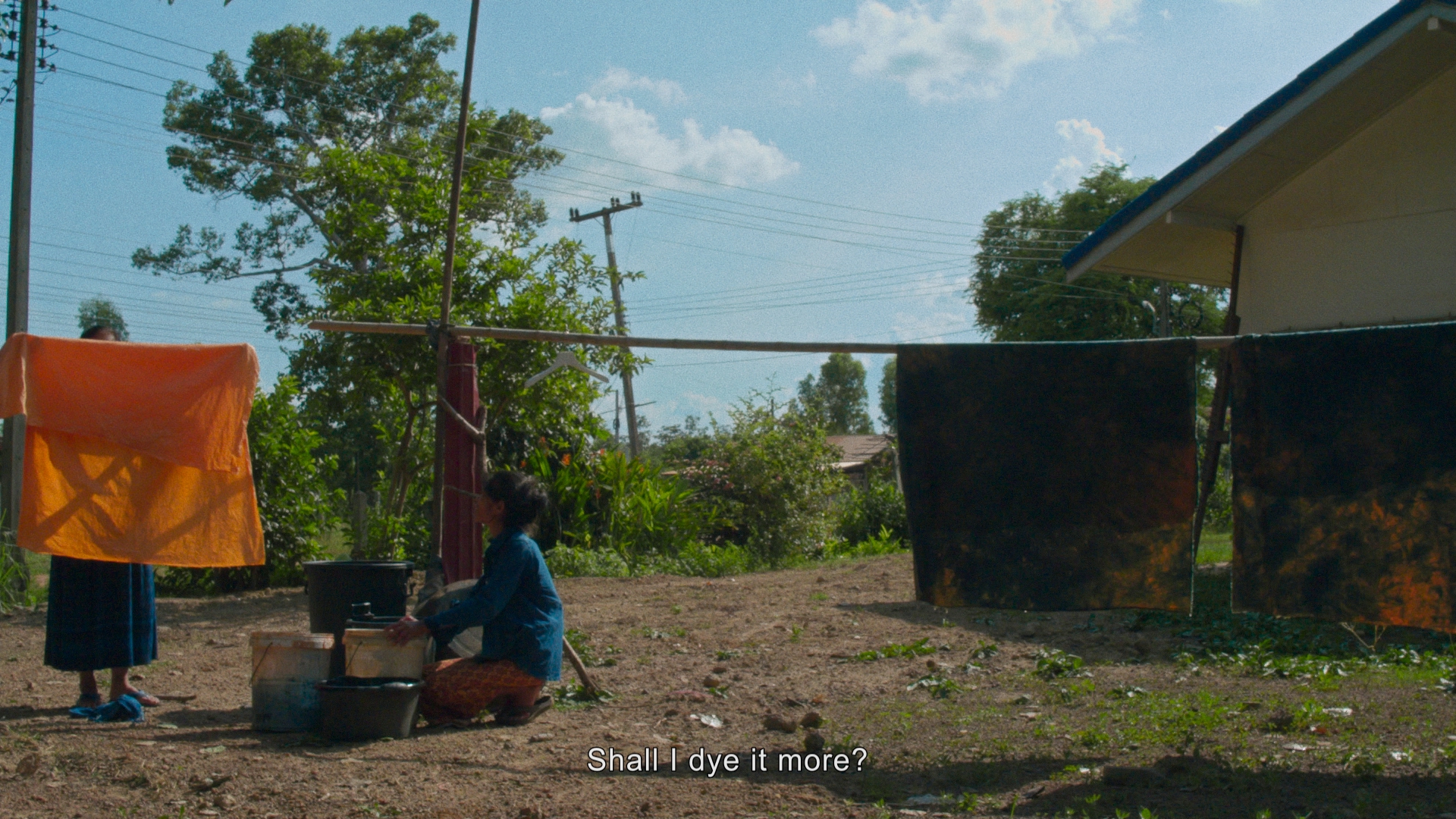 When thinking of the samurai, idea of protection comes to mind and that is also a part of it.
When we look at the characters that inspire us in fiction and non-fixture they are vanguards that brought change or furthered a narrative, not afraid of shifting and changing the status quo e.g. Buckminster Fuller, Isamu Noguchi, Prince, David Bowie, Alejandro Jodorowsky and our friends Apichatpong Weerasethakul, Rirkrit Tiravanija, Korakrit Arunanondchai, and Waris Ahluwalia. They inspire us. What is in common with all themes is that they were doing things, in action, so the clothes require mobility and an easiness to them – day-to-night and journey across the earth. That is why the clothes are transitional, there is a through line with them with the shape, always a slight exaggeration, and they can be as easily formal as they are casual.
So imagine making clothes that are informed by the past, that are drawn from the land, but made for the future to be worn today, but the future that we see right now but one that has better used it resources, one that has gone to the land harnessed how best to use Mother Nature's recipes to not exploit but enhance. It is DIY Sci Fi in a way, science fiction that can be crafted, that still retains the human touch and something that has a soul.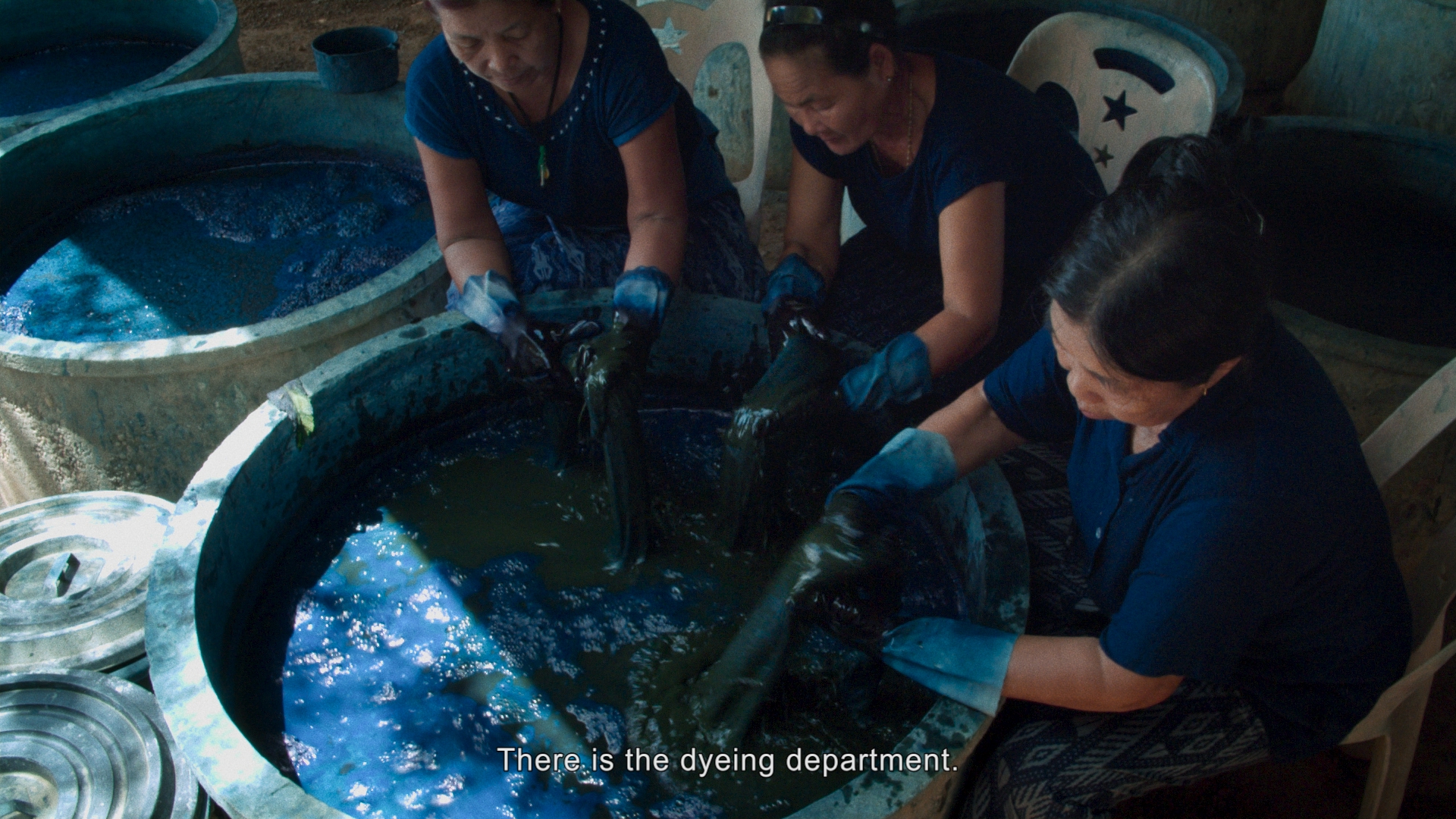 What was the story you wanted to tell with the film?
CW: All along since we started our journey, and in particular last year, we felt that like it was leading somewhere but we weren't really sure where it was or "what" it was. A few months ago, I think around the time that we were all stuck at home; I began to realize that the thing we were looking for, this abstract idea relates to the idea of freedom, freedom to do what we want to do, to be able to express ourselves and create; And with regards to the brand, this links to indigo and Sakon Nakhon. So what we wanted to propose is what this idea of freedom vis-à-vis the journey of our collaborators, and their search for this notion, abstract or real of "oasis".
I wanted to introduce them and their journey, this coming home to the farm synonymous with oasis. In a way, this a parallel to Philip and I seeking a way to do what we love, that is different from what we are expected to do. To be able to reconcile the city with this countryside and community that we've gotten to know over the last five years. The constant juxtaposition painting a picture of our world. This is in a way our oasis. So this first part (hopefully there is a second), it's kind of a visual essay in a way, how we got here and how this "oasis" is a convergence of the city, our family, our work, and our collaborators. The story offers a glimpse of the way of life the villages that we work with, a small glimpse of their story, and finally the hope for the future that comes with the land itself. Finding Oasis is also finding that peace in ourselves, that is why the elements are important, the water, the sky, the fire. We hope to make a part two to this that is an exploration of the idea of freedom through movement, through small gestures, the hands.
What makes you hopeful for the future?
That there are young people who care, that the idea of hand-made and of the human touch is appreciated. That people have had time to reflect and retain the information that is available and knowing that what we provide is an alternative to the current state of things, not just in fashion but the way that one chooses to live, in the city or countryside. In the bigger sense, we are hopeful that they have time to listen and want to explore other alternatives.