Kristen Stewart has made a short film for Netflix
Produced in lockdown, it's part of a series helmed by Jackie director Pablo Larraín.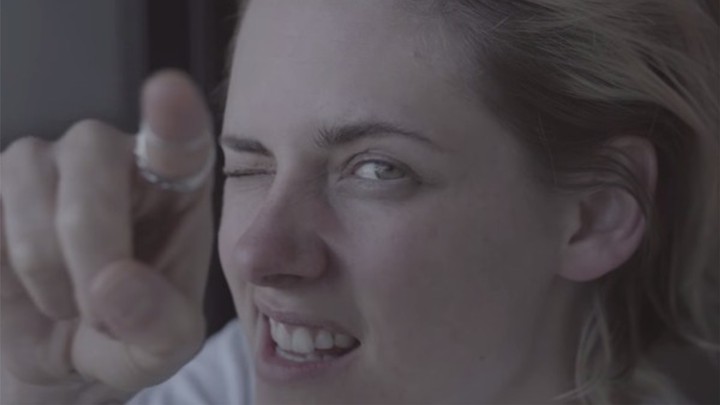 Still from Homemade
Remember that godawful time period a few months ago when, in the height of a pandemic, every Tom, Dick and Karen was pointing a finger at you, asking what *you* had done during lockdown to stay productive? That was quite rubbish, wasn't it? The idea of thinking regular folks' reaction to a violent infection sweeping the globe would be to start writing that book they've always talked about was a wild one, but it seems like a few of Hollywood's most lauded filmmakers have decided to dive into those waters anyway.
Enter Homemade, a new project helmed by Chilean director Pablo Larraín (yep, the same guy making that K-Stew Diana movie), in which a series of movie figures from around the world have created DIY shorts during lockdown. They'll be premiering exclusively on Netflix, both as one big feature length movie, or to watch individually.
So who has Pablo managed to wrangle into his new project? Well, most prominently, his new Diana Kristen Stewart herself has managed to rustle up a new film, her first directorial release since 2017's short Come Swim. Elsewhere, The Great Beauty director Paolo Sorrentino has created his own, while Ana Lily Amirpour, known for The Bad Batch, has contributed too.
You can also expect to find new projects from the Oscar nominated director of the 2017 drama A Fantastic Woman, Sebastián Lelio, a new filmmaking outing for Rachel Morrison, known best for being the cinematographer for Black Panther, and Ladj Ly, director of last year's impeccable, if underseen Les Miserables.
A donation has also been made in the name of these filmmakers to the Netflix Hardship Fund, which aims to assist those creatives who've been out of work during the Coronavirus crisis.
We don't yet know what each filmmaker's project will be about, only that everything is at least loosely tied to the pandemic, so be sure to keep an eye out for when Homemade premieres on 30 June exclusively on Netflix.