Cardi B x Megan Thee Stallion, plus everything else you need to hear
All the best new music this week in one playlist.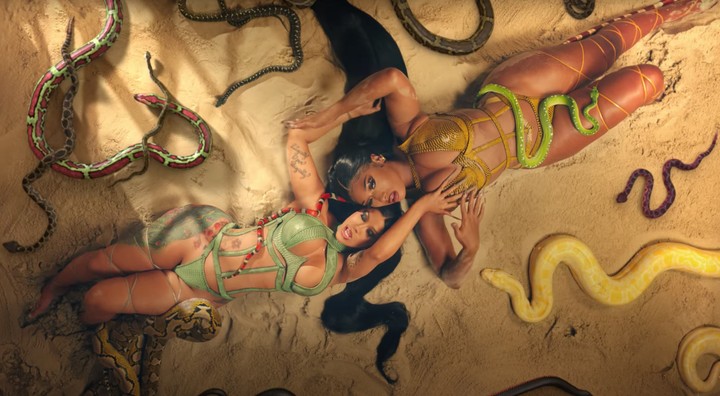 What did we do to deserve Cardi B and Megan Thee Stallion? Making it evident that quarantine horniness spares no man or woman, these two queens have joined forces on the former's absolutely NSFW new single "WAP" (wet ass pussy duh). In the accompanying music video -- which has been cleaned up, slightly, with the alt lyrics "wet and gushy" -- the duo walk through a warped building that looks straight out of Alice In Wonderland, except ridiculously sexy and full of wild animals and celebrity cameos. Everything falls silent as Kylie Jenner serves a serious corridor catwalk, before Normani, Rosalia, Mulatto, Sukihana and Rubi Rose pop up throughout the Cardi dream house.
Also in the playlist this week is Troye Sivan's well-named "Rager Teenager", an ode to his former self: "I just wanna go wild/I just wanna fuck shit up and just ride/In your car tonight/In your bed tonight". The nostalgic song is taken from Troye's In A Dream EP, out 21 August. Then there's the coming together of Robyn, Channel Tres and SG Lewis on the party-ready "Impact"; UNIIQU3's hyperactive "Uniiqu3's Groove (Get Down)" and Tkay Maidza's new EP Last Year Was Weird, Vol. 2. Babe, if you thought last year was weird…
Jai and AK Paul's Paul Institute have put out a summer compilation album with tracks from their artists HIRA, Pen Pals, REINEN, Ruthven, and Fabiana Palladino. The latter's easy breezy "Waiting" makes an appearance too, as does new music from Gia Ford, Honey Dijon, ANOHNI, Omar Apollo, Sola, Eartheater and, um, blink-182. Why not!