TikTok is (inevitably) getting its first reality TV show
Laugh all you want but we're all going to be absolutely obsessed with 'The Hype Life' before you know it.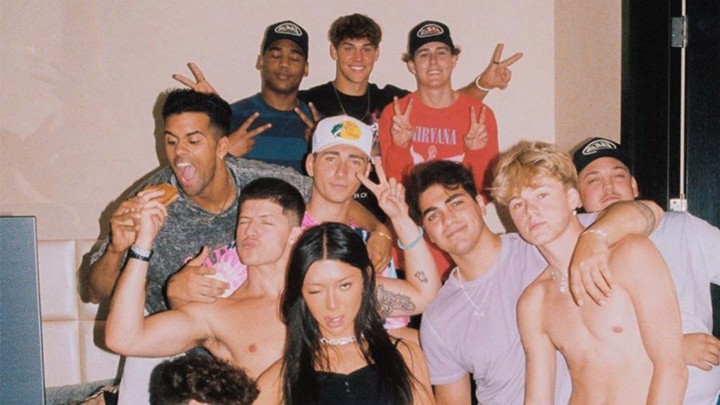 Image via Instagram
2020 really do be the year when TikTok well and truly takes over the world. Not content with giving us the song of the summer (year? decade?), and irritating the US President so much he's seriously threatening a nationwide ban, now the platform is branching out into reality TV. The Social Network starring Jesse Eisenberg and Andrew Garfield could never.
The Hype House, arguably TikTok's most famous influencer collective, will be the subjects of said reality series, and we honestly can't wait to see it. Featuring the antics of Gen Z influencer demigods Chase Hudson, Thomas Petrou, Kouvr Annon, Nick Austin, Mia Hayward, Angel Herrera, Ondreaz Lopez, Tony Lopez, Madi Monroe, Ryland Storms, Alex Warren, Jack Wright, James Wright and Nate Wyatt -- is titled The Hype Life, and will focus specifically on founders Chase and Thomas as they interact with their internet famous pals, Deadline reports.
The Hype Life will show us what life as part of the LA-based influencer collective is like day-to-day, rather than simply through the curated snippets online we see on TikTok. The show will also capture how the teens (who have a collective follower base of 150 million !!!) create content together, and delve into their own personal backstories, exploring what led them to TikTok and the Hype House.
It's early days yet, and filming and production dates for The Hype Life haven't been disclosed, but we already know it's going to make for internet-shattering television. "Hype House is a creative rocket ship, piloted by extremely hard-working, business-savvy young adults who have already built incredible audiences that both platforms and brands can tap into," said Eric Wattenberg of Wheelhouse Entertainment, who are producing the show, in a statement. "Unlike other social media, TikTok leans into singing, dancing and acting, and we think it makes for a natural fit, and an easier lift for these young stars to ally with a company focused on talent across the board. We believe the sky's the limit for our two Houses."
But wait, the baby Real Housewives of TikTok drama doesn't end there. Okay so The Hype Life will not feature TikTok's biggest star, Charli D'Amelio, who recently left the Hype House. In fact she's currently working on her own reality show. And if that wasn't enough TikTok TV content to look forward to, Hype House's rival collective, The Clubhouse, are also in production for their own series. It's aggressive dance battles at dawn ladies.
Tagged: