Moncler's latest digital initiative is all about giving fashion creatives a voice
Discover the Moncler Voices project, exclusively on i-D.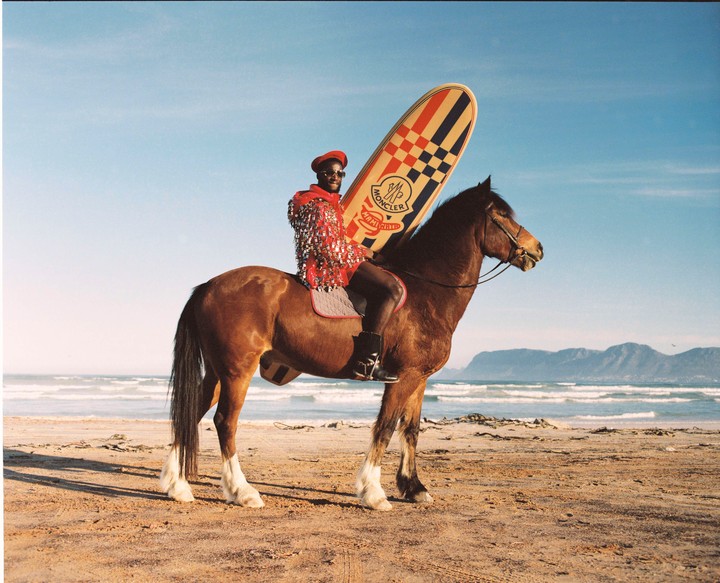 Nick Dutton for Moncler Voices
It's not an overstatement to say that Moncler Genius has revolutionised the way big brands communicate with their audience. Since its debut during Milan Fashion Week A/W 18, the project has not only won its fans' hearts, but has also been praised by a number of fashion critics and brand communication experts. The latest Genius drop featured designs by Hiroshi Fujiwara, the so-called godfather of Japanese streetwear, and has "garnered impressive results in the Post-COVID-19 market," according to the Chinese publication Jing Daily. Being in the midst of a global pandemic has forced brands to completely reshape their marketing plans for 2020/21. The question: "How could fashion face COVID-19" has been asked so many times we've finally got tired of talking about it. And yet, we can learn a lot about how the future is going to look like just by observing how some of the biggest players in the industry are trying to reimagine their existence.
Firstly, we shouldn't be surprised by Moncler's ability to effectively communicate their projects and, consequently, transforming winter outerwear into highly-wanted and highly-sold luxury pieces. Back in the 50s, Moncler supplied the expedition team that reached the summit of K2 for the first time ever. Thirty years later, it became the staple of Italy's youth subculture "Paninari", a cultural movement that has in many ways anticipated today's streetwear aesthetic. Fast forward to 2020, and Moncler has become one of the most popular brands in the zeitgeist. This ongoing process is made possible by the plurality of voices that coexist in one single project. As i-D put it, Moncler Genius "combines a variety of contributions which are able to coexist alongside one another, creating a mosaic of differences and extraordinary individuality. These varied voices in their distinctive design languages harmonised through a single design process conceived by the brand." Just like all true love stories, the relationship between Moncler and its designers is mutually beneficial, allowing both parts to express something that would have otherwise stayed silent.
So it's no accident that Moncler's latest digital campaign is called "Moncler Voices" and aims once again to give a platform to the people that shape today's fashion system. Following Moncler Chairman & CEO Remo Ruffini's invitation, artists, curators, stylists, designers, directors, athletes, explorers and cultural players will be asked to create an intimate image that portrays the answer to one question: "What does Moncler mean to you?". Kicking-off today on Instagram, the campaign will include contributions from Matthew Williams, Jonathan Anderson, Nick Dutton, Hiroshi Fujiwara, Craig Green, Veronica Leoni, Pierpaolo Piccioli, Richard Quinn, Simone Rocha and many others. Each of them has been asked to share a picture that expresses their personal relationship with the brand; it's a visual tool to reflect on the spirit of togetherness, creativity and exploration that Moncler stands for, proving that sometimes it's not all about taking immediate action when forced to face a new reality, but rather actively listening to what others have to say.