Photo by Jennilee Marigomen.
Meet Crack Cloud, the art collective operating at the center of Vancouver's opioid crisis
Their debut album 'Pain Olympics' is full of catchy punk anthems that explore living in a post-truth society and how to build a brighter future.
Photo by Jennilee Marigomen.
Canadian mixed-media collective Crack Cloud embodies the type of community spirit needed to navigate these turbulent times. Vocalist and drummer Zach Choy started the project as a self exploration vehicle to assist with his own drug and alcohol rehabilitation, but when he discovered a desire from within his community for more dialog about addiction and mental health issues, he decided to open the project up so that others could join him.
"When you are struggling with depression or addiction you're not always candid about it," Choy tells i-D from his home in Vancouver. "I think Crack Cloud was an identifier, a way of reaching people on a different communicative level that created a safe space for that kind of dialog."
Today, many members of the sprawling collective live under one roof and work together in harm reduction units on Vancouver's Downtown Eastside, a district that is considered one of the nation's poorest and the epicentre of Canada's opioid crisis. Yet despite the difficult circumstances that lead many to seek refuge there, Choy says the neighborhood has a rich culture that he and other Crack Cloud members take a lot of inspiration from.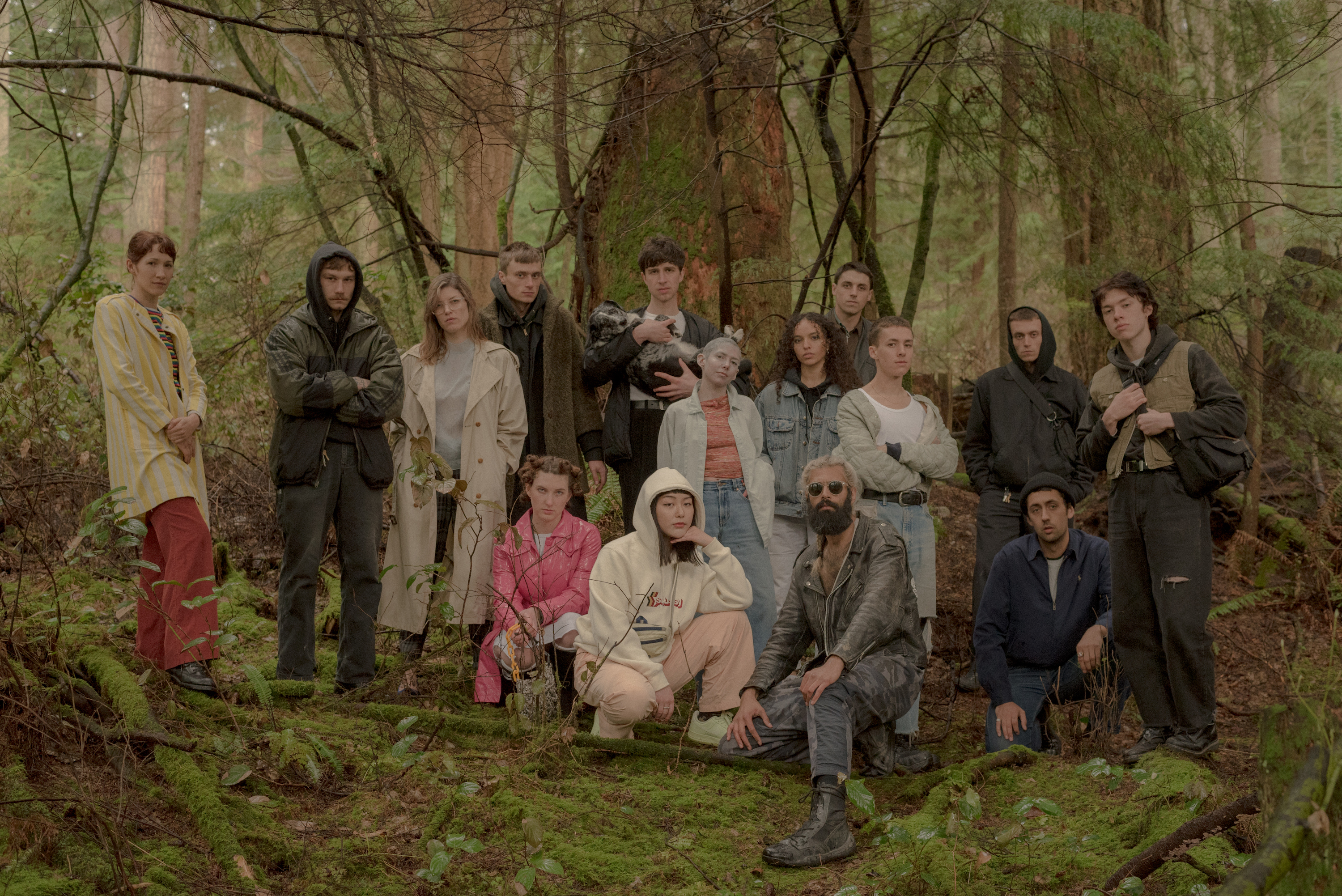 "You have people from all walks of life. You have people that are escaping traumatic life situations, people who are entrenched in historical trauma and discrimination, people who have just been discharged from prison; everyone is under one roof,'' he says of those who come through the low-barrier harm reduction shelter where he works. "You would think that that would cause a lot of dissonance, but it's easily the most inclusive and harmonized community that I've ever been a part of. In a lot of ways it operates on a level that I take a lot of inspiration from, and is how I envision Crack Cloud functioning."
Though Choy is Crack Cloud's main lyricist and the person who speaks most often about the collective's main motivations, he emphasizes that it is much bigger than any individual. "There are so many different voices, and when you facilitate an environment where these different voices can come together for a greater abstraction you get some interesting results," he says.
The liner notes for the band's debut album Pain Olympics (out July 17 via Meat Machine and Tin Angel Records) lists 22 different contributors to the album's composition, and another nine who worked on the cover art and visuals. This level of cooperation enables Crack Cloud to create everything in-house, including the stunning, cinematic music videos that bring greater depth and understanding to each individual project.
"Although there is a unifying concept, there is also a respect for each other's skill set and for the different interpretations that everyone has that will shape the project," Choy says of how each artwork ends up having its own identity that evokes a completely different emotional response. "It's not controlled by any of us, everyone just brings something to the table and it's put together like Frankenstein."

"The Next Fix," and it's accompanying video, which was shot on the gritty Downtown Eastside streets, pays tribute to the friends the collective has lost to addiction. And if it wasn't clear already, their use of anarchist symbols and cult like practices in the video for the bouncy, Devo-esque post-punk anthem "Ouster Stew" makes it known that this protest music designed to challenge the status quo.
The cross pollination of ideas runs through the album. Its opener, "Post Truth (Birth of a Nation)," features a choir repeating the words "we need a vigilante who can wear both shoes/ break free from echo chamber/ we are all post-truth" in the style of The Trapp Family Singers. What sounds like helicopter rotor blades swirl through the song's core before it turns into a roaring industrial punk anthem, ending with the choir repeating what we now know to be self-evident: "we are all post-truth."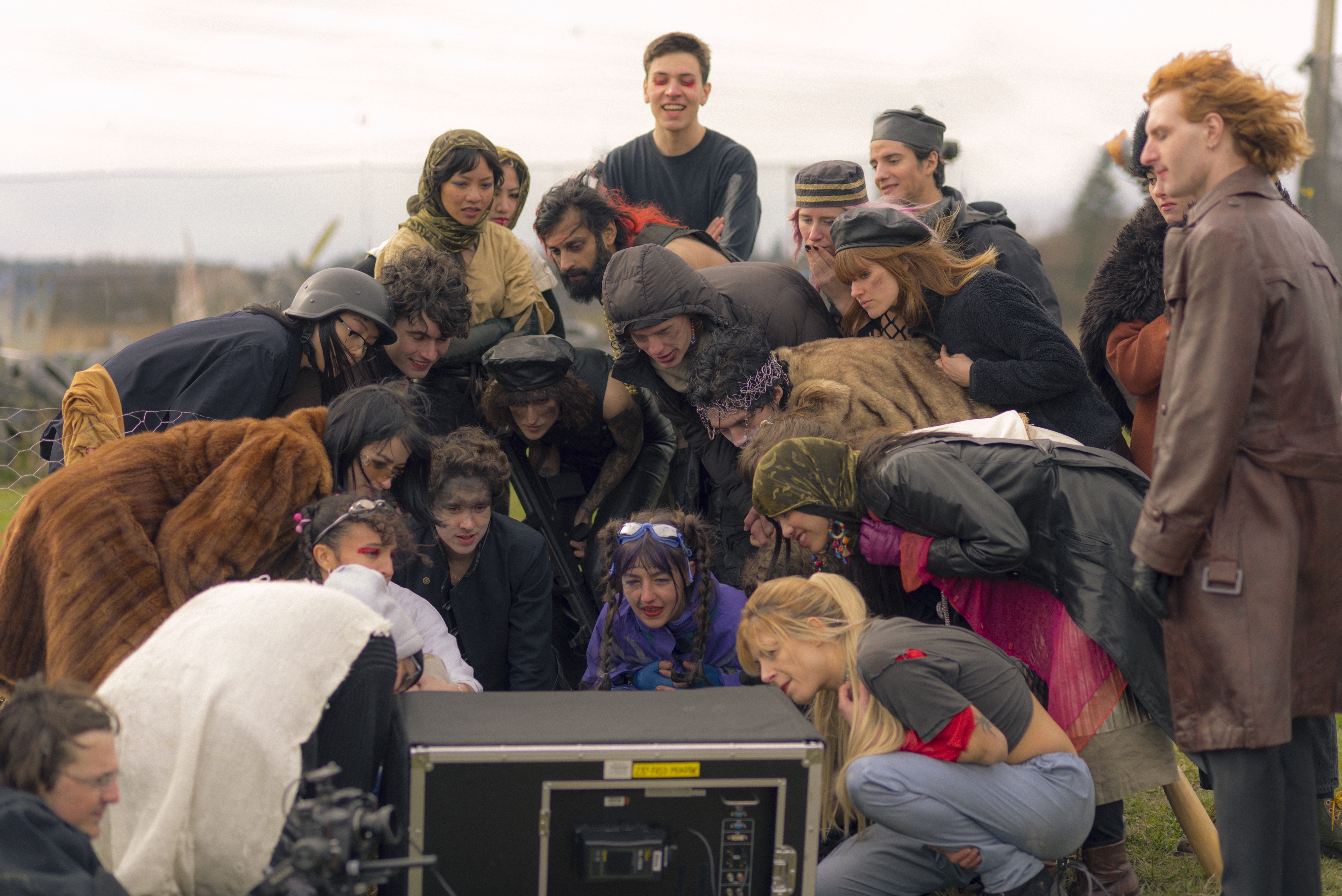 The concept is among the most urgent topics addressed on Pain Olympics. Similar to gaslighting, post-truth describes when false statements are presented as truth in a way that deliberately distorts reality. "We draw illusions to post-truth because we are now entering a future of deep fakes and people in positions of power who continuously tell us flat-out lies and try to pass them off as truth," says guitarist, vocalist and visual editor Mohammad Ali Sharar, who has returned home from working at a nearby clinic to speak to us during his lunch break.
Post-truth is often presented as a modern problem that emerged with Brexit, Trumpism and the labelling of fake news by the far-right, but both Choy and Ali Sharar explain that the concept dates back to the historical erasure of indigenous peoples. "We have always been living in a post-truth environment," argues Ali Sharar. "We lie to ourselves about how this land was founded."
"With the inception of any nation or society, there is a level of deception or a hubris that is involved," adds Choy. "As we know historically with Canada, there is always bloodshed and a lack of transparency. So when you're living in a country that hasn't even reconciled with its indigenous population, that to me is kind of a post-truth scenario." The Downtown Eastside neighborhood is home to Vancouver's largest population of First Nations people.
"Post Truth (Birth of a Nation)" is named after this colonial white-washing that uses the arrival date of settlers to mark a nation's beginning. "As a narrative device, [that song] was supposed to be this Wagneresque propaganda piece to kickstart this atmosphere that we wanted to create of a society, or a nation, in its becoming," Choy explains.

There are several instances on Pain Olympics where emotions swell and the band flexes its muscle into previously unexplored territory. "Somethings Gotta Give" has a chest-beating vocal riff that has origins in hardcore punk. "Angel Dust" contains a recording of a conversation with Choy's friend and mentor E.H. Alley ("He is somebody that you can speak very candidly with, who has lived through extreme humility, and despite all of that is one of the more honest, humble, down-to-earth people you can encounter," Choy says) that puts a microscope up to the damage one can do to their own body by poisoning it with drugs and alcohol. "Favor Your Fortune" is a bruising hip-hop track that is raw, vulnerable and cathartic, and will no doubt become a favorite among fans in the pit when live shows resume.

However, no singular concept perhaps better defines the album than redemption. It's something the group has been working towards since its inception and was a key objective on their past two EPs, 2016's Crack Cloud and 2018's Anchoring Point. On Pain Olympics it is a little more nuanced, but songs like "Bastard Basket" and "Favor Your Fortune" still address this desire to overcome stigma and live in the present. "I think that the story of Pain Olympics is one of redemption, although it is open-ended," Choy says. "Redemption is never off the table."
"I hope that people can understand the hopefulness that we're trying to convey, and the idea of redemption," concludes Ali Sharar, whose lunch break is now over. "If we're going to get through all this stuff and confront our historical past as people, then I think we need to learn how to come to a sense of understanding of growth, and how that looks."
"We made an album that when we were younger we would have wanted to hear," he says proudly. "That was really important to us."