the victoria's secret fashion show will no longer be televised
Following a series of controversies, a leaked internal memo suggests the lingerie brand is pursuing "a new kind of event".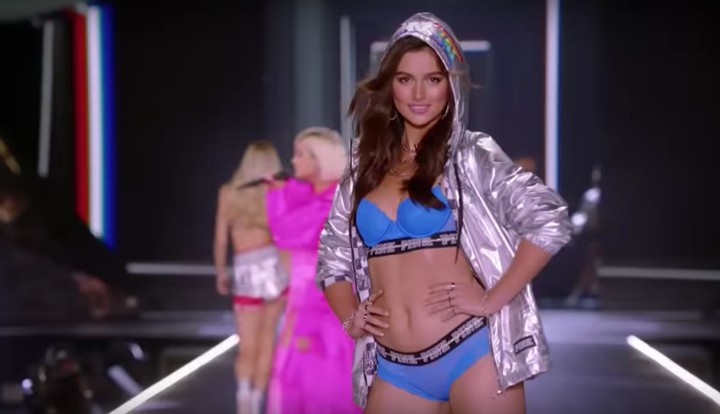 Still from Victoria's Secret show
An internal memo leaked by CNBC suggests Victoria's Secret may be pivoting away from its signature runway show after nearly two decades. It seems the tide is finally turning against the extravaganza recently described by the New York Times as "an annual spectacle of glitter, cleavage and pop music". Despite continuing to pull in hundreds of millions of viewers, criticism on social media has left the event feeling increasingly redundant -- particularly with the skyrocketing success of the more inclusive lingerie brand launched by Rihanna last year, Savage x Fenty.
Victoria's Secret's outdated and narrow-minded understanding of female beauty has been receiving backlash for many years, but a 2018 Vogue interview with the brand's chief marketing officer, Edward Razek, brought a more unwelcome level of attention. When asked why the show wasn't more inclusive of plus-size models and transgender women, Razek responded: "No, I don't think we should. Well, why not? Because the show is a fantasy. It's a 42-minute entertainment special." Quite why full-figured women or those that sit outside of the gender binary don't offer any level of fantasy for Razek, we're not sure.
Of course, it probably isn't the backlash that has prompted this new strategy: it's likely to be a slump in sales. Viewership of the show has been declining, with last year's suffering the lowest ratings in its history; meanwhile, parent company L Brands has seen its shares drop dramatically as it continues to shutter stores across the USA. "Fashion is a business of change," writes Wexner in the leaked letter. "We must evolve and change to grow." Let's hope that change comes quickly: starting with a more inclusive event that reflects our evolved understanding of beauty in 2019.
This article originally appeared on i-D UK.

Tagged: