central saint martins are launching a masters in biodesign
The course is part of an effort in fashion education to address the environmental challenges in the industry and make it more sustainable.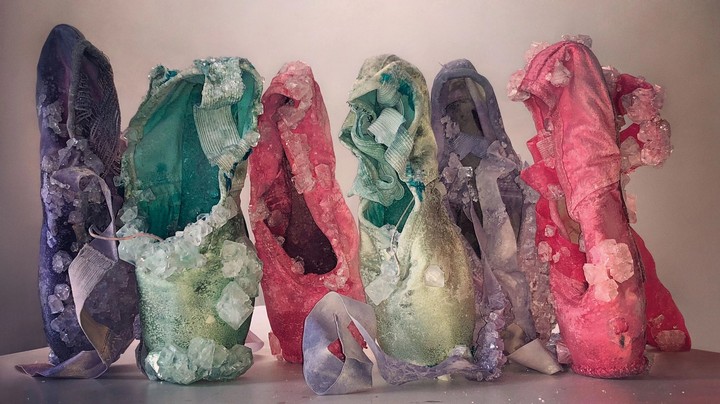 Alice Potts. Photography Nick Knight.
The question of what fashion can do to address its sustainability problem is pervasive, affecting every aspect of the industry from distribution models to production. But one major way that we can shift practices and help the environment is through education. It's why Central Saint Martins have announced that they're launching a new masters in sustainable biodesign.
According to a report by Business of Fashion, the new course will be lead by Nancy Diniz, an architect who has dedicated her career to turning microbes into material. As BoF report, the idea is that by educating future generations of designers about bio-materials, they will dismantle pre-existing structures and create a new frontier of sustainable design.
"We are living this moment of ecological crisis," Diniz told BoF. "It really legitimises the importance of this degree, and others as well."
The masters in biodesign is the first new course that CSM has launched since 2017, and to ensure its success, the school has built a new lab and hired specialists. It comes as schools attempt to figure out how to address and incorporate the environmental issues affecting the fashion industry in their educational programmes.
CSM's course joins a number of schools, including France's L'Institut Français de la Mode, the Amsterdam Fashion Institute and Australia's RMIT, who are all attempting to recalibrate their institutions with sustainability in mind, be it asking prospective students about their ideas about the future of responsible fashion to bringing in entirely new curriculums to align with the UN's sustainable development goals.
Speaking to BoF about the new masters, creative director of ethically-focused brand Outsider, Noorin Khamisani, said: "Of course, we have to look at education because we're still training designers to work in an industry that doesn't work for the future."
Programmes like CSM's, which launches this September, are a sign that people are starting to think more about what's ahead. It is, however, just one small step in an industry that needs to being taking leaps.