Fotos: Frida Vega Salomonsson
these young creatives are transforming stockholm
From tattoo artists to fashion designers, we meet the young talents making a mark on the Swedish capital.
|
21 February 2019, 4:22pm
Fotos: Frida Vega Salomonsson
When you think of Sweden, there's probably a lot popping up in your mind: breathtaking nature, iconic brands like Acne Studios and Eytys, your favorite furniture dealer, and of course Yung Lean and his Sad Boy movement. But this is by far not everything Stockholm has to offer. Often overshadowed by other Scandi cities like Copenhagen, the creative scene in Stockholm is finally making a name for itself.
"It's not about where you live, it's what you make out of it," explains photographer Frida Vega Salomonsson who shot Stockholm's creative scene for us. "People who say the culture scene in Stockholm is boring are just lazy." One of the many things you can't be when living in one of the most expensive cities in Europe. Instead of complaining, the creatives are fighting back with their film, fashion, and art.
For now, sit back, relax, and get inspired by eight Swedish talents who are putting Stockholm on the map.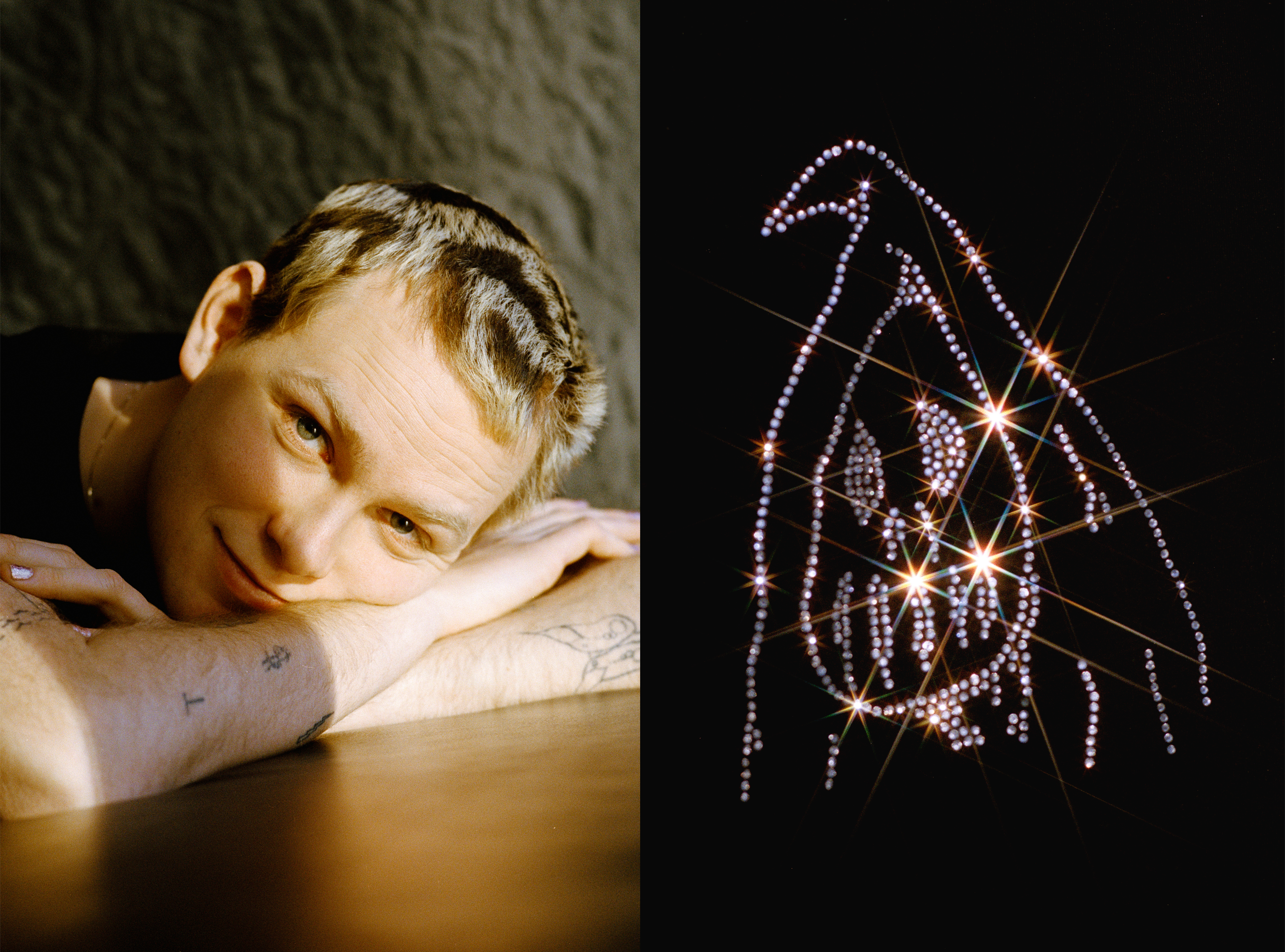 Viktor Mattsson, 30, tattoo artist
What are you doing?
I make drawings and tattoo them on people. I also make clothing out of the designs.
How did you start?
I started in 2013, when I was hanging out with a friend at his place. He was showing me a tattoo machine and was like 'look what I got, someone gave this to me.' I didn't know what to do, so we just made tattoos.
Do you remember the first tattoo you tattooed on someone?
I remember the first one I did on myself because I didn't know how to properly setup the machine. I couldn't get it to make lines because the needle wasn't doing what it was supposed to do, so I had to stick and poke, but with the machine.
How would you describe the tattoo scene in Sweden?
There's so many people who are getting tattoos, especially this kind, but I wouldn't say that there are a lot of tattooers. I'm sure there are loads I don't know of, but I couldn't name more than ten people who are doing something different.
Your generation in one word?
Restless, but maybe that's just me.
What are you hopeful about for the future?
I want to open my own studio somewhere, anywhere. I want to go far and take it further.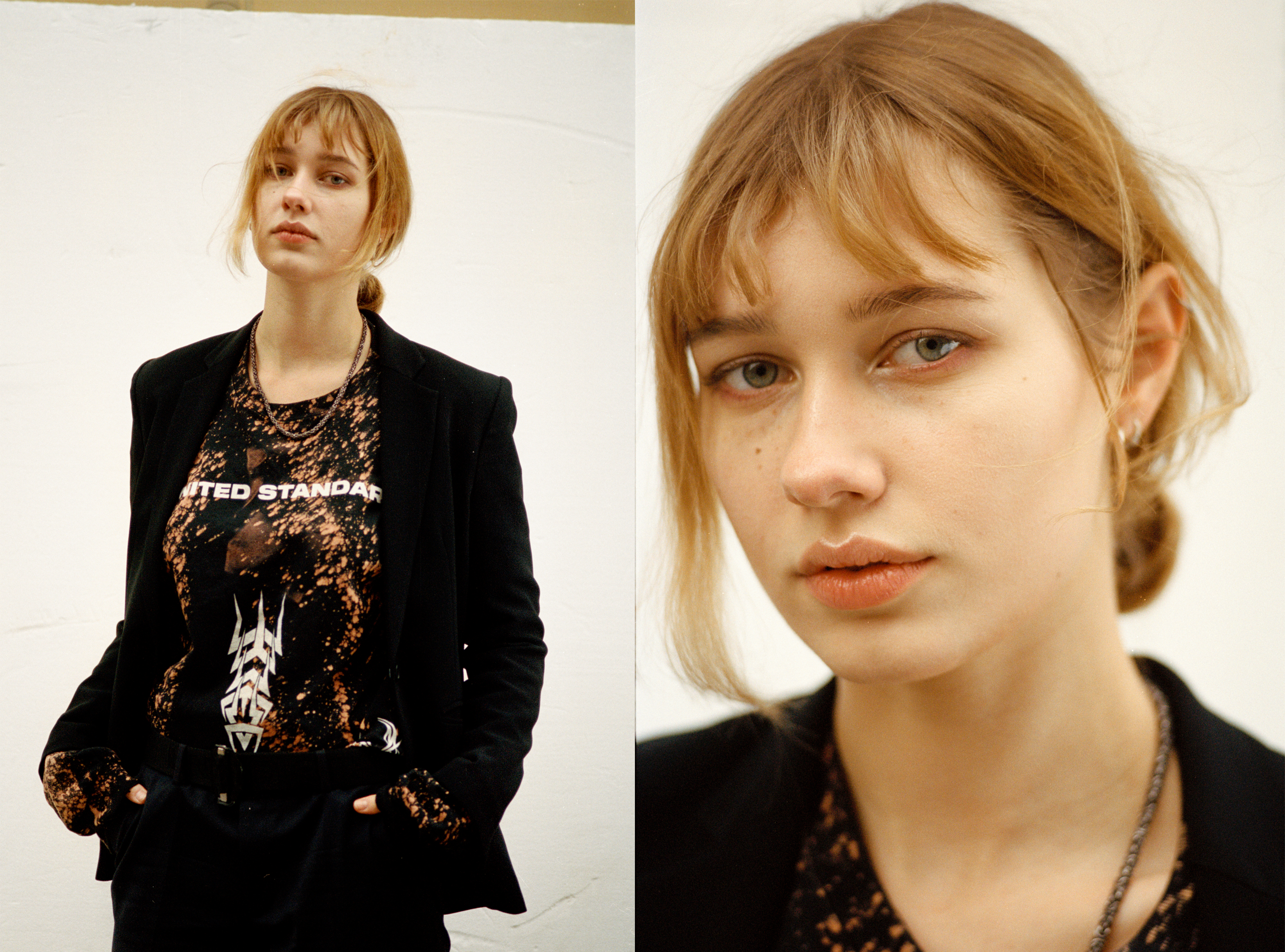 Melina Åkerman Kvie, 24, artist
What do all your music projects have in common?
I have my own solo project AnnaMelina, which I created when I was 17. There's also FLORA, which I made with Varg, and my upcoming third one Vallmo, which will be released in April. They are all quite different, which makes sense as I have various alter egos. Before, it almost felt like putting limits on my creativity, but it's OK to not try to be a certain type and have diverse outlets depending on how you feel.
What's the best advice you've gotten so far?
Release a lot of things and don't think so much about them. Just go with the flow and don't be too aware of how people will perceive it. Believe in what you do. When it sucks, people will forget about it anyway.
When you think of Stockholm, what's the first thing that pops up in your mind?
I think of my teenage years, when I got into music. Sadly, it has been hard for people in Sweden in the past couple of years, as the scene is going in the same circles and nothing new happens. The club scene also doesn't really work, as it's hard for people to do things because of Swedish laws. I feel like we need a new wave of positive energy.
If you could ask the world one question, what would it be?
Think a minute about what you can do to improve our planet and help reverse the damages we as humans have caused.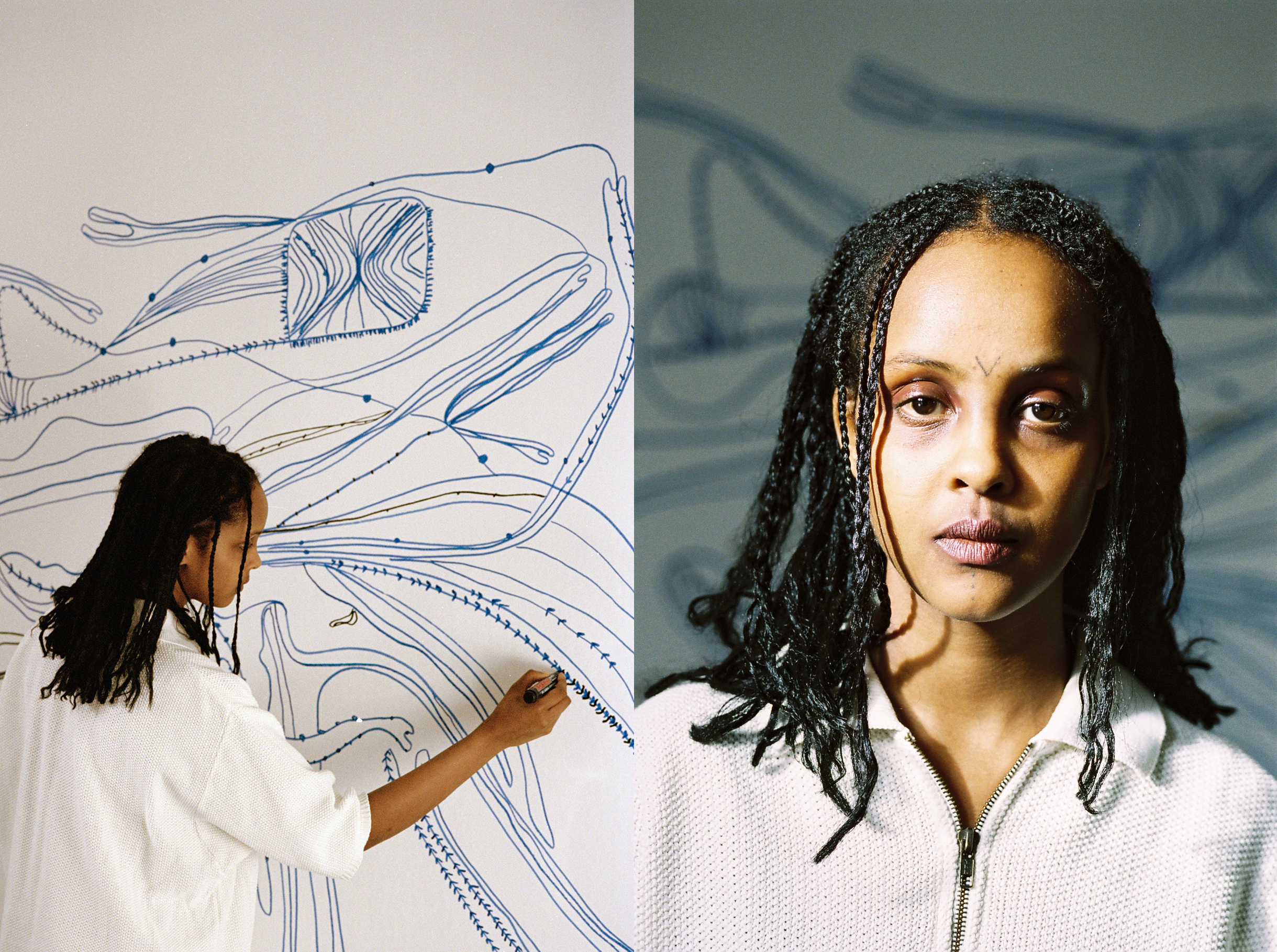 Fatima Moallim, 26, performance artist
How did you get into art in the first place?
I stumbled upon it because of my anxiety. I had a lot of unsolved feelings, which I didn't know where to place. Even though I studied textiles, I needed to either write or draw something to put my feelings into something.
How would you describe your art to someone who hasn't seen it before?
I'm a performance artist who reads the room and the peoples' feelings in it. When I do live paintings the performance comes from within. I never know what I will do before.
What advice would you give someone who's struggling with anxiety?
It sounds cliché, but literally feel your feelings. When you are sad or have anxiety, dig deep into it. Never walk away from it, even though it makes you really vulnerable. Go deep into these dark feelings to get rid of them.
What do you want the world to know about Stockholm?
It's a really good city to work in because everyone is so work-oriented. You can't just sit at home and do nothing, your rent needs to get payed. Stockholm is a really good city to be active in and is really open for up-and-coming artists.
What's the biggest challenge for young creatives nowadays?
Doing something you really like instead of doing something you think other people will like.
If you could ask the world one question what would it be?
How are we feeling?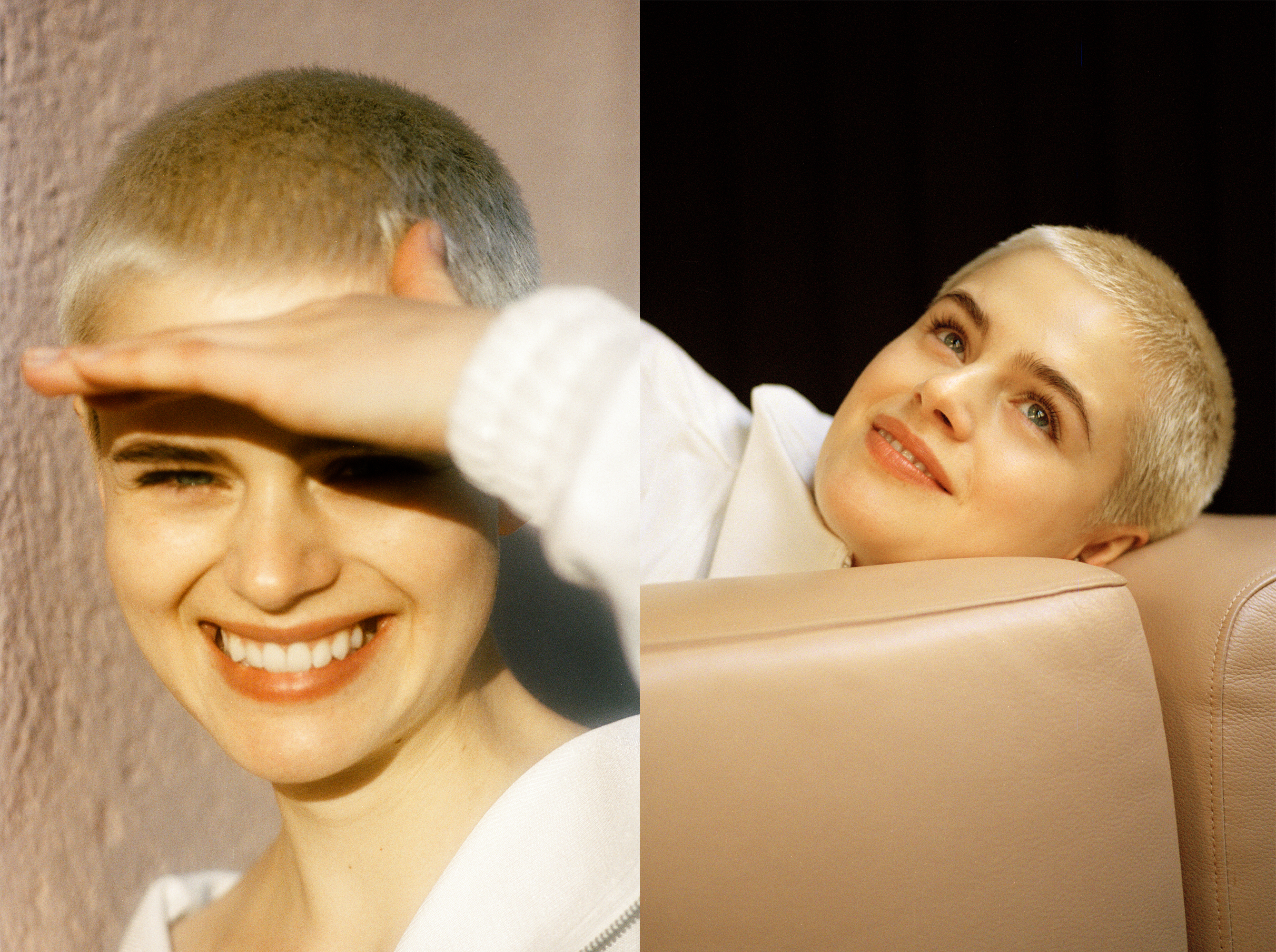 Cajsa Wessberg, 28, illustrator and model
How would you describe your art to someone who hasn't seen it before?
Quite Scandinavian and children's book-ish with a lot of animals, details, and pink — cute but with a twist.
How did you get into it?
My mother is an artist, so I always had a little drawing table in my room when I was a kid. But I decided to work with it when I was 15. I studied visual communication at Beckmans for six years and started modeling to help out my friends who studied fashion design there.
If you had to decide. For which one would you go?
I would definitely go for design because modeling isn't something that comes from you. It's not what you decide to do, it's not your vision. It's nice to not be in charge sometimes, but design is me.
How has Stockholm shaped your work?
Maybe we try to be more brave as an artist and experiment because the city as such is safe. I'm quite inspired by animals and nature and it really is easy to go into nature from here.
What advice would you give all the young artists out there?
Study it or go to a school. You get money from the state to study in Sweden, so you really get all the opportunities to develop. Find a concept to get attention on social media and give yourself small assignments every day like doing one sketch or portrait or draw with your left hand if you're right-handed.
If we're in Stockholm for 24 hours. What shouldn't we miss?
Going into nature and eating vegan food. I would recommend Fröjdas, Växthuset, and Pom & Flora.
What are your hopes for 2019?
Personally, I'd love to have a better relationship with my phone. To separate work and free time. Now it feels like I'm spending so much time just looking at my phone, which doesn't give me a good feeling.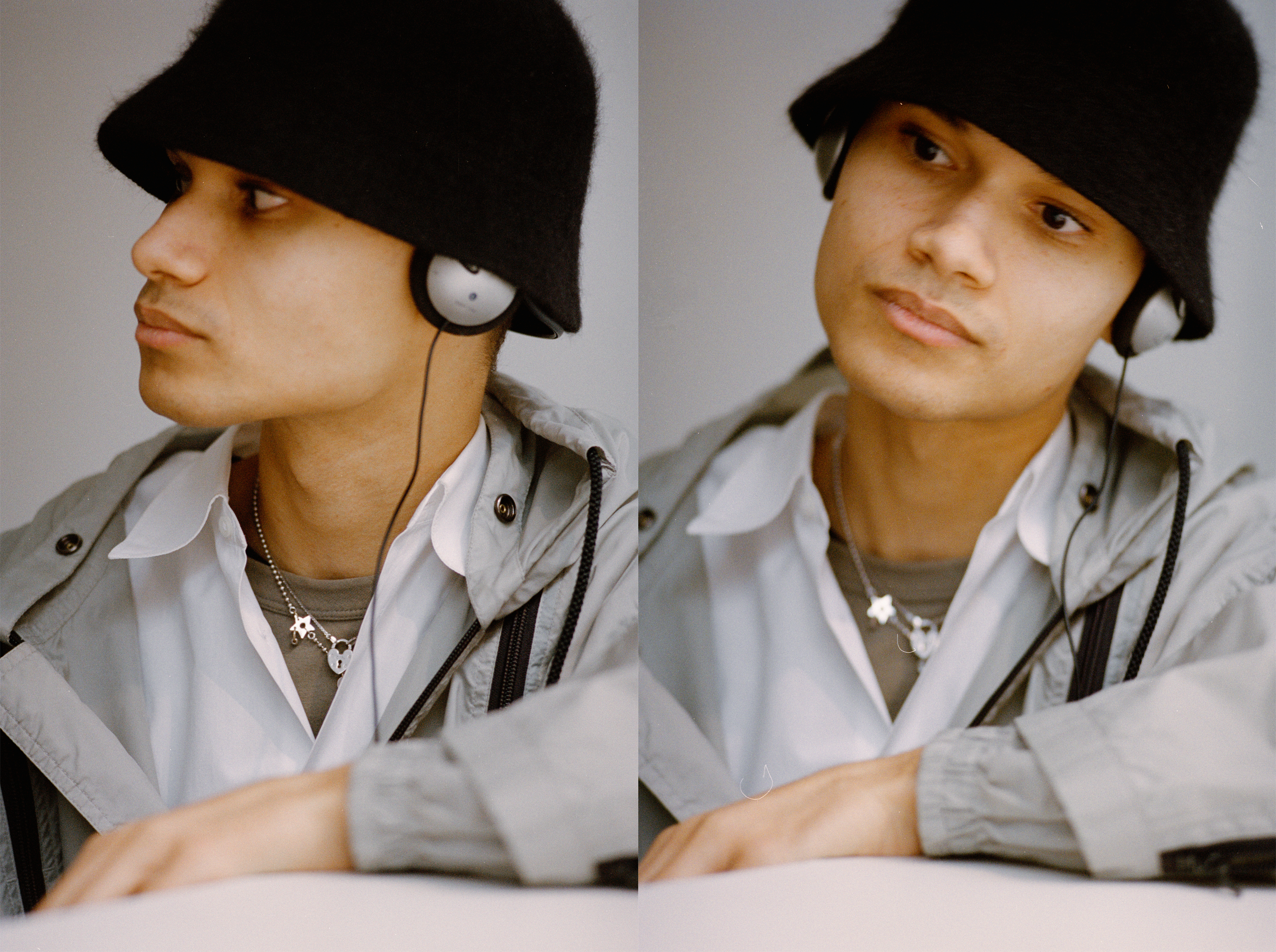 Oli XL, producer
How would you describe your music to someone who hasn't heard it yet?
The unofficial soundtrack for the 2003 snowboard game SSX 3.
Tell us how you got involved in music in the first place?
It's pretty hard to avoid developing an interest in music when you grow up today, as it's so tied to subculture and identity. My first memory of realizing music was something more than just a melody and lyrics to sing along to, was listening to my Dad's Basement Jaxx CD when I was a kid. It's so packed with textures and interesting sound design ideas that it drew me in deeper than any music had done before.
What do you think of the creative scene in Stockholm?
I don't really think there is one, but many people who are doing dope things. Unfortunately they are not getting any opportunities or recognition here. The main reason behind this is that the city lacks creative spaces for communities to be built around. The few spaces and venues we have are controlled by people who are stuck in whatever they thought was exciting 10+ years ago — unfortunately the people who are pushing culture forward won't be seen in those spaces.
What do you wish for its future?
That the people who are doing interesting things (shoutout to Uttran, Ecco2k, Drömfakulteten, Year0001, Gud, Country Music) get bigger platforms to do so in Stockholm. I recently played a party in a venue, which was a state-funded arts center, a huge seven floor building that has spaces on every floor for concerts, talks, screenings, and various performances. Something like that would be nice here.
With which artist would you love to play b2b?
Would be cool to play the keys in a jazz ensemble with Tony Allen on the drums and Wayne Shorter on the sax, but pretty sure I wouldn't be able to keep up. So I'd also be cool with being part of an all-star team of Laurel Halo, M.E.S.H, and Gud and produce for Ariana Grande.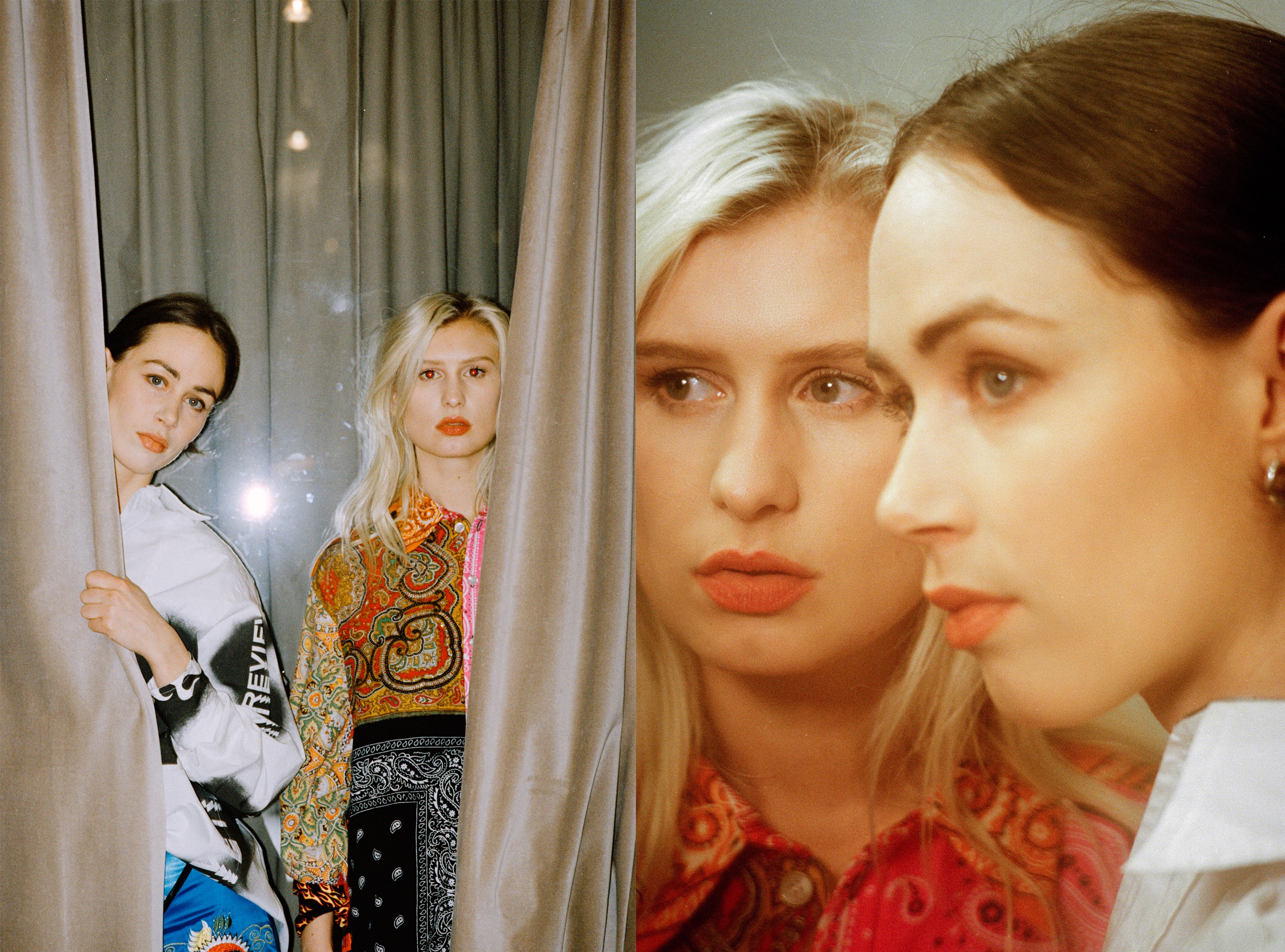 Josephine Bergqvist (30) and Livia Schück (28), fashion designers
How would you describe Rave Review to someone who hasn't heard of it before?
Josephine: The main thing is that we work with remake and secondhand materials and combine them with high fashion. The scene in Stockholm is like a cozy little comfort zone — we are a part of it and want to take responsibility for its growth and the representation of Swedish fashion.
What do you wish for the future of fashion?
J: Sustainable fashion is the future. I'm looking forward to new techniques and work with remake production — maybe it will also be cheaper to produce when it's secondhand materials. The sorting centers could develop their machines and add a kind of magnet that can sort out different materials. And leasing clothes, hopefully that's going to be a bigger thing.
Livia: People hopefully consider their consumption and not buy too much!
What advice would you give someone who wants to become a fashion designer?
Livia: If you want to start your own brand at least have a reason for it. Don't just start because you want to start something.
J: And also start it as a project in case you don't like it. You should try and see what you can offer the fashion scene that doesn't already exist.
Was fashion always the thing you wanted to do?
L: I've always been quite creative, but I didn't know it was fashion at first.
J: When I was a teenager I wanted to be either a politician or a fashion designer. I was going in the direction of the first one, but then I was like 'I have to try the other one before.' That's why this project is so good: It's not politics, but still something good. We want to change the society in a way.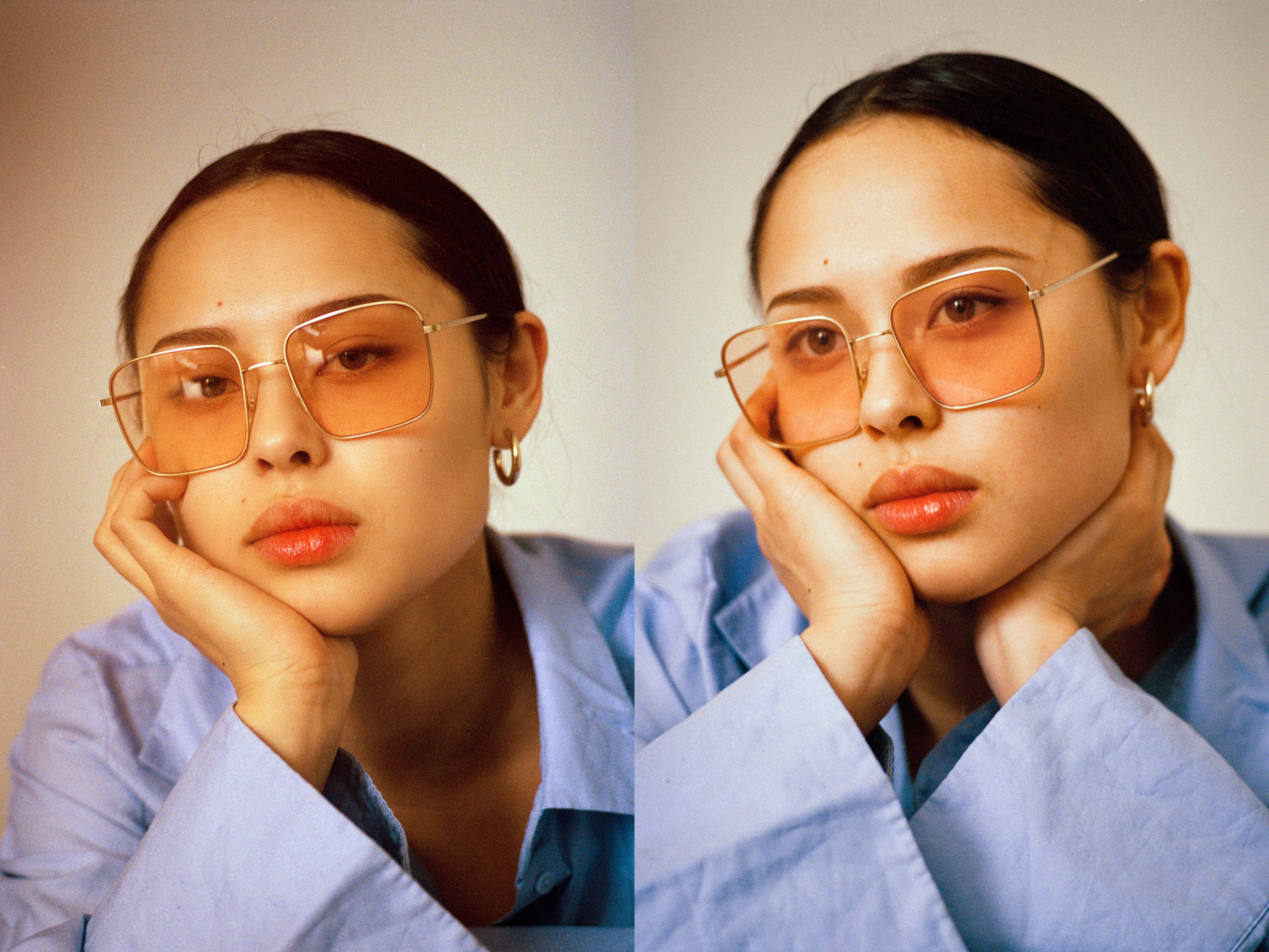 Nim Sundstrom, 23, filmmaker
If someone hasn't seen your films before what can they expect?
I like to build a narrative that feels important to me with a poetic kind of vibe. I like strong and diverse characters who haven't been on the screen that much before. I want the actors to get into a certain emotion and then I try to capture it to get something more genuine and honest. Regardless of what I am doing, I have to find a core belief or something I want to tell, otherwise it would just be pretty images and that doesn't make you feel stuff.
How did you get into it?
I've always been a total film nerd, so all I did was think about movies and watching them. I did acting for six years until I realized directing is so much more fun. I love the tools you have in films like music and styling. I started a grading internship, because it was the only element in film I didn't understand. As a director, you have to be able to see the whole image.
What are you working on at the moment?
I'm working on a short film about sexual abuse. I'm trying to deconstruct the debate as it's so much focus on handling the issue after it happened instead of finding ways how to prevent it. This issue is often raised as a women's issue, which is a problem because the people who really need to understand sexual abuse is men. They are the only ones who are able to change their actions.
What's the biggest challenge for a young creative nowadays?
Budgets and time frames.
How would you describe the creative scene in Stockholm?
Small but fun. As Stockholm has such a small community, all the different creative outlets merge, so you can get influenced by each other.
If you could ask the world one question what would it be?
Why aren't we taking climate change more seriously? How do we turn back the clock?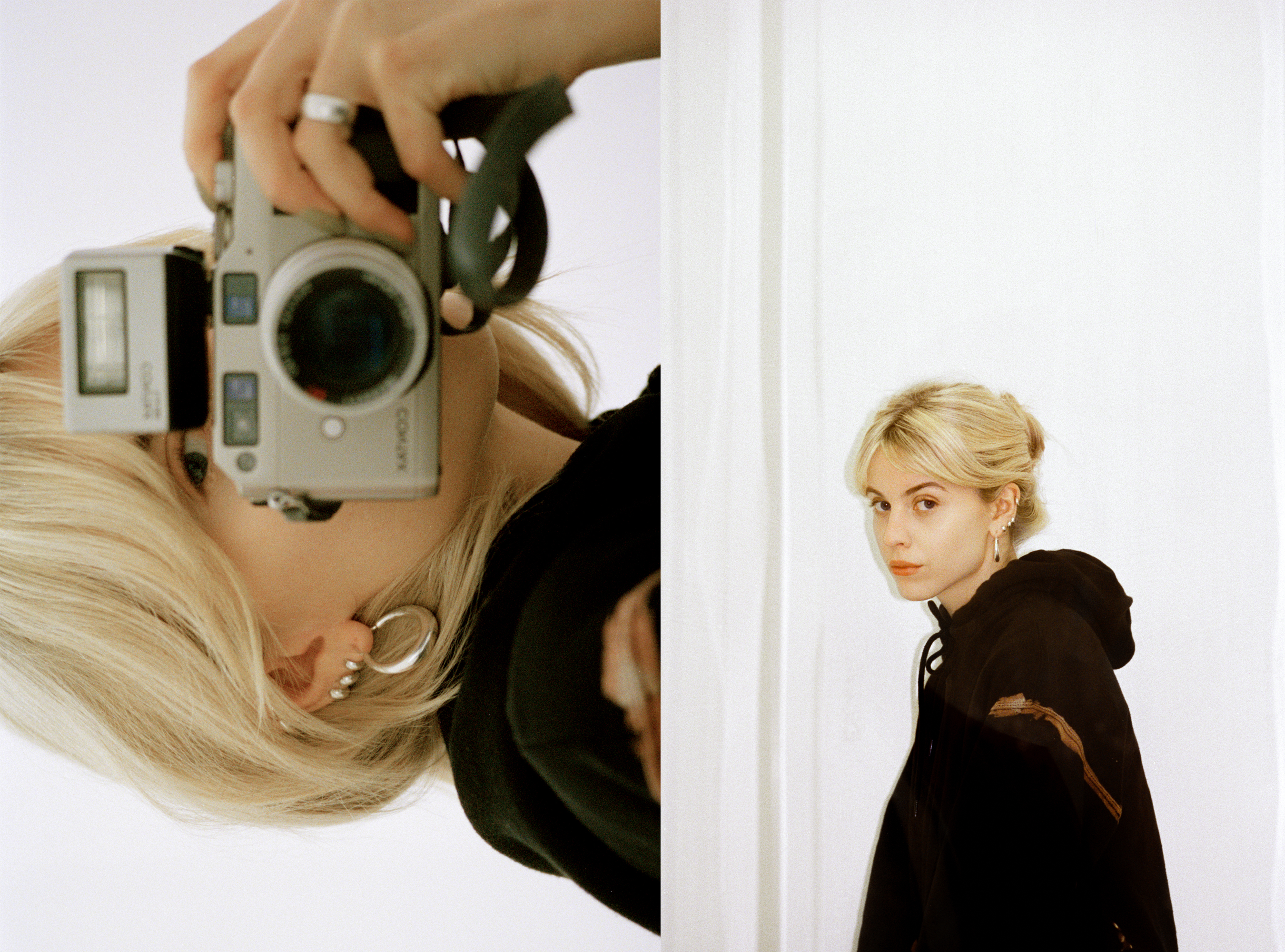 Frida Vega Salomonsson, 25, photographer
How did you get into photography?
When I was young, I was competing in bunny show jumping and all of the cool girls had these big digital cameras to shoot their bunnies. I didn't get one in the end, but my Dad bought one for himself and I got to use it. That's when I started taking photos and uploading them on my blog. I come from a very documentary angle and just always had a camera with me, shooting my friends all the time — and have just kept on doing that.
You're also the founder of Nuda Paper, a magazine with a strong focus on collaborative art. Tell us more about it.
I wanted to create a platform to have creative freedom and try out things. It's also a way to connect with other creative people to collaborate or just to get to know others people's work. The scene is pretty mixed, but everyone still has their main focus, so I wanted to do something that connects all the dots.
What is Stockholm's creative scene like?
It's a very expensive city, which makes it difficult to earn a living and find an affordable studio space. But there is also a lot of benefits from living in a smaller city, most people know each other. It makes it easier to find access to people from different genres to collaborate with.
What do you want the world to know about Stockholm?
It's a small cold city, some sort of northern appendicitis to the world. But it's not about where you live or how big it is, it's what you make of it. People who say the culture scene in Stockholm is boring are just lazy.
What makes a photo a good photo?
I like when a photo has some sort of timeless quality. When you look at it and might not know if it's shot yesterday or ten years ago. I like them to have a contemporary twist. A good photo should not just be pleasing, there needs to be some kind of friction, some kind of contrast.
Credits
Photos: Frida Vega Salomonsson Production & interviews: Juule Kay