bbk shutdown the o2 with a little help from wiley, giggs, lethal b, drake and j-hus
From vegan food to football, gaming to grime, Boy Better Know how to put on a festival.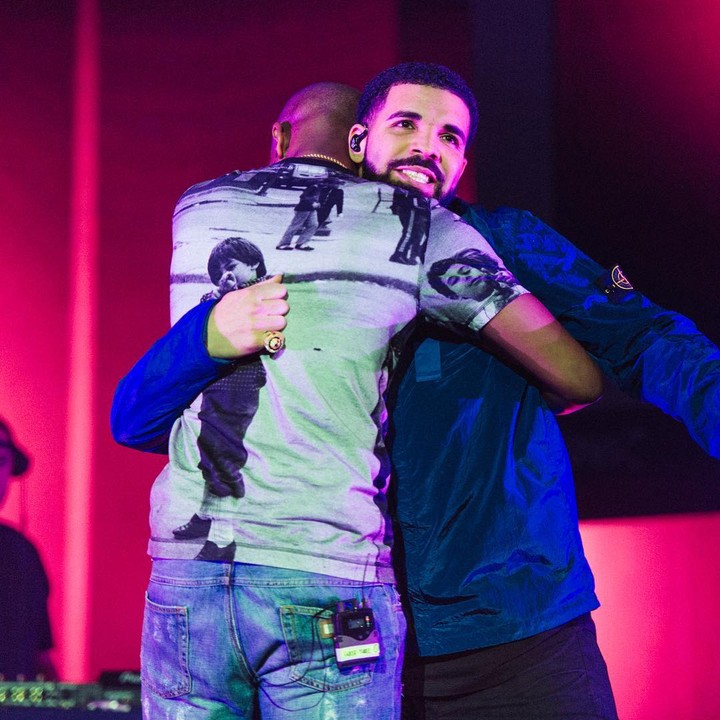 Image via Instagram
It wasn't made quite clear enough in its PR how ambitious and innovative the BBK Takeover of the O2 was going to be. Utilising the entire O2 -- the 20,000 capacity arena plus surrounding cinema, rollerskating rink, 5-a-side pitch etc. -- fans were free to play Call of Duty with JME and football with Skepta and Shorty, chow down on Cook Daily (BBK's vegan restaurant of choice) and cram into Julie Adenuga's ebullient B2B sessions with Kojey Radical and Connie Constance. A smoothly run operation, swarms of kids draped in BBK merch wandered about each area, eating, drinking, gaming and packing out daytime sets from CASISDEAD and Ghetts.
As the sun set over the dome, the crowds headed inside as the festival's headliners Mabel, MHD and J-Hus steamed through energetic sets encompassing afro trap, afrobeat, rap and R&B.
It was a night of surprises too -- of course it was. As anticipated, a number of star names turned up unannounced to give the takeover that little something extra; Lethal B, Wiley (Wiley!), Giggs and Drake all helped take things up a notch, though the night most definitely belonged to JME, Skepta, Shorty, Frisco, Jammer and DJ Maximum.
Here are some of our highlights from Sunday's tenacious and triumphant takeover from the Boy Better Know collective.
The daytime activity was phenomenal
When are you ever going to get to roller-skate while Todd Edwards spins the finest garage seleckis? The daytime schedule felt like something that has never quite been attempted before -- certainly not by a grime collective anyway. Affording the opportunity to actually hang out with BBK and their pals, there was also music and food and footie. More of this at festivals, please!
J-Hus played his first ever London show
Banned previously from playing in the capital, Hus stuck two fingers up to The Feds with a short, but sweet set that preceded the night's headliners. Though perhaps better suited to sweaty clubs than cavernous arenas at this point of his career , the 21-year-old is unquestionably a charismatic performer. Able to switch from the menacing prowl of Clartin' to dropping a dance routine for Lean & Bop, Hus is terrifyingly adorable.
Tim Westwood hosted and was quite the legend
You've never been to a party until you've been to a Tim Westwood party.
Rocky was more AWOL than A$AP
Despite being spotted at JFK early on Sunday morning by an i-D spy, Mr. Mayers never made it to the O2. His absence didn't feel too devastating; this was very much a celebration of Britishness after all, and the fact that there was only ever one American name on the line-up says a lot about where British music is in 2017.
Surprisingly there wasn't Too Many Man
The audience seemed pretty evenly split between men and women, girls and boys (literally, shout out to the tweens in the house). As well as Weekend Dads with their teen sons, most of the grime scene itself (predominantly crowded on the side of the stage) turned up to support.
The visuals for BBK were really great
As well as big backdrops there was a huge TV set onstage (each person that appeared onstage chalked their name underneath) displaying some brilliant visuals. Mood lighting in the arena also kept the vibe right nice.
Drake showed up
After joining Giggs at Reading earlier in the day ("The only festival that would book me," he noted, of promoter's reluctance to have him on their line-ups in the past), before joining JME for the highlight of the night, Man Don't Care, and showing off by inviting Drake onstage for KMT. Cue screaming, mosh-pits and 10,000 phones held aloft to capture the moment for social media.
So did Wiley!
Never implicitly announced on the line-up, in case, well, you know... Eskiboy was nonetheless in attendance, delivering brilliant bursts of energy with Speakerbox and Can't Go Wrong. Indeed, although Skepta and JME's solo hits dominated the setlist, each member (and guest, hello Lethal B!), more than held their own; from Jammer's Murkle Man and Decline, to Frisco's Funny and Them Man There and Shorty's Mad Ting and What's Going On. Bring on the Boy Better Know debut album, we say!
BBK have a new single, featuring Goldie, called Athlete. Very exclusive
"Where's Goldie? Goldie to the stage," Skepta shouted as JME announced they had a new song to perform. It wasn't quite clear what Goldie does on the track (he seemed to shout a bit during the chorus), but Skepta rapped about turning into Mr. Motivator: "So much food on the table, why you gotta act like Judas? Everybody putting in work, why you got bare excuses? But when they call your number, where you gonna run, I wonder, Tie your lace, fix your face, I'm the fitness instructor." The chorus then goes on a lot about running and being an athlete. Very athleisure.
It was all a bit weirdly emotional
I mean, these guys from Tottenham who now travel the world and have gold discs in their bedrooms, and Mercury/Ivor Novello/AIM awards, this group who managed to takeover the whole of the O2, they're just some kids from north London who wanted to make music. To see grime given a setting of such magnitude felt really significant. This was no small achievement, and, crucially, BBK didn't treat it like one. "Everyone on this stage is colossal in their own right," noted Skepta of A-list appearances from Giggs and Drizzy. "But there's nothing like sharing this with family."
But they shouldn't have done it on the same day as Carnival
The only gripe we have is the Carnival clash. That's it, literally, the only one. Next year can you hold it on the May bank holiday instead, BBK? Just a suggestion. Thanks, bye.