the legacy of stüssy
Take a trip though Stüssy's unique cross-cultural past, present, and future as i-D Fashion Director Alastair McKimm and New York-based creative director Ryan Willms share an exclusive preview of "An IDEA book about T-Shirts by Stüssy."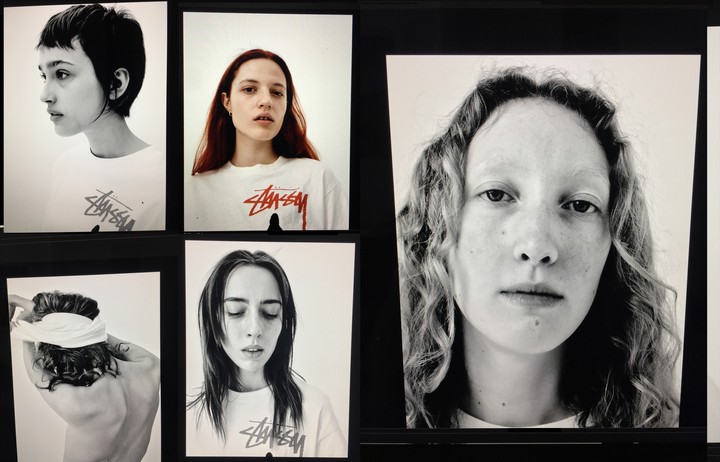 Fotografía Daniel Jackson
This article was originally published by i-D UK.
Alastair McKimm and Ryan Willms grew up 5,000 miles away from one another — the i-D Fashion Director, on the coast of Northern Ireland, and Willms, who works on creative direction and special projects, on Vancouver Island. Neither lived very close to Laguna Beach, but both developed a teenage obsession with Stüssy.
Over nearly 40 years, the pioneering Southern California label has established a truly global tribe of surfers, skaters, ravers, hip-hop heads, and humans from Tijuana to Taiwan. "What's so cool about the brand is that it was taken on by different subcultures in different parts of the world at different times. In California, it was skate and surf. In New York, it's more hip-hop. In London, it was much more club, more rave," Willms explains. "It means different things to different people geographically and generationally."
The pair explore Stüssy's unique cross-cultural, cross-continental legacy in their outstanding new book. And they do so by focusing exclusively on the most ubiquitous, democratic, impactful, and iconic garment: the T-shirt.
Published by Dover Street Market's resident rare books library, An IDEA book about T-Shirts by Stüssy is easily one of the most exciting fashion titles of the year. It includes a curation of images culled from four decades of Stüssy's archive: candid behind-the-scenes snaps, early campaigns, hand-drawn graphics, and magazine spreads. The book also incorporates interviews with today's T-shirt authorities, such as Brendon Babenzien, Cali Thornhill-Dewitt, and Venus X.
This alone an epic project makes. But the most thrilling aspect of McKimm and Willms's work is the all-new spin they've put on Stüssy's storied history. While in the brand's archive, unearthing images, the duo got their hands on a series of Stüssy tees from the 80s and 90s. They then reached out to a group of photographic collaborators, and asked them to submit new pictures featuring the shirts.
The book's roster of contributors is like the 1996 Chicago Bulls of contemporary fashion photography. Iconoclastic industry leaders including Alasdair McLellan, Amy Troost, Ari Marcopoulos, Collier Schorr, Dan Martensen, Daniel Jackson, Glen Luchford, Inez and Vinoodh, Josh Olins, Mario Sorrenti, Terry Richardson, and Willy Vanderperre have all created pictures as energizing and varied as their work on the pages of i-D.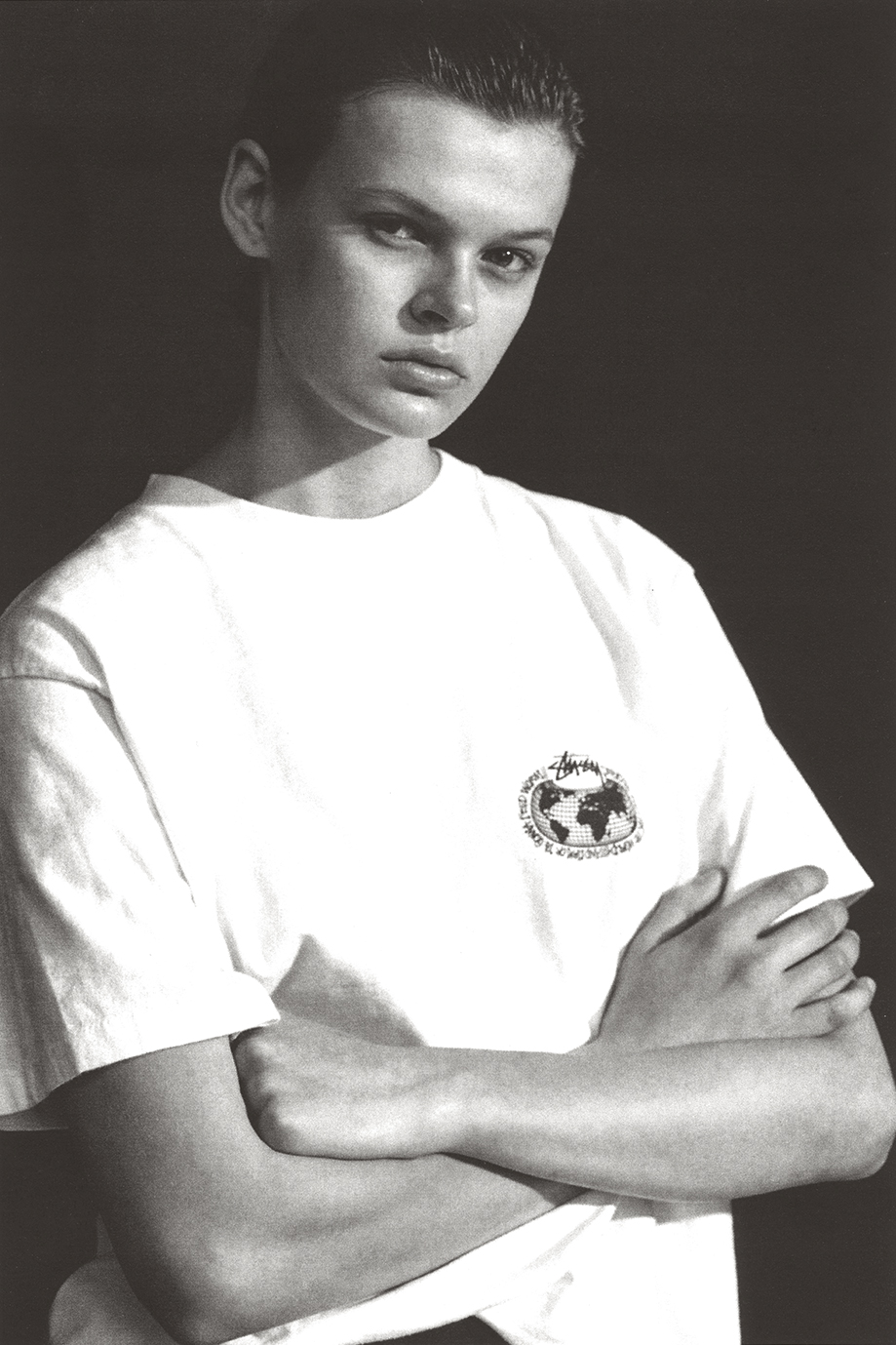 As if all of this wasn't enough (seriously, there's more), Dover Street Market is launching a T-shirt retrospective to coincide with the book's launch on August 25. Eight of the archival tees featured will be re-editioned and sold at DSM outposts around the world alongside two new DSM collaboration shirts. In addition to these archival T-shirts, Stüssy has created an all-new, limited edition McKimm collaborative shirt to commemorate the project, and a special T-shirt with IDEA that will release online and at Stüssy's Chapter stores.
Ahead of the book's launch, McKimm and Willms discuss their earliest memories of Stüssy surf gear and share a sneak peek of all-new spreads. Sweating yet? Change your T-shirt.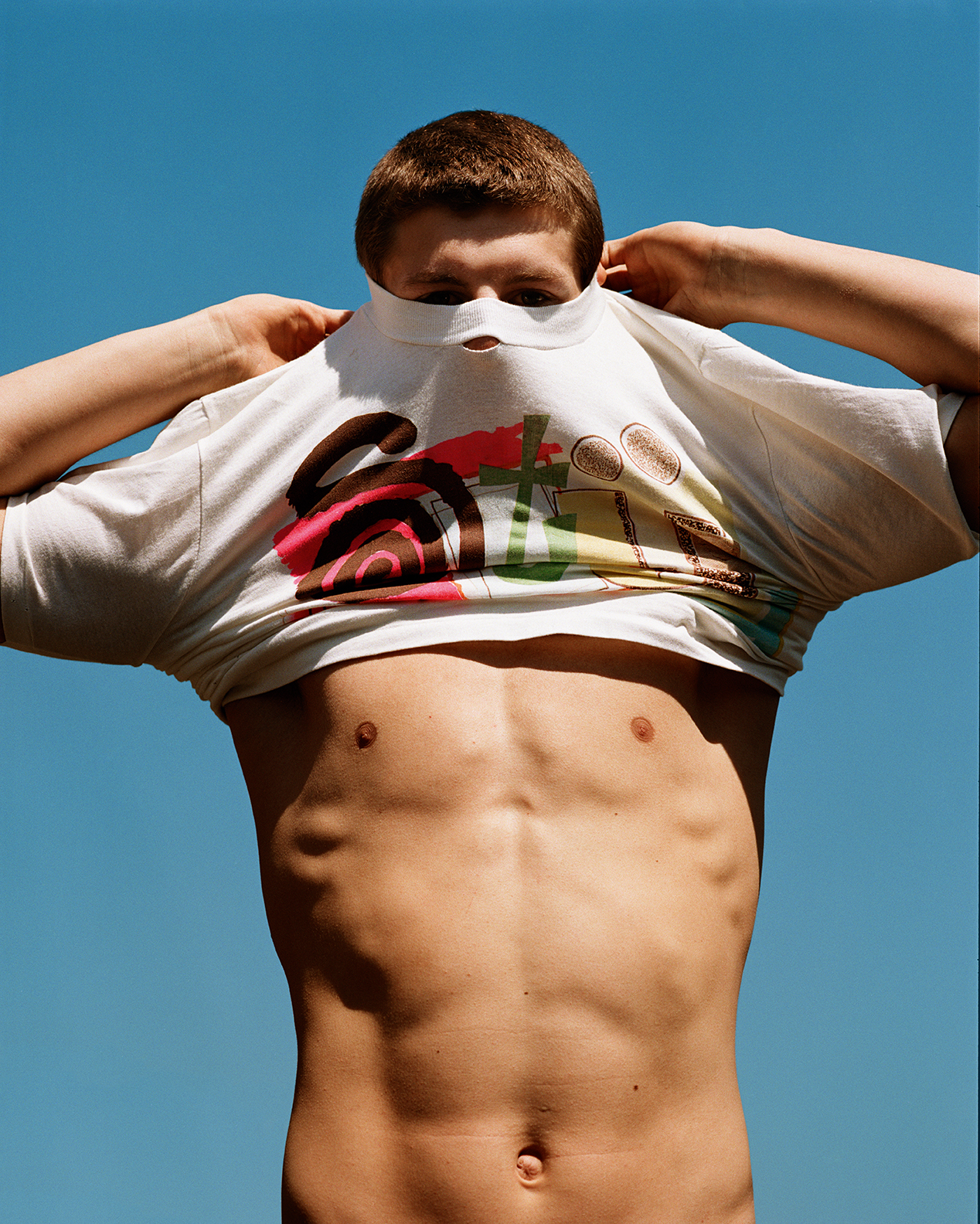 What was the first Stüssy piece you remember owning? What did the brand mean to you growing up?
AM: Stüssy feels like a brand that, globally, everybody's grown up with. It wasn't just an American brand, it was very international. When I posted the first pictures of this collaboration on Instagram, I had friends from Australia, friends from home, in Japan, people all over saying: "Oh my god, I can't believe you did something with Stüssy." Everybody wore it, no matter what they were into. For me, it really represented that surf-skate crossover, which is what I was into.
RW: Completely. I grew up on the west coast in Canada, where Stüssy was less visible. But I started going to Hawaii with my parents when I was ten. There were surf shops, and kids wearing Stüssy script shirts, specifically.
AM: I was in Northern Ireland surfing whenever I didn't have to be at school. I remember, in the 90s, I had this sweatshirt with a character on the front — a guy with a little broken crown. It said "Knowledge is King." I wore that sweatshirt to death. I don't even know how I got it. Someone must have bought it for me because it was before I had spending money. And the silhouette we've done for the new special edition tee is based in-part on that sweatshirt, on that crown character. It's also partly based on the picture of Natalie Westling, Willy [Vanderperre] and I did for i-D. Natalie is wearing a Stüssy shirt over her arms. So we took that silhouette and played with it. Now, the graphic feels very much felt like a nod to the old-school 80s Stüssy.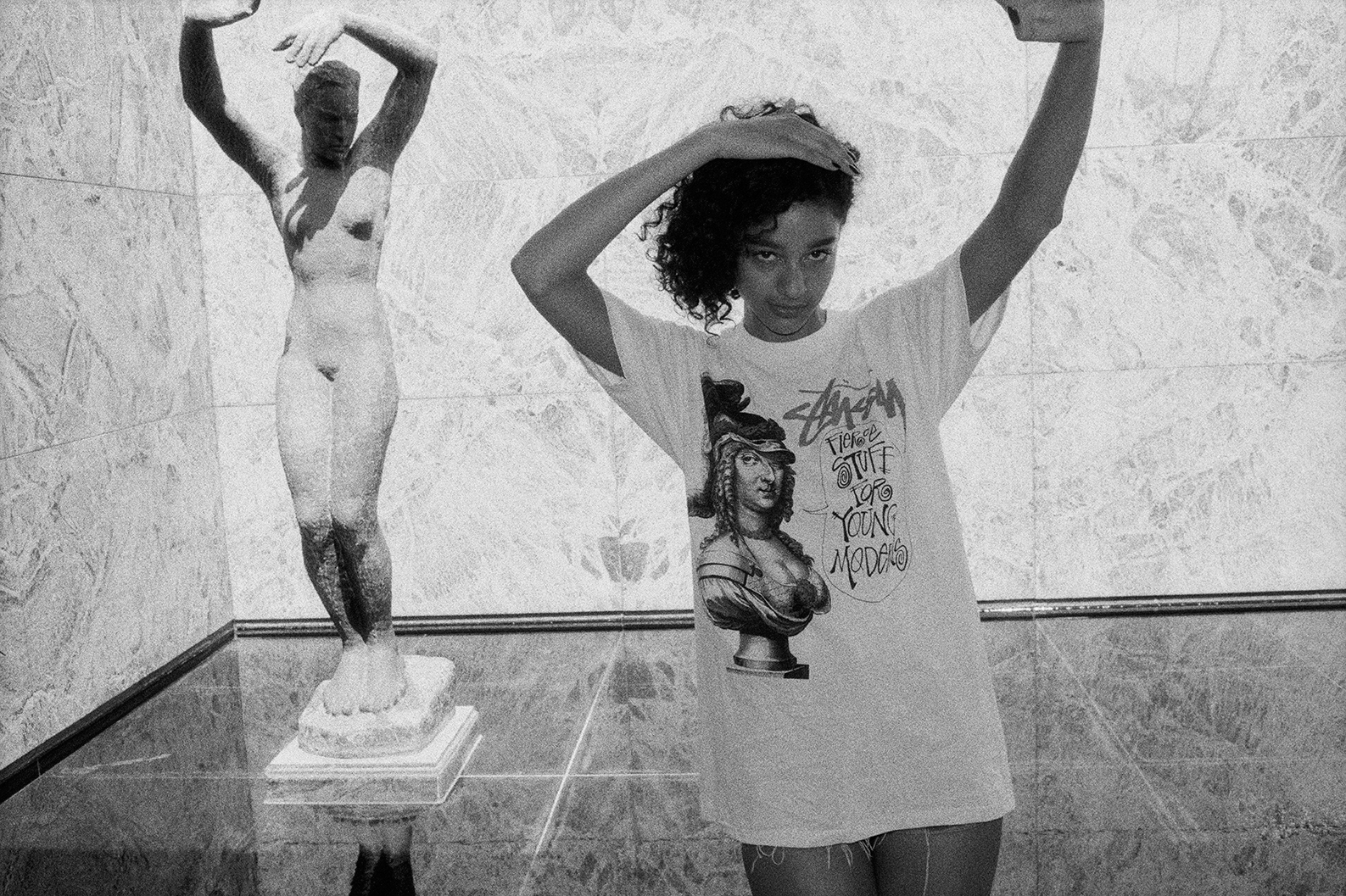 It also kind of looks like that picture Tyrone Lebon made in Jamaica of the little boy in the Stüssy crown.
AM: Exactly, we referenced that picture too. [This graphic] kind of takes all those things and sticks them together in a new way.
RW: That's what Shawn [Stüssy] was so amazing at. He could take ideas from all over — from Comme des Garcons, another skate brand, or Talking Heads song lyrics — and make something new out of them.
I think you've really put that ethos into practice with this book. How did you pick which photographers you wanted to work with on the new portraits? And how did you choose which archival tees to send them?
AM: It's an array of photographers; we wanted to have different voices. But really, these are all people we have great relationships with. It needed to be people we could call up and explain the project to personally. And giving the photographers that carte blanche made it kind of an easy project for them to take on. I chose the T-shirts I thought would make most sense for each photographer's aesthetic. Then they could do whatever they wanted. The only parameter was that it needed to be between two and six pages. So, for Ryan and me, it was a bit of a production job.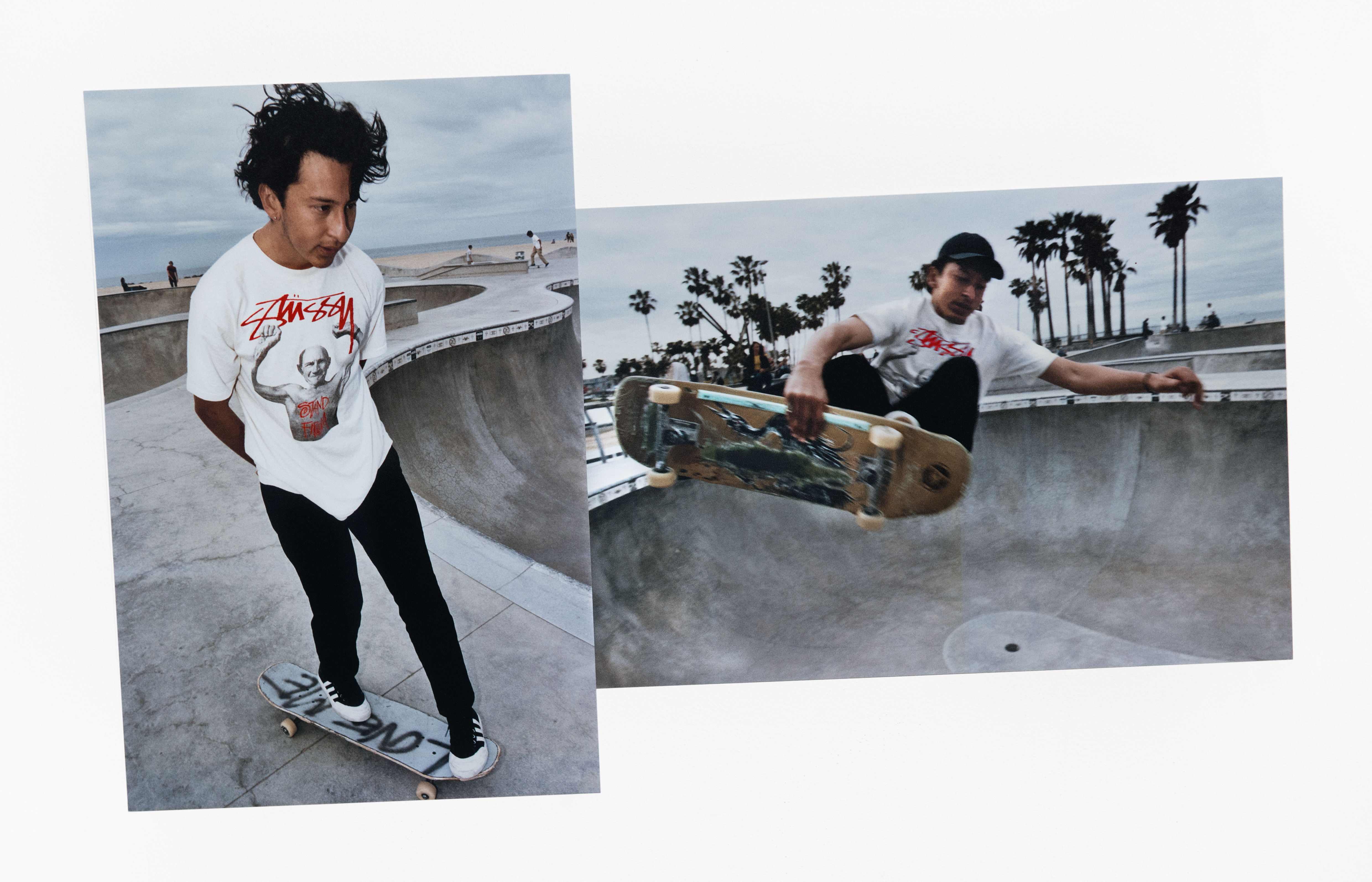 Did anyone's results surprise you?
AM: Everyone, in a way. You just throw it out into the world and see what comes back. Everybody did different, special things. The first images that came in were Glen [Luchford's], and I'm obsessed with them. Willy [Vanderperre] did a still-life. Mario [Sorrenti] shot Freja [Beja], and he made it feel very elevated. Like paintings, almost. Dan Jackson did a whole day of open casting, where he photographed hundreds of people in the
T-shirt. Other people sort of shot things while working on other projects, or they'd do things at the end of the day. It was about shooting their favorite casting, or their favorite thing to do. Inez and Vinoodh recreated an image they did ten years ago — their son and his friend from school. Amy shot Syd, my assistant, and our friend's daughter in the same shirt. Terry [Richardson] shot upstate in Woodstock, which is now where he spends half his time. He shot Skinny in the T-shirt on the toilet!
RW: When Glen sent in his first ones, I was immediately like, 'Okay, this is going to work.'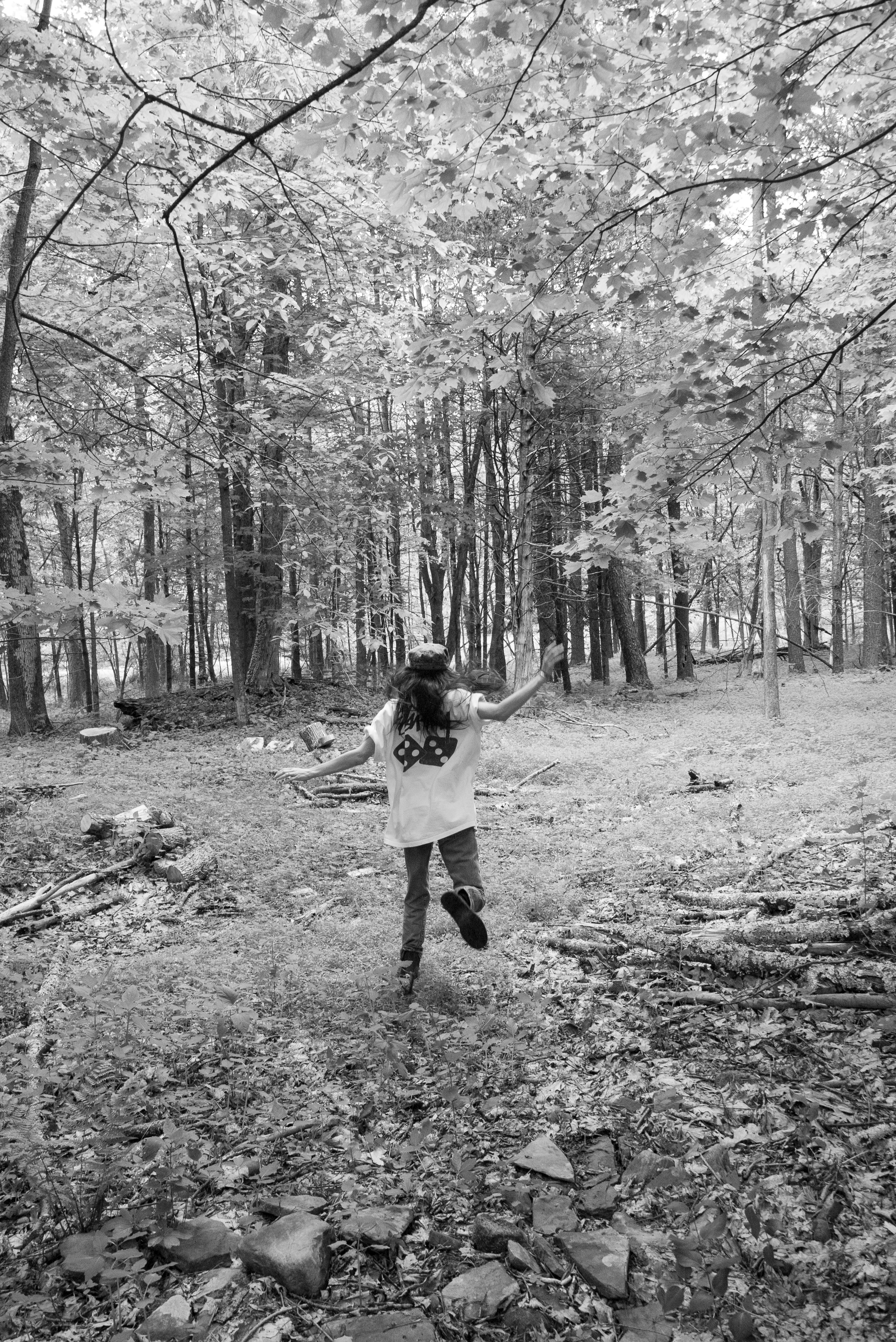 Tell me about the book's archival section.
AM: It's a reference library I'm going to be using forever!
RW: It's old campaigns, old photos, photos some of my friends had taken that never got published anywhere. At the office, they have all these screen burns that they used to send to the t-shirt printers before everything was done digitally. It's all hand-written designs and instructions for the T-shirt graphics. Emmy [Coats, Stüssy's PR Director who has been at the brand since day one] found a 5x7 photograph taken behind-the-scenes at an 80s campaign shoot in a shoebox or something. We also discovered some photographs that Terry had done in 2001.
AM: It's like a little time capsule. It covers the history of the brand, but adds something new to that history.
RW: I'm excited for people to pick it up and see the new editorials. Amazing contributors, all new imagery. But by the time you get to this archival section, once you're a couple flips into it, you're engrossed in all the old stuff. It's almost like two books in one.
AM: I was surprised about how many images I hadn't seen before. Even just from old i-D issues. Lee McQueen wearing a Stüssy T-shirt. Is that Beavis or Butthead?
RW and EM: Beavis!
You also have a lot of text in the book.
RW: The first essay is by Gary Warnett — the ultimate go-to, he knows it all. I once asked him to write about Gore-Tex when Stüssy did a collaboration, and he wrote 4,000 words on the history of Gore-Tex! We also have a handful of interviews with people about T-shirts. People who have generally used T-shirts in some way.
AM: The way the book is put together, it almost looks like a medical journal. It's very informational.
RW: The T-shirt is such an amazing medium. For art, politics, subcultures. I wanted to talk about the T-shirt in that way. How much of an important, democratic medium it is.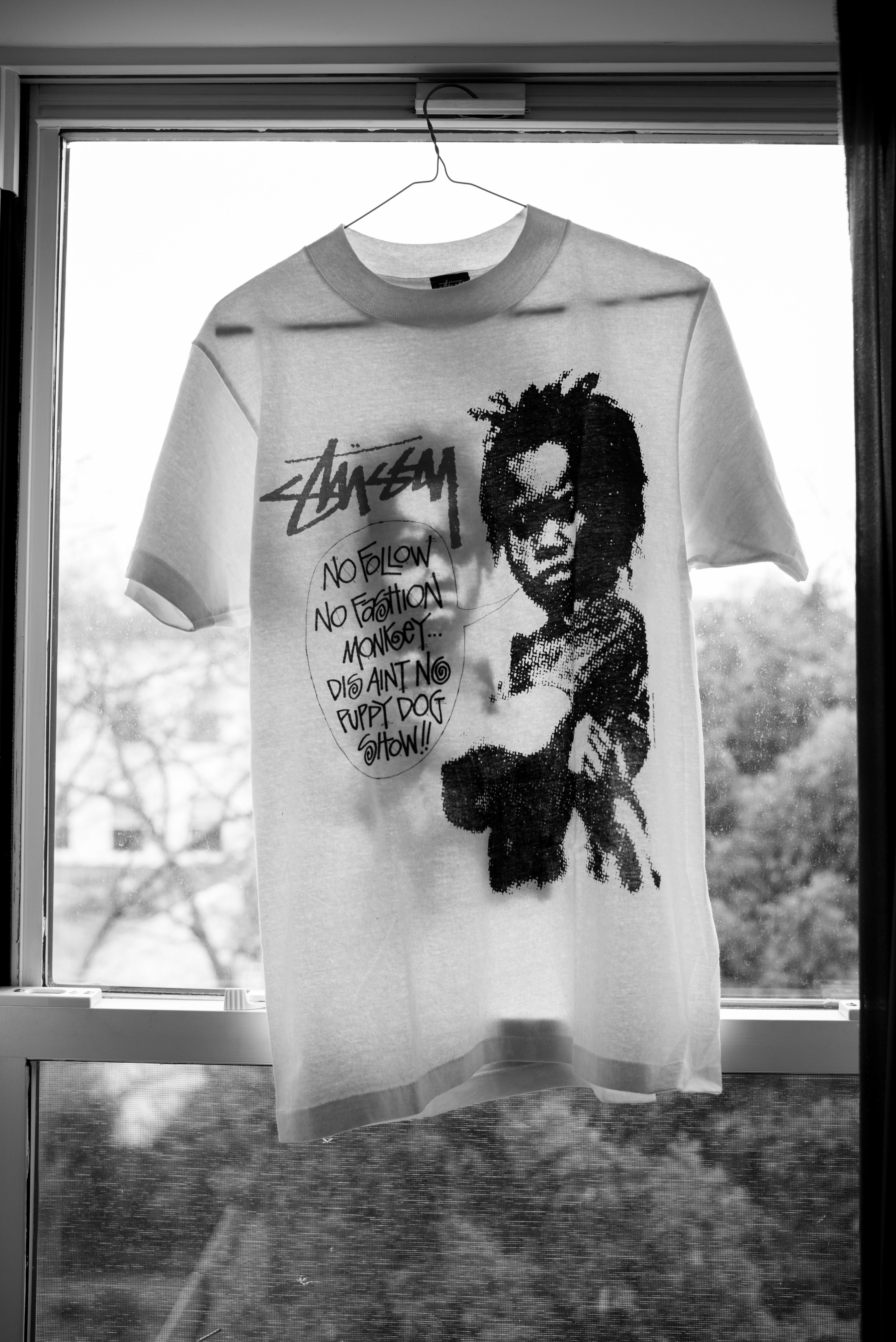 T-shirts are their own genre of self expression — a way of communicating without actually speaking to anyone. And the language of T-shirts can often be quite bold. On the walk over here, I saw a guy in a shirt that said: "Fuck Love, I'm a Sucka For Success." But T-shirts also have this kind of deeply personal, quiet tenderness. You share them with people; they become softer over time. This book captures all of these different sides.
AM: We're so used to the T-shirt being very commonplace. But when you look into it, there's so much there to analyze. I have a Stüssy shirt that I wore to death when it was brand new and black. The more destroyed it got, the more Amy was into wearing it. Now it's grey and sleeveless and hers. There are so many photos of us where I'm wearing the T-shirt, and a year later, it changed.
RW: What David from IDEA said the first time I met with him about this project is that the brand is now owned by the people who've adopted it over the years. I think that includes us.
AM: We throw the word "tribe" around a lot in fashion, but Stüssy really is that.
RW: There's so much history. It invented a genre, with something as simple as a T-shirt.
An IDEA book about T-Shirts by Stüssy, by Ryan Willms and Alastair McKimm, launches at Dover Street on August 25, 2017.