"as a kid I never felt beautiful" – model halima aden on how self-confidence changed her
From learning to braid hair at a refugee camp in Kenya to becoming the first woman to compete for Miss Minnesota USA in a hijab and burkini, Halima Aden knows a thing or two about beauty.
|
16 January 2018, 11:46am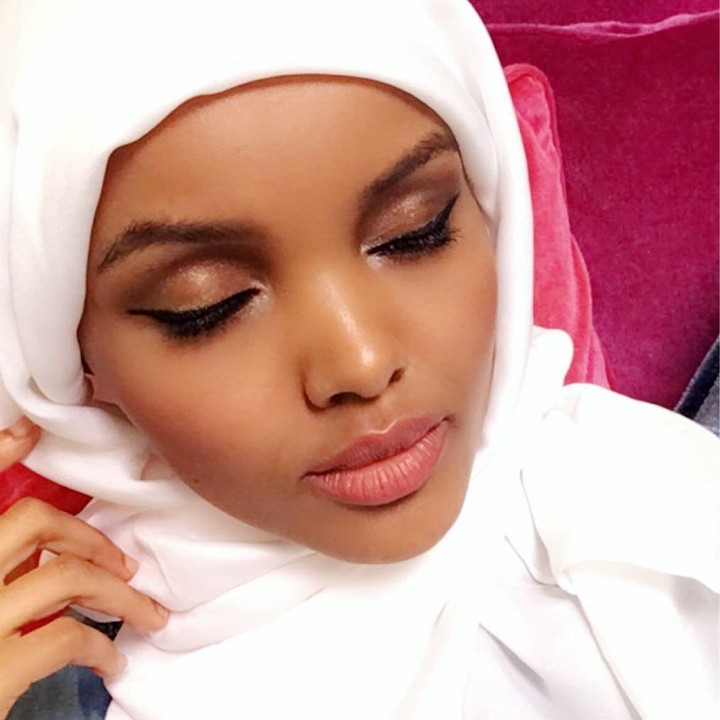 Image via Instagram
Born in a refugee camp in Kenya, 20-year-old Halima Aden moved to the US when she was seven as part of the Refugee Resettlement programme. Originally assigned to St. Louis, Missouri, she and her mother moved to St. Cloud, Minnesota six months later. A serious work ethic and unadulterated ambition -- combined with her undeniable beauty -- landed her a modelling contract with IMG. But Halima has become more than a model, she's a role model. As the first model to walk a major international runway in a hijab -- her debut was for Yeezy Season 5 -- her effect on the fashion industry's often homogenous landscape cannot be overemphasised. She's gone on to work with some of the biggest names in the industry from Carine Roitfeld to Fenty Beauty. Perhaps more importantly, Halima spends a lot of time engaged in activism. Whether she's assisting UNICEF in their work with refugees around the world or speaking at universities about diversity in fashion and the power of representation, she's flying the flag for a fairer future.
"As a black, Muslim, Somali-American refugee, life comes with its fair share of difficulties. Moving to the United States and not knowing any English was definitely a challenge at school. Academia has always been important in my household and I'm proud of having gone from speaking no English to getting As in Advanced Placement classes in high school. My parents fled the Somali Civil War and what they went through to provide a better life for my siblings and I is not something I take for granted.
I have always had a strong work ethic; I've always wanted to work hard because I've always had to. I began by braiding hair when I was very young, which I learned how to do at the refugee camp. When I first came to America, I would charge people $10 to braid their hair. As soon as it was legal for me to work in the United States, I was working.
When I was eight years old, I began to wear the hijab, a headscarf popular among Muslim women. I was so proud and wanted to follow in my mum's footsteps as she wore the hijab and I wanted to emulate her beauty. Wearing the hijab is how I feel most comfortable. Not all Muslim women wear the hijab and that's okay -- it's a choice. For me, it's the choice that I have made to celebrate my faith.
I wasn't allowed to wear make-up until I was 16, but I remember around 14 borrowing some of my older sister's and putting it on secretly so my mum wouldn't find out. I have always been a fan of make-up and learning new tricks. I watch a lot of YouTube videos and tutorials. It's a skill I'm still working to master. When I sit in a make-up artist's chair on any shoot, I try to get as much guidance and as many tips from the pros as possible.
As a kid I never felt beautiful, because I never saw anyone who looked like me or dressed like me represented on TV, billboards, or magazines. I didn't know there was a place for someone who looked like me in the world of beauty. That's what motivated me compete for Miss Minnesota USA. I wanted to show young Muslim girls in my community that they are represented. Walking out on the stage in a hijab and burkini, a fully covered modest swimsuit, and hearing roaring applause was a defining moment for me. I was overcome with joy and peace knowing that an audience of that size and nature was in acceptance with the standards I have set for myself when it comes to my self-image.
After competing in the pageant, I received a lot of international media attention based on my wardrobe selections. I wanted to use this attention to spread a message to young girls everywhere: don't sit on the sidelines because no one has done something before you… be brave, be the first.
It was then that the team at CR Fashion Book reached out to the pageant organisers asking if I would come to NYC and shoot for the iconic Carine Roitfeld's issue 10. She ended up putting me on the cover! At the same time, the casting agent for Rihanna's Fenty Beauty line reached out to book me for her campaign. It was not long after that I signed with IMG Models for worldwide representation. Last February was exciting as news broke that I would cover CR Fashion Book, walk exclusively for Yeezy Season 5 at New York Fashion Week, and sign with IMG Models… all in the same day!
Today I am very proud to work in the fashion industry. I love seeing women of all shapes, sizes, ages, colours and backgrounds being represented. I've had the chance to meet some of the industry's trailblazers, like Ashley Graham and Winnie Harlow, both of whom I admire and adore. As a society, we are embracing the diversity of beauty and that is an exciting thing to be part of.
To me, beauty means being the best authentic version of oneself. Plain and simple. Don't ever change who you are. Embrace and love your amazing qualities. Remember that feeling beautiful on the outside has to start from within.
Though I've come so far, it still feels very surreal, but I'm so proud to know that little girls around the world can see someone who now looks like them represented in the modelling industry. At the end of the day, that is why I do what I do; it's the social media messages I receive from women everywhere telling me I inspire them that motivates me to work hard and try my best to succeed in the modelling industry. If I have just the slightest positive impact on someone else's life, this is all worth it."
This article originally appeared on i-D UK.