meet the man who has recreated helmut lang's iconic nyc store in paris
Athens-based archiver Michael Kardamakis has joined forces with international showroom DSMR to take us back to a place and time in which Helmut Lang was at the peak of his powers.
|
19 January 2018, 11:40am
"Lang's influence in shaping contemporary fashion has never been more recognised than it is now," Michael Kardamakis explains over email. As the recently transformed Helmut Lang label unveils Mark Howard Thomas' first authentic yet evolved archive-updated menswear collection for autumn/winter 18. "I want to remain authentic to what Helmut was," Thomas explained, "but what Helmut was then doesn't reflect what things are like today." While Thomas is confidently placing a modern Helmut Lang lens over the Helmut Lang of yesterday, a long list of designers are constantly referring back to vintage Helmut Lang in their current work. "His iconic ad campaigns and backstage images are reproduced constantly on social media," Kardamakis adds. "People are discovering this sophisticated and slightly weird designer whose work from 20 years ago is more relevant than most of what's out there." To assist a new generation discover Helmut Lang, he has spent the last few years sourcing hard-to-find pieces, researching their history and exploring the details that make them special. He has collaborated with DSMR Showroom's Greg Hewitt, a fellow Lang-devotee, to share five complete archive looks inside a recreation of the Austrian arch-minimalists iconic Greene Street store during Paris Fashion Week Men's.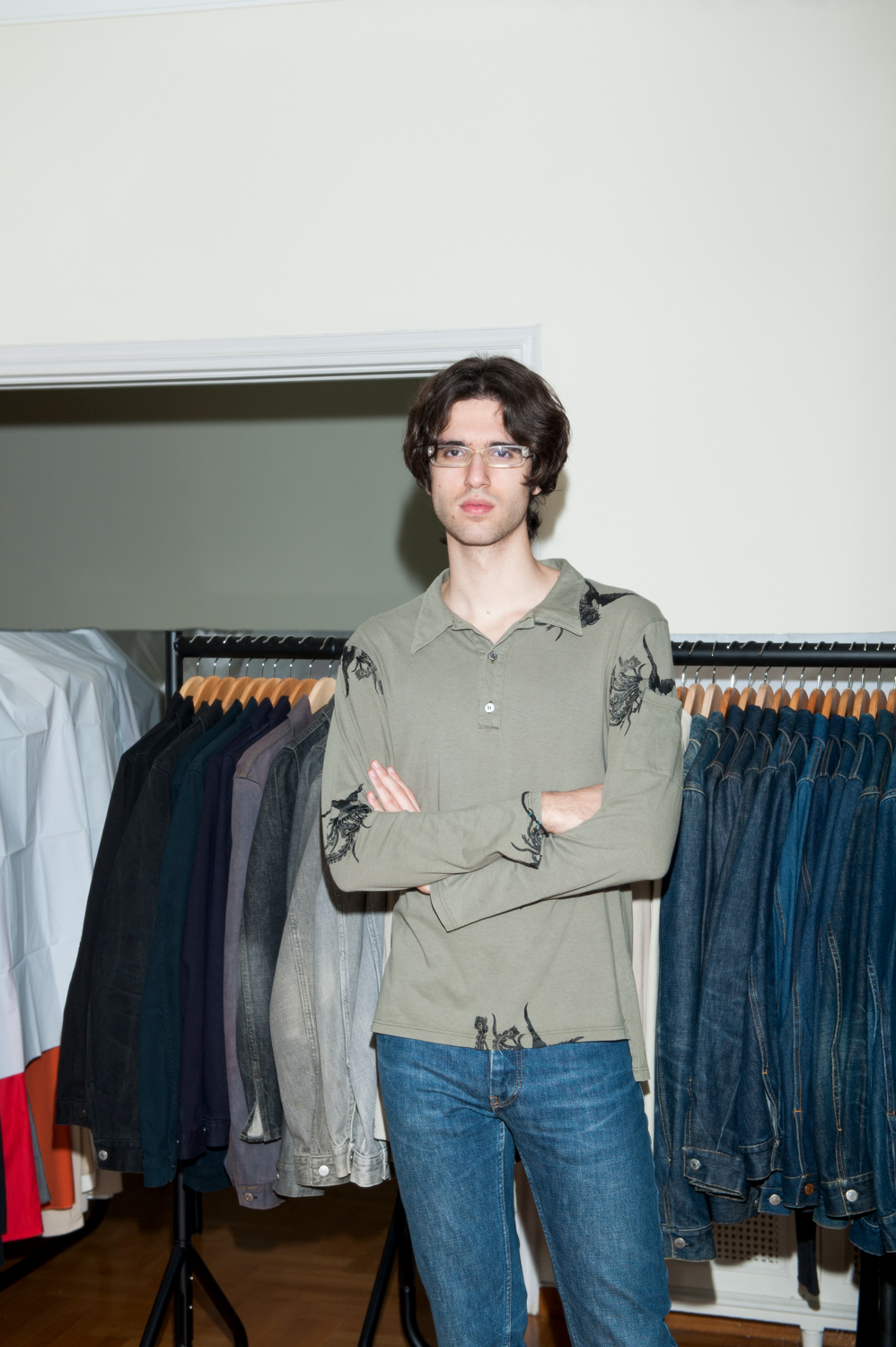 For many, the exhibition will introduce a new generation of fashion fans to the work of Helmut Lang. To tease them, what can they expect?
There will be a series of classic 'best of' looks for men. While demonstrating how ahead of his time Lang's work was, we also want to convey how fun and wearable his clothing is right now. So, there will be some recognisable high-end stuff (think 2003 bondage-strap bomber jackets, 1999 'astro' biker jackets and so on) but also classics such as raw denim jeans, the classic backstage-print T-shirts, etc. And of course there will be shoes, accessories and all sorts of other curiosities.
Now, this is the big question, but could you summarise what Lang means to you?
I have a very personal relationship with Helmut's work. I discovered it at a time when I was learning about fashion. Appreciating and understanding his clothing helped me connect the dots between contemporary fashion and my art history studies. This was the entry point that led me to pursue working in fashion. Lang worked at a rare intersection between classic clothes making and high fashion, and this often explains why his clothes remain on-point so many years later. His touch was subtle and highly informed by tradition, but also confident and at times very unexpected.
Lang is the kind of fashion designer who has made me appreciate little details such as the colour of thread used on a garment or the angle of a pocket. But he is also a groundbreaking designer who created radical garments, from his early 90s transparent layers to his 00s experiments with abstracted silhouettes and deconstructed shapes.
Helmut Lang's work is particularly pleasant for me to analyse, because his designs always have clear points of reference – whether it is a contemporary military garment or Karlheinz Weinberger's photos of Halbstarken youth. Lang is not the kind of designer who would create otherworldly fashion out of nowhere – his clothes have strong ties to tangible things and in my view, this gives them gravitas and does them justice.
What kickstarted your love affair, was there a particular collection, moment, or garment that drew you in?
I started the project in my late teens, while I was studying in the UK. I was longing to figure out who I wanted to be and look like. And one day I saw this 1 pocket jacket from Helmut Lang's spring/summer 03 men's collection. I was drawn to its transgressive aesthetic. It was composed and streamlined but edgy at the same time; unconventional but rooted in traditional workwear. Everything about it had a viewpoint, from the cool interior labels to the proportions and finishing that set it completely apart from anything I had seen before.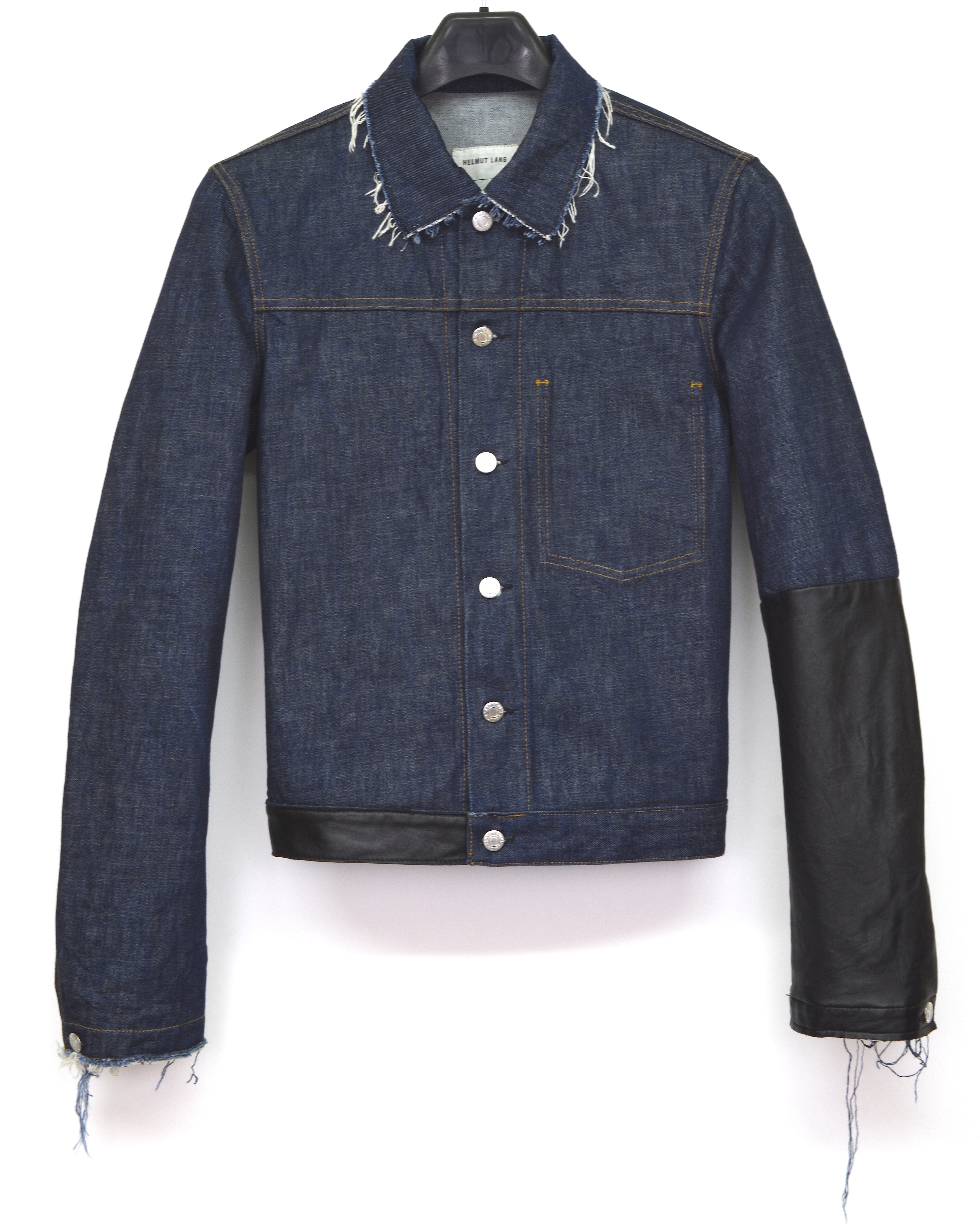 In an interview with i-D, Bernard Wilhelm once proclaimed: "Without Helmut Lang there would be no Céline, no Raf." Do you agree? How important would you say Helmut Lang is in fashion's past, present and future?
I do agree with Bernard, as far as Céline is concerned. It could be argued that Phoebe Philo's work is the closest thing to a Helmut Lang successor. Raf, on the other hand, had a very strong language of his own from the beginning. The style of his early collections was essentially different to Lang's, despite sharing some superficial similarities. Raf has become truly influenced by HL more recently - his work for Calvin Klein is a particularly obvious example, being very inspired by Helmut Lang collections from 1994 – 1995 – 1997.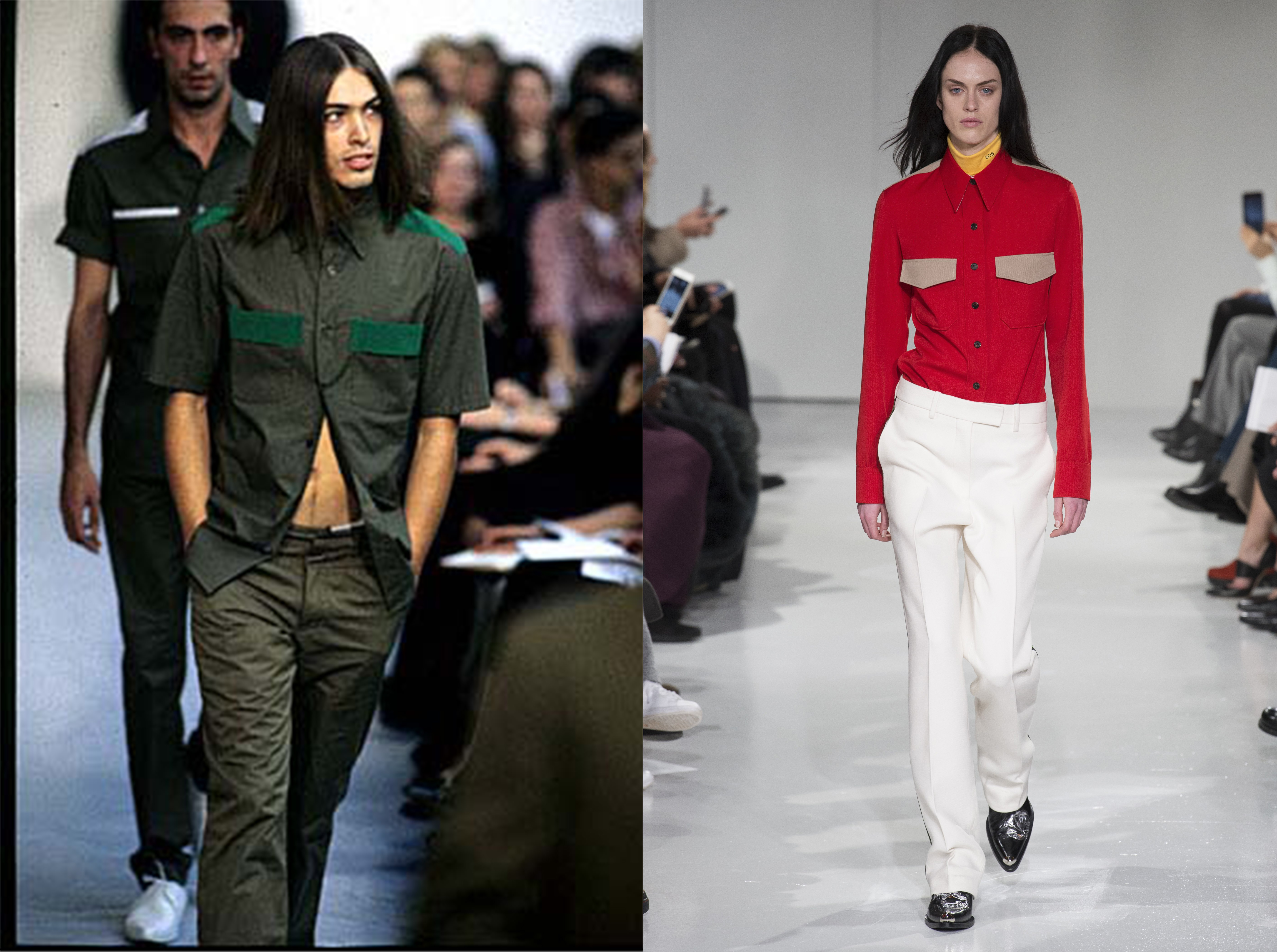 That said, Lang's influence can be understood from other less apparent viewpoints. On one hand, we have design icons as his slashed basics, pops of colour and bondage-strap detailing which have all been copied extensively. And then, we have more developed adaptations of his ideas from respected high fashion labels. But most importantly, we also have a wardrobe of classics which changed the industry forever. His jeans, T-shirts, those lux-basics he created predated most brands by a decade. Lang's influence is so widespread that it has become almost invisible.
What would you say is the strongest truth about Helmut Lang? And the biggest misconception?
I have a hard time figuring out what the strongest truth may be. There are quite a few misconceptions though, and for me one of the most important has to do with the time around when Helmut Lang closed. Journalists have often written about how this was such an unfortunate event, about how Prada deliberately wanted to close down the label and so on.
In my view, the label's closure was actually well overdue. If you look at financial figures this makes sense, but also the product itself was just not working at the time. Even though Lang's final collections are true fashion moments, they were retail disasters.
For example, many of the perfectly preserved bondage pieces that can be seen today are the result of very low sell-throughs, meaning that they were kept with their tags for years, moving from discount rack to discount rack. Fashion was changing but the brand remained hardcore and true to its character, which is usually not the best way to do business. People think that Helmut Lang was a hugely established designer throughout his career, but in fact many of his most iconic and demanded creations struggled commercially. This is often the case with visionary artists that are ahead of their time.
Could you tell us about your all-time favourite Helmut Lang pieces?
My favourites are mainly classic designs that Lang reworked and perfected. His Chesterfield coat is a prime example. Its shape epitomises modern tailoring without being in any way fashionable. At the same time, it was usually made in a heavyweight cotton moleskin used in WWI army coats -- a substantial fabric with a pronounced texture that ages beautifully over time. In my view, it's the perfect coat.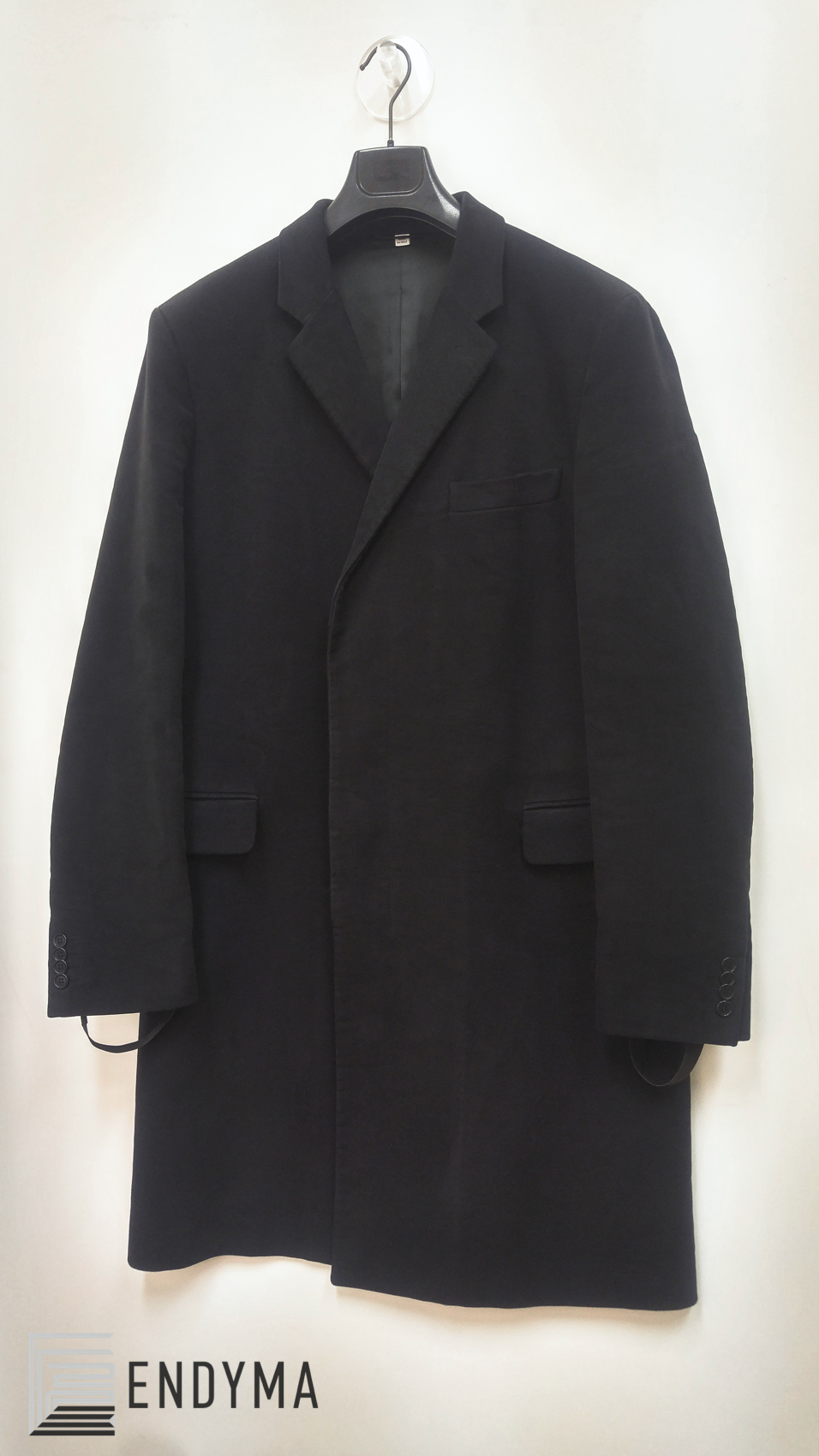 What are the impossible-to-find pieces that you'd love to possess?
Impossible to find piece: some of the 'astro' biker pieces from 1999 exist in woven sterling silver versions. If I remember correctly, the retail prices were $37k for the jacket and $33k for the trousers... Would make for a nice addition to the collection!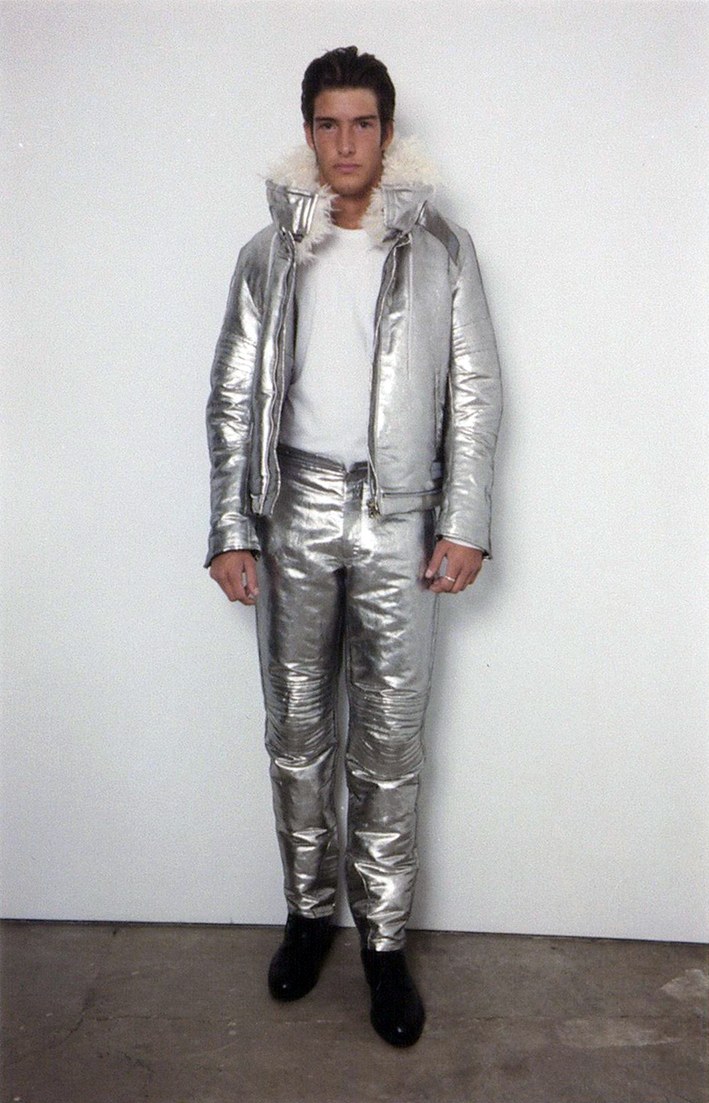 Finally, if visitors can take one thing away from the exhibition, what would you like it to be and why?
I think the most important message of the exhibition and ENDYMA's output in general is that good design is not dictated by time . Despite what the fashion industry commands to keep us buying ad infinitum, relevance in design and execution transcends now-ness and hype. ENDYMA's target is to accentuate this; to make people press pause, and enjoy/appreciate .
ENDYMA's Helmut Lang Archive exhibition runs between 18 and 23 January at DMSR, 43 Rue de Montmorency