there's something about magda
Here's five things you didn't know you needed to know about Polish designer Magda Butrym.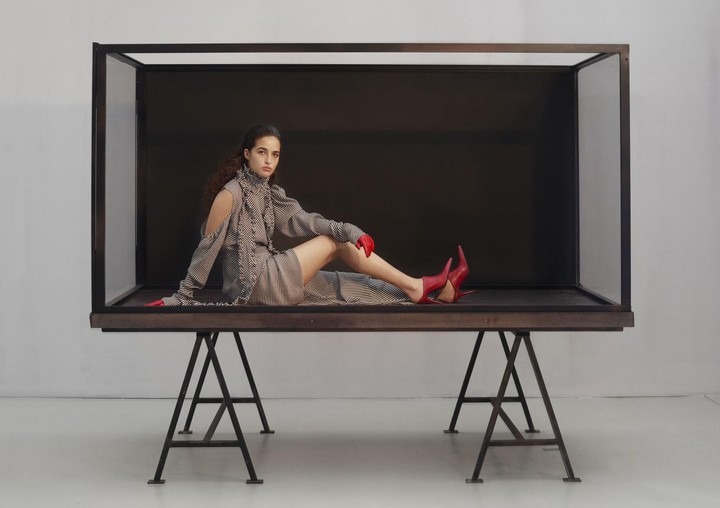 Born in a small city in Silesia, 1985, Poland, shortly before the collapse of communism, Magda Butrym's experience of high fashion was, shall we say, somewhat limited. Her plan was always to study medicine, but when she couldn't get past designing the perfect pair of scrubs, her mother suggested a career in fashion might just be what the doctor ordered. Disillusioned by Warsaw's newly formed fashion school, she went all DIY and decided to teach herself.
Over the next few years Magda worked as an in house designer for various regional brands, before launching her eponymous label in 2014. "I think it's important to understand that fashion in not just about making pretty clothes but rather about establishing a distinct style," she told i-D. "The Magda Butrym brand DNA is oriented around combining modern fashion design with the use of traditional craftsmanship developed by regional artisans. I like to combine feminine and masculine elements, think romantic floral prints paired with oversized masculine tailoring, delicate silks with thick leather." Just three years old, the brand is already stocked in over 115 retailers and is worn by everyone from i-D cover stars Jourdan Dunn and Anja Rubik to 90s cool kid Chloe Sevigny. But enough from us, here are five fascinating facts about Magda.
1. She's always had great style…
"When I was six years old my mum bought me a wool red cape with a hood and I remember feeling super stylish and that people were looking at me."
2. She's kinda a culture vulture…
"I draw a lot of inspiration in life from music and that doesn't apply just to creating fashion. When I design my work is very research driven and I tend to be influenced by past subcultures, for instance Blitz Kids and romantic punk. When I do my research I dig very deeply into music, photography and literature which helps me understand not just the style of the group which inspires me but also what shaped it and defined its identity."
3. Whatever you do, don't tell her not to stress…
"The worst piece of advice I've been given is to not stress. As a designer you are judged each season and the stability of a whole team behind a brand depends on you. In my case the stress is what pushes me to work harder and harder. Sadly I think in this career path a designer is seen as being as good as his last collection despite any past achievements. Stress isn't bad but you need to learn how to deal with it."
4. When she's not stressing out, she's sleeping in…
"I work a lot and since we are a small brand with a tiny design studio I still need to do everything including print design, collection design, shoe collection design by myself. During time off I really like to take things slow and stay in bed."
5. Though she doesn't run through fields of wheat, she does have a naughty side…
"I think I'm a good girl but when I don't like something that my boyfriend wears I will hide it and pretend I don't know what happened with it or in some extreme cases break it so that it is beyond repair."
Read: Raf Simons' Manchester-Chinatown sci-fi led the culture clash at New York Fashion Week Men's.
Credits
---
Text Tish Weinstock