bjork's new virtual reality exhibition is a tour of her perfectly weird mind
'Björk Digital' is a world-first experience as part of Vivid festival where technology and nature come together like never before.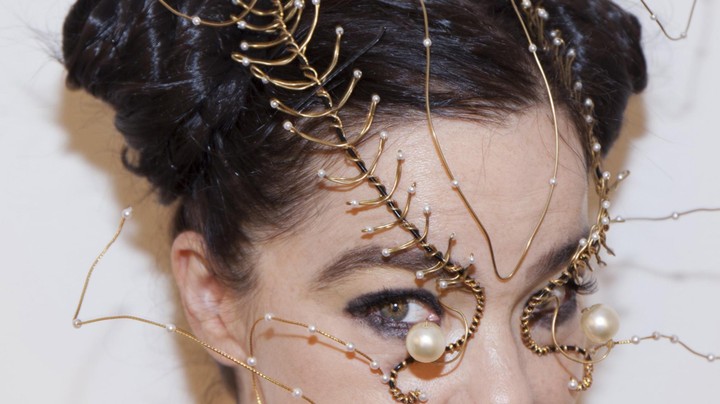 Earlier this week we were invited to a preview tour of Björk's new exhibition at Carriageworks, where the Icelandic artist spoke about the work and its connection to her creative process over the past few years. When Björk says that virtual reality can be more intimate than reality, it sounds like beautiful poetry. Which isn't a surprise, coming from the musical maverick. What is a surprise, though, is realizing you know exactly what she means, as soon as that headset goes on. The Icelandic artist's latest exhibition is like a museum of her more recent output and a tribute to the role technology has played in her collaborations and captivating 360 videos.
Taking place as part of Vivid Sydney, Björk Digital contains a number of firsts — the world premiere of her "Notget" video, Björk's Sydney DJ debut, and our first time seeing Stonemilker. We mean really seeing it — because the YouTube version just doesn't do it justice. Like much of this album, Stonemilker was shot in 360 degrees, capturing the stunning panorama of a deserted beach in Iceland. So the only real way to capture that experience is through the high-tech headsets found inside the exhibition. It feels oddly futuristic, but turns out to be a totally immersive experience — one that we became quite literally lost in. And one Björk herself describes as 'Wagnerian' in nature. "It can be very extreme," she says. "You can really play with the scale in the most theatrical way."
Despite all that though, Björk says that for her, technology is just a tool. One that she likens to cavemen discovering fire, supposedly referring to its duality — the potential for both good and bad — but, again, it comes as a surprise given she has flown across the world to deliver a spectacular exhibition that's all about technology. Then again, Björk has never been afraid to keep us on our toes. And, the way she sees it, technology simply provides another medium to elevate the music. Which is, ultimately, what drives her and, fittingly, what's still at the core of Björk Digital.
The exhibition plays out like a sort of homage to what she describes as her "heartbreak saga" album, Vulnicura. There's an appropriate sense of loneliness setting the backdrop for Björk Digital. When you begin the five-part journey, it's in a darkened room devoted to her sprawling 10-minute music video, "Black Lake." Here, her creative collaborator James Merry explains that the audio tech set up was a very important aspect for Björk. So much so that the team created a room inside a room at Carriageworks' Track 12. Curtains simulate an additional wall structure, while a gauze ceiling also helps to keep the sound controlled. Rest assured, that sound is big and impactful, emanating from speakers above, below and all around, set to a split screen presentation of Björk's "Black Lake" video.
Moving through the other spaces, there are also the Australian premieres of virtual reality works Mouth Mantra (made in collaboration with Jesse Kanda) and the panoramic 3-D video for Stonemilker, as well as the world premiere of "Notget." Finally, there's a tribute to Biophilia, Björk's futuristic multimedia album from 2011, which has now made its way onto school curriculums across Scandinavia. She is still visibly excited when talking about this technology. It was "finally an opportunity for me to map out musicology, kind of how I wanted to do it as a kid in school," she explains. "Because I thought learning musicology through a 2D book was an offense to sound." Today, this touch-screen technology helps students to pick up on both music and science concepts quickly, rather than reading about them for ten hours.
Technology may be just a tool for Björk, but it's one that she has taken full advantage of here. Each video so far has been filmed using a different technology, she explains. And this is part of the reason she was so passionate about showcasing them as a whole. "I'm committed now to making a whole VR album for Vulnicura," she says. "And I think it serves this album very well, because it's the only album I've done that's chronological; it has like a spine, a story." But she says it was a challenge to "find a place on earth that would be up for this risk. I wanted to show all the videos and then DJ, but a lot of people had cold feet," she says. Until, she discovered that "Vivid was right into it."
When Björk emerges during our tour in a rubberesque pussy bow blouse and strikingly elaborate headdress by Merry, she could still be i-D's freckle-faced cover star of 1996 — so youthful is her appearance, voice, and energy. But her words reveal a depth of wisdom behind those pearl-obscured eyes. And, at 50 years young, the mother of music is still as fearless as ever. Vulnicura really is one of Björk's most intimate albums to date and, so, the decision to share it through virtual reality is both fitting and intimidating all at once. Something she describes as a "natural landslide" — in part because the album leaked, but also because the artist felt a sense of urgency around its release. "We developed several visual things and we decided to surf that wave and let it be what it is," she explains. Due to recent developments in the virtual reality space, she says it became apparent to her that VR "would be a very natural home for this album." Which is like a beautiful oxymoron in itself. And what Björk Digital is really about, too: the confluence of nature and technology.
Don't let the digital illusions fool you, though: Björk's latest offering is about music first and foremost. That was the drive behind her DJ appearances — during which she curated two nights of music — and it's the focus of Björk Digital, too. Virtual reality simply offers the medium to amplify the experience. Or, as the artist describes it, offers "full penetration" into the heart of the album. The exhibition itself is like a journey through her mind. An intimate look inside the collaborations and creative processes that make Vulnicura what it is. If fire was just a tool for the progression of civilization, then virtual reality is simply another "character" in Björk's story. For her, the fact that VR is still being discovered makes it like going "blindfolded into the unknown, [to] discover not what you were ten years ago, but what you are now." Which is a little like the feeling you get when entering Björk Digital in the dark; but it's a journey well worth the ride.
Björk Digital runs until June 18th, book tickets here.
Credits
---
Text Rosie Dalton
Photography Santiago Felipe