natalie nootenboom is the body-positive, asian-american champion fashion needs
The coming of age of a new kind of model, one providing sorely-needed representation.
|
12 December 2017, 4:42pm
Photography Eric Chakeen
When 16-year-old Natalie Nootenboom got the call that she would be walking in New York Fashion Week this past September, the usually self-assured teenager found herself unusually terrified. "It was insane," she recounts. "I was like, 'How in the world am I going to do this?' I barely know how to walk in heels, let alone walk down a runway in front of hundreds of people."
Nootenboom took matters into her own hands -- and feet. "I decided to walk in heels every day for a week and a half to get used to it," she says. "I feel like I did pretty well."
Though she's still taking her first steps in the modeling industry, the half-Japanese, 5-foot-11 stunner is already making a big impact, both for her racially ambiguous looks and her body-confident style.
This fall, Nootenboom became the first plus-size model to walk for Anna Sui, during the designer's spring/summer 18 runway show. What is more, the teenager found herself walking in the same show as three of her favorites models -- Gigi Hadid, Bella Hadid and Taylor Hill -- in her first full season of modeling. That Nootenboom was cast in a major, mainstream show not only illustrated the changing perceptions of plus-size models, but it was also a solid step forward in the fashion industry's commitment to diversity and inclusion with the casting of an Asian plus-size model - something without a lot of precedent.
According to The Fashion Spot's Diversity Report, Spring 2018 was the most diverse runway season ever, with New York's shows leading the way. Almost 37% of the models who walked in New York Fashion Week were models of color. In terms of body diversity, a record 93 plus-size models marched down the runways (though it should be noted that more than half were cast in shows for plus-size brands like Torrid and Addition Elle).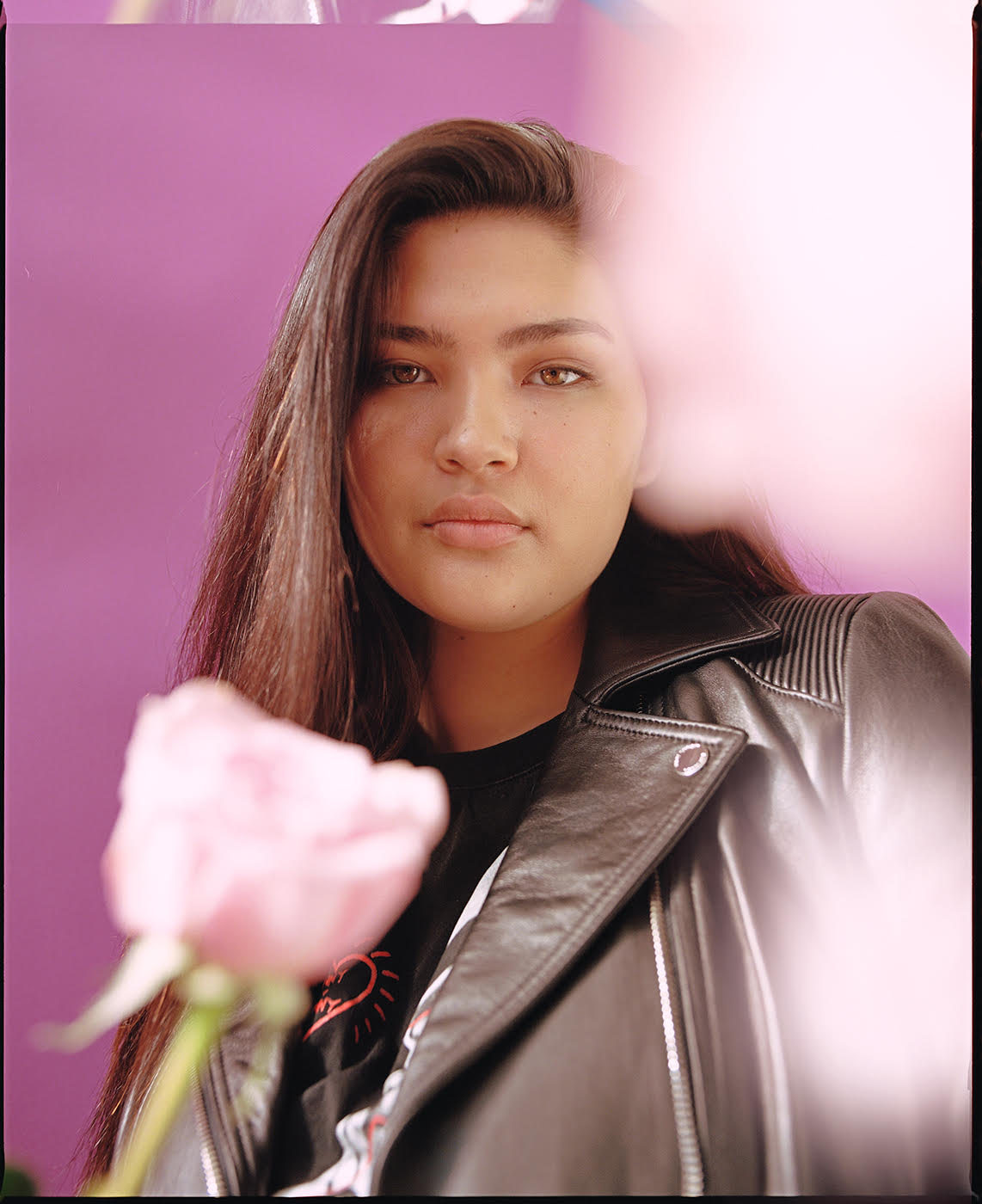 Still, Nootenboom sees this as a sign that there is room for someone like her, who is bucking the stereotypes of what a model should look like. "There's only one word that always come to my mind," she says, "and it's 'movement.'"
In person and over the phone, Nootenboom comes across as wise beyond her 16 years. It's a product of growing up with a family who encouraged freedom of expression and artistic pursuits (her uncle is the DJ Steve Aoki, and her aunt is actress and model Devon Aoki). Still, it wasn't easy to be a mixed-race child, growing up between two worlds.
Though Nootenboom was born in New Jersey, she often went to Japan to visit her mother's side of the family, where she says she was encouraged to tone down her outspokenness and present herself in a more "traditional voice."
"Growing up, people didn't understand me," she says. "In Japan, you're taught to keep your emotions down, and not talk about your feelings. That wasn't me," she says with conviction. "That's the opposite of me."
As a tall girl whose body matured quickly, Nootenboom has also had to deal with the perceptions of what an Asian woman should look like -- a conversation she's still having to this day.
"When I was younger, I was bullied a lot for being a big, tall, Asian girl," she says. "People would pass me in hallways and say stuff like, "How's the weather up there?"
Nootenboom also remembers friends telling her that men only like Asian girls, "because they're tiny." They would cast a confused look in her direction and ask, "Why aren't you that way?"
Somehow Nootenboom has navigated these awkward adolescent years with a surprising amount of poise -- and perspective. Part of that credit goes to her "Uncle Steven," better known to the rest of the world as DJ Steve Aoki. When Nootenboom had a particularly tough bullying experience in the eighth grade, it was her uncle who calmed her down.
"This girl who I thought was my friend rallied all these people against me," Nootenboom shares. What started as some "very verbal" put-downs eventually spiraled into cyber bullying. And Nootenboom, already feeling like an outsider with her bi-racial heritage, says she felt even more alone.
Aoki, who Nootenboom credits with keeping the extended family unified, told his niece that he too, was bullied, as the only Asian kid in an all-white school. "He said, 'Did you know the only friends I had in school were ants on the ground?'" Nootenboom shares. "It made me realize that I wasn't alone; everyone struggles."
She pauses for a moment to think, then delivers this: "I'd much rather belong in a fashion show than in high school anyway."
Though Nootenboom and her mom approached an agency when she was 12 ("I was definitely way too young," she says in retrospect), she had put her modeling dreams aside to pursue art and music (the aspiring singer is currently working on a metal EP). But when a plus-size agency in LA messaged her on Instagram about signing with them, Nootenboom knew she had to take the opportunity.
Today, she's still signed with that agency, Natural Models, though she's also on the board at Muse Management, home to icons like Veronica Webb. The Vice-President at Muse is Becca Thorpe, a former plus-size model herself, who's become a mentor and mother figure of sorts to Nootenboom.
In addition to the Anna Sui show, Nootenboom has appeared in campaigns for Charlotte Russe and Forever 21, and she recently landed her first-ever cover story, fronting the fall/winter issue of Darling Magazine.
"I've really been surprised about the open mindedness of it all," she says, when asked if modeling was what she envisioned it to be. "People want to see something different and not recycle the same old trends, and I think that's great for the industry."
Nootenboom says she hasn't had to gain or lose any weight for modeling. The only aesthetic change she had to make was a necessary one. "I tried to go blonde but it became an orange blond and the agency was like, 'No way honey,'" she says with a laugh.
As for the "plus-size" label? While other prominent models, like Ashley Graham, have spoken out against the term, Nootenboom says it doesn't bother her. Still, she's quick to add, "The biggest barriers we put in our society are labels. Models are models. Women are women. Why can't we just be who we are?"
Nootenboom's got a lot she wants to do with her career, and it's easy to believe that she'll actually accomplish everything, too. It's also easy to forget that she's still just a 16-year-old.
"At the [Anna Sui] show, I was around Gigi, Bella and Taylor, and I was like, 'Omigosh, this is actually happening,'" Nootenboom says. "I really wanted to take a picture with Gigi but didn't get a chance to do it and I stressed about it for a minute," she admits. "But then I thought, 'it's okay,' because I'll have another show with her. I'll get my photo then."