cowboy sneakers are now a thing, and they're vegan
Belgian designer Mats Rombaut makes the ugly shoe hybrids of your nightmares, with a sustainable message.
When you think of vegan shoes, a cowboy boot–sneaker hybrid isn't the first shoe that comes to mind. Belgian designer Mats Rombaut, founder of sustainable footwear label 'Rombaut', thinks maybe it should be.
A self-confessed "unhealthy vegan" who enjoys partying and drinking, Mats creates shoes that are the opposite of annoying vegan stereotypes. They are completely sarcastic, environmentally friendly shoes for club kids and the fashion-forward. With sustainability and innovation at the heart of his brand, serious topics like pollution and environmental devastation are paired with a vegetable foot ensemble.
Mats is based in Paris, where he hand-finishes the products after they are constructed in Portugal, but he spoke to me over the phone while at a beach on a one-day trip to the Netherlands. "There is a myth on the internet that I come from a long line of shoe-makers," Mats says. "That's not even true. One reporter took me mentioning my great-grandfather making clogs in one interview and it became a thing."
Instead of a family connection drawing him to shoemaking, Mats finds the technicality of the craft to be it's greatest appeal. "I have worked in the fashion industry for almost 10 years now, but I have always had a strong connection to the challenge of shoemaking. It's like a puzzle," he says.
Mats's fashion career began with an internship in product development at Lanvin. A year later, he began working for Damir Doma. It was there, while creating shoes and other leather goods, he found himself uncomfortable with using leather and fur. "During that time, I became vegetarian and began looking at the animal agriculture industry and its impact on the environment." He adds, "The fact that I didn't feel comfortable with it was extra motivation to start my own brand."
Five years ago he did just that. Rombaut was created to fill the gap in vegan footwear. "I decided to start with shoes because it was more of a challenge to make vegan shoes," Mats says. "At the time Dr. Martens had vegan shoes but that was about it."
Being eco-friendly and sustainable has always been at the core of Rombaut. But the lack of information and public interest in sustainable leather alternatives made it challenging for Mats to begin designing. He started using only natural materials, such as tree bark, and would hand-coat the products in rubber. Doing almost everything by hand, the shoes began at a price of €600 and upward.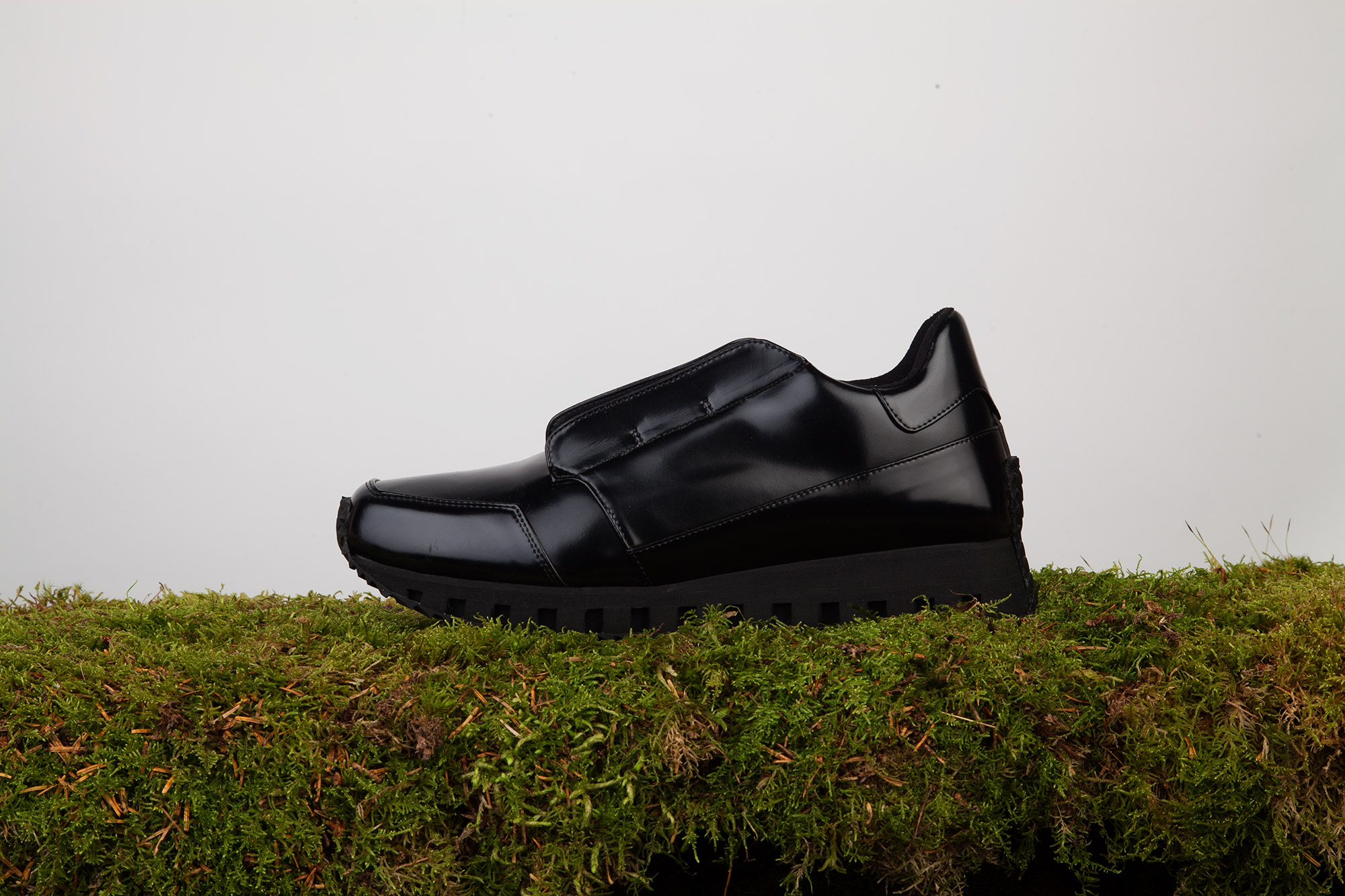 "People were very suspicious about the products and the quality, being non-leather," Says Mats. "Now, because there are designers like Stella McCartney selling luxury non-leather products and celebrities are becoming more interested in veganism, the perception of what luxury materials are has changed dramatically." He still uses organic cotton and rubber coating, but an increase in alternative leather production has allowed him to create shoes from PU-based leathers, Piñatex, synthetic leather, and cork at a more affordable price.
His innovative approach to materials has also transcended into his personal interest of imagining ugly shoe hybrids. For a few years now, he has been creating shoe creations from vegetables, which landed his own personal Instagram account on Vogue.com's list of "ugly-shoe Instagram accounts to follow."
"My vegetable shoe hybrids started because I wanted to communicate on the shoe that it is vegan but didn't know how," He laughed. "Two years ago I created a campaign with a shoe that looked like sushi and since then I've just kept making more and more hybrids."
The Boccaccio Cowboy Sneaker is one of these hybrids, but it began as more of a joke. The base of the shoe is the Boccaccio sneaker, named after a legendary 'new beat' club in Belgium. Music often inspires Mats's collections, but adding the cowboy boot feature was instead inspired by "wanting to create something uncomfortable to look at". For which he may have been too successful at doing. The buyers in his showroom have been cautious of the shoe and almost no one has bought them so far.
He is hopeful that people will try his more adventurous shoes after seeing them more often. Estonian rapper Tommy Cash will wear the shoes on his April tour, which is fitting considering his eccentric style and love of horses. Mats also hinted that there are more high-profile celebrities wearers to come.
It will not be the first time Rombaut will be worn by a celebrity — Bella Hadid is a fan — but doesn't seem to make Mats overly excited. His humorous and sarcastic message has always aimed to poke holes in an industry where no one likes anything new unless a famous person is wearing it.
"Looking around in the fashion industry, it's easy to get discouraged. It was really hard for a young brand to try something new, so I've always had fun with that." He then adds, "Bella Hadid wearing my shoes has helped a little, but for me personally, it doesn't affect me." Instead, seeing his idols David Lynch and Alejandro Jodorowsky wearing his shoes almost three years ago was a more defining moment, though not as heavily photographed.
This authenticity shines through in his shoe design, Instagram posts, and collection visuals. Mats managed to do what so many have tried and failed — make sustainability and fashion not only seamless but also ironic and entertaining.