if you're into extreme beauty you'll love this instagram account
From barbed wire braces to butterfly wing eyelashes — you want it, @RavveBeauty's got it.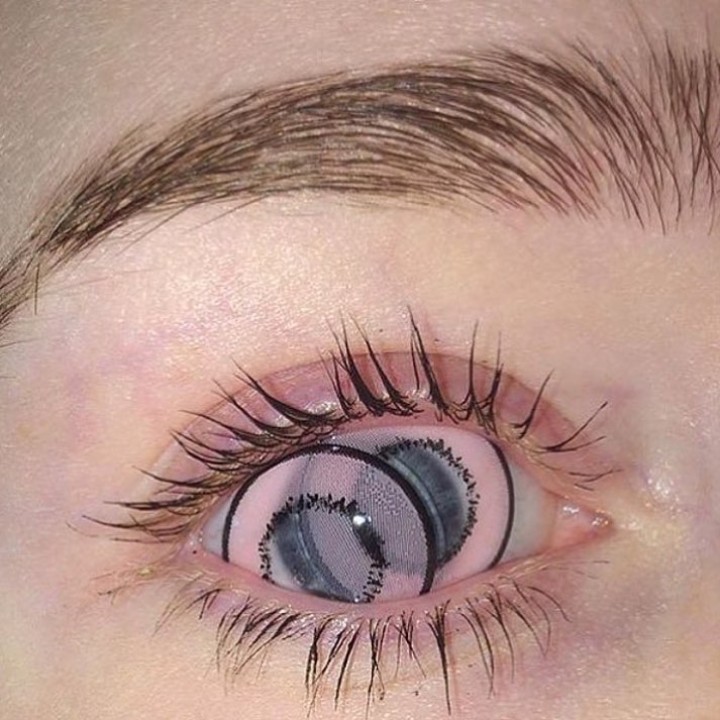 Image via Instagram
This article was originally published by i-D UK.
Jules and Gebs are best friends who disagree on absolutely everything, except for when it comes to the weird and wonderful world of underground beauty. Obscure facial piercings, doubled up contact lenses, heads shaved to look like flowers in full bloom, iridescent face shimmer, unibrows, no brows, wiggly brows, and whatever the f this is. You name it, these guys are all over it. So much so that they set up an instagram account dedicated to showcasing and celebrating it. Can we get a round of applause for @RavveBeauty?
"You look at Instagram and you see three types of beauty accounts," says Gebs, "the makeup artists, the big brands, and the influencers. And that content is very polished and very one-dimensional. It's like a beautifully orchestrated ballet. RavveBeauty is about celebrating the beauty alternatives, it's about showing people that at the end of the day, beauty isn't normative. We want to make you stop and consider, think, and accept. We use our content to open people's minds and to start a conversation."
"RavveBeauty isn't about being weird for the sake of it," Jules adds. "It's not about provocation either. Howeve, we do occasionally start beauty wars and we're okay with that. This one time we posted an amazing picture of a neck tattoo by an artist called @soto.gang that said "god is a woman". It was tattooed right in the middle of someone's neck like a punch in the throat and people went crazy. We got trolled and our community jumped in and started an epic battle and we watched that with a smile because, you know, maybe god is a woman."
When it comes to sourcing images, Jules and Gebs are committed, spending hours sifting through social media sites for anything that might catch their well-honed eye. From underground influencers, upcoming labels, tattoo artists, piercing parlors, and grill-makers to established designers, makeup artists, or the archives of the top photographers, they leave no stone unturned. The key is to be inclusive, selective, and diverse. "What's hard with curation is to find and keep your own voice, because we're curating content from other people. It's always easy to jump on a hot trend, the celebrity look of the moment or the crowd-pleasing image that ten other accounts have already curated. We don't want to do that."
As for the captions, that's all Jules. "He's clever and witty and daring," says Gebs. "He cares less about what people think and says things how they are. In real life, he says the things we're all thinking but are too chicken to say out loud. He puts it out there." Rave on, ravers.
Here they share their top five posts:
"@lizagysevskaya has reached insta-fame with a striking, sometimes disturbing play with contacts. She doesn't pretend that her heterochromia is real, it's clearly made up. What's cool is she wears it like others wear haircolor or lipstick."
"@peterdevito posts artful pictures challenging the notion that perfect skin is either possible or even enviable. Instead he focuses on personal stories and self-confidence as an alternative to makeup or photoshop."
"@jo_tyf's strangely beautiful nose jewelry."
"@jeanchang.1993 is a model and has this incredible tattoo on the back of his head. We loved the double message of being a good-looking human on one side and a non-conformist alien on the other."
"@gabbois creates content that is always original, visually arresting, and challenges the beauty norms."