Photography Stanislaw Boniecki
model seashell coker prefers club glam to instagram
"There are people who appreciate me and I think it's weird. They just like me because of the way I look. They should be fans of my parents… they're the reason I'm here."
Photography Stanislaw Boniecki
"Being a model is very peripheral to my life," Seashell Coker tells i-D. "I don't approach anything in my life as a model." It's the type of self-effacing statement you might expect to hear from any number of New York's new wave of underground anti-models, but No Agency-signed Seashell legit DGAF about the trappings of fashion life. She arrived at our shoot on a bus via Bushwick, and name-dropped only a low-key UK fashion brand, HELENAMANZANO. This past NYFW season was more chill than usual: Seashell hit the runway in freaky florals for Gauntlett Cheng, and posed with blunt-smoking boys at Hardeman's hotboxed presentation on the 11th floor of the West Chelsea Building. She describes China Chalet's late night Club Glam ragers as "super comfortable for me" — though sometimes skips them to watch Steve Wilkos in bed. Her style icon is her mom. She doesn't hide the fact that she has a normal day job.
In a world where diversity is often used as a marketing tool and brands cycle through muses like new lipsticks, Seashell is making a career out of just being herself, and reminding 12K kids on Instagram to do the same. She embodies what people still don't understand about growing up today: there's a big difference between "communities" and "scenes," and changing up your style is about finding yourself rather than assuming a different identity. And sometimes it's just about staying in and powering down: "You can be a loner and still have lots of fun." We talked to Seashell about the underrated allure of Baby Phat jeans, and why the best parties are like family reunions.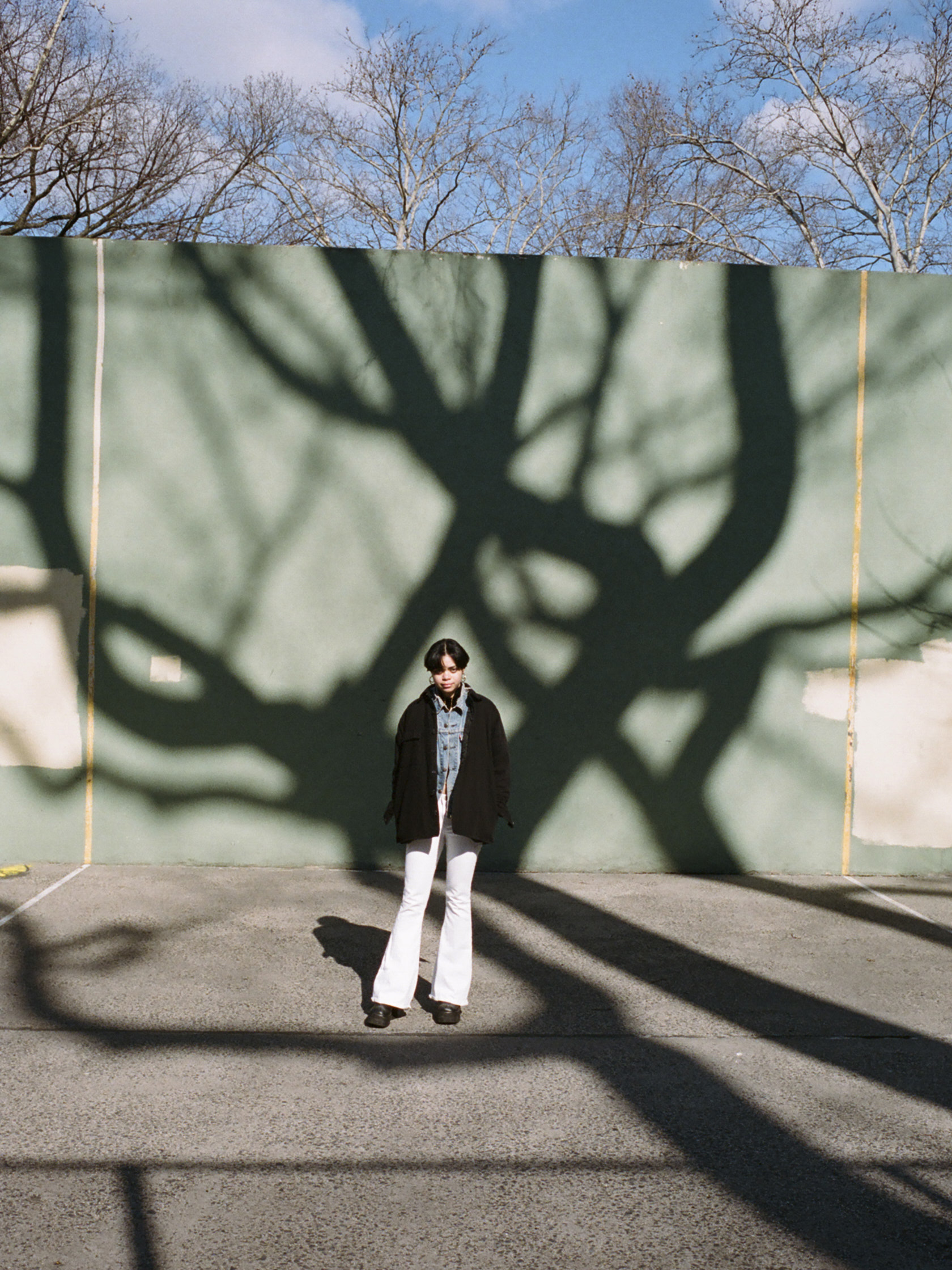 How did you first start working in fashion?
I don't remember how I started modeling. I think I was just hanging out in Bushwick and people were asking me who I was. Then people started asking me to shoot for fun and then that led to editorials, et cetera. It has all been a blur.
What young designers are you excited about right now?
I am super excited about HELENAMANZANO, it's a UK-based brand.
Who are your style and beauty icons?
I take a lot of style influence from remembering what my mom looked like when I was younger. She has always dressed super cool. On the other hand I usually just wear really basic and comfortable clothes, like a Hanes t-shirt and Levi's or Carhartts. There isn't much outside influence when it comes to those outfits.
What did your mom wear?
My mom has always worn lots of jewelry. Multiple earrings, lots of bangles that made noise whenever she moved, necklaces and toe rings. At one point she had a nose ring. Her makeup was always good, she would wear brown lip liner and sparkly pink lip gloss and she'd draw her eyebrows on. One of the most memorable outfits she had was a Baby Phat denim romper. It was like a halter top connected to skinny jeans and on the butt it said "Baby Phat" in big gold letters. She also had a lot of matching velour tracksuits. She'd usually have acrylics with a French tip and on one of the nails they'd punch out a hole and put a gold hoop in her nail, I've never seen anyone with nails like that.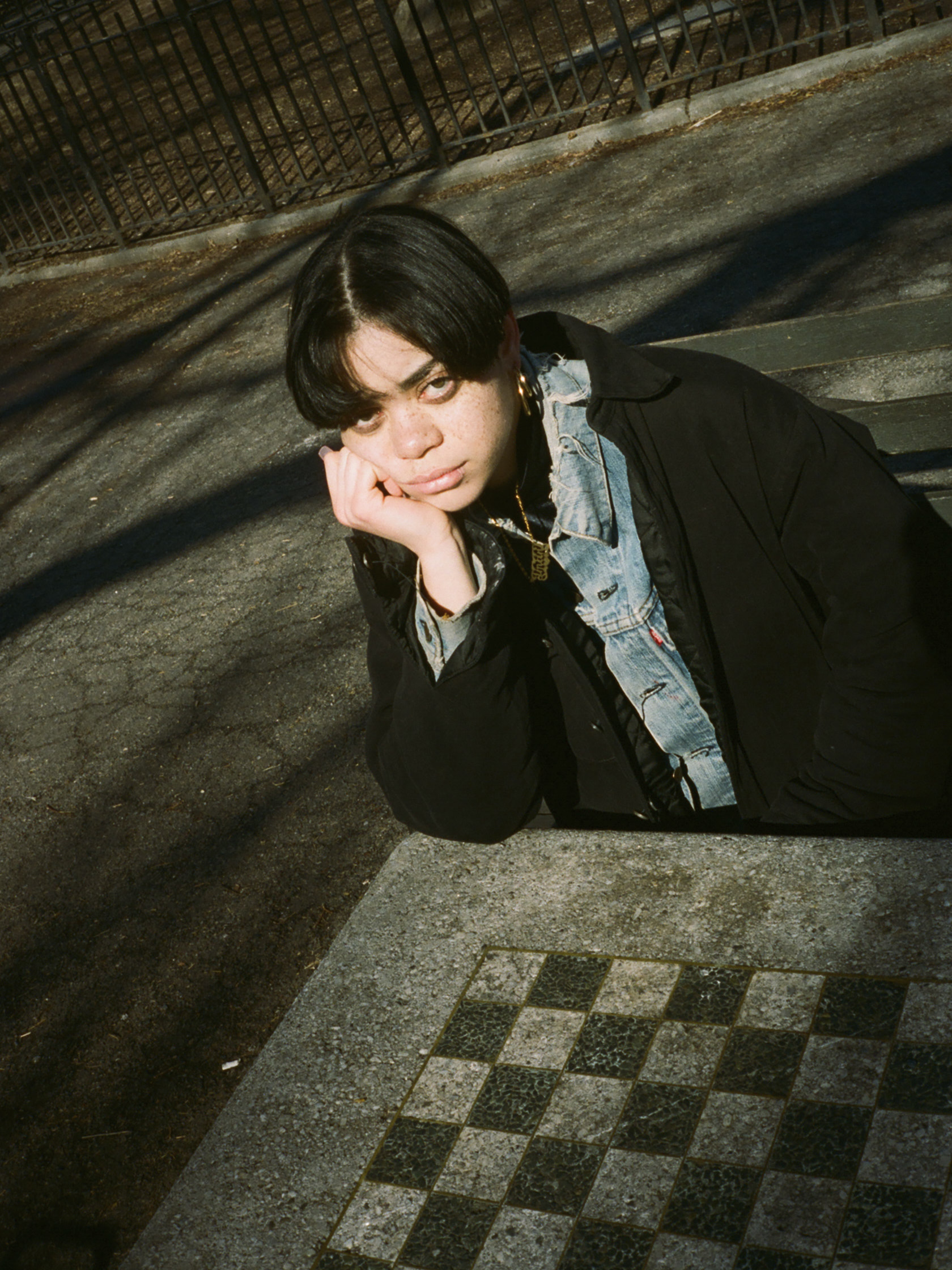 What's the best thing about being young in New York City?
I think the best thing about being young in NYC is that there are lots of outlets to use as resources in order to "find yourself." There are different people with unique viewpoints and most of them are down to hang out with you. You can be a loner and still have lots of fun. Most groups are really welcoming. You can experiment and most people won't judge you for what you've done.
Do you think diversity in fashion is improving in an authentic way?
I don't think it's very authentic. In most cases it people using diversity as click-bait. There is a long way to go.
What's the most important thing you have learned about yourself growing up?
I learned that I need to put myself first. I have a bad habit of putting all my energy into making other people happy. It's really draining. I think in these past couple of months I have been doing better. I fall in love too quickly.
What's your approach to social media? Is it cool or weird having fans?
I just post stuff on my social media that I think is entertaining or cute. My Instagram looks the same as it did before anyone knew who I was. I don't really know if I have "fans." I don't think I have done anything to deserve having fans. There are people who appreciate me and I think it's weird. They just like me because of the way I look. They should be fans of my parents… they're the reason I'm here.
What song best describes your wish for 2018?
My wish for 2018 is to just survive. I've been listening to a lot of Lil Peep lately.
Where's your favorite spot in New York City to chill, party, or just get away from everyone?
My favorite place to party in NYC is China Chalet, specifically the Club Glam parties. I usually host them, it's like a family reunion. I always see my friends and other people I know at those parties. It's super comfortable for me. My second favorite spot in NYC is my bed. I like sleeping and watching Dr. Phil and Steve Wilkos on my iPhone while I'm in bed. Sometimes I need to isolate myself from everyone because I get too overwhelmed.