Photography Mitchell Sams
a spring/summer 19 trend report
All of the season's hottest looks, wildest accessories and most iconic fashions.
|
03 October 2018, 12:50pm
Photography Mitchell Sams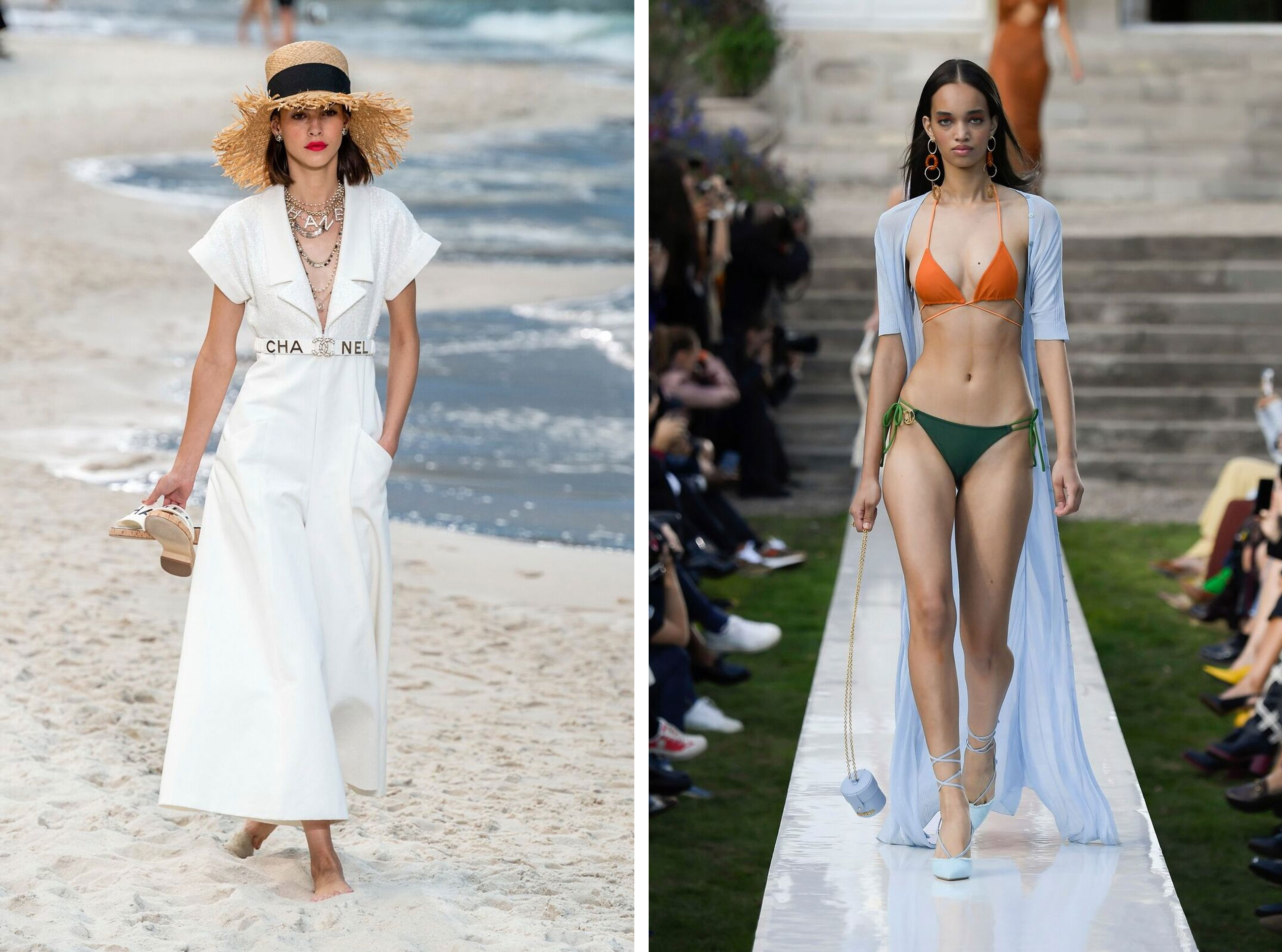 1. The beach…
The spring/summer 19 shows come right after the actual summer. It is impossible to watch the fashions stroll the catwalks, as autumnal days gets shorter and colder, without a faint echo of the glorious sunny days just gone. And what sunny days we've just had. An endless blaze of 30 degree days that melt cities. Not that those creative fashion people would know, because they spend all of the summer holidaying at very exclusive beach resorts. They drink very cold and refreshing lagers, stare out to sea, rub tanning oil on their gorgeous bodies. They read incredibly high brow books that people like you would not even dream of reading on a summer holiday. Then, when the inspiration strikes, they quickly jot down some ideas on a notebook laying around their gorgeous villa and fax them back to the atelier.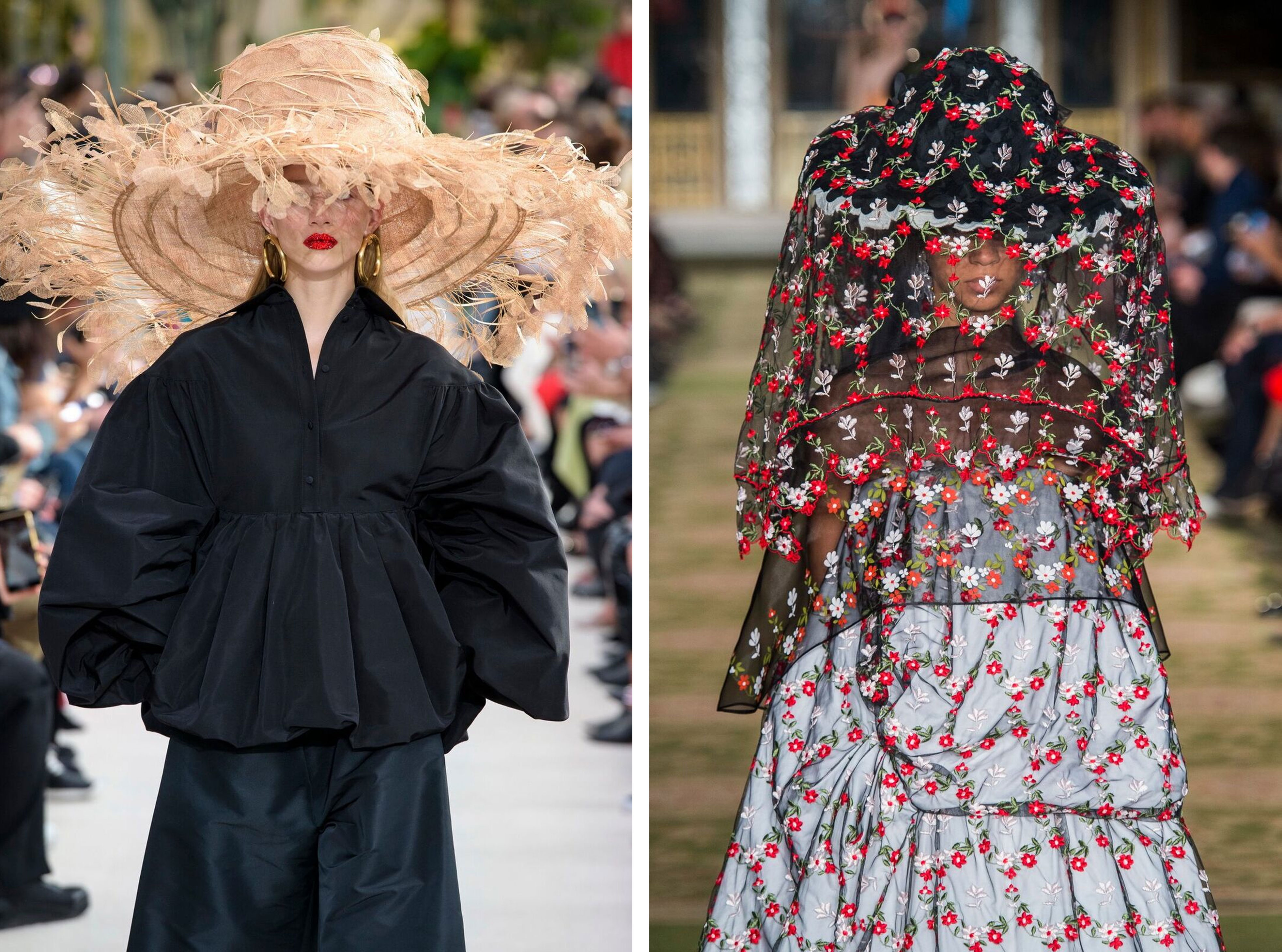 2. Hats…
And what do you need for the beach? You need a hat. So there were lots of hats this season. Mainly straw hats because straw hats are very practical for the beach. The best were at Valentino, because they were very big -- although not quite Jacquemus big -- and at Issey Miyake, because they were very big and also quite silly, and hats should be conversation starters. Simone Rocha and Erdem did big gothic veils because goths go to beaches too, sometimes. And as Marvin Gaye once sang, Wherever I Lay My Hat, That's My Hat.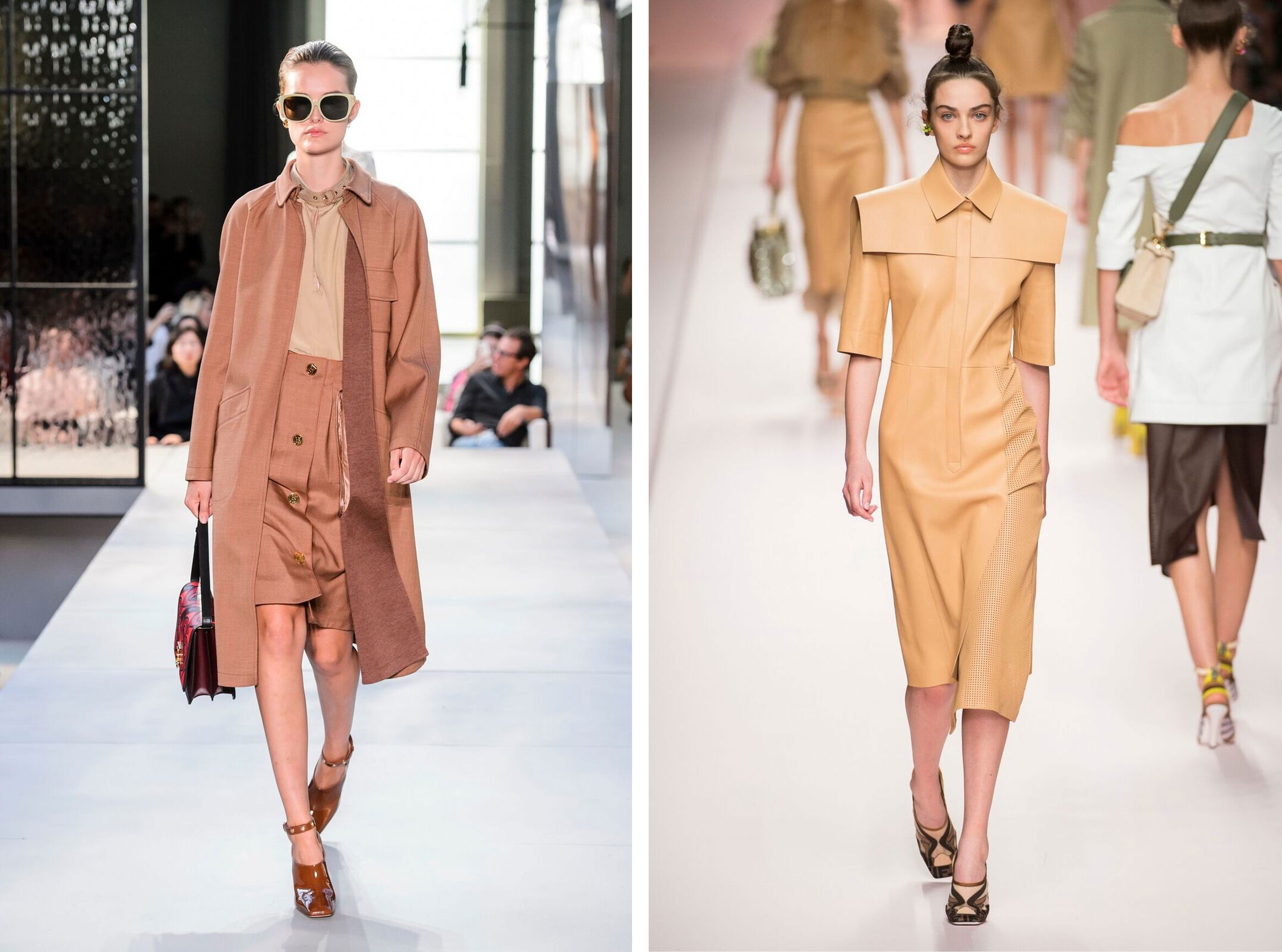 3. Beige…
This season the evil faceless overlords who control the fashion industry got deathly tired of shaking down millennials for money by making their brands make clothes that are woke and pink. Millennials are skint! They can barely afford to holiday at very expensive beach resorts! Let alone afford luxury fashion. So this season it was all about making fashion feel rich again, feel bourgeois, feel exclusive. Beige is the most beautiful and bourgeois and rich of colours and that's why it was everywhere we looked. It takes a real person to wear beige. In the way a real person just does not wear millennial pink. This season at least. Next season maybe something different.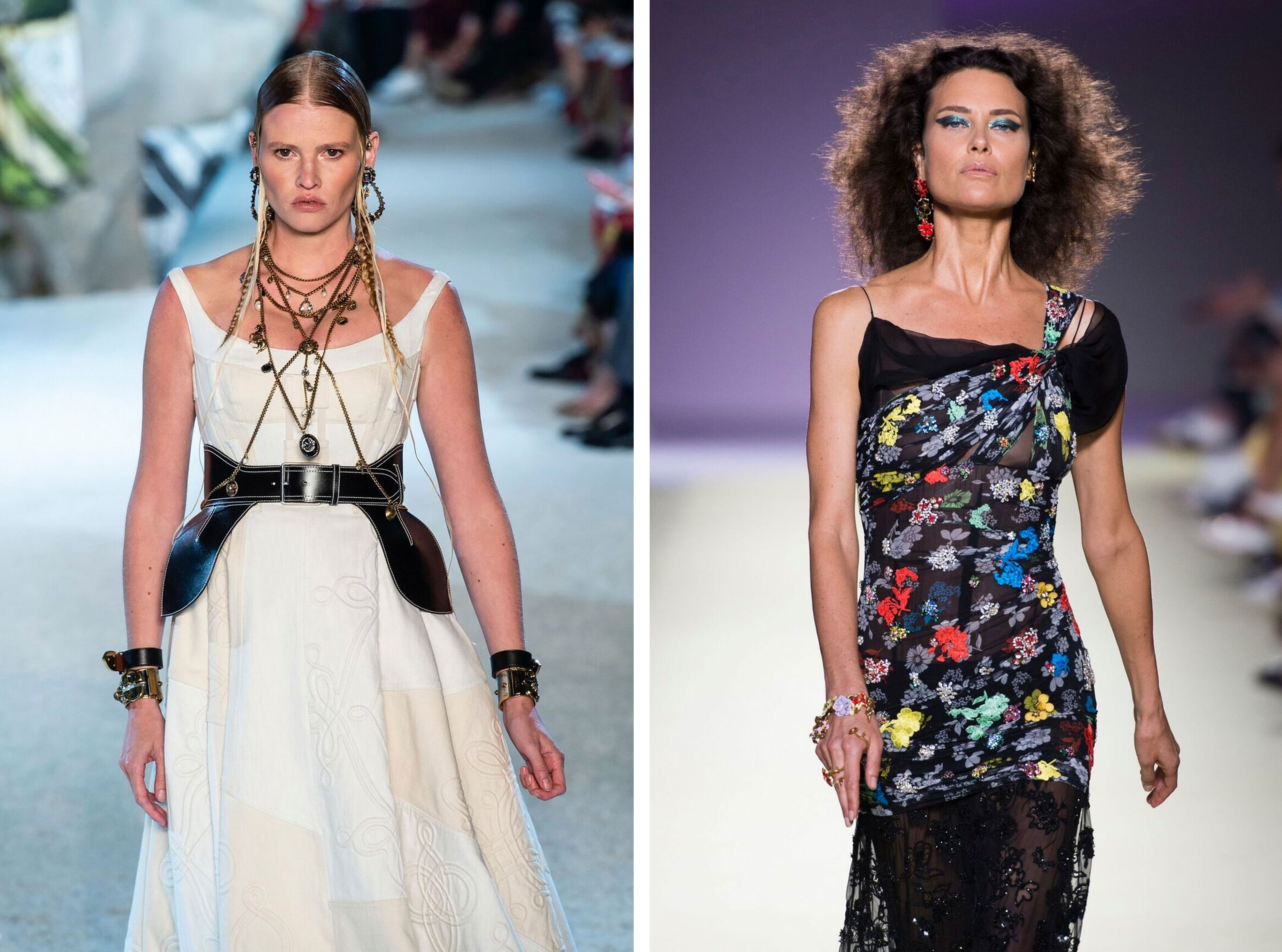 4. Old models…
Like above but swap "pink" for "young people" and "beige" for "old people". Old people are back! Old, in fashion terms, is like, anywhere between 25 and 37. After 37 you become iconic, or legendary, or people just stop talking to you. But there were loads of returning supers this season for much the same reason that we saw so much beige. Rich! Exclusive! Expensive! Bourgeois! These are all buzzwords we have shouted at livestreams of fashion shows at i-D HQ this season as Amber Valletta, Lindsey Wixson, Stella Tennant, Guinevere Van Seenus and Gemma Ward all walked that catwalk.
5. Cycling shorts…
One of those trends that was just suddenly everywhere on the catwalk, an unstoppable epidemic of MRSA-grade athleisure. I wrote a whole opinion piece about it a week or so ago. So if you would like to know why cycling shorts are on every hot influencers legs, you should read it! It only includes one bike pun, unfortunately. But to condense it: Virgil Abloh, Kim Kardashian, Princess Diana, comfort.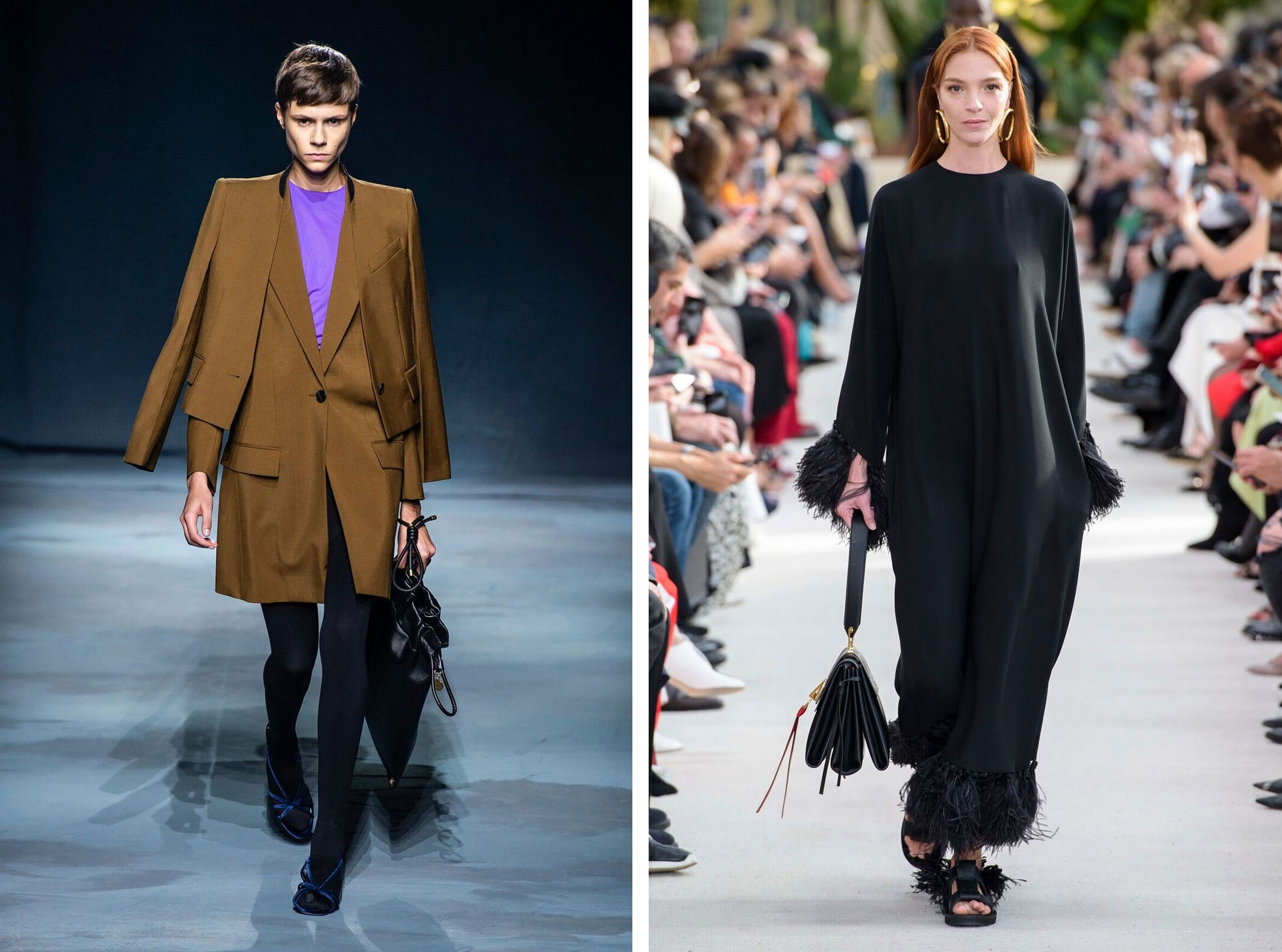 6. New demure…
This was a very non-sexy fashion season. For good reason. These are not sexy times to be alive. We had the spectacle of the Brett Kavanaugh hearings right in the middle of Paris Fashion Week, which put a lot of things in perspective for a lot of the FROW. But even before that, Milan, usually so glam and sexy and Italian, was a little more muted, a little less fleshy. Skirts were cut longer. Dresses had sleeves. It was all very demure. Miuccia teased out her whole show around the conflicting themes of liberation and conservatism. Givenchy was about strength and fluidity. Valentino was all rigorous artful black. Comme — the most explicit in its anti-ness — all protruding lumps and bumps, women symbolically weighed down by chains under slashed suiting. The most intellectual fashion take on men = shit.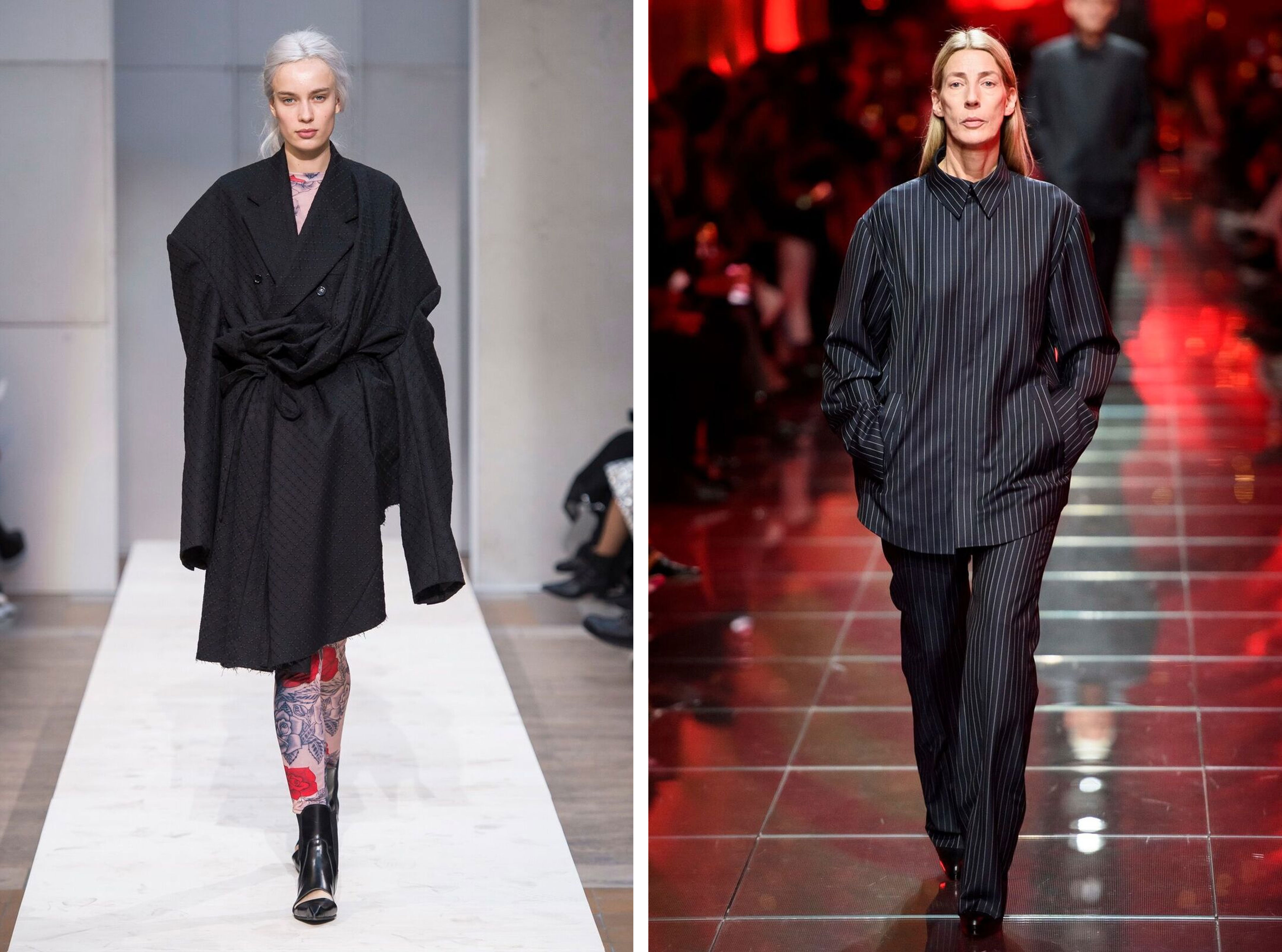 7. Tailoring…
Which leads us nicely onto tailoring, which was a big trend for womenswear, and provided most of the season's best looks. It was a flex of craft and skill and fabric — the base root of fashion. A reaction against the democratic atrophy of streetwear. Boredom with irony and finding a new love of sincerity in craft. From Riccardo Tisci's Nu-Burberry to Demna Gvasalia's 3D-printed Balenciaga to Givenchy's pastel shades to Comme's maternally slashed suited revealing baby bumps. Changing-evolving-deconstructions of formal wear and uniform dressing provided the season's most wearable fashion moments and the template for pushing fashion beyond the current lux-street paradigm.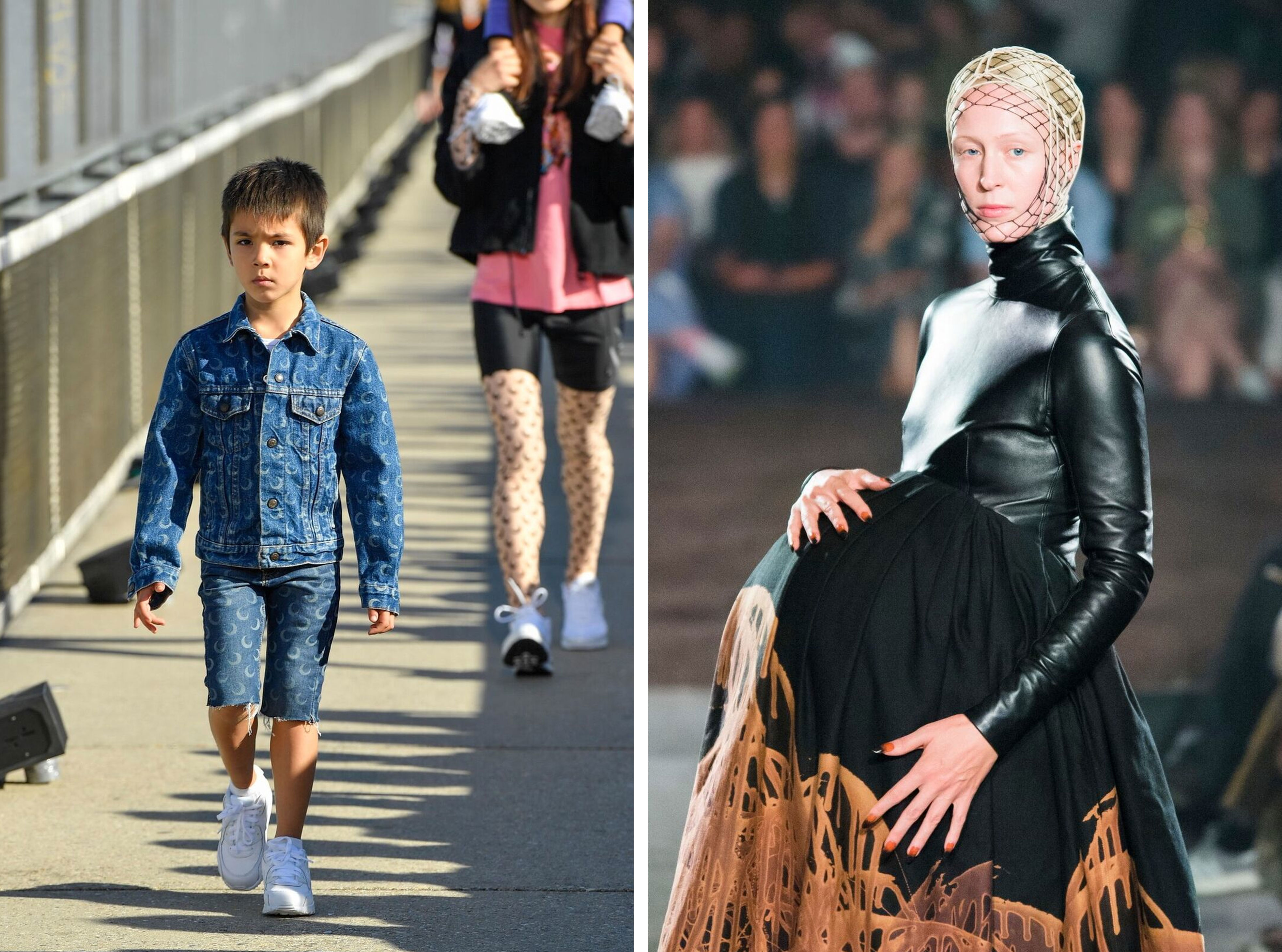 8. Babies…
Everyone loves babies. They are cute. They are funny. You can't help but smile at them when they smile at you. Even when they throw up on your couture. Even when they scream and scream all night long. Babies are miracles and it is about time fashion started celebrating them. They were carried down catwalks and banged on drums to provide soundtracks and it was adorable.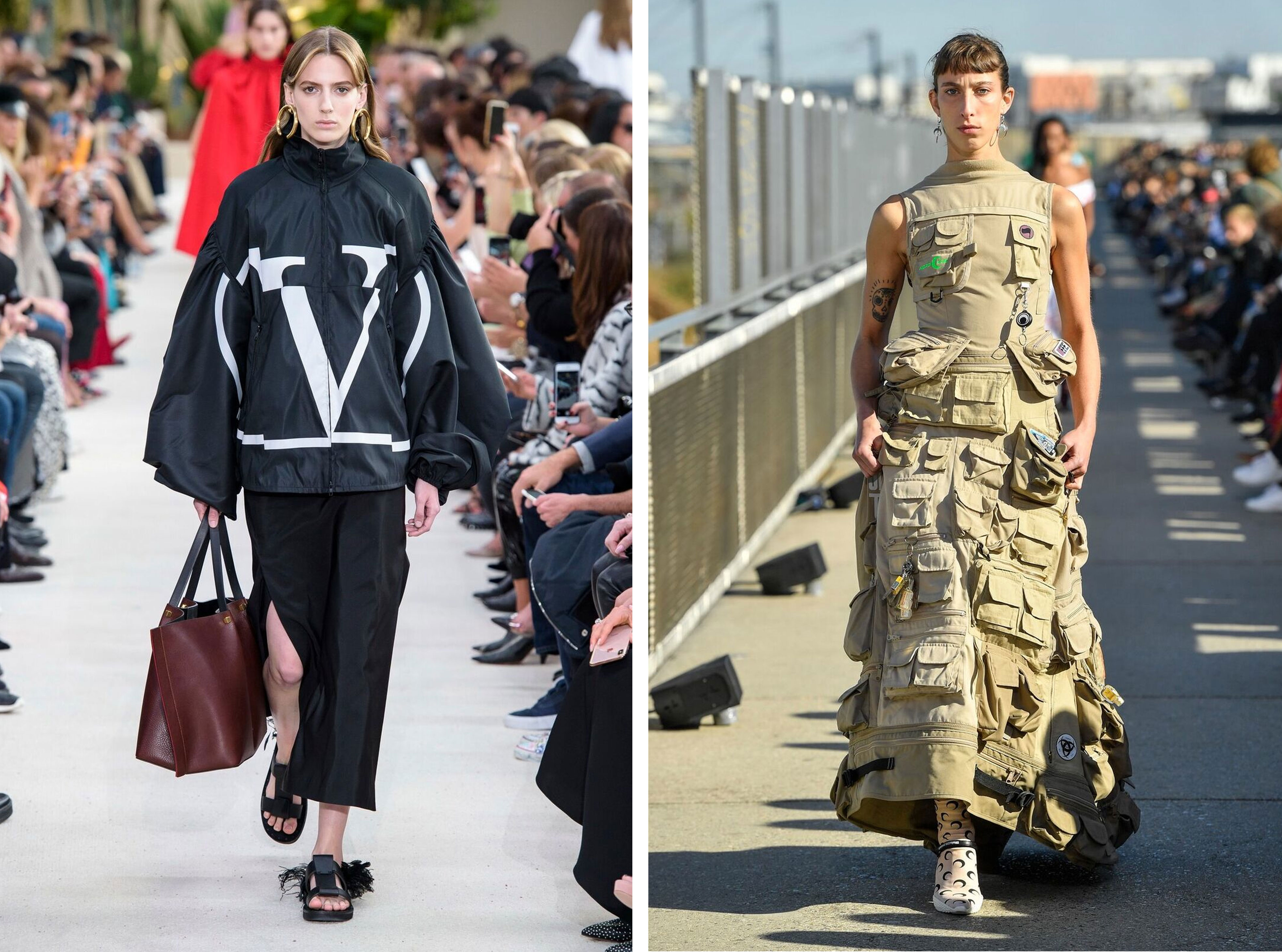 9. Utility…
After making babies fashion, the fashion industry decided they need somewhere to put their newly fashionable babies. Pockets? Pockets full of babies! Maybe? There were pockets on trousers. Pockets on dresses. Whole garments covered in pockets. Fendi made pockets the star of their collection. This was a season of practical clothes for real people made out of practical fabrics. You could even stick Valentino in the wash, apparently. Or at least it was all about fashion as something useable, wearable, believable.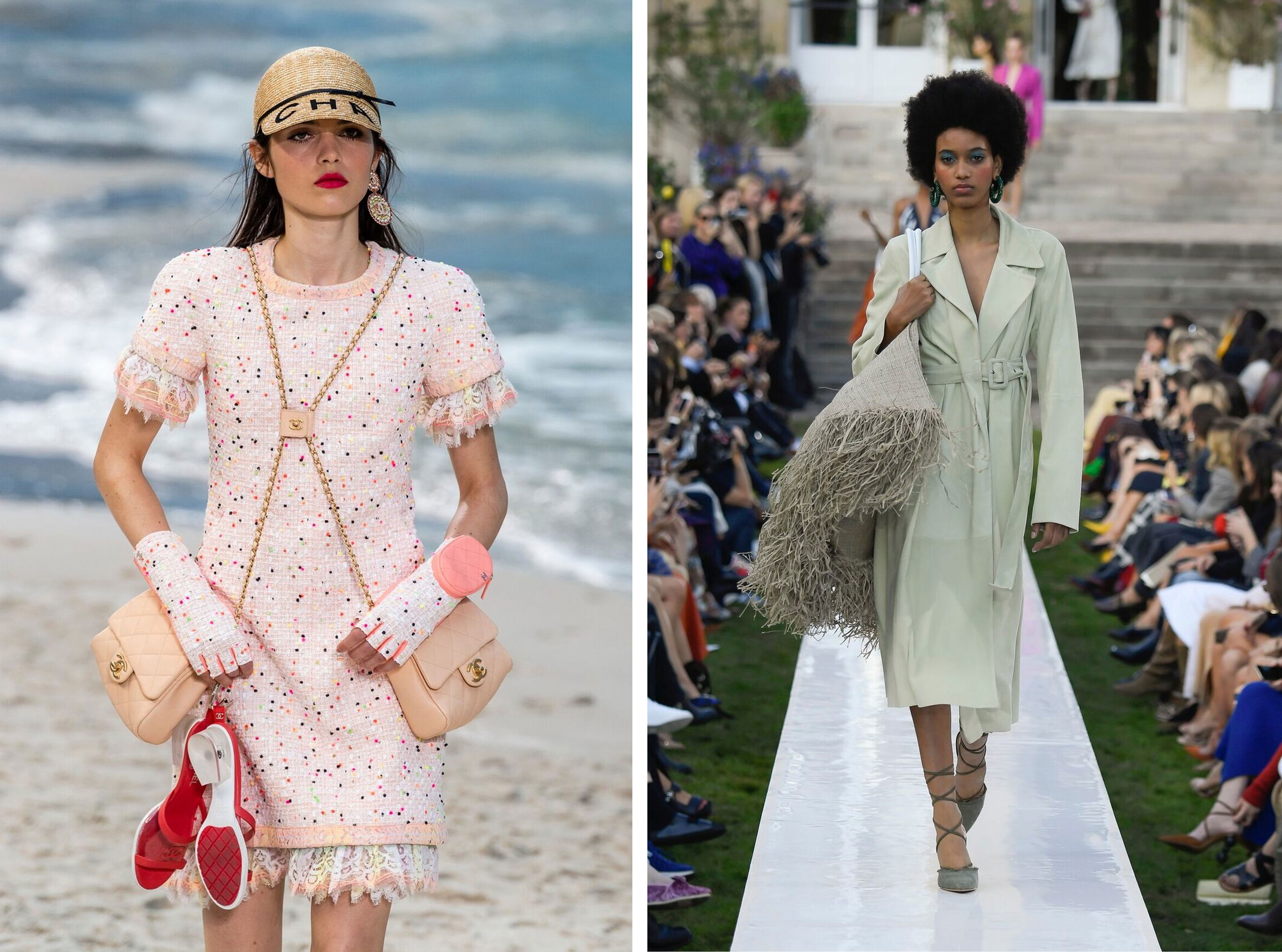 10. Size matters…
Fashion loves a visual catwalk gimmick sure to stick in the memory, as we traverse through a horrific digital hall of mirrors filled with a thousand blurry and identical runway Instagram stories. The actual clothes this season — after a few years of oversized, weirdly proportioned ugly fashion — were back to something more manageable and wearable (see above). So in lieu of that, we got 100 designers adjusting the scale on the accessories. We had teeny tiny bags and big monstrous bags at Jacquemus. Big straw hats at Valentino. Models at Chanel and Marques'Almeida carried two bags, just to hammer that point home. Loewe had oversized satchels. There were attention grabbing accessories everywhere.
11. The Philophiles…
The ghost at the feast. The spectre stalking Europe. The lazy coda to every lazy review of a collection of artful and intellectual minimalism. The divisive eruption of a million fashion commentators offering their opinions pro bono on the internet after Hedi's debut Celine show. Please Phoebe, come back, at least so everyone shuts up.
This article originally appeared on i-D UK.