sanam sindhi isn't scared to call out faux diversity in fashion
Whether modeling lingerie for Rihanna or designing boots for Jeffrey Campbell, the style icon f.k.a. @trustmedaddy is demanding the normalization of bigger bodies.
Photography Dicko Chan
Many of us were first introduced to Sanam Sindhi In 2015 when she made her debut as one of Rihanna's henchwoman in the video for "Bitch Better Have My Money." Ever since, Sanam has been making waves of her own. She's become a style and beauty icon in her own right, modeling for a Nike campaign, and working as Creative Director for shoe designer Jeffrey Campbell, where her job is "literally to be myself, which is all I could ask for quite honestly." There, she's made it a priority to promote inclusivity in footwear — think thigh-high boots for thick girls — while shining the spotlight on fellow WOC, including body-positive icon La'Shaunae, who helped curate a recent collection for the brand.
Born in New York, Sanam "kind of grew up nowhere and everywhere," living in India, New Jersey, Baltimore, Seattle, back to New York, and currently, Los Angeles. While Sanam has come a long way since "BBHMM," she still shares a commonality with Riri. Sanam is not afraid to speak up about issues in the very own industry she adores, and both Sanam (through her work) and Rihanna (through Fenty Beauty) are actually doing something about those issues. Sanam also teamed up with Riri again for the launch of Savage x Fenty, the singer's acclaimed lingerie line.
Here, Sanam talks about her hustle, the evolution of her style, and how designers need to step up and actually get real about fashion inclusivity.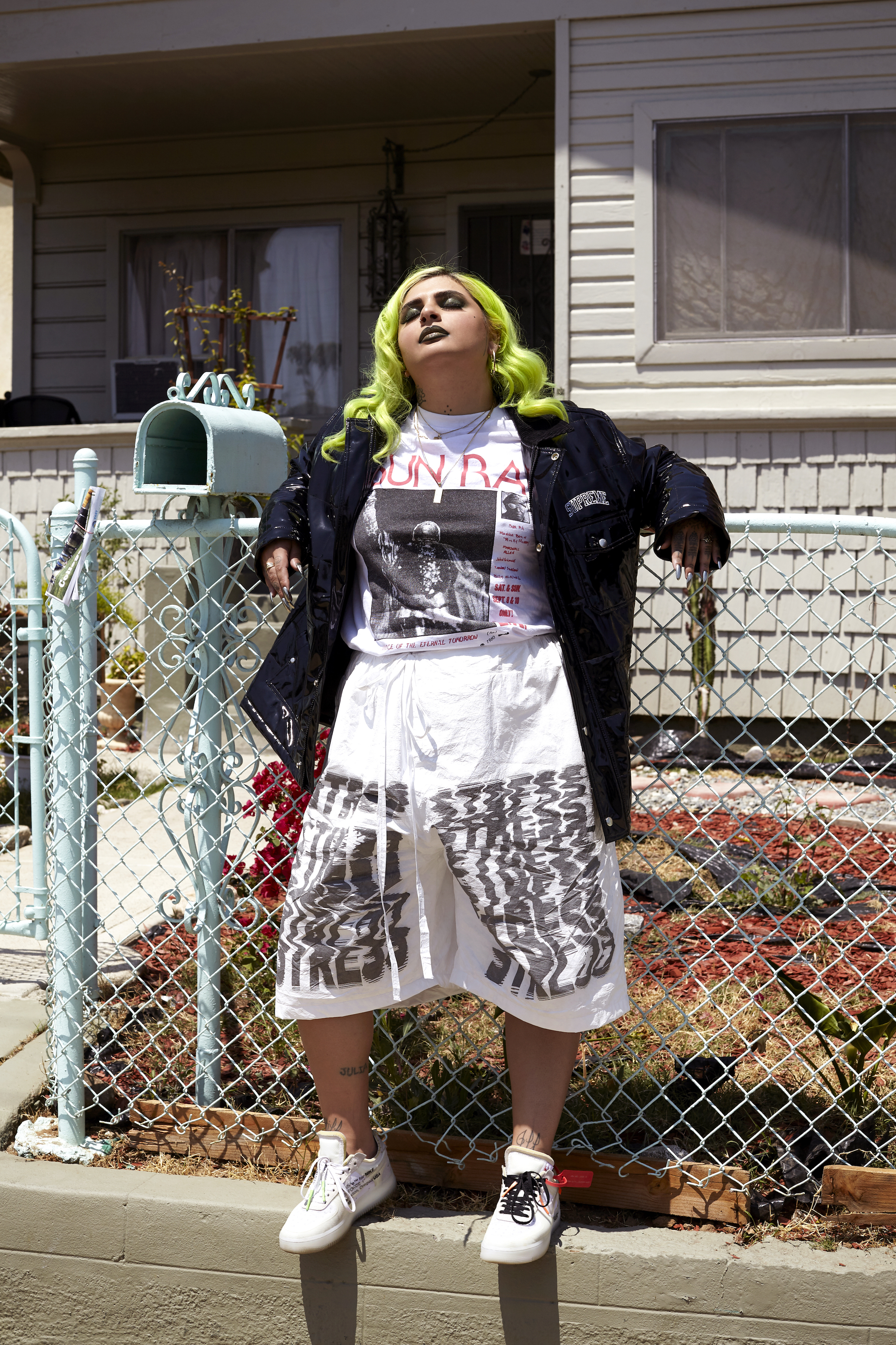 Describe yourself as a child. Who were your heroes?
I was an extremely intelligent child but also really emotionally volatile. My parents sent me to boarding school when I was 10, in Panchgani, which is a little tiny town in the mountains about four hours from Bombay. I remember that year as a monumental one in my childhood for good and bad reasons. Looking back as an adult, it feels like the time I spent there really defined and molded my perspective. I was obsessed with strippers as a child. I remember being seven and writing in my diary that I wanted to be a stripper when I grew up. I saw sex workers as really elegant and fascinating from a very young age.
I love seeing you thriving in all these different fashion campaigns. How did you get to where you are?
I dropped out of high school at 16 or 17 and spent my whole life working shitty jobs, mostly retail. After I did the Rihanna video in 2015, I thought my career was gonna pop off but I ended up in an abusive relationship, was broke, and couldn't book a job for a long time in New York — especially being vocal about how exploited I felt in this industry and who was exploiting me. I was reluctant to move to L.A., but at the same time it alleviated a lot of the pressure I felt in New York to seem successful and like I had my shit together. That move was the best thing I ever did for myself, my mental health, and my career. Not that Instagram "fantasy world" doesn't exist here but, it just felt easier to separate myself from it and go at my own pace. I struggled a bit in the beginning but the speed at which my life turned around in L.A. was astonishing. I remember January 1, 2017 having $8 in my bank account and wondering what the fuck I was gonna do with myself after my ex and I broke up. I ended the year making six figures, which is still really crazy to me.
You're outspoken about how designers still aren't inclusive enough about sizing. Can you talk more about that?
It sounds so grim, but I honestly don't expect fashion to take size inclusivity seriously any time soon, if ever. That's not to say that there's no progress, but it's one thing to put a thick girl in a campaign or magazine cover or runway so you can self-congratulate about how inclusive you are, and another thing to actually produce high fashion garments to fit bigger bodies and normalize those bodies instead of it being some kind of performative spectacle. And also, I mean, all the ethnically ambiguous, lightskin, sans double chin, hourglass thick girls who look great with no makeup on don't really give a fuck about actual fat girls either. If we're being real, where exactly am I supposed to foresee room for size inclusivity in fashion?
Obviously I carry a lot of privilege as a lightskin, non-black person who is relatively, and I use this word hesitantly, small by some standards, but this industry hasn't exactly been gracious and welcoming of ass-less, titty-less, just regular ol' fat girls like me either. If the casting directors and brands in this industry, whether established or indie, care to be genuinely inclusive then what is stopping them from casting someone who looks like La'Shaunae? Do you get what I'm saying? Or again, actually making garments for bigger people. Like, I love Jacquemus, but realistically, is he ever gonna make anything that fits me? Probably not.
Bringing it to beauty, what are your holy grail makeup products?
Glossier skin tint is good 'cause I hate foundation, baby blue eyeshadow, Colourpop "Beeper" matte liquid lip, Wet n Wild liquid liner, cheap lipliner, Pat McGrath clear gloss. I don't know, the older I get, the worse I am at makeup! What are the kids into these days?
What's skin care routine like?
In the morning, I use Dermalogica Clearing Skin Wash followed by a Dermalogica daily exfoliating wash. Then, Dermalogica Mattifying Moisturizer with Skin Hydrating Booster. I like to mist throughout the day with May Lindstrom Jasmine Garden. At night, I take my makeup off with micellar water or Neutrogena wipes if I'm feeling lazy. Then, I wash my face with a Dermalogica clay wash and use a heavy moisturizer. I like an occasional oil or face mask, but I've had the same skin routine for years and am way too lazy to experiment.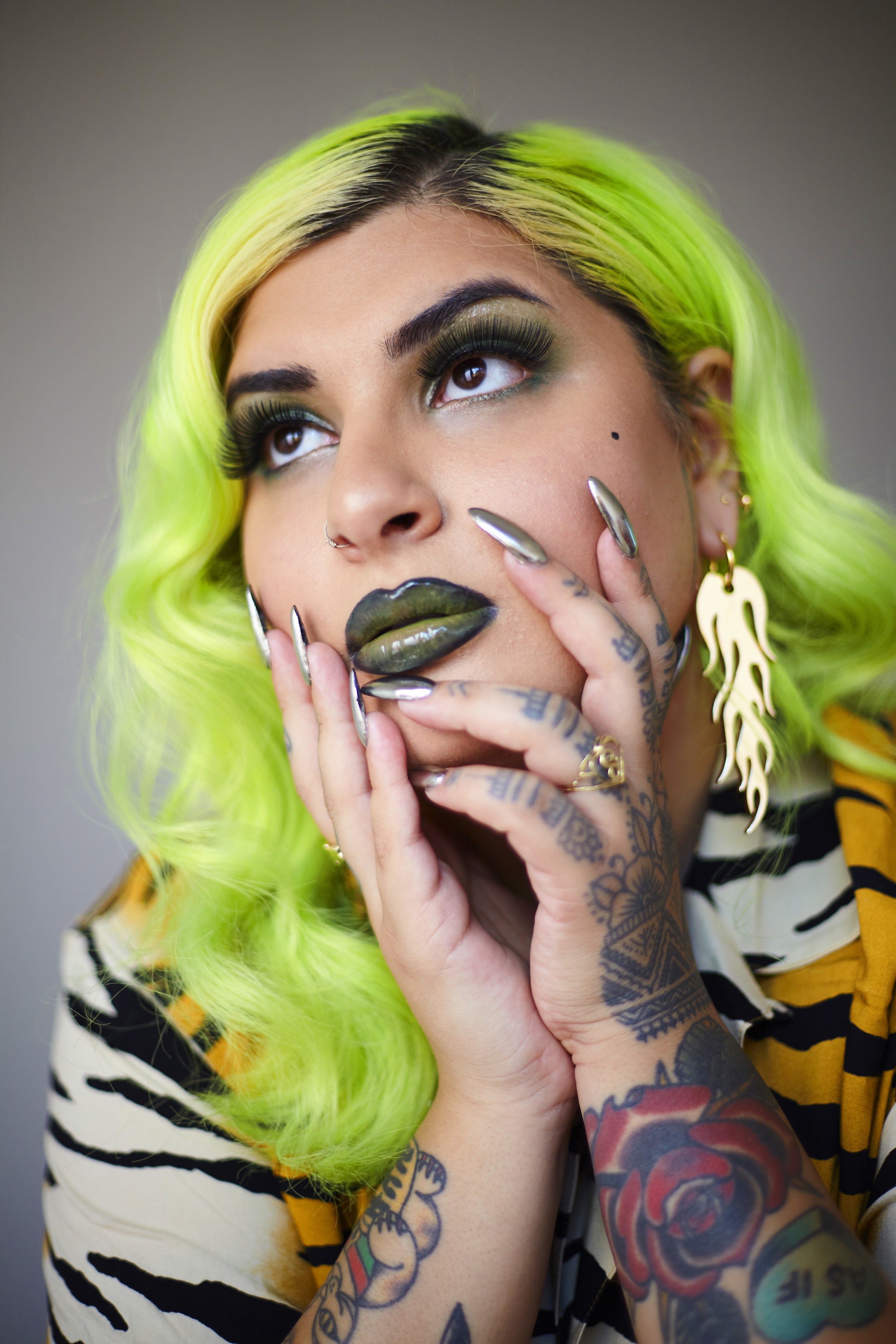 How has your personal style changed over the years?
Y'all would die if you saw 17-year-old me's tragic thrift store closet of pencil skirts and H&M leather jackets. I used to wear like 4-inch heels everywhere with a fucking flannel and some skinny jeans in 2009, I wanna say. It was awful. My style has always changed in accordance with my weight and bank account, but I'm trying to learn more about clothes in general and invest in craftsmanship and design 'cause I'm a brand whore and love flagrantly spending money on stupid shit like an all-over logo print. But I really like excessiveness and being gaudy and wearing giant graphics and clashing prints and just obnoxious and loud clothes, it feels brave and fun to me. Bags and shoes are where most of my money goes though, chubby girls know this.
What's the one thing you've always wanted in your closet?
The op-art dresses and jumpsuits from Gaultier's Mad Max collection.
What movies and music inspire you?
Right now I'm listening to a lot of Burna Boy, MC Bin Laden, Kelsey Lu, Bbymutha, Kelela, Vanessa Bling, and Total Freedom.
When do you feel your most confident?
When I got some new Nikes on.
What's next for you?
Hopefully a vacation.
---
credits
Photography Dicko Chan
Makeup Paige Marton
Hair Moe Alvarez
Look 1 - earrings: Steph Metal, top: Supreme, pants: Knorts, shoes: Jeffrey Campbell
Look 2 - top: Total Luxury Spa, shorts: Stress Ltd, jacket: Supreme, shoes: Off White x Nike
Look 3 - top: Jean-Paul Gaultier, hat: vintage