Photography Mayan Toledano
mademe and converse resurrect an iconic 90s shoe repair store
Lola Leon models the rebel girl collab from Erin Magee, Converse, and Boris of the beloved East Village Shoe Repair.
Photography Mayan Toledano
Around a year ago, Erin Magee was scouring Etsy for a pair of the exact Converse kicks she wore as a teenager in the 90s — classic suede One Stars with a subtle platform. She had been wearing the (slightly scuffed up) sneakers religiously for a few months when Converse hit her up out of the blue. "They approached me and were like, 'Do you want to work on something?'" she remembers "I had already been thinking for the past few months that I wished One Stars were available, especially these ones I used to wear with the little tiny platforms." Erin walked into the design meeting, plonked her Etsy shoes down on the table, and Converse went to work recreating them. Easy.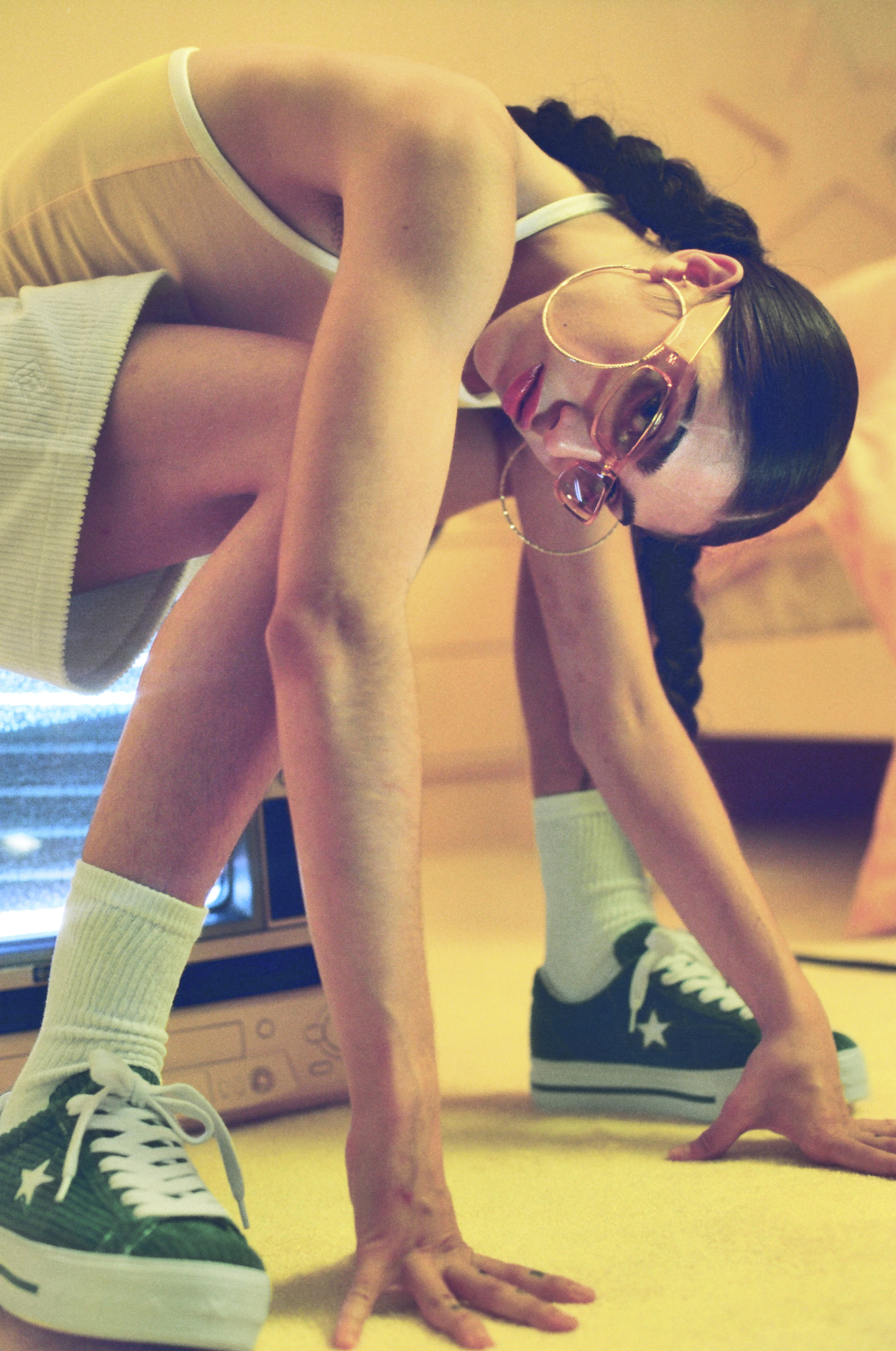 MadeMe x Converse's riot grrrl-era One Stars come in two colorways — bright yellow and army green. Both available in traditional suede, and a chunky corduroy. "It's so 90s. It's the most 90s fabrics," Erin laughs about the latter. She used the same thick fabric on a pair of baby raver backpacks, and a pair of perfectly awkward women's shorts, also inspired by her own 90s wardrobe. Those didn't come about quite so seamlessly. MadeMe has been around for over a decade now, but even in 2018's streetwear-saturated market, Erin's brand is one of the few to actually cater for women's bodies. "Converse has been really cool because I think that's a major stretch for them," she says. "[The shorts are] not a top-selling piece, it's a really distinct look. But it really speaks to the girl that I'm talking to."
The coolest part about Erin's new collab might not even be the apparel. Converse and MadeMe have created a bright yellow pop-up for the capsule's launch, manned by an elusive third collaborator who operates behind the scenes — or in this case, behind a makeshift shoe repair counter at the back of the tiny Delancey Street shop front. Former club kids might recognize him as Boris Zuborev, who used to run the iconic East Village Shoe Repair on St. Marks before being uprooted to Bushwick a few years ago.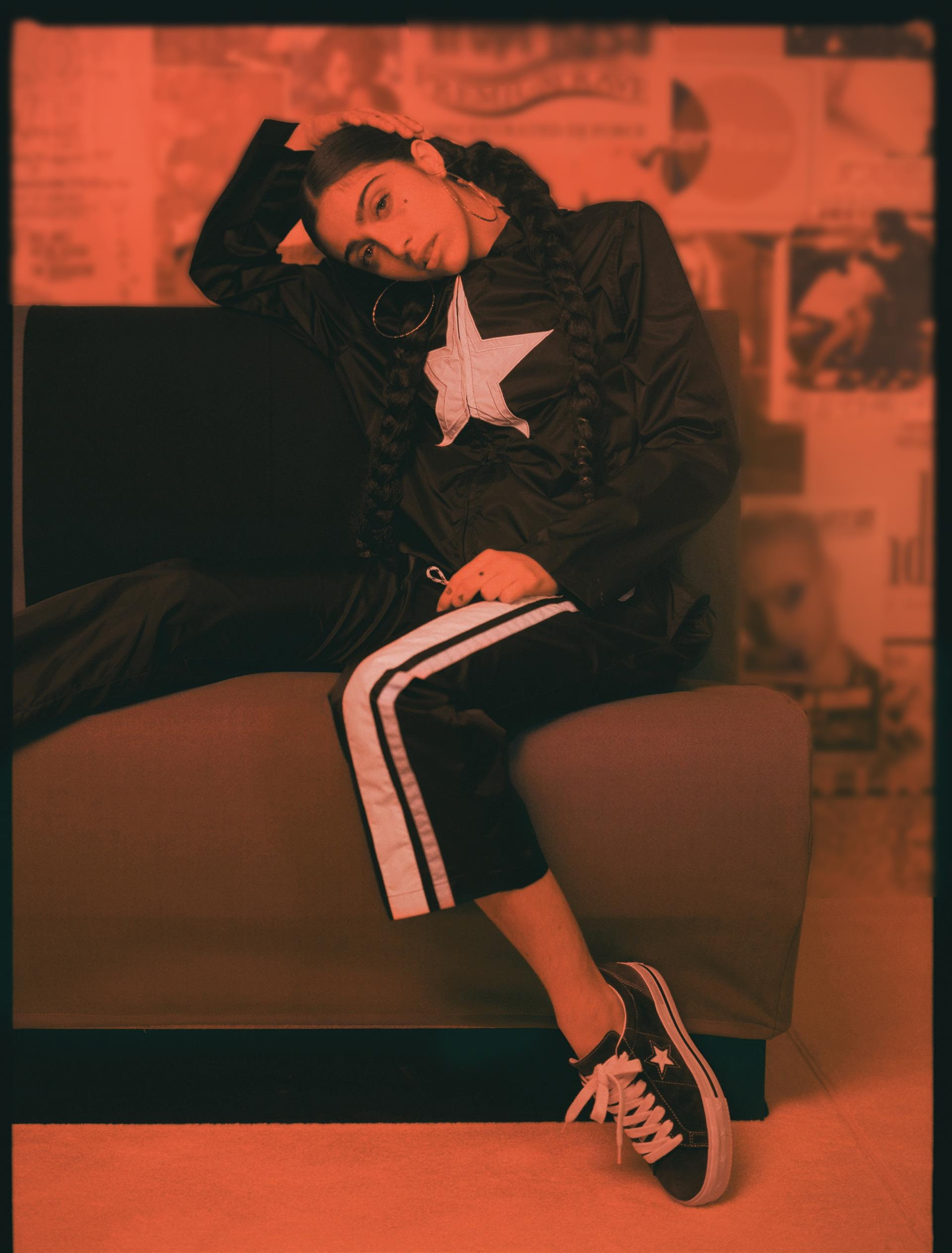 "It's where all the club kids used to get their shoes done," Erin recalls. "All those crazy photos you see of huge stacked platforms were done by Boris. He lost his shop five or six years ago and had to move out to Bushwick like everyone else on the planet. When Converse approached me to to do this pop-up, I knew I needed to find him and bring him back here." Customers can get their subtle platform One Stars expanded into slightly intimating 10-inch platforms, or even a pair of custom Converse roller skates. (Erin advises against me taking those for a spin. They're more like art pieces.)
Fronting the new campaign is one of Erin and i-D's forever favorite cool girls — Lola Leon, who flaunts the full set of apparel and shoes along with her signature armpit hair. "She's the coolest," Erin says. "She's not this overexposed person though she really could be. She's just legitimately underground, and so is MadeMe." So how does Erin think the relationship between women and streetwear has evolved over the last decade? Truth is, she doesn't think about it much at all. "I think MadeMe operates in a different way to other women's street brands," she muses, using Lola's armpit hair as an example. "Everyone's freaking out. I read the comments and it seems like the only people taking issue with it are guys. But this isn't for you. It's really a brand that's for girls by girls. That's all I try and do." Erin accurately sees MadeMe as playing a different ballgame to street brands that create women's clothes almost as an afterthought. "It always seems like what your boyfriend wants you to wear. MadeMe's like, 'Who gives a shit?'"