heels are dead because of growing sneaker sales
Goodbye and good riddance.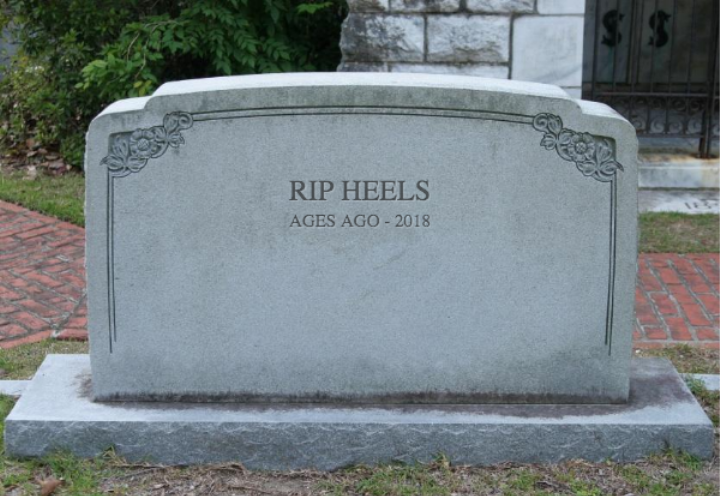 Image via Tombstone Generator
Heels. Not the comfiest of things, are they. Hardened leather shredding your achilles, deadened balls of your feet, calf cramp. Thankfully, fashion has come to save the day by way of our snowballing obsession with sneakers.
New information from resale platform thredUP notes that there's been a 38% increase in "heel purges" -- aka people ridding their wardrobe of all footwear thin and pointy. Meanwhile, sneakers enjoyed a surge in popularity, up 46%, Business Insider reports.
The news comes on the back of a similar report on the increasing prevalence of casual footwear, we wrote about just yesterday: "An article by Chinese consumer trend website JingDaily argues that with the increasing popularity of athleisure, and more relaxed attitudes around general attire, formal wear and footwear are losing sales."
It's not surprising -- sneakers are the new handbag, the new status symbol. They're being championed not just by athleisure companies like Nike, but by major luxury fashion houses like Balenciaga and Louis Vuitton. Whether it's the former's beautifully fugly Triple S, adidas trainers made from Berlin's subway seats, old school Vans, Supreme x Nike or Virgil x Louis, we can't get enough. The uglier the better.
Which is great, if not surprising news. After all, why put yourself through physical torture for a couple of extra inches when you can live in comfort?
This article originally appeared on i-D UK.