baby cages's 'polly' explores a queer garden of eden
The Toronto guitar-pop outfit's nostalgic new video was created by a crew of women and queers.
Still via Vimeo
The psychological slog of falling out of love gets tuneful attention in a dreamy new release from Toronto's guitar-pop outfit Baby Cages.
Lush with vocal harmonies and vibraphone flourishes, frontwoman Halloway Jones coos from the perspective of a wistful lover struggling to stay committed to the titular "Polly," despite feeling deeply for her. "Is it really morning now / can you find me, Polly? / was it even worth the wait / now I'm all yours," she murmurs in lo-fi, as the refrain culminates in a brooding, savory purr of her lover's name.
The single premieres on i-D with a corresponding music video directed by Heather Rappard that presents the story from the perspective of Polly, who at first appears blindly in love, but slowly tunes into the romantic disharmony. After a period of reflection, both internally and externally into a mirror, Polly accepts that it is time to put her relationship to bed, and gently places a pillow under her sleeping lover's head. The video's narrative arc is cleverly mirrored by visuals from Art Director Laura Hudspith: as the realities of their relationship come to light, the set becomes less and less plastic. A pastel picnic scene, decorated with fake flowers, gives way to rotting foliage.
A follow-up to the darker, sultrier "Gold," the single touches down as one of six releases from Baby Cages's forthcoming LP Bitter Melon, which drops as a visual album a la Beyonce's Lemonade or SSION's O. All six videos from the album, including "Polly," were created by casts and crews exclusively comprised of women, non-binary people, and other members of LGBTQ communities, many of whom are emerging artists or first-time directors. Bitter Melon also marks a shift in sound for Baby Cages, a sweeter, pop-oriented collection for a group rooted in goth aesthetics.
Bitter Melon will be watchable in its entirety on June 29, followed by Baby Cages's tour of Canada and the United States in July and August. On the occasion of the premiere of "Polly," i-D talks to singer Halloway Jones on the band's beginnings, the making of the visual album, and souring love.
How did Baby Cages begin and how has it become what it is today?
Baby Cages started as a solo thing when I was living in Halifax. I played a billion-year-old guitar and sat on the ground, strumming slow, moody songs. Jeremy Costello, who was helping me record those first songs, added some synths and drum machine. From there, we became a duo and started to sound a little more complex. The band has changed lineups a dozen times since then. Now I'm older, the songs are more thoughtful, and the project is a six-person band. We have a real live drummer, not a drum machine, which I think makes a lot of difference energy-wise. As a group, we were more inspired by pop music this time around. My moodiness is still there but now we've got a lot of high energy, positive personalities involved and I think you can feel that too.
Is the name "Polly" a play-on-words? When I hear the name and connect it with queerdom, I immediately think of polyamorous relationships.
Polly is a good cat name. It's PJ Harvey's name. It's an older name, nostalgic — it's a good fit for such a wistful song. People try to frame polyamory as the answer to monogamy's problems, but it comes with its own baggage for sure. There's no formula to solve for healthy relationships, adding more people to the problem can be a very gluttonous decision if you're not prepared to do a lot of emotional work.
So "Polly" is about souring love.
Polly is about doomed love. They both know the end is near. The video depicts the flip side of the song. Everything is decaying around this gorgeous couple. It's really tragic.
Does this come from a personal place or experience?
In my early relationships I was slow to learn how to express my needs clearly, or even what they were, so I absolutely participated in some lopsided romances. I dated people I knew weren't a good match for me. I think we all break a few hearts.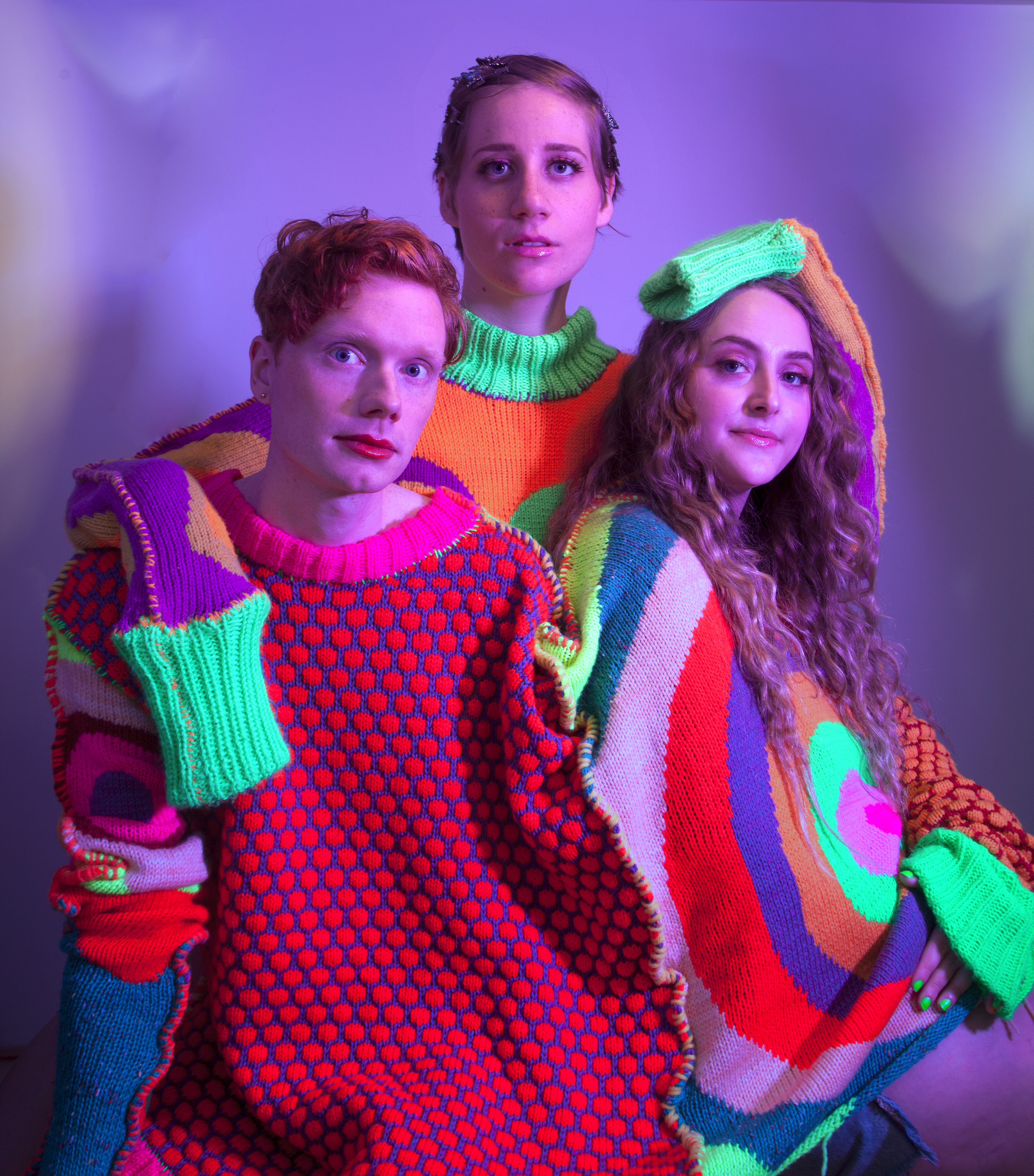 How would you describe your music?
I like to say Baby Cages is ruminative guitar-pop. I can hear myself chewing through ideas slowly but it's pop music for sure. I love a catchy chorus. No shame.
What do you hope your listeners will gain from listening to your music?
"Polly" is a wistful daydream, with a simple melody and cushiony layers of vocals and vibraphone. I think a daydream is the perfect space for the brain to process information, to explore complexities and deepen compassion for others' lived experiences.
Your album Bitter Melon is releasing as a visual album. Why did you choose to debut it in this way?
I was a visual artist before I was a musician, so visuals are my mother tongue and music is a second language that I'm working on. Using both music and visuals to tell a story feels closer to natural for me.
Cool! Could you describe your visual art practice? How did it influence the visuals we see in the album's music videos?
I was a painter, sculptor, performance artist, and video maker. I always used whatever medium made the most sense to explain whatever I was trying to say. I like to think I encouraged the directors to interpret the songs using the imagery that made the most sense to them.
How did you decide with which directors you wanted to collaborate?
Heather Rappard has been making brilliant music videos for years, and she's one of my favorite people on the planet. She helped with most of the other Bitter Melon videos as director of photography and as a mentor for the first-time directors. I asked some artists who had never made a music video before to be directors because I really wanted to facilitate that opportunity for them, and Heather was there to help with the technical side of that. All the directors were women, non-binary, gender-fluid people, or men from LGBTQ communities, and they were all so incredible to work with. I can't believe how great the teams were and how lucky I was to work with so many amazing artists.
How hands-on were you in the process of making the video?
I was probably more hands on than I needed to be considering this team was so incredible. I produced the video, mostly working as an extra set of eyes and hands, and facilitating, trying to make things run as smoothly as possible. That mostly meant driving people places and keeping everyone fed and hydrated. Heather Rappard is a superhuman, and could have handled everything single-handedly, but I loved spending time with her, so I tagged along every step of the way. Everyone had complete creative freedom though, like, Laura Hudspith's set design and handmade props are all so clearly from her world.
And the actors were just so perfectly suited for their roles! Like, in real life, Zakiyya Thurston personifies that glowing, unattainable heartthrob, and even after meeting a handful of times, she could never remember Nicole's name. It was hilarious, just a perfect fit. Nicole Randall is one of my oldest childhood friends and the most professional actor I know. When I watched "Polly" the first time I was so upset for her, she just looks so genuinely heartbroken that I teared up.
Is there anyone with whom you dream of collaborating?
These were my dream collaborators. Everyone involved was brilliant and worked hard as hell to make this video beautiful.
Who or what are some of your musical inspirations?
I just write what I know. I'm inspired by the people around me, their experiences, our relationships, and our community.