Images courtesy of brand.
these biodegradable stilettos should be the next big thing
Sydney Brown is aiming to fix fashion's sustainability problem.
Images courtesy of brand.
Fennel, seeds, and lab-grown leather: these are just a few materials the vegan footwear designer Sydney Brown is experimenting with. And though the aforementioned materials are surely groundbreaking, her invention of the world's first biodegradable stiletto is even more impressive.
"We've had a very strong commitment to using as little plastic as possible," Sydney tells me over the phone. She's currently in Hawaii, in the process of opening up her own studio. "With every collection we try to do a bit better." The brand, known for faux nappa clogs, heeled ankle boots elegantly dyed with wine, simple sneakers, and sandals made of iridescent materials for both women and men, will also launch handbags for the very first time for its spring/summer 2019 collection, continuing its forward-thinking sustainability.
"We're really excited now that this is viable and we can go forward," Sydney muses on about the biodegradable heel, which Natalie Portman wore during her appearance on Saturday Night Live earlier this year. "And then, we can do a lot more interesting designs as well. This is just kind of the tip of the iceberg." The environmentally friendly heels will be available for sale as early as this summer.
Sydney, who now designs her boundary-breaking shoe line full-time, didn't always know she wanted to work in fashion. She formerly worked in the music industry as the co-founder of the 24-hour electronic music festival in Japan, Taico Club. Since vowing to give up leather in 2010, she's been slowly working on her line (now sold at stockists ranging from Urban Outfitters to indie boutiques) which was first produced in L.A., before moving factory production to Porto, Portugal.
Here, the experimental footwear designer talks to i-D about working to improve sustainability in fashion.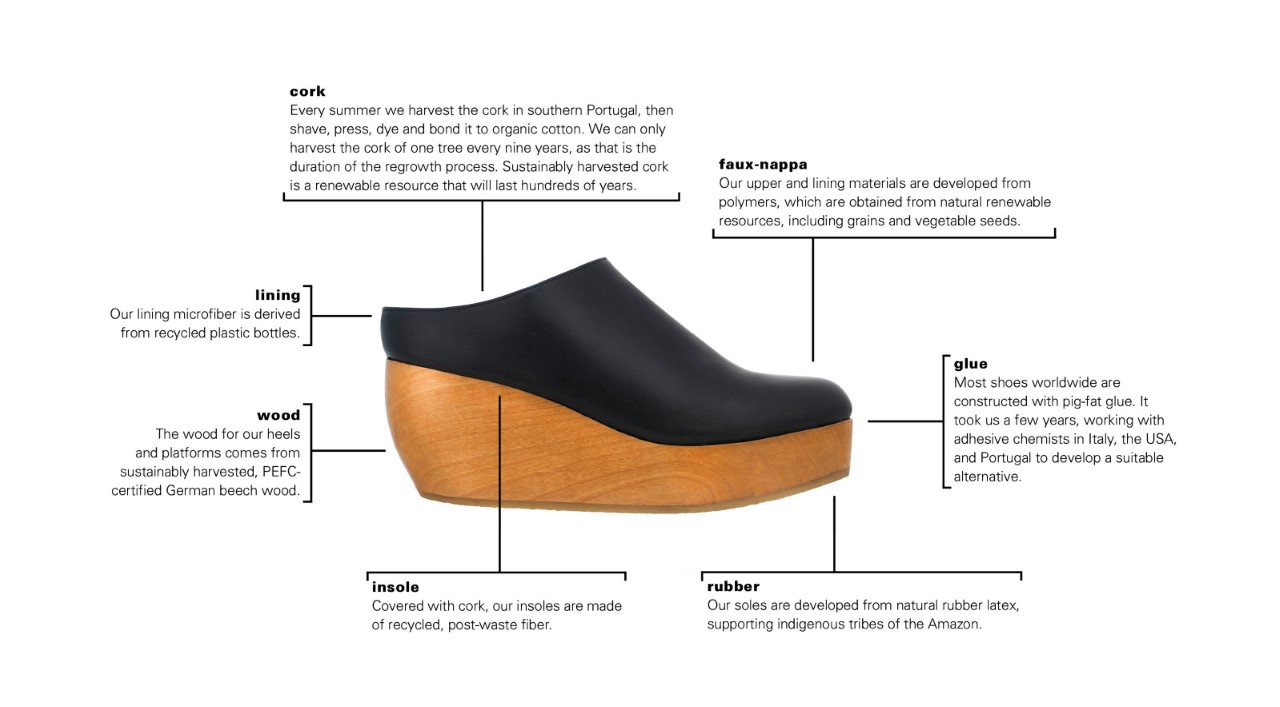 What's the process of creating the world's first biodegradable stiletto been like?
It took on and off about four years. I had my own factory and I was doing a lot of the actual work, the production, myself. And I specialize in wood, so I was doing a lot of the wooden heels. We were just trying to get the wood thinner and thinner, you know, without it breaking, and there was no way of doing it.
We started researching and found a place in Portugal that was willing to experiment. Most stilettos heels and very slim heels are made from a plastic kind of mold. So in order for us to do stilettos we had to come up with a different alternative. We've basically been taking wood pulp and we've mixing it with a resin that's made from the American sweetgum tree. We then created this new material from that, and then we put a steel rod down the middle for stability and for strength. Natalie Portman even wore our very first prototype on Saturday Night Live and was jumping up and down and it didn't break!
Your most recent collection also featured a collaboration with a winery. How did that come about?
Our primary studio is in Porto, Portugal. Porto is the center of Porto wine. We're always looking for more sustainable, more eco-friendly, and we've been experimenting a lot with berries and things like that. But the wine just seemed so perfect for it and we've found a supplier, or a vineyard, that does this very, very thick, red vino berry. Usually the vino berries are famous for their white, but this is a red one. It had just this really intense pigment, and so it was perfect for dyeing.
What is the most unexpected sustainable material you've discovered?
Well I think the fennel — we use a lot of fennel. For the fennel material, we take the vegetable and shave it really thinly, and then we press it and bond it to organic cotton, and then dye it. It has been the most surprising because it's so water resistant, and it's very durable, and it's been an amazing material. The research and development part of the company is by far the strongest, and we're constantly trying new things.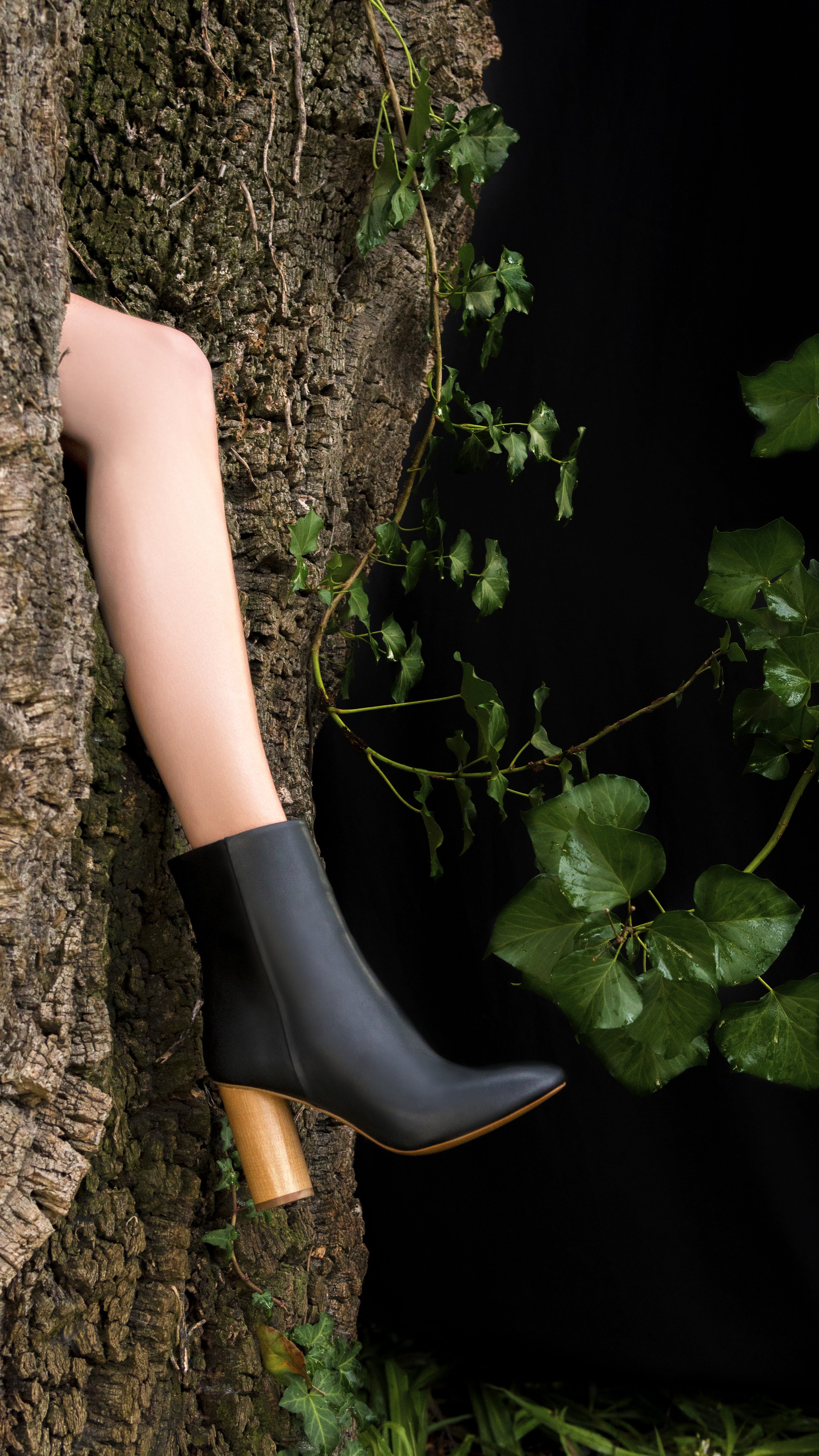 Would you consider designing sustainable clothing?
I would love to do clothing in the future, now I just want to focus on the shoes. The shoes are so technically challenging. And each shoe is about 15 components, and so, if we are not able to find sustainable suppliers for the components then I just have to come up with it myself, and get all of it myself.
How did growing up as a vegetarian affect your outlook on sustainable design?
I grew up on the edge of Detroit and there were a lot of slaughterhouses near my home, and so we would drive by them every day and just hear the animals screaming. It was so horrific. My whole family stopped eating meat. I convinced them to stop eating meat when I was 16, and we all stopped. I'd always felt so conflicted with leather and was so grossed out by leather. The fact that we're using vegan materials, it adds a lot of challenges to the production process — most of the glues that are used in shoes are made from pig fat, and so it took us years to develop glues without pig. Every aspect of this we've had to re-engineer.
You've been working with labs — like the one that engineered the lab manufactured hamburger. What's the end goal?
The ultimate goal with that is that you grow the materials in the actual pattern shape and you don't need to actually waste anything when you're cutting, so that's super exciting.
What's your advice to other designers who want to be more sustainable?
I think with the sustainability topic, it's always the question of the lesser of evils, which is too bad but that's the way it is. Really examine the supply chain and be as transparent as possible in the supply chain. Everything from where the actual first cotton seed is planted, and growing, and who's picking the cotton. Then the whole development supply chain, we're trying to follow and we're trying to be as careful as possible.
The reason I had started the company in the first place is to create change, to create awareness for the animals, and the environmental ramifications. Fashion is the second largest polluter in the world, outside of big oil. There's no reason for me to do this if I weren't making change. I wouldn't be doing just straight up fashion just because it is so destructive. For me to be involved, this is the only way possible.
You're opening up a studio in Hawaii — how does that environment influence your work?
We're just experimenting now. Now that I'm in Hawaii, there's so much gorgeous koa wood and really beautiful wood sculptures that are kind of Hawaii specific. This week I've been meeting with a lot of wood sculptors and just researching new silhouettes and designs and things like that.