Image courtesy of Moncler
"i'm not a designer, i'm a creative disruptor": meet hiroshi fujiwara, moncler's first genius
Drop one of Moncler's Genius collaborative project is here and it's with the 'godfather of streetwear' himself.
Image courtesy of Moncler
From Pierpaolo Piccioli's Moncler-clad Madonna manipulations to the wearable geometry of Noir's Kei Ninomiya and Craig Green's down jacket dystopian daydreams, the Moncler Genius project -- unveiled back in February -- repositioned and reimagined the Milan-based outerwear specialist through the eyes of fashion's finest. An explosion of creative energy, this multi-faceted chapter combined a variety of contributions which are able to coexist alongside one another, creating a mosaic of differences and extraordinary individuality. These varied voices in their distinctive design languages harmonised through a single design process conceived by Moncler.
"We have chosen designers that differ greatly from each other as we have always spoken to different generations", explained Remo Ruffini, Chairman and CEO of Moncler, who originally conceived the groundbreaking turning point for the brand. "We constantly need to offer new experiences and new ideas." One intriguing facet of this new offering hinted at how luxury could successfully harness the power of streetwear's drop culture, with each collection set to be released in special monthly drops. Fittingly, the first drop is with the 'godfather of streetwear' Hiroshi Fujiwara. Given that he pioneered the concept of drip feeding product in limited quantities in the late 80s -- long before the drop system provided long snaking lines outside Nike and Supreme -- the move is indeed genius.
"It was important to put Fragment into Moncler and Moncler into Fragment."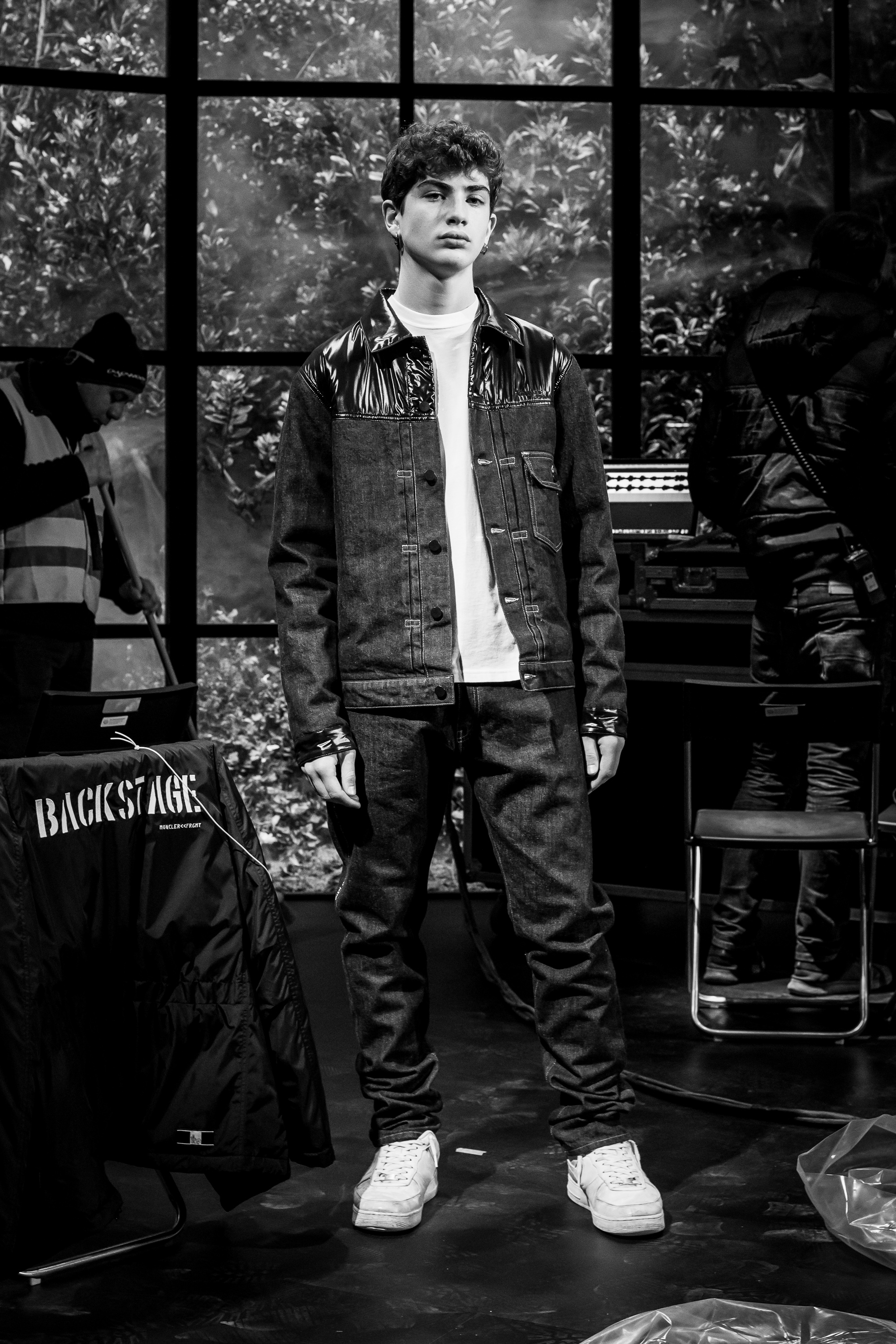 "As this is the first season of Moncler Fragment, I wanted to show who I am and what Fragment is," Fujiwara explained as we sat surrounded by the first collaborative drop. "It was important to put Fragment into Moncler and Moncler into Fragment." From Nike to Levi's, Louis Vuitton to Supreme, and Stüssy to Off-White, the Tokyo-based creative director has spent the past two decades demonstrating how collaborations should be done. Disrupting designs and blurring boundaries since 1989 when he launched his game-changing streetwear label Good Enough, HF -- as he's simply known to the people that matter -- has redefined what it means to be a multi-hyphenate creative director (he's also a musician, record producer and DJ). "I don't see myself as a designer," he confessed, "I'm a creator, a disrupter that brings ideas." HF essentially laid the foundations for a new generation of talent, including the likes of Virgil Abloh, Kim Jones, and Matthews Williams to build upon.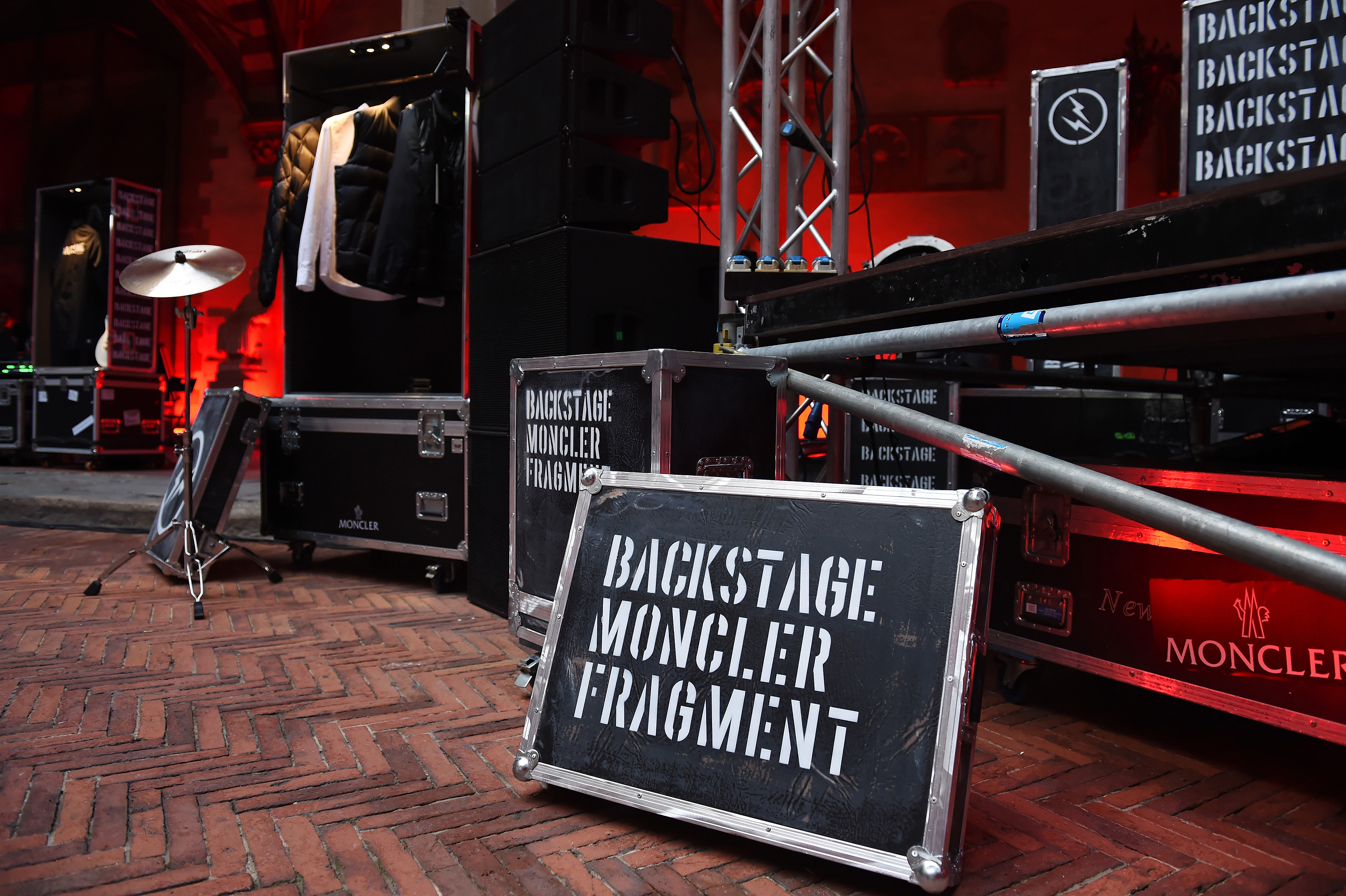 Once again, he's reminded us how it should be done. To excite the global hype-beast, the launch of 7 MONCLER FRAGMENT HIROSHI FUJIWARA was celebrated in 7 cities worldwide including Florence during Pitti Uomo 94, with an event inspired by music culture -- conveying an atmosphere of being backstage at a concert -- that reflected Fujiwara's ability to consistently combine streetwear and culture. In this backstage world inside the vast Museo Nazionale del Bargello space -- once a prison and now an art museum -- guests enjoyed music specifically curated by Fujiwara, followed by special guest DJ Milo.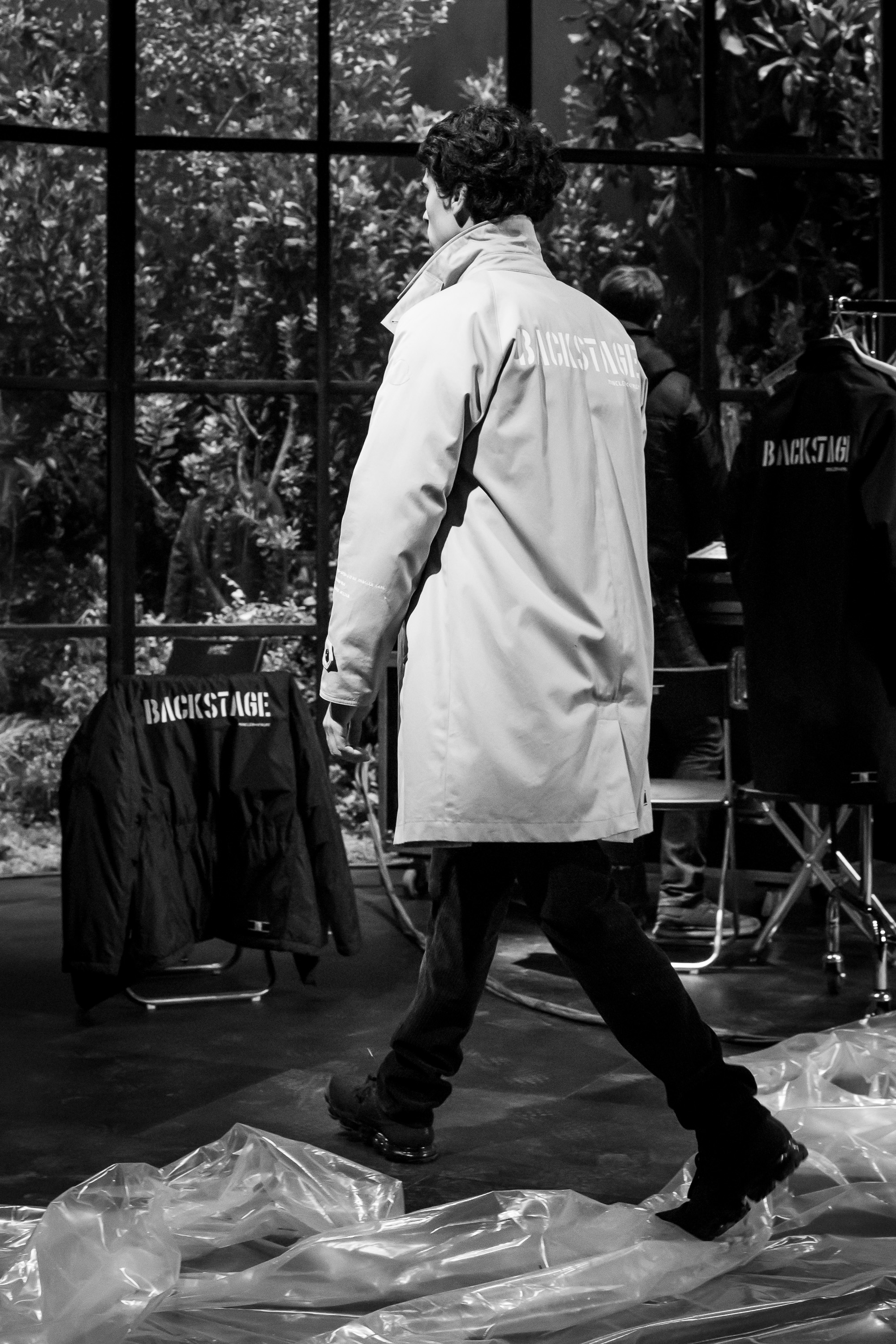 Through the lens of Fragment, Fujiwara has revisited the Moncler classics in keeping with his own eclectic parameters and imagination. "From punk to hip hop, music and fashion have always been closely tied together," he explained. "Culturally, they're not as close as they once were but for me, it's the same." The word (and the world) Backstage dominates on a long coat, in both versions beige and black, written on the back of several jackets as well.

"Backstage is such an important place within music, most people want to watch the show from backstage." From a fashion point of view, backstage is where the magic happens but for music, it's all about the view itself. Elsewhere, detachable stickers bears the words Moncler Fragment. The padded iconic Moncler fabric is mixed-up with a denim jacket and appears in a suit too. Throughout, Moncler Genius afforded HF with the opportunity to mix different identities into a new one. "The project allowed me to test solutions and materials I have never used before. The result is an unreleased Hiroshi, but it is also an unreleased Moncler." The unreleased is out now.
So what's next for HF? "To surprise people now, you need a good balance of high and low," he explained. "My next project is making chocolate." From tech-infused outerwear to little bites of deliciousness, this Tokyo-based creative director is always cooking up a disruptive treat.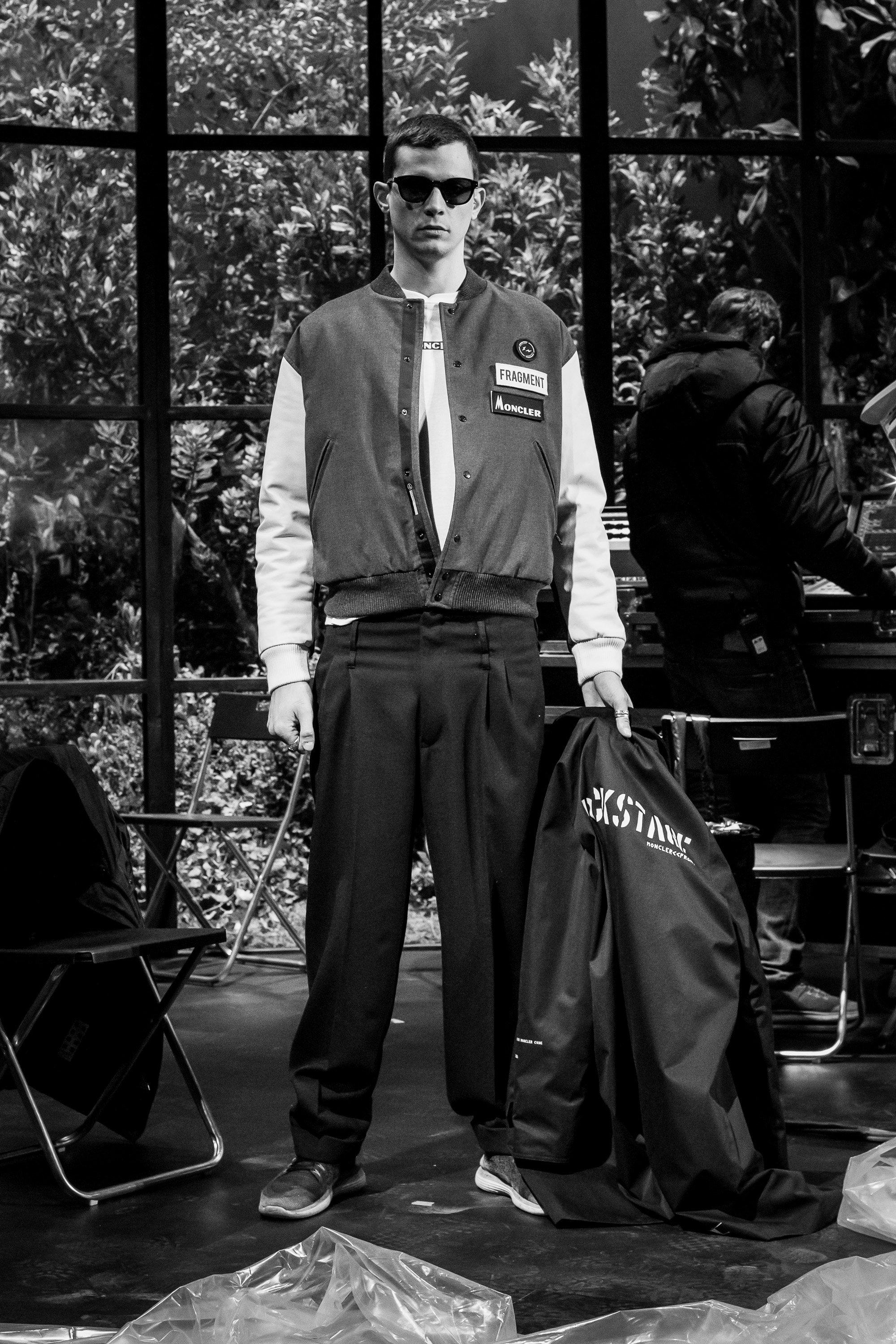 Like this? Read how to be a creative director in 2018
This article originally appeared on i-D UK.