kllo talk worst outfits, alter egos, teamwork and touring
Get to know avant-pop angels Simon Lam and Chloe Kaul a little more intimately.
Touring the world is like a rite of passage for most bands, involving a necessary and liberating shedding of inhibitions and expectations. For real-life cousins Simon Lam and Chloe Kaul of Melbourne avant-pop band Kllo however, the experience is more akin to an extended family trip. It's a good thing they enjoy it too because since the launch of their debut EP Cusp in 2014, it's something they've done a lot. And, to hear it from their perspective, those tours usually involve great pasta, plenty of laughs and a rather polite outburst or two.
Figuring that no one else could feign to know Simon and Chloe as well as they do each other, we tapped into a conversation between the band mates as they discussed everything from on-stage style regrets, compromises gone wrong, best meals and the nuances of touring the world.
Chloe Kaul: Hey Simon! What was your favourite part of the recent European tour?
Simon Lam: Spain for sure. Spain is always the best. I think it's because we have such good gigs there. Everyone is really chilled out and I feel so at home, it's lovely.
Chloe: There is a lot of respect and they just get into it from the start. It's very refreshing to be in an atmosphere like that.
Simon: Yeah Barcelona, in particular, is the best. How did you find the Australian tour experience, after Europe?
Chloe: It was a bit of a shock to the system, coming home and playing here - because we've been playing to so many strangers overseas. It takes you out of our comfort zone, to come back and see people you know in the crowd.
Simone: That's what makes me most nervous I think.
Chloe: Yeah, we were both very nervous. Just knowing that we were home was a bit of a shock, really.
Simon: Having all of your mates and everyone you respect in the crowd is really intimidating. You just hope that you impress them.
Chloe: It's all a learning curve for sure.
Simon: But it is good to be home – the weather is so much better here [laughs].
Chloe: Yeah, it just feels so happy here. It must be something about the sun.
Simon: And there's so much good music in Australia too. The more we travel, the more we realise how special Australia is, especially for underground music.
Chloe: Everyone is really starting to pick up their game here. All the musicians I know are working so hard and really excelling. So it's an exciting time for the Australian music scene.
Simon: Yeah, I'm proud to be Aussie.
Chloe: Me too.
Simon: Ooh okay, so what was your favourite meal in Europe? It has got to be that pasta, right; the pistachio and spinach one?
Chloe: Oh yeah, we both had such incredible pasta in Barcelona.
Simon: Oh my god, it was so good that we both got extra. We took some home and had it after the show that night – and then for breakfast as well [laughs]. We were so full that we felt sick.
Chloe: Touring is just a whole different world. I think I'm generally pretty chill, though. I mean, I've never actually seen myself.
Simon: Yeah you're pretty chill. Sometimes there's an outburst or two though.
Chloe: [Laughs] I can feel those. But at least I'll give everyone the heads up. I'll be like "okay guys I feel a grumpiness coming on," just so no one takes anything to heart. That makes me sound angry all the time but it's just those occasional moments – and I need to tell everyone that it's not personal.
Simon: That's where it's good to have an alter ego.
Chloe: Have you ever toyed around with an alter ego? Simon: Sometimes I just call myself Simo – that guy who pretends to party but can't really party.
Chloe: Oh yeah, I know that guy. And what about your favourite on-stage outfit of all time – what was it and what was the inspiration behind it?
Simon: There was that one time I wore the really awful Barcelona soccer jersey. For a while there, Barcelona had this awful sunset orange jersey and I loved it, because it was so bad.
Chloe: I also wore something really bad – it was a fluorescent Iron Maiden t-shirt. So we were both wearing these fluorescent t-shirts up on stage and it was just not right.
Simon: I actually thought that was really cool at the time.
Chloe: Retrospect is a funny thing. It's like particular sounds or samples that we've disagreed on too. I think in any working partnership, there are going to be things you want to use which the other person isn't so happy with.
Simon: I think we have both saved each other from making big mistakes at times.
Chloe: We have. But then sometimes we have surrendered and let the other person have their way too, which usually turns out to be a big mistake.
Simon: I don't know how you've let me get away with so much.
Chloe: Well look, it's the same with me. But that's okay, it's all a learning process and you just keep going.
Simon: Yeah, sometimes a little mess is okay. Like the feng shui is all screwed in the studio, for example. We always get it a little bit nice, but then we have to rehearse and it becomes an absolute mess.
Chloe: Yeah, but we're only human. We disagree on favourite songs and binge watch stuff on Netflix, like everyone. Remember the second season of Stranger Things was our binge on tour?
Simon: Oh yeah, that was so good. And while we're on the subject of touring, what was your favourite pit stop in L.A. – was it that Army Store?
Chloe: Oh yeah, that Army Store for sure. Neither of us can ever remember the name, but it's on Sunset Boulevard. We go there every single time we're in LA and score heaps of clothes. Then that will pretty much become our uniform for the whole year.
Simon: I'm wearing some of those finds right now. Oh, you are too. The Army Store outfits are definitely a solid uniform.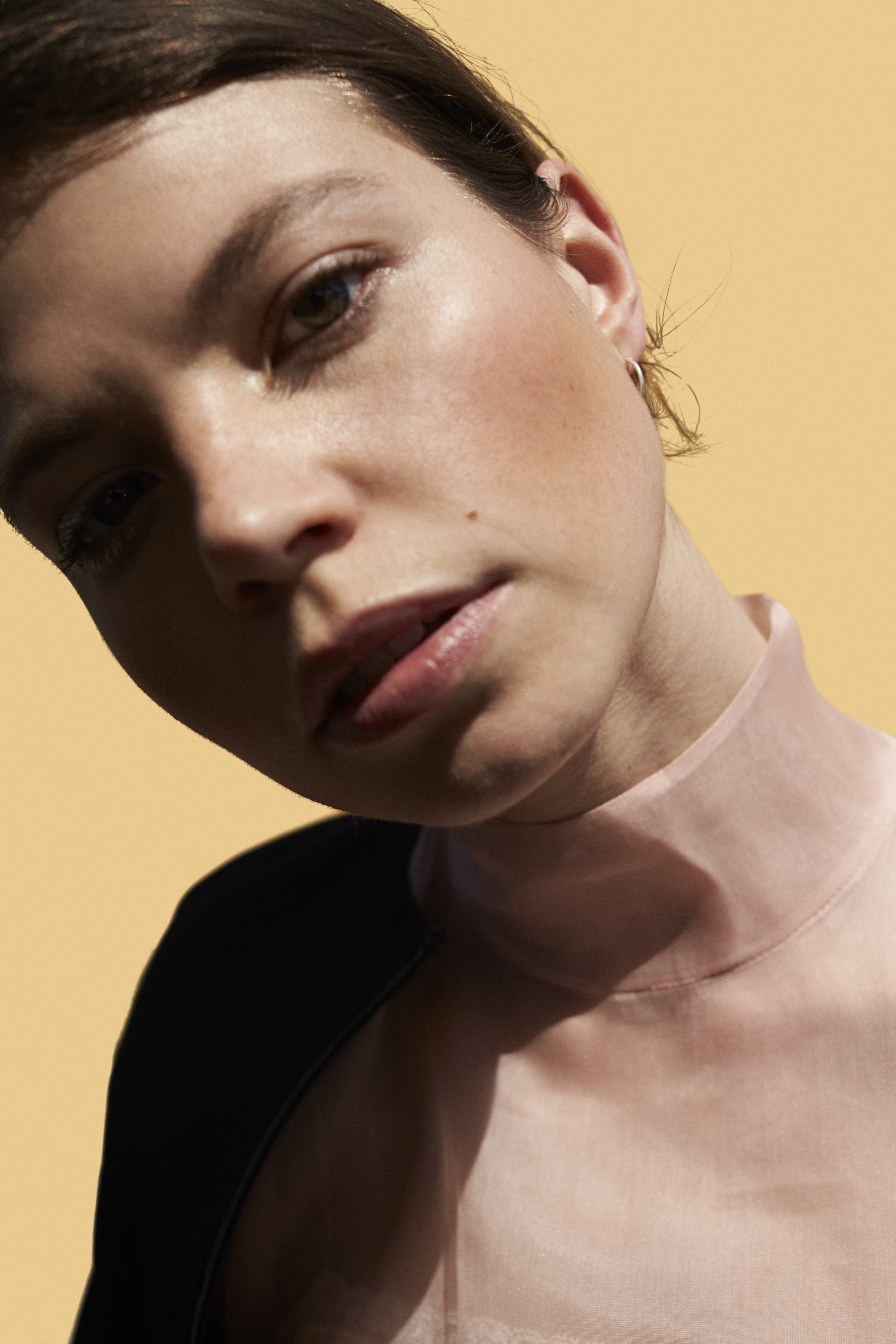 Credits
---
Photography Rene Vaile
Fashion Charlotte Agnew
Hair and make up: Corinna Wilmshurst
Fashion assistant Shakirra Mae