Images courtesy Universal
greta gerwig is leading hollywood's gender revolution
With the release of Lady Bird, her first solo writing project and directorial debut, Greta Gerwig is finally able to be understood on her terms.
|
19 February 2018, 12:08pm
Images courtesy Universal
Greta Gerwig is a brilliant actress and a highly accomplished writer. She's acted in 25 feature films and co-written five, but throughout her 10-year career, she's either been viewed through the lens of cinematic stereotypes -- the Meryl Streep of Mumblecore, the queen of the Indie screen -- or, more troublingly, as some kind of muse-like appendage to her partner, co-writer and three-time director Noah Baumbach. With Lady Bird, her first solo writing project and directorial debut, she charts a young girl's struggle to be understood on her own terms. And now Greta is finally able to be understood on hers -- a powerful move during the dismantle of the billionaire boys clubs of Hollywood.
Set in Sacramento during the early noughties, Lady Bird tells the tale of a high school senior (played by Saoirse Ronan) as she navigates the choppy waters of adolescence. She is born Christine McPherson, but demands to be called by her given name Lady Bird, that is to say the name given to her by herself. This essentially sums up the entire plot; buoyed by a determined optimism, Lady Bird is a charming story about a plucky young girl hellbent on carving her own path in life, as opposed to that laid out for her by her parents. She spends the duration of the film tackling life's big questions: Who am I? What do I want? What she wants above all is to leave California and go to college on the East Coast, but she has neither the grades nor the finances. She barely has her family's support, least of all her mother's (more on this later). Nevertheless, she remains undeterred.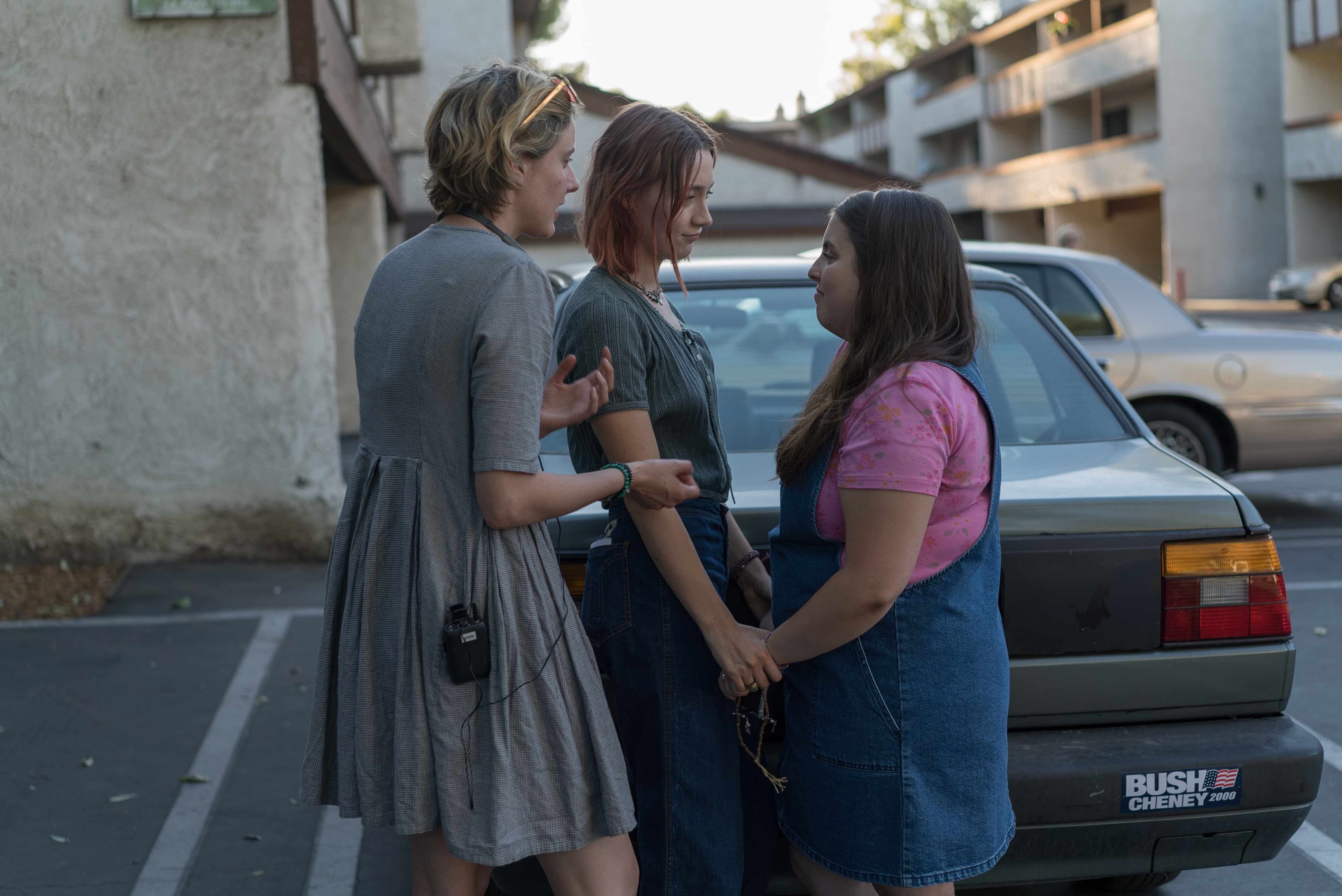 "I wanted to tell a story about home," says Greta, staring intently out of the window and fiddling with the neckline of her Pepto-Bismol pink dress. She's currently slouched against the sofa, her boots resting on the table of her hotel room. "Home is something you only understand as you're leaving it. It's hard to really experience it when you're in it, especially when you're a teenager."
For 2018, a coming of age film about a young woman's journey to self-discovery is thankfully no longer a rarity. Historically the genre has been dominated by the male perspective -- Boyhood, The 400 Blows -- where female characters serve as merely a love interest or a narrative tool that allows their male counterparts some sort of self-fulfillment. Latterly, there has been a smattering of films that take the female experience as their central focus: The Diary of a Teenage Girl , Raw , The Lure, but often these female-centric films tend to fall into the trap of equating finding oneself with discovering one's sexuality. When it came to writing Lady Bird, this was something Greta wanted to avoid. "That was very important to me," she says shaking her head. "Most movies about young women are about them finding the right guy, going after them or not getting them. Whatever it is, it's set up with the idea that there is this right person. In this movie I wanted to see what would happen if the central question was: How does she occupy her personhood?"
The film's central emotional relationship is between Lady Bird and her mother Marion (played superbly by Laurie Metcalf) who works overtime as a nurse and is extremely tough on her daughter. Though bound by love, their relationship is incredibly volatile and tumultuous, oscillating dramatically between violent screaming matches and bouts of petty passive aggression.There's a brilliant scene where they're out shopping for a prom dress. Lady Bird steps out of the changing room and asks her mother how she looks to which her mother quips: "It's very...pink". As they volley witty remarks back and forth, the mood suddenly changes when Lady Bird asks her mother whether she actually likes her. "I just want you to be the best version of yourself," her mother says. "But what if this is the best version of myself?" Lady Bird replies. It's an incredibly moving moment.
"Most movies about young women are about them finding the right guy, … In this movie I wanted to see what would happen if the central question was: How does she occupy her personhood?"
This is not to say that Lady Bird is totally devoid of romance. It isn't. In fact, one of the most remarkable things about Lady Bird is her confidence when it comes to the opposite sex. Complex, compassionate, spiky and eccentric, Lady Bird is neither the most popular girl at school, nor the most beautiful. And yet, when she decides she likes someone, she doesn't wait around for them to notice her. Instead, she boldly writes their name on her bedroom wall and marches right up to them. "She just likes who she likes and goes after them," says Greta. "When it comes to her sexuality she's agentive, not passive. She's never the object, always the subject. She likes herself, and I really love that about her."
It would be all too easy -- lazy, even -- to read Lady Bird as an autobiographical offering. In fact, the 34-year-old Gerwig finds this presumption incredibly irksome. Yes, writers use what they know, but it's almost insulting to suggest that Greta's ability to tell a good story is somehow limited to the experiences she's lived through. "I guess I can't control how people see it," she sighs. "I can talk about how I'm different or the things that are not from me..." She pauses. "It's hard not to get too hung up and try and control what people think. But, when it's being persistently described as semi-autobiographical, what can you do? The part that I want to be clear about is how very written it is and how very constructed it is."
Like Lady Bird, Greta was born in Sacramento and attended a Catholic high school, before attending college in New York, which financed through scholarships and loans. But that's where the comparisons end."I wasn't as much of a rebel as Lady Bird was," she laughs. "I was a much more rule-following, people-pleasing person. I think I created a heroine, a flawed heroine, but a heroine that I could never be."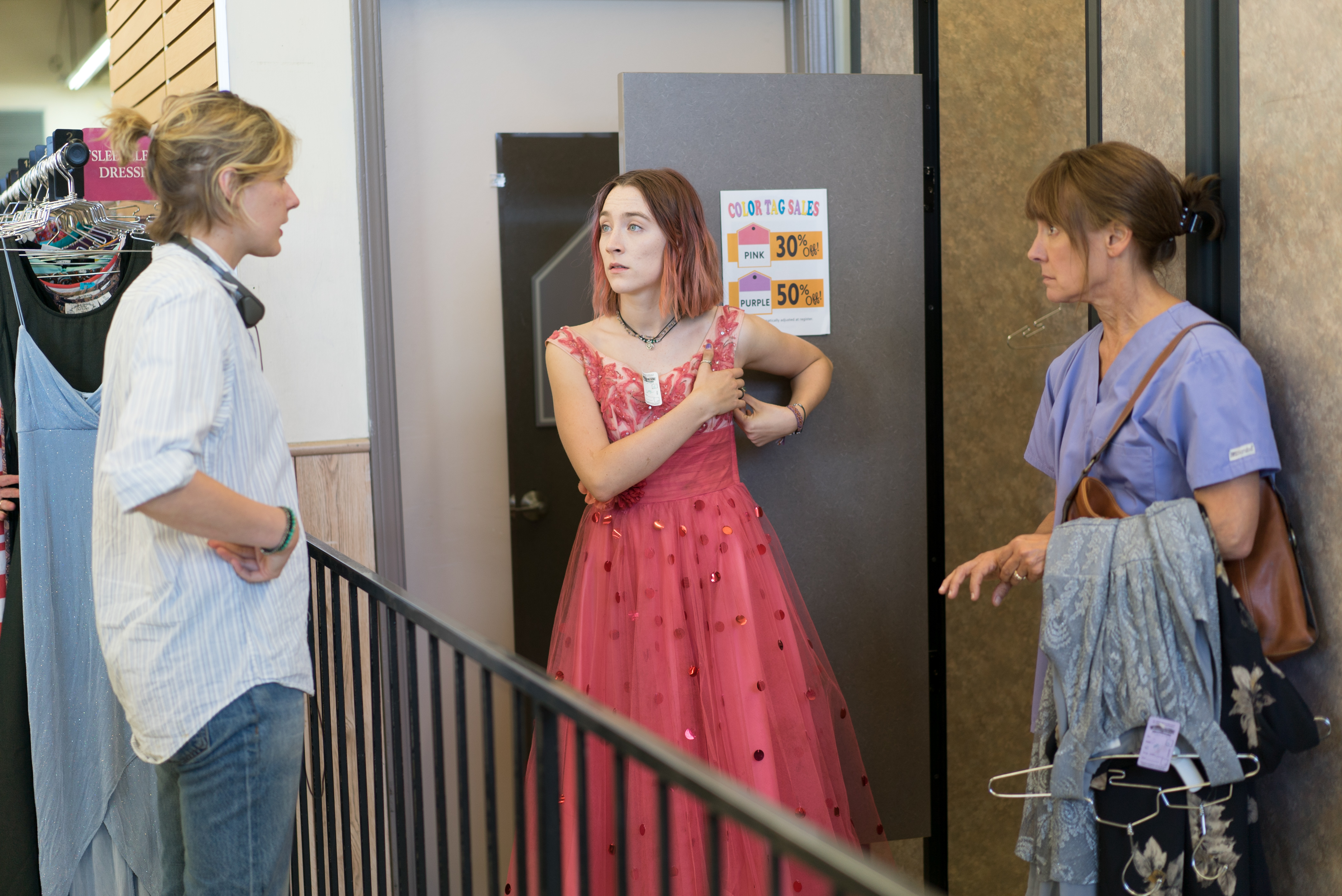 Greta discovered theatre in high school, and continued studying it at college. After getting rejected from various Masters programmes in playwriting she started acting in and co-writing a series of lo-fi, low budget independent mumblecore films, including Hannah Takes the Stairs and Nights and Weekends, the latter of which she directed with Joe Swanberg.
With her refreshing naturalism and quirky American charm, Greta was an instant success; the ultimate girl next door, only a bit more kooky and neurotic. Though it wasn't until she appeared in renowned director Noah Baumbach's coming of age film Greenberg, in 2010, that she broke through into the mainstream. After that, she began dating Noah, and went on to co-write and star in two more of his films, Frances Ha and Mistress America.
Like Lady Bird, her characters Frances, in Frances Ha (a somewhat pigheaded dancer desperately clinging onto the idea that her and her best friend will live in a house together forever) and Brooke in Mistress America (a scrappy gal about town who has her sights set on owning a restaurant without really knowing how to go about doing that) seem to share that same resolute optimism -- although with Frances and Brooke it tends to border on delusion.
"All these characters are so different, but they all share this same streak," says Greta. "They are all fully formed strange individuals. I'm always interested in people that have a little bit of madness in them. They're fun characters."
"I don't think there's anything to be learnt by just sitting on the bench, I thought to myself, 'I should just get out there. I think I gotta go make my movie now'."
Although the roles she inhabits are often humorous and intimate, scatterbrained and charmingly eccentric, in real life, Greta is far more serious. Her determination to be understood on her own terms, as a woman, a writer and as a director is palpable, which isn't surprising, giving the existing narrative that underpins her ascent to stardom. So far she's either perceived through the lens of cinematic stereotypes, or the prism of her co-writing and romantic partner Noah Baumbach -- as if her talent as an actress and auteur is somehow dependent on his perceived genius, and that her only agency lies in her muse-like ability to inspire him. Has that ever bothered her? "You really can't control the narrative of the moment, all you can really do is make the work," says Greta, matter of factly. "I've never got too hung on the label that everybody attaches at the time because inevitably it will change."
Originally titled Mothers and Daughters, it wasn't until after Greta had finished the script for Lady Bird in 2015, that she decided to direct the film herself. "I'd always wanted to direct but I never went to film school," she says. Instead she views her 10 year career working in the industry as an actor, co-writer, producer and "anything else I was allowed to do or watch on a film set" as kind of alternative to film school. "I knew there was more to learn, but I don't think there's anything to be learnt by just sitting on the bench," she says. "I thought to myself, "I should just get out there. I've had all this experience, I think I'm ready. I think I'm done. I think I gotta go make my movie now.""
Since making the movie, Greta has noticed a profound change in the way she's perceived within Hollywood. "The biggest difference and the most gratifying part of this whole experience has been the fact that I've gotten to go to lots of different film festivals and do panels and talk with other directors, who are heroes of mine, but as peers. It's less about 'What is the perception of you?' and more "What is the place you have among this community of directors?', and that you have a place amongst them in the first place."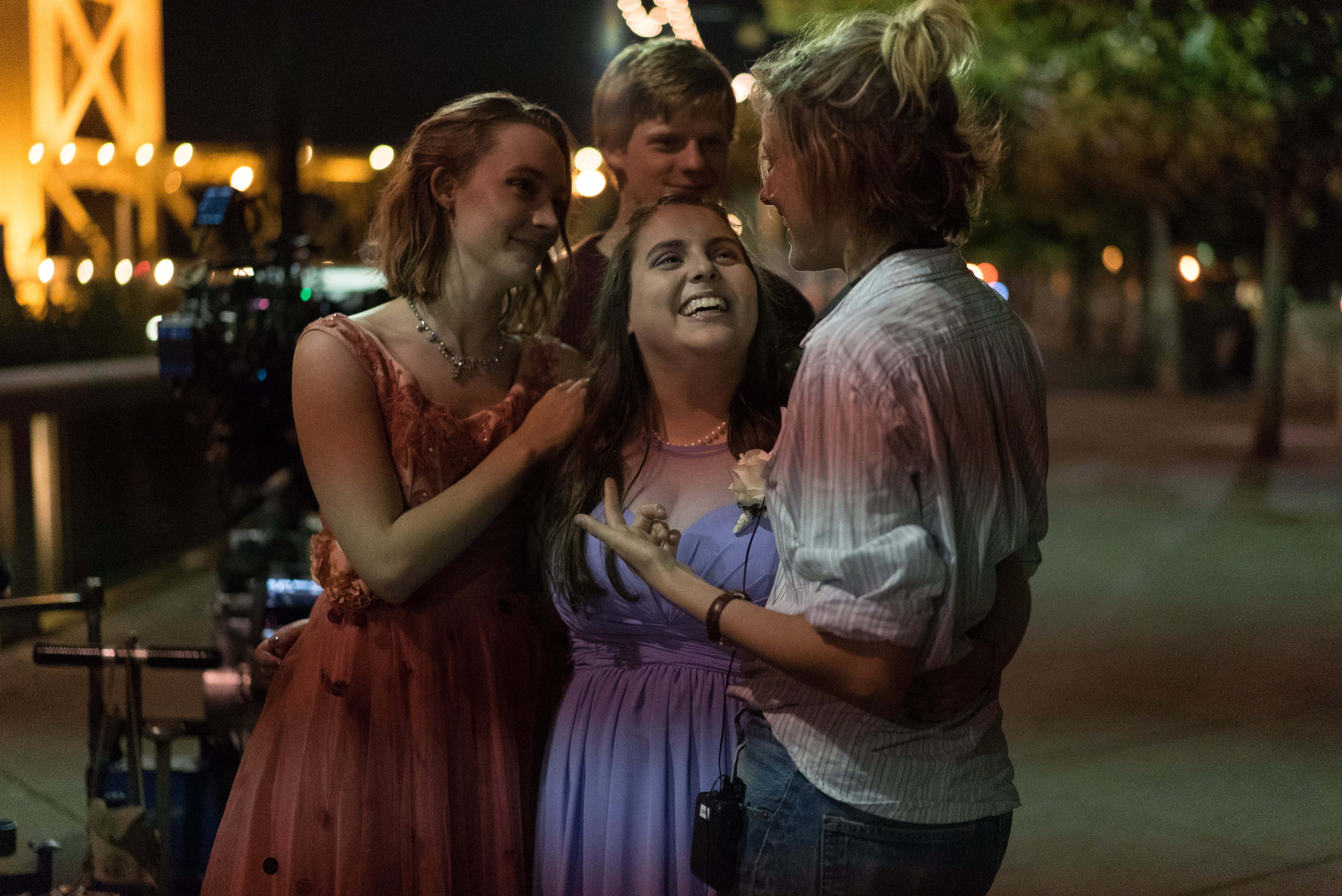 Lady Bird has received rave reviews, breaking a Rotten Tomatoes record of being the most positively-reviewed film ever made. It's also been nominated for a handful of Best Actress, Screenplay, and Picture awards, winning a Golden Globe for the latter in the comedy/musical category, and has just been Oscar nominated for Best Director.
Greta is one of the many women disrupting the norm and redefining the film industry, securing it as a fair place for generations of actresses, writers and directors to come.
"People talk about change every year, but I think this will be the year that things start shifting significantly. I think half of movies should be directed by women. Not just directors but more women sound mixers, more women cinematographers, editors, producers, executives. Everything. There should be more equality among the gender distribution all the way up to who decides what movies are actually made," she pauses, taking a final sip of her now cold coffee. "I'm very excited though. In New York where I live, I see all these youngsters coming in and out of NYU with their cameras. They're making their short films and I see all these young women in these programmes, and I just think, "Oh we have a chance to make it much better for you." They're 18 now and by the time they're 34, they won't experience it as a rarity to have women as authors. Hollywood is changing, and I am hopeful for it."
Lady Bird is out in cinemas this Friday 23 rd Feb
Tagged: