the fashion logo instagram you need to follow
From the guy that brought you Celine Dion's Céline Dior bag.
|
16 February 2018, 10:57am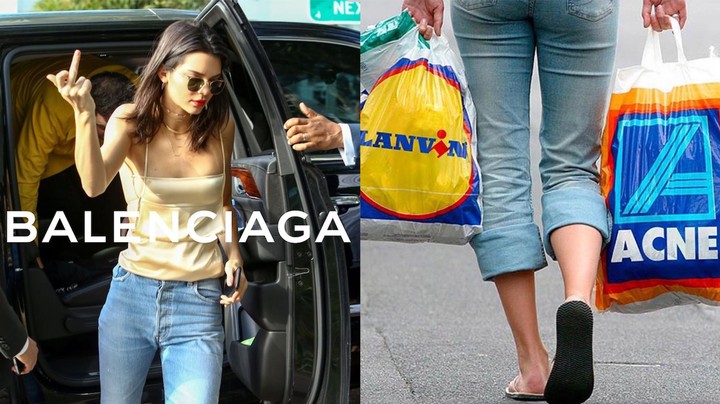 Images via Instagram
Remember when Dior posted an Instagram of Celine Dion wearing a Céline Dior bag and everyone lost their shit?
Unfortunately it wasn't the result of two major fashion houses conspiring to grant Queen Celine the respect she truly deserves (is it a coincidence or conspiracy that Celine Dion and Christian Dior have the same initials!?). But that's ok, because the person behind it is basically just as good. @hey_reilly's the Instagram account masterminding witty manipulations of famous brands, logos and faces. Think Calvin Klein on a Burger King sign, Marc Jacobs on a Pizza Hut box, Lanvin on a Lidl bag. The famous GAP logo is modified to read GAG, Prince Harry and Meghan Markle front an H&M campaign, the Pope wears a Lamborghini hat.
"It started out as a bit of fun," Scottish-born artist and designer Reilly explains, "then I got a bit obsessed." So did we. So did the impressive roster of clients he's collaborated with, including but not limited to -- *deep breath* -- Gucci, Lamborghini, Microsoft, Nike, LVMH, Chloé, Ray-Ban, Coca Cola, Jimmy Choo, Paul Smith, the V&A, Penguin and actual Kylie Minogue. In the works is a project with famed Parisian department store Le Bon Marché, who commissioned him for their exhibition Let's Go Logo alongside the likes of Virgil Abloh and Céline (the brand, not the singer). Recently, he caught the eye of Fendi's creative director Silvia Venturini Fendi. "After seeing a Fendi/Fila logo mashup I had done she got in touch," he explains. "Not to sue me, as I initially thought, but to work with me."
On what compels Reilly to make these pastiche pièces de résistance, he explains, "I have always had a urge to create pictures. I just have to get it out of my head and onto a page or onto the screen." He continues, "It's a good place to empty my head of all the shizz that's going on in it." And what mighty fine shizz it is. The designs hit that sweet spot where pop culture, fashion and funny collide. The Petements campaign, for example, taps into the Internet's equal adoration of Vetements and fluffy animals. The Supreme iron/hoover/gag are a knowing nod to the brand's predilection to splash their label across the most mundane objects (see: the entirety of their latest lookbook). The Nike Just Don't ticks are us any time we attempt exercise.
Which is arguably why @hey_reilly stands out amongst the myriad of other Instagram 'influencers' clogging our feeds. It's more than an aesthetic, more than a collection of birds-eye views of geometrically arranged finger food. It's smart. It's a subtle commentary of pop culture that evidences skill, intelligence and a sense of humour. A trifecta that makes his work marketable beyond the confines of tiny little squares on a screen, and his expiry date extend way beyond the inevitable day the Instagram bubble bursts.
Not that Reilly seems too phased. "I'm naturally a positive person and don't take any of it too seriously," he says. "I'm happy surfing the wave at the moment." Something made a bit easier by the fact he's managed to escape the luxury developments and cereal cafes of east London, and is busy "just happily living by the sea."