this black queer art show is changing the landscape for future generations
BBZ BLK BK: Alternative Graduation Show​ held space for ten recently graduated black queer artists to reclaim their time and re-contextualise their experiences.
For many black queer artists, the institutions they enter in hope of gaining support, guidance and critical feedback can also be places of intense alienation. To them, graduating -- a process meant to declare to the art world that you are 'ready' -- often means something else entirely; a nod, to yourself, and those that stuck by, that somehow you made it through. Congratulations! You're a graduate! you'll tell yourself. All it took was a healthy dose of repression, self-doubt and isolation...
The BBZ BLK BK: Alternative Graduation Show, which ran at Peckham's Copeland Gallery from 18 to 22 July, held space for ten recently graduated queer artists of black ancestry to reclaim this time and re-contextualise their experiences. The exhibition's organisers, Naeem Davis and Tia Simon-Campbell (founders of black queer collective BBZ) and Rabz Lansiquot and Imani Robinson (leading members of SYFU ), as well as its first alumni -- Shadi Al-Atallah, Irvine Bartlett, Christopher Kirubi, Georgia Lucas-Going, Mayfly, Sade Mica, Sola Olulode, Shenece Oretha, Tanoa Sasraku-Ansah and Rebekah Williams -- are determined to change the landscape for the current and future generations of queer black artists.

Drawn together through a shared mission to centre, uplift and celebrate QTIBPOC artists, the two collectives pooled resources and expertise to "provide a space for artists to be their fullest selves in the presentation of their work, and for audiences to view their work in a space that does not pathologize or other their identities." The invite was addressed to artists who had recently graduated from a UK institution (with a special push for admissions from artists outside of London) who identified as queer womxn, trans or non-binary people of black ancestry. Also keen to establish critical lines of mentorship, the selection panel was made up of elder members and active figures within the POC and queer artist community, including Barby Asante, Evan Ifekoya, Zinzi Minott, Campbell X and Ajamu X -- photographer, queer visual activist and influential founder of the monumental black LGBQT rukus! cultural archives.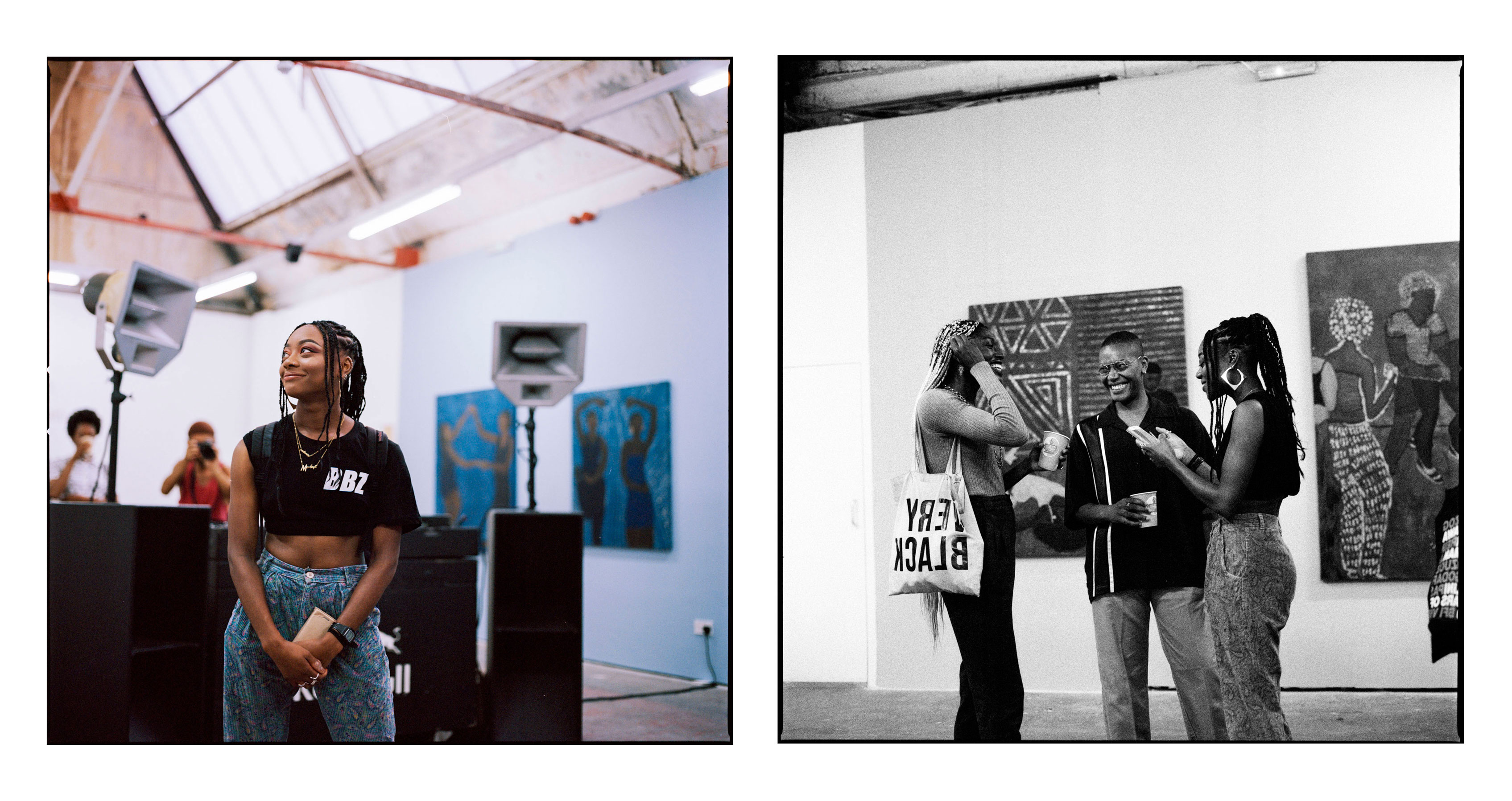 Each of the 10 selected artists in the open-call and open-plan exhibition was given room to breathe. "There was more air in the room," agreed contributing artist and poet Christopher Kirubi. "Often they jam in artists," explained Michela Yearwood-Dan, studio-mate of exhibiting artist Georgia Lucas-Going. "But the first thing you notice is the sense of space." A black wall here, an orange wall there, and as little white wall -- read white space -- as possible, the exhibition was an alternative graduation for those who might not have received the right conditions to grow or present as they wanted to at their 'official' school ceremonies.
Curation was led by Imani Robinson and Rabz Lansiquot, and grounded in conversations with the artists on the realities of their work and practice, looking also at how they wanted to continue to grow. Instead of concerns about hyper-visibility and competition that you might usually associate with graduation, the central question in the space was 'actually, how did you survive?'. Some works found peers in shared spaces, and others had a room to themselves, documenting experiences of struggle, and negotiating presence in often less than welcoming spaces.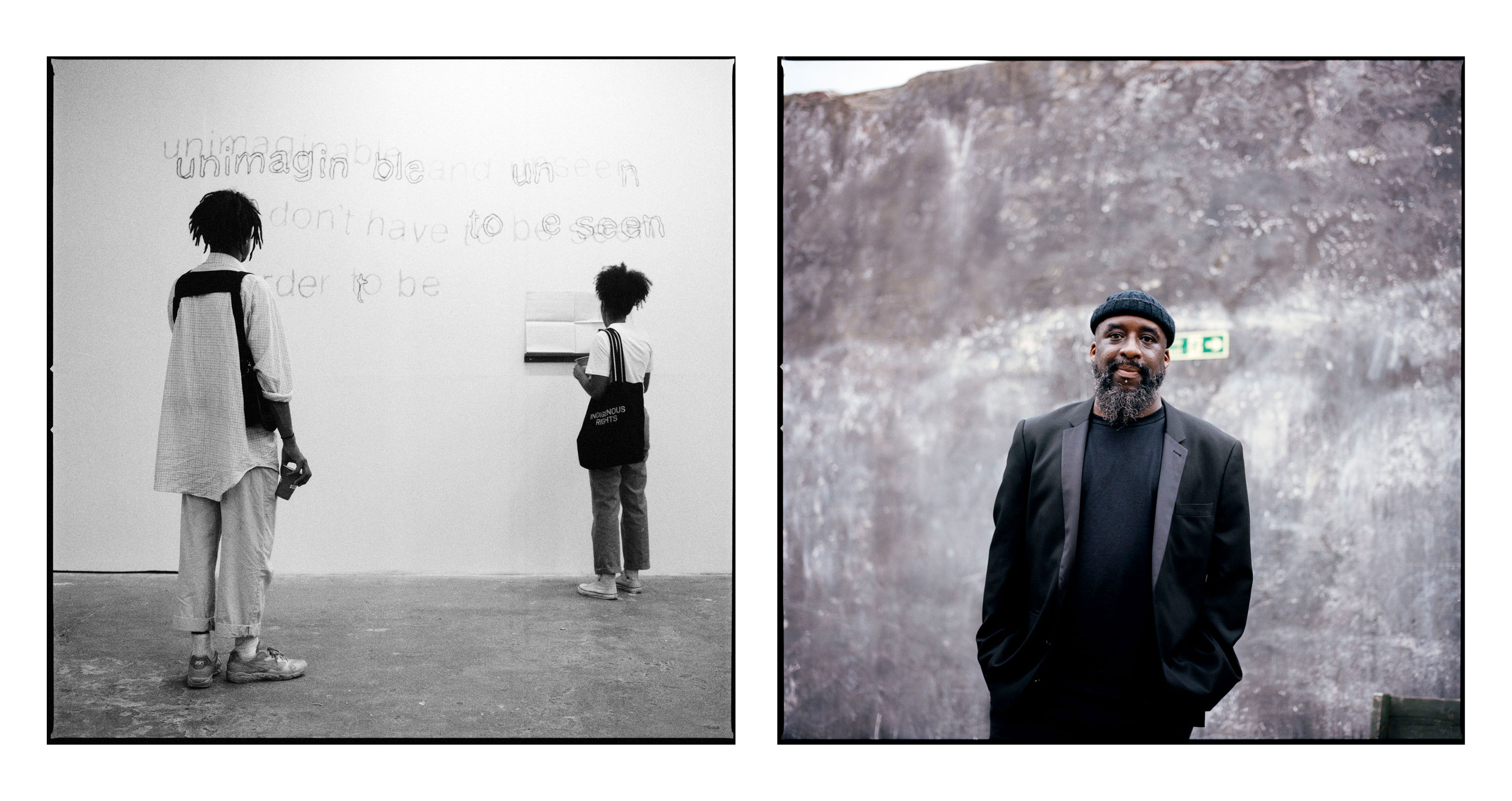 There was the mumbled Mancunian phonetics of Sade Mica's Solo Disco, and the fluid, blue quilted expanses and inviting indigo hues of figurative painter Sola Olulode's mixed-media works. Titles like All Night Dancing With You and Gwara Gwara, Death Drop, signalled a dedication to dance, to nighttime connections, to queer, layered identities, and to blue as a holding space for it all when nothing else could. In another room, Shadi Al-Atallah's striking mixed-media series showed a contorted black subject, jostling with the overlaid concerns of mental health, well-being and the struggles of visibility, working it out through passed-down practices like traditional Saudi medicine and the jinn conjuring dance. In the next, Irvine Bartlett's photography series Kumbi (Reclaiming Utopia) stretched out across the walls, with half-shadowy figures apparently unconcerned with the laws of exposure, or with coming into view at all. Recent Slade graduate Christopher Kirubi's work, each other (row of trees), shared a similar tone. A lightly-printed newspaper on a wooden shelf next to a phrase on the wall that read 'Unimaginable and unseen we don't have to be seen in order to be'. The statement is rendered partly in pencil and partly in neon pink gloss paint. Viewed close-up, the text seems to split apart, a vulnerable body. But, it's also just taking its time to materialise, claiming the right to a more organic growth.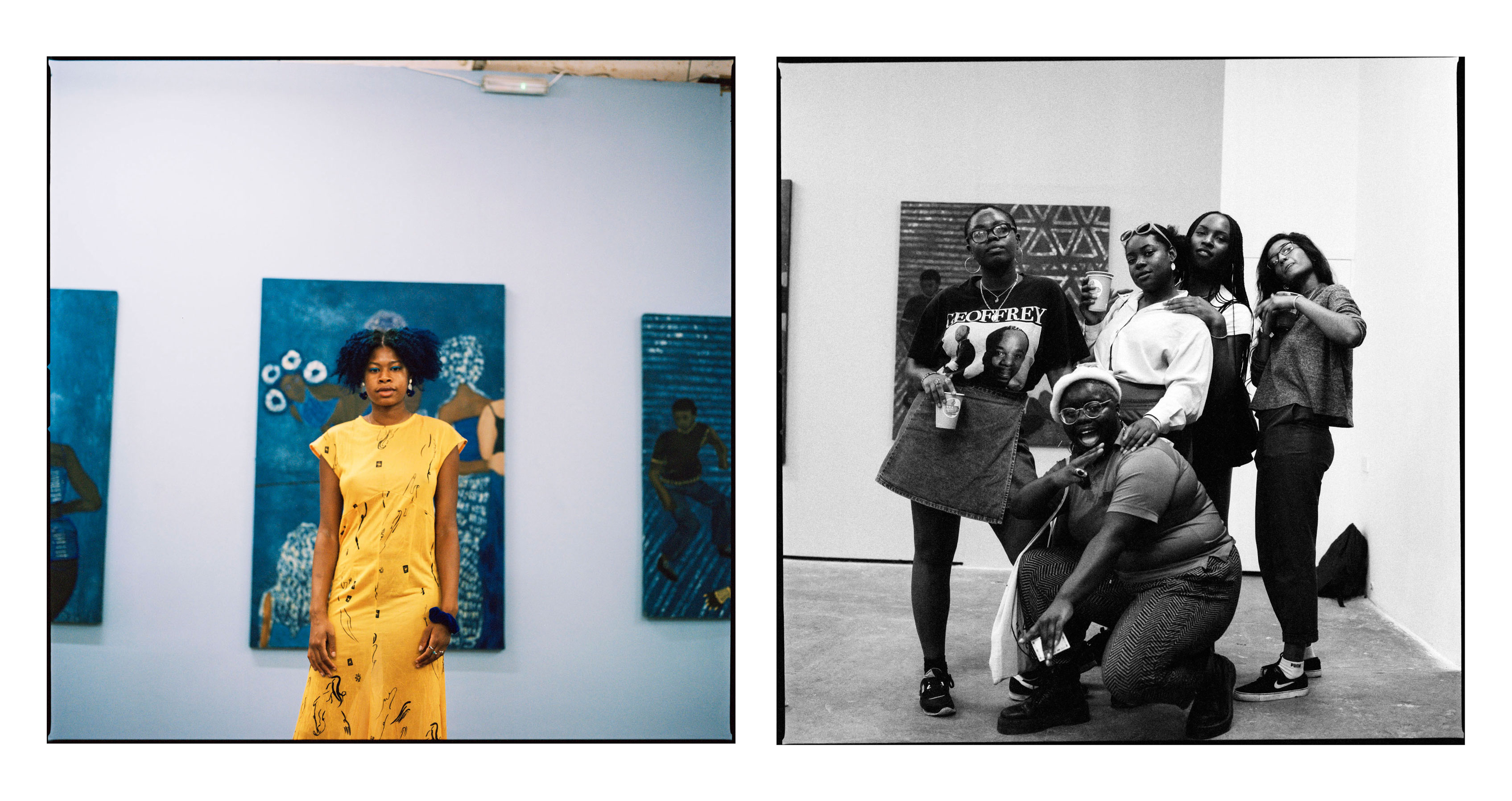 Continuing the focus on support structures that has always underpinned BBZ and SYFU, Imani says it best: "This is not an answer to the violences of institutions but an entry point into building communities that can nurture and support each other… you don't need to graduate alone." Like Oludade, for who it is as much about the shapes made between the dancing figures in her work, for artist and DJ Shenece Oretha and her audio installation Who Can't Hear Must Feel, it's also about the contributing voices -- 50 to be precise, including a softly lilting rendition of Solange's Weary. Playing across eight speaker boxes arranged in an open-circle installation, a central bench holds your own body, as you listen to this restorative and collaborative work. Speaking on the experience as a whole, Kirubi said, "The process is the best I've been through -- they're such amazing people, I often feel insufficient in the space, but they made me feel so held." The exhibition did much to reverse the sense of isolation felt by many queer POC artists, a mission that remains crucial to both BBZ and SYFU. The difference it made to these artists to exhibit amongst peers was clear to see -- finding support, conversation and engagement with their work in place of the surface-level, mute or fragile responses encountered within still majority-white art schools.
Imani was quick to point out that there's still a of work to do, that the exhibition did not hold everyone they had hoped, with fewer submissions from darker-skinned and trans artists -- a reflection on who has access to art institutions in the first place. It was also stated that they would love to support more artists from outside of London. BBZ BLK BK: Alternatve Graduation undoubtedly set a precedent for the care, consideration and peer mentorship that should accompany a graduating artist. For now, Naeem and the others are looking towards the future with excitement.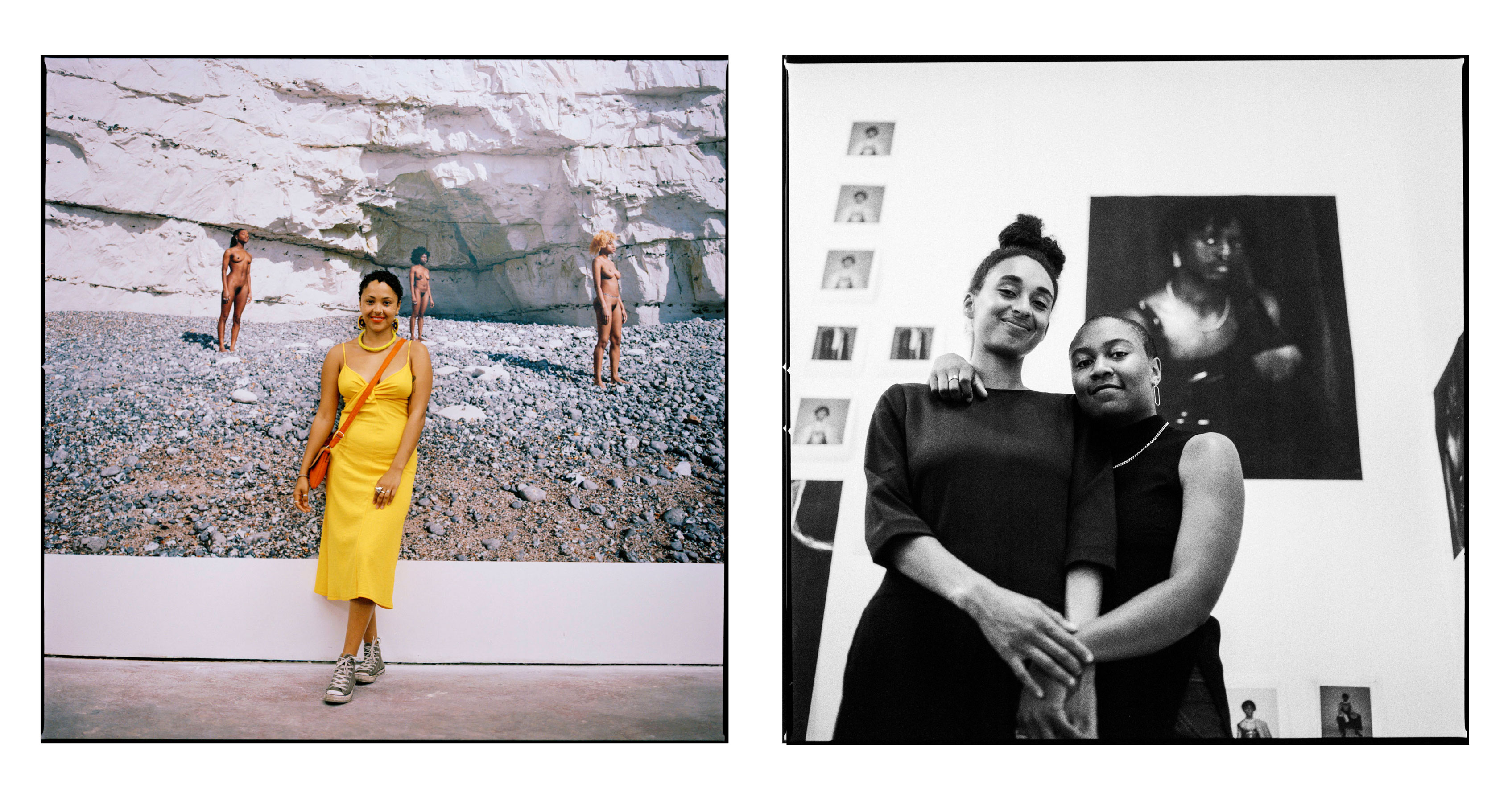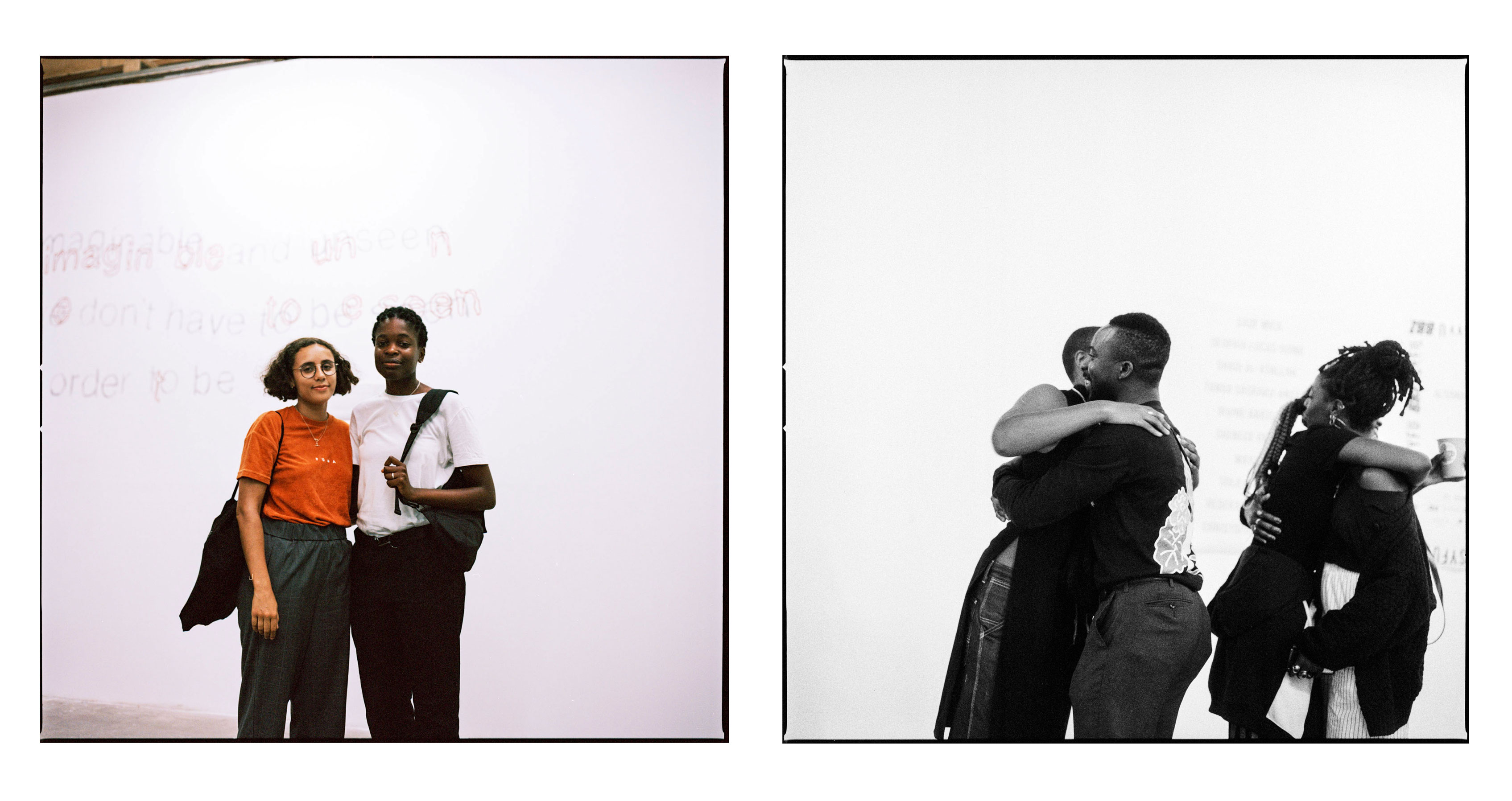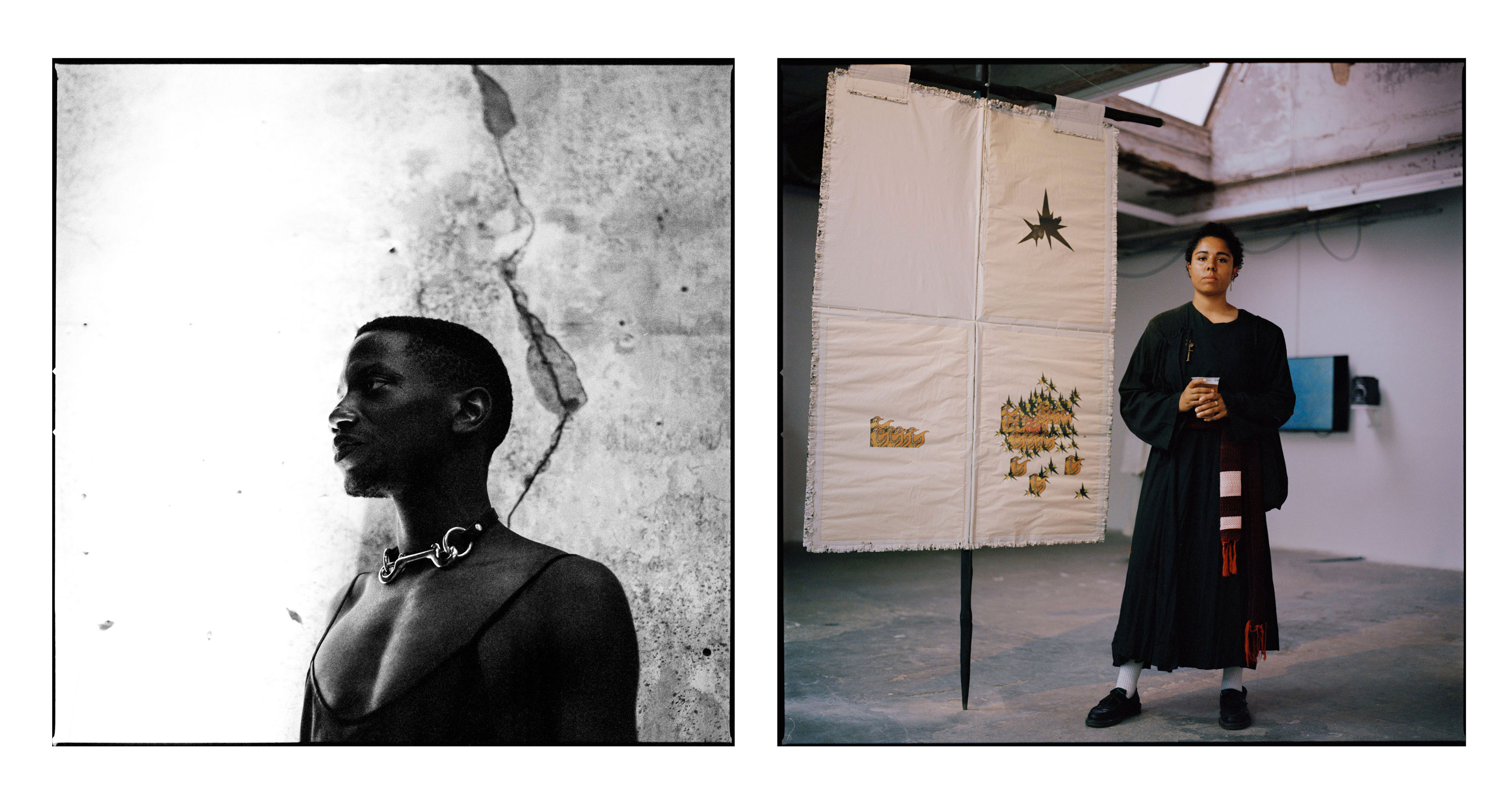 BBZ BLK BK: Alternate Graduate Show 2018 ran at Copeland Gallery, Peckham, 18-22 July 2018.