this is how to make loads of money on depop
Learn how to make five-figure salaries (!) from some of Depop's hottest sellers.
Images via Instagram
Teenagers are making bank on the clothing resale website Depop. They are CEOs but rather than wearing suits and making conference calls, they have pastel pink bobs, wear cute hair bands and work from cluttered DIY storerooms in their parent's houses. It doesn't matter that only recently they were reading dull OCR textbooks for their Chemistry GCSEs and getting told off by teachers for having the wrong tie length; these teens are commanding vast swathes of capital, delivering great customer service and learning the complexities of brand identities.
Rather than going to university and paying £9,000 for a course that will provide them with nothing but a string of unpaid internships, teenagers are meticulously sifting through charity shops, finding old Ralph Lauren dad shirts and Dior saddle bags to resell for huge profits. To find out how they do it, we spoke to some of the site's most successful young sellers who tell us how to make money from Depop: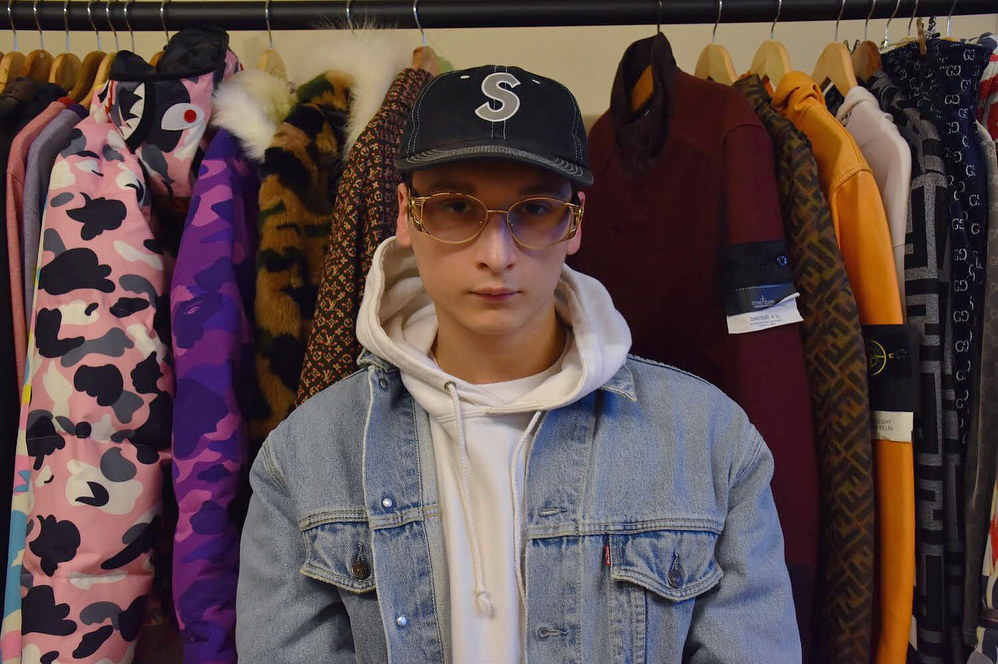 1. Ollie is 19 and from Bristol, and runs Oliver's Archive

The key is to find a rare item, then buyers will have to purchase from me and I can charge more for it. The best item I've ever had is a Chanel Velour Repeat Logo Jacket. I have no idea how it's still not sold yet. Or the Moncler x Pharrell Williams Bulletproof vest style gilet. There are meant to be only 100 of the gilets in the world, I bought it for £700 and sold it for £1,500.
Clean photos are key to generating sales. I use studio lights, a stylised backdrop that is instantly recognisable and take pictures using the iPhone X because the camera quality is insane.
I tend not to wear clothes before selling them because I want to get them online as fast as possible -- especially because people are often willing to pay ten times the retail price within the first ten minutes of a garment selling out.
I started on Depop when I bought a Tommy Hilfiger fleece from America for $25 aged 13. I saw that they were selling for double that on Depop so I posted it and it sold instantly. At the time I was doing a paper round which paid £15 a week. Through selling the fleece I earned two weeks wages in a day. I was hooked from there. Last year I earned £293,759 through Depop making me about £70,000 profit.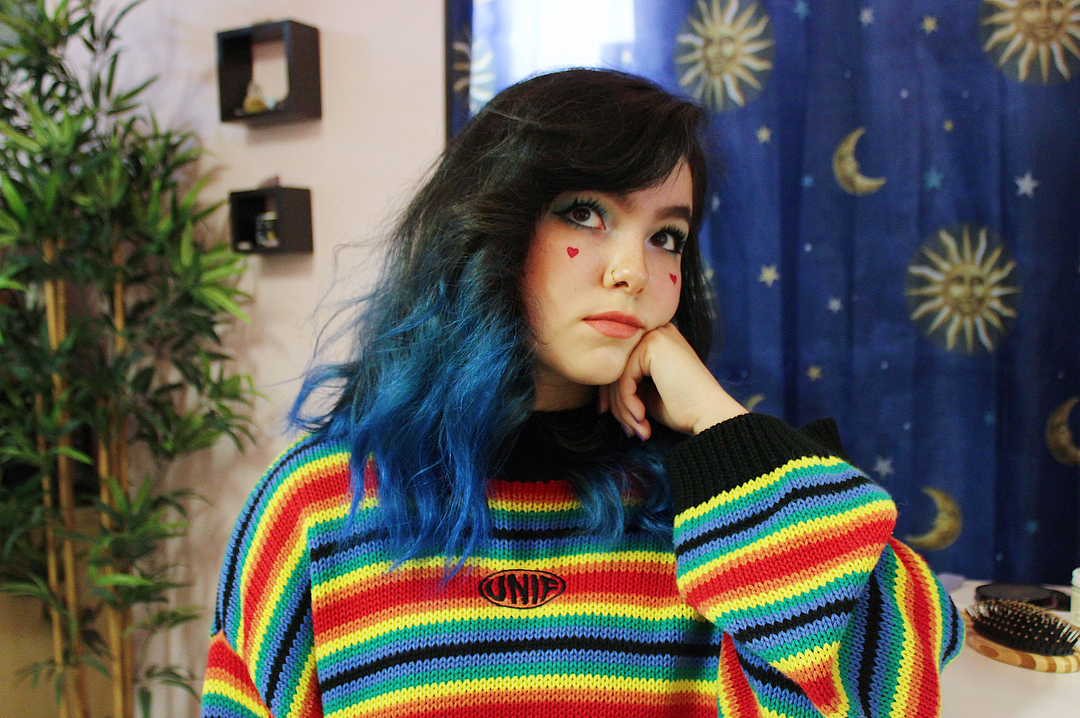 2. Breanna is 19 and from LA, and runs the Elf Workshop
I started thrifting in middle school, which was around eight years ago. Over time I got really good at sifting through the rails to find good deals. Colorful items sell well because they stand out on the feed, so do iconic vintage pieces such as name-brand mum jeans or 80s color block items. My aesthetic is tape belts, battered overalls, multi-coloured stripy tops, daisys, tennis skirts, lacy socks, hair bows. I am branding my own Breanna world.
Taking good pictures and excellent customer service are extremely important. I spend hours on my photoshoots painting blue tears onto my cheeks, matching cool earrings like pink pom poms or red cat eye sunglasses. I try to give the buyer a vision of Y2K fashion that they will want to be a part of. I treat every customer as my friend, writing loads of hearts and kisses when I'm communicating with them. I also give lots of discounts and I am willing to negotiate because I know I love a good deal and other people enjoy the feeling of bartering too. I made $2,500 last month just from Depop.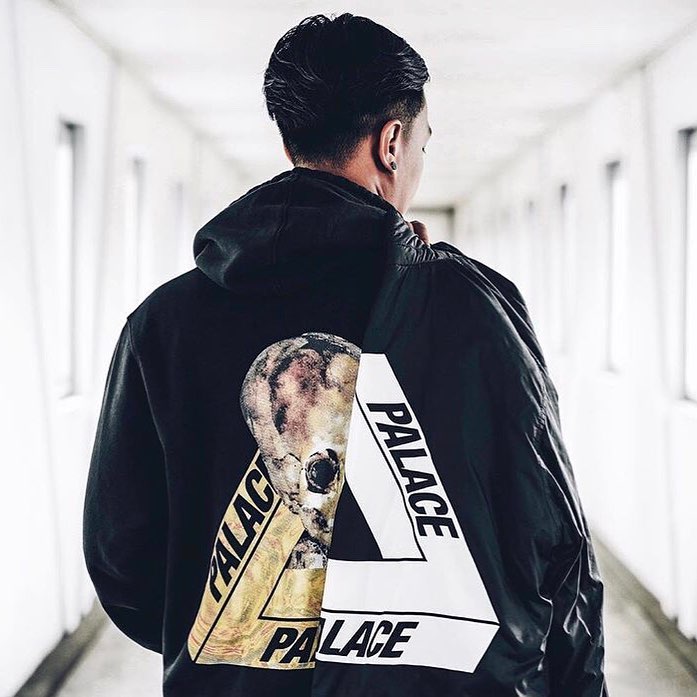 3. Joe is 19 and from Watford, and runs The Cabin
I started my store three years ago and in the last eight months I've started working it full time with a friend. I spend about five to six hours a day trying to find out the sort of items that are hyped right now, looking through Facebook groups such as The Basement, using sites like Stockx to predict resale prices and looking at similar past releases which sold well. We find out about drops using Instagram accounts like @Supreme_leaks_news.Then we pay friends a tenner to log in online and join the queue to buy them so we can get more items to resell. Or we use computer bots which automate the buying process. Imagine you log onto a website, find an item, add it to your cart, fill out your address and check out -- a bot does all this for you ten times. Bots range from £30 to £200 depending on how good they are.
The best item we ever resold were the Chanel NMDs, we managed to get two out of 500 pairs worldwide. To get them, I entered literally everyone I knew into the raffle to receive a pair. When we found out we'd managed to get some we had to book Eurostar tickets for the next day and send our mates to Paris to collect them. The trainers cost €1,000 but we sold each pair for £6,000.
At the moment, Off White Nikes and anything Yeezy sells for a lot of money. Supreme always increases in value, especially the Supreme x North Face collab and box logos because they're classic and timeless. I often keep stuff for a long period of time, get a bit of wear out of it and then sell if on for about £30 profit. Once I managed to make £200 off a Stone Island Jacket I wore for 6 months.
Adults with high pressure jobs who like wearing Supreme and other high-end streetwear brands, don't have the time to queue outside Carnaby Street drops. I do and that's where the gap in the market is.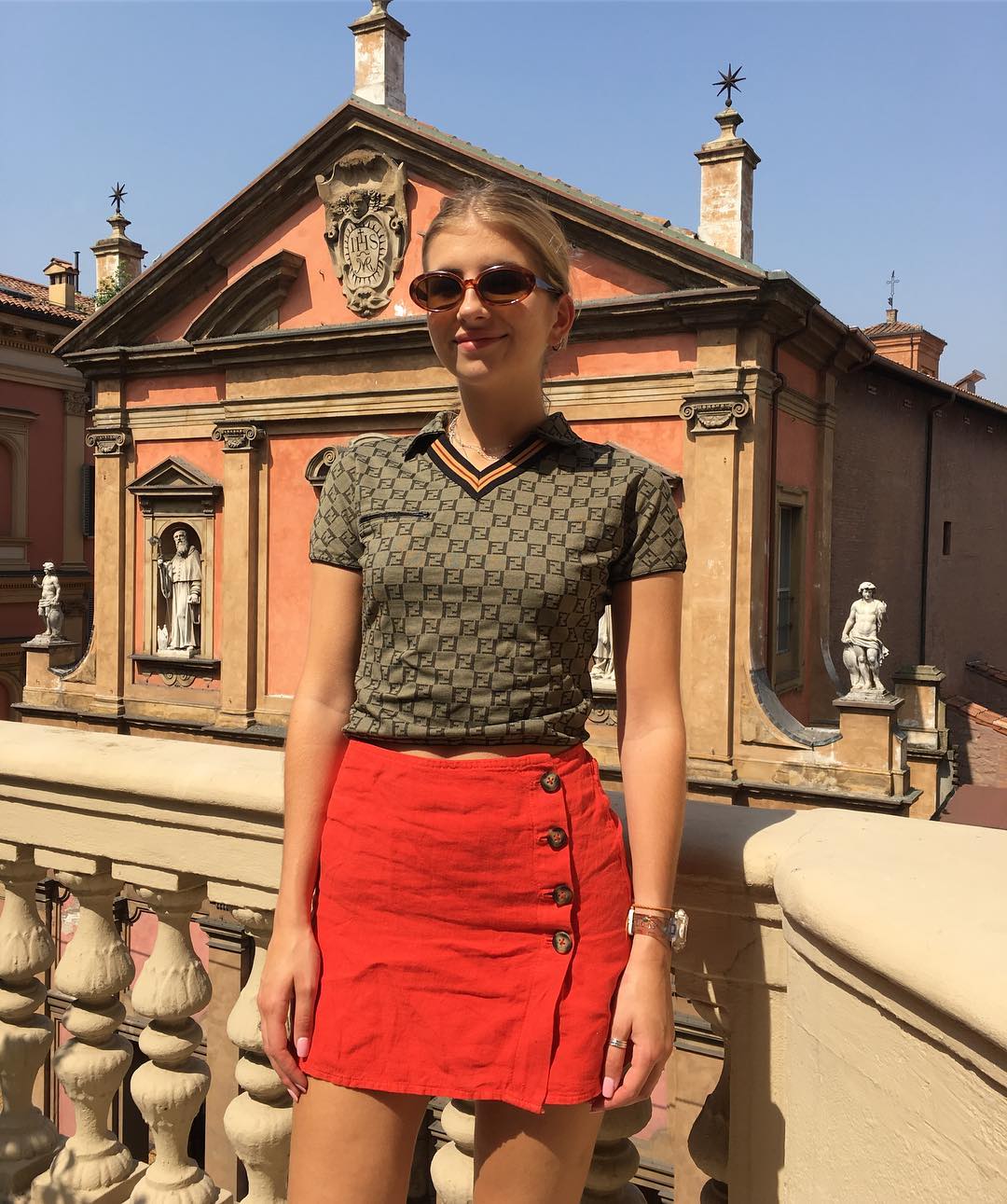 4. Isabella is 19 and from Cheltenham, and runs Isabella Vrana
The way I source my clothes is constantly changing. In the first year it was mainly eBay and charity shops, but its become obvious to me that this is how more and more Depop sellers source their stock so I've moved onto alternative options. Now I buy vintage Italian designer items from suppliers in Italy that I find online. Also this year I have been living in Bologna so I've been using their markets which have cute clothes for unbelievably cheap prices (I'm talking €2 per item). If you find stock in the same way as everyone else, you won't stand out at all.
Having a distinctive style is really important. I only sell what I think is cute, which is essentially lots of Mary-kate and Ashley floaty style skirts and I often mention Britney or Lizzie Mcguire to help the buyer imagine a full look they could create after buying the item.
I make the most money from buying one particular clothing item in bulk. Recently I found these milkmaid style tops, or last year it was these cargo trousers which I found on a men's workwear site. Although most of the time I focus on vintage items, large batches of products are good for increasing the number of followers as people will see someone wearing it, ask where they got it from, then come to my page to buy it.
It's been a year since I started up an Instagram page to accompany my Depop and it's extremely effective in getting more traffic to my page. It's an Instagram business account which means I can see how many people are looking at my pictures and saving them and more importantly, clicking on the web link to my Depop page which I put in my Instagram bio. I've also found that people are willing to spend more on clothes from my personal wardrobe, maybe because they've seen how I've styled the piece in an outfit on my Instagram.
When I'm putting a lot of time into Depop I sell around £4,000 a month, of which around £3,000 can be profit. In the future I'd like to start a small collection of clothes that I'll design myself and get manufactured. I want to expand the range of sizes you can find on my shop, as I feel this is something that's been lacking.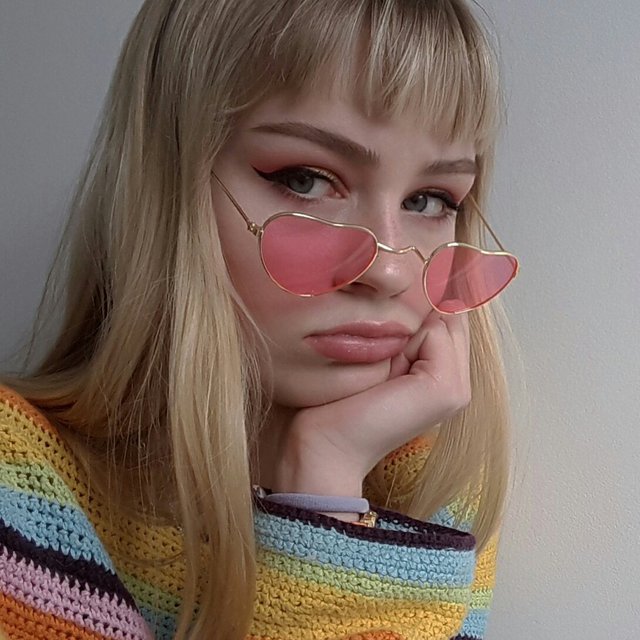 5. Axelle is 18 and from Brighton, and runs Axelle Dufresne
I make shiny, lycra boob tubes to sell on Depop. They look like something Kylie Jenner would wear but if she was a cyber princess who smothering herself in mermaid tat. I get all the materials from my local fabric shop where I buy half a metre for around £5 depending on the fabric. It usually takes me about an hour to complete a two piece depending on how my sewing machine is working that day (I really need a new one). I taught myself how to measure sizes just by going off my own shape and then increasing or decreasing depending on the person purchasing the item. Then I tag clothes with Y2K, 00s, 80s, 90s, retro, baby girl, or vintage because that's what buyers usually search for.
Large high street retailers are so bad at understanding what young people want to wear. I never go shopping in real life anymore because I can't find anything I want. This is one of the main reasons why I started making clothes -- especially because I find a lot of high street stores don't fit my body shape right. I bet Topshop will make copies of the shiny two pieces that are all over Depop in like three years time. My mum is so excited that I've stopped asking her for money.