how women are shaping a new uk sound system scene
Meet some of the women carving a new path in sound system culture, who feature in an upcoming photography exhibition exploring the scene's British evolution.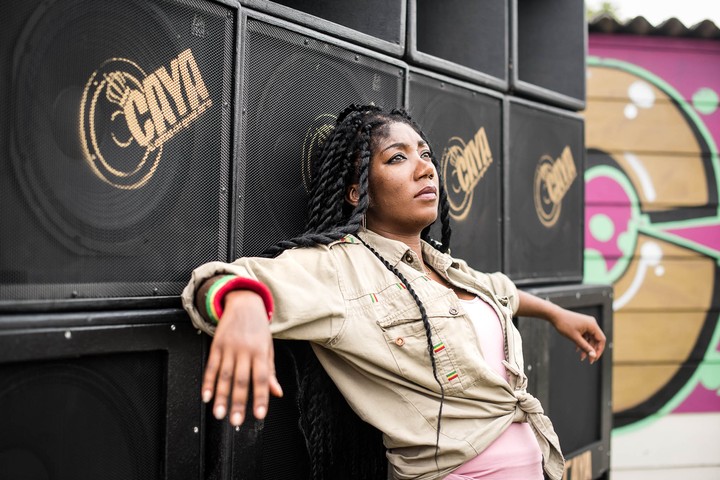 A new generation of UK sound systems are changing and modernising the scene, as well as maintaining and nurturing important traditions -- using vinyl, playing dub, roots and culture reggae rather than newer genres, keeping 'the message' central to the dance -- established by previous generations. One of the changes being pushed forward by this new wave of sounds is greater gender diversity: more women are building, operating and owning their own sound systems now, rather than singing or selecting on those belonging to men.
An upcoming photography exhibition called Let's Play Vinyl -- which will tour the UK, kicking off this Black History Month -- is going to shine a light on these pioneering women for the first time, using portraiture and interviews to explore them and a whole new generation of UK sounds.
Here we take a look at some of the women who are shaping a new UK sound system scene.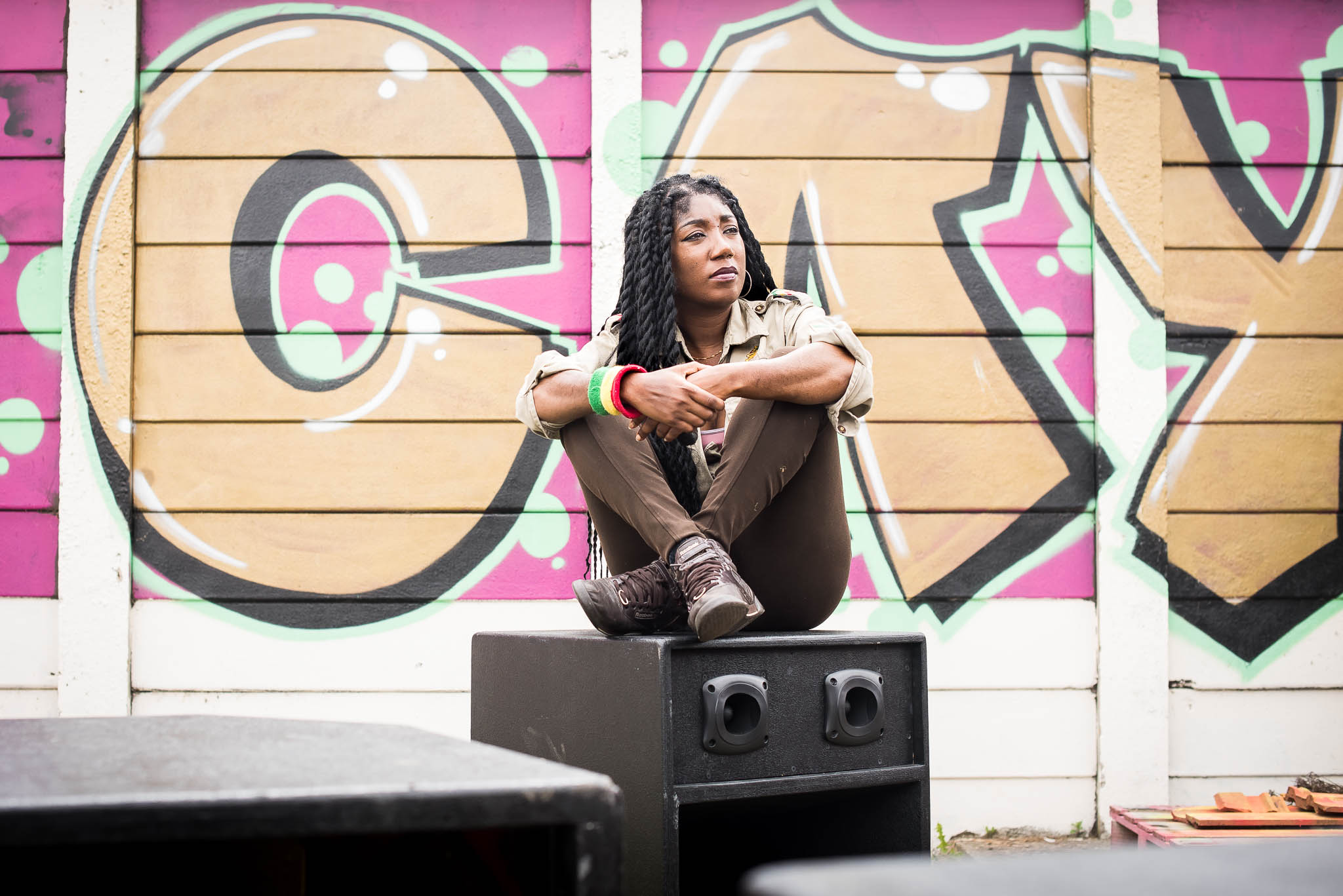 Thali Lotus – CAYA sound system (Bedford, founded in 2016)
Thali Lotus had a spiritual awakening when she discovered reggae music through the legendary Channel One sound system at Carnival. "I really felt I had met my people. Then I had a dream that I started a sound system," she says. This is an experience shared by plenty of Carnival-goers, but unlike many women who fall in love with reggae, Thali actually founded her own sound system, CAYA -- Come As You Are.
Now with her own sound -- after researching and seeking advice from the likes of Sir Coxsone, and working with box builder Steve B, carefully selecting the technical make-up of her sound and understanding the history of the design -- Thali plays dub, roots and culture reggae. These are genres she believes best serve the aim she has with CAYA: "I really felt I wanted to liberate people through conscious music, something that's non-judgemental and still very relevant today," she says.
There are sides to sound system culture – the competitiveness of the dance, and the idea that there has to be a 'number one'-- that Thali doesn't embrace, because of her unifying approach. Despite this, she says she hasn't come up against any barriers or negativity from the existing scene, and definitely no pushback concerning her gender. The only thing Thali has noticed as a woman playing sound is something from within herself. "Playing sound system it's really weird, it's almost like I'm gender fluid," Thali says. "Like, I've never worn a dress when I play on my sound, even though I wear dresses other times. It's almost like I can't take that final step and play in a feminine state."
However, she does embrace her gender as a sound woman, and it forms a focal point to her work. "I feel as a woman, playing sound is phenomenal thing," she says. "I try to play as 'femininely' as possible, despite it being a very male dominated arena." In fact, CAYA is not only a sound system, it's more an ongoing project, celebrating and fighting for women. Thali is planning on creating an installation/exhibition with her sound, exploring activists like Nanny of the Maroons, an 18th century rebel who escaped slavery and was instrumental in overthrowing the British, born in Ghana but taken to Jamaica. She also plans workshops for women and girls on technical learning and spiritual awareness, and is working with the charity Womankind to improve the lives of women in India.
"I think people, more and more everyday, are becoming conscious of the stereotypical role of the woman and how unfitting it is in the modern day," Thali says. "All I hope is that through the sound system all people are inspired to be the best version of themselves, and come as you are."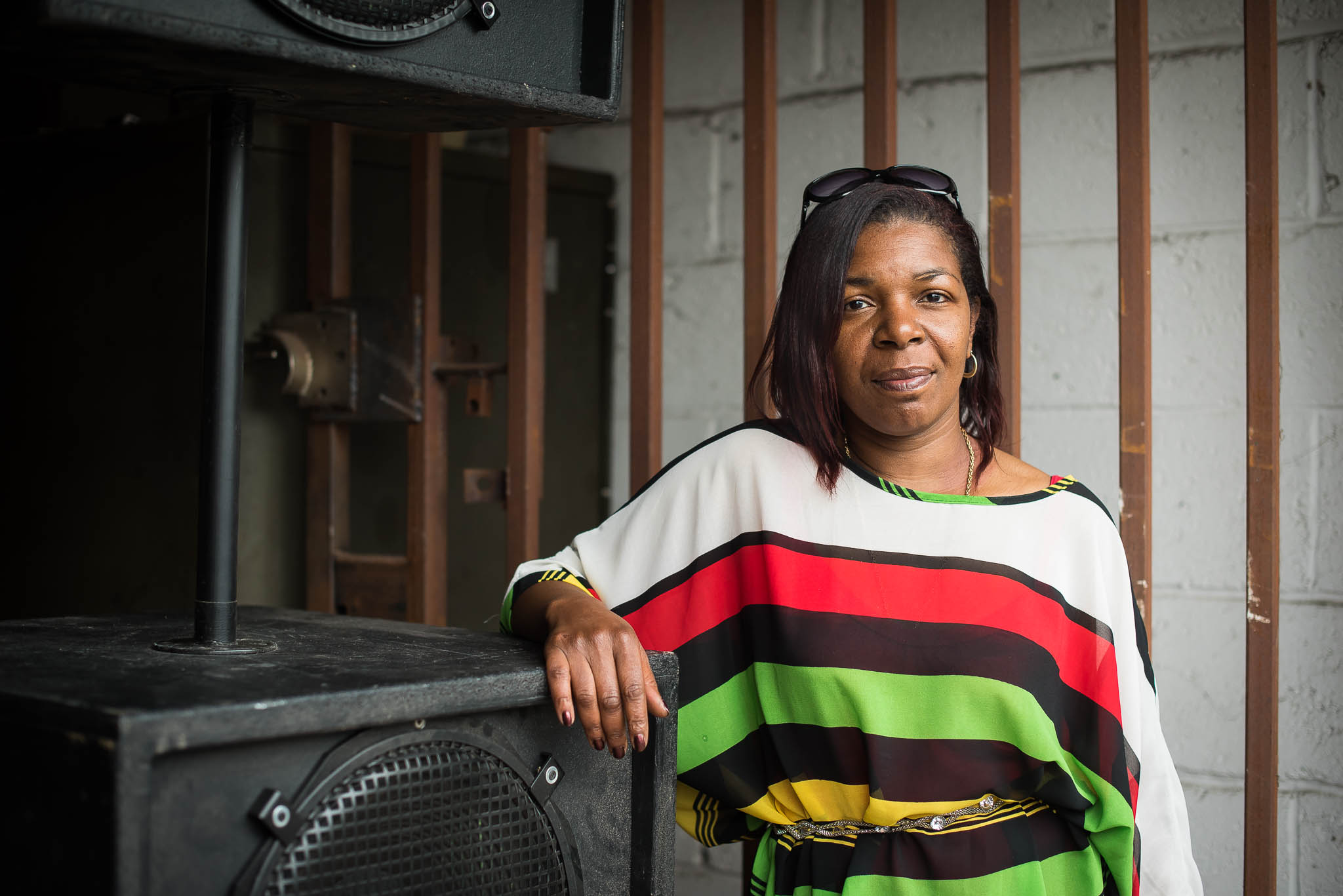 April Grant -- of Rebel Rock sound system (Birmingham, founded 2014)
April "Rusty Rebel" Grant was a radio DJ for 30 years, and studied sound
engineering after leaving school. She was always been interested in the technical side of playing music and in the equipment, so operating her own sound was a natural next step: she founded Rebel Rock three years ago.
Rusty plays roots music, a tradition that's important for her to push forward as a member of the new sound system generation. "I grew up with it [reggae], but didn't pay attention to it back then. Now I've got older and I've kind of slowed down, I appreciate and listen, and really hear what's going on," she explains. "Hearing more and going digging for older stuff has really opened up my interest, and I do feel a real connection with the music."
Being among the first, if not the first female sound system owner and operator in the UK, April is a key part of pushing forward greater gender diversity in the scene, encouraging and helping more women play out on their own sounds. She's even had other women (including the operators of CAYA and Mousai sounds) play with her on Rebel Rock. "I think us females playing together creates a real feeling of camaraderie and team spirit."
April thinks having more women on the scene is starting to challenge some of the long-held competitive elements of the culture. She says, for example, sound men often overrun their set times in contrast to women, who stick to them -- "It's an ego thing." She also says that men create a different vibe to women at dances: "They say, 'We've always done it this way, so we'll carry on doing it that way' -- they feel it is their own space, no one else's. It's territorial for them. They have a different way."
April says she hasn't experienced any problems specifically due to her gender, but that men are often surprised to see her and the quality of records she brings along. At vinyl dances, men are taken aback by her skill and selection -- always asking, "What are you doing with those records?" But this is something April relishes: shocking them like that, she says, feels fabulous.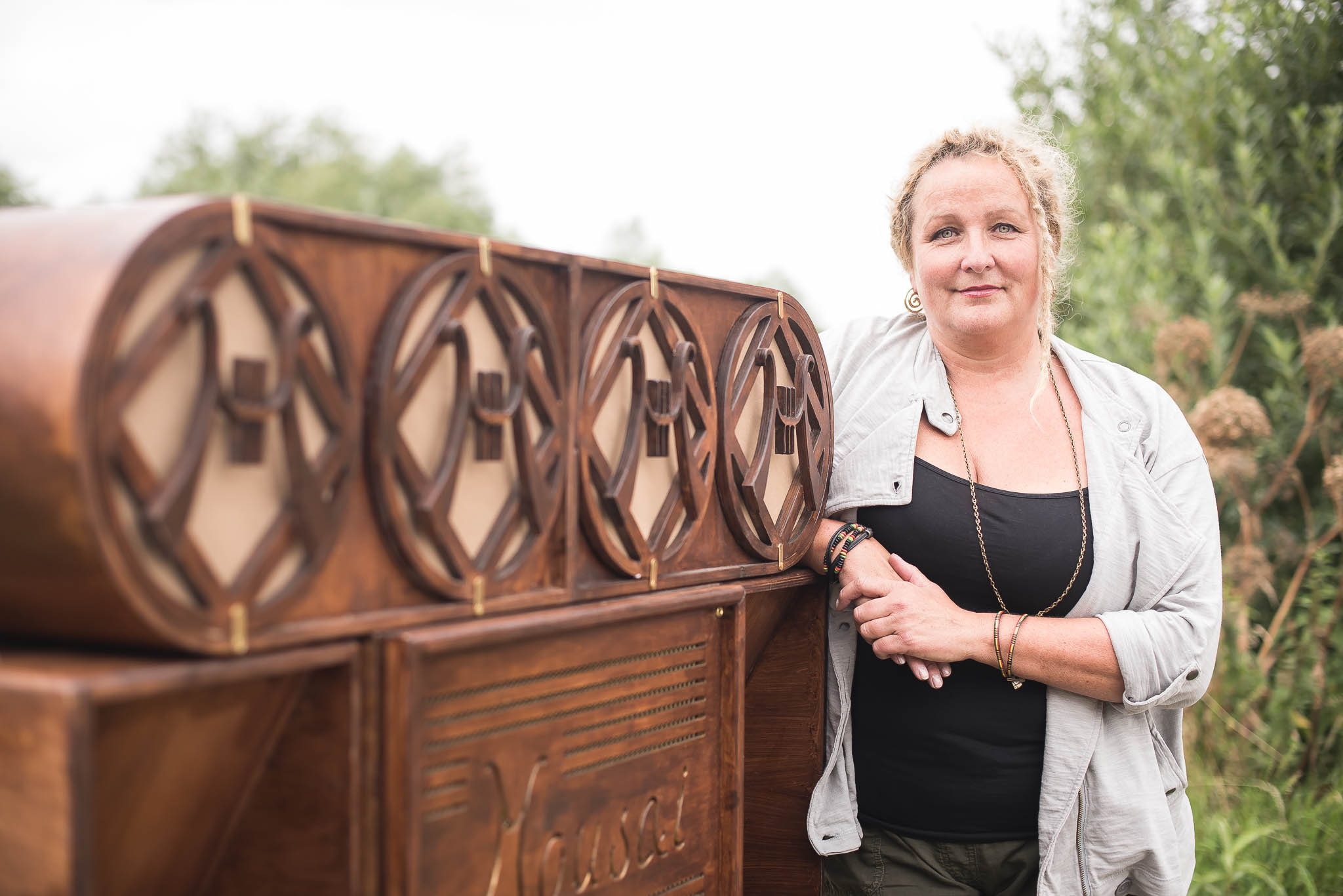 H – of Mousai sound system (Leicester, founded 2016)
From Denmark originally, H associates the Danish concept of 'Janteloven' when she thinks about reggae: a notion of collectivism, of appreciating one another and treating everyone (including oneself) as equal to each other. This message is a tradition she keeps alive while breaking the scene's barriers in other ways.
H was inspired to found her own sound, and coming from a mechanical engineering background this also meant building it herself. She had a strong idea of what she wanted -- a vintage look and style – and set about studying sound system designs and trawling eBay for original music boxes and very old record players. It's a look and feel that she believes reflects the message of the music she plays. "Mousai is the image of warmth, friendly vibes and smooth round curves," she says of the end result. "I see people trace their fingers along the grills where the special logo is cut out, as if they need to touch to believe."
Despite having a traditional aesthetic, Mousai is a physical step forward in terms of wider sound system culture: it's a 12 volt sound, a portable mini rig system, a setup that is technologically innovative but also is only just beginning to find acceptance and be taken seriously by the wider sound system scene. H is a vital part of that change, and has founded events specifically for this type of sound, such as Middle Earth Dub festival in Leicester.
H is also of Northern European heritage -- a sign of the way the sound system scene is becoming more inclusive in terms of ethnicity. While previous generations of sound men were mainly made up of those with Caribbean heritage, the new generation is being led by people of all backgrounds -- something explored and highlighted in the upcoming photography show that H is a part of.
H says she has ambitions to build a bigger version of her sound in the future, which will mean new, different venues. Whatever she does with her sound though, reggae music will be at the centre of her approach. For H it symbolises a fight for freedom and standing against oppression, about accepting everyone as equals. "People can use reggae music to fight oppression; it's a way of uniting people in a non-violent way," she says. H thinks of music as being a universal language that all people can comprehend and appreciate -- even if they can't understand the words.
Let's Play Vinyl is produced by community organisation Let's Go Yorkshire, which focuses on aspects of cultural heritage largely hidden from and unrecorded by mainstream history.
Leicester: Saturday 14th October 2017 – Friday 24th November at Attenborough Arts Centre, University of Leicester. London: Wednesday 10th January – Monday 12th February 2018 at Stuart Hall Building, Goldsmiths University of London. Birmingham: Wednesday 21t March – Thursday 5th April 2018 at Parkside Building, Birmingham City University. Huddersfield: Thursday 10th May – Friday 29th June 2018 at Creative Arts Building, University of Huddersfield.