riccardo tisci unveiled a new dawn of luxury
A vision of post-Brexit Britishness and a proposal of what luxury should be in 2018.
|
17 September 2018, 6:21pm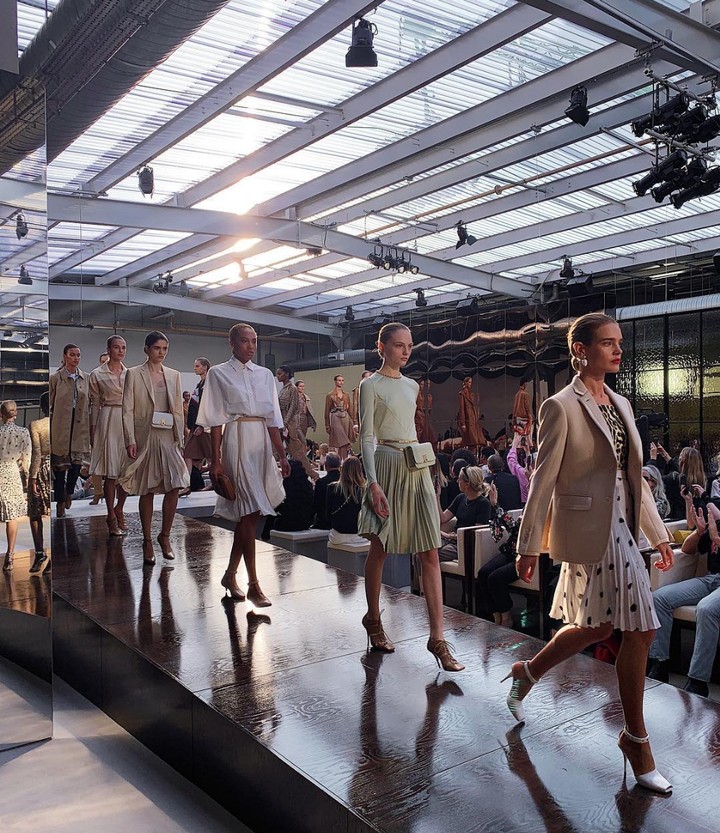 In one of the season's most hotly anticipated battles between two artistic director heavyweights, Riccardo Tisci strikes the first blow.
Ever since his surprise announcement back in May, the industry has second-guessed just how Riccardo Tisci would reimagine the British luxury house that Christopher Bailey transformed. Would he apply the same sensual and subversive approach he used at Givenchy, build on Christopher Bailey's 17-year resurrection and revitalization, or take us in a completely new direction? Back in April, his Insta Stories unveiled the brand's archive-inspired, Peter Saville-designed B logo and monogram, which has since appeared everywhere from street corners to newspaper spreads. Looking beyond Bailey's recent reign, it looked as though Tisci had immersed himself in the 162-year-old archive in order to make his mark on its exciting future. In July he announced that he would be collaborating with Vivienne Westwood -- "She was one of the first designers who made me dream to become a designer myself… she is a rebel, a punk and unrivaled in her unique representation of British style," Tisci explained in the press release. Then, just last week he shared his first item, taking to Instagram once again to post a selfie wearing a new logo-adorned T-shirt that was only available for 24-hours. This social media-driven drop suggested that he would be rebuilding his own dream Burberry house on the pioneering technological foundations that his Yorkshire-born predecessor had laid.
Today, 17 September, the social media hype machine was temporarily paused as Tisci took us on the first through the keyhole viewing inside his new home. Against the backdrop of the shiny new US Embassy inside the under-reconstruction South London Mail Centre, Tisci invited us to a darkened space. The tease. The roof covering soon peeled off and the afternoon sun flooded the venue. Newness was revealed. It was like that moment at a house party when you dance your way into a new day, but everyone still looks beautiful.
And we mean everyone. A total of 138 looks. From Stella Tennant in updated classic country Burberry to Jourdan Dunn in reimagined punk-meets-Harajuku Lolita, city boy commuters to Gen Z streetwear kids — 'Who Killed Bambi' T-shirts and laser-cut logos, this was cross-generational, 360-degree, no-fur luxury. There were frequent flashes of the Burberry check — toyed with at times, most interestingly when it became stripes with the removal of the horizontal lines — and burgundy passports hung around the neck -- Tisci was playing with the house codes, and playfully questioning what Britishness means today.
This article originally appeared on i-D UK.