10 things you need to know about claire laffut
Meet the Paris-based model, painter and singer as we introduce her new music video.
|
17 September 2018, 3:59pm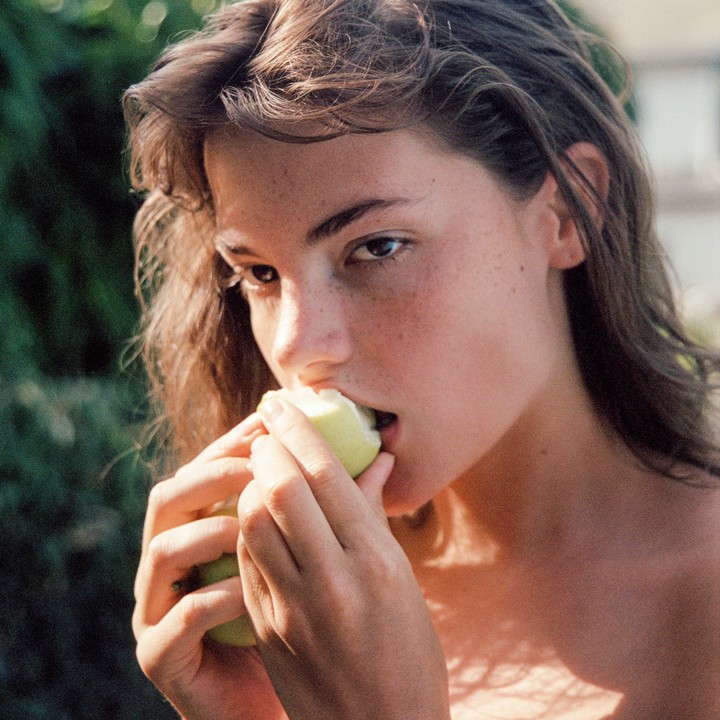 Courtesy of Claire Laffut
You might already recognise 24-year-old Claire Laffut. Not only is the Belgian beauty the face of CHANEL's new Gabrielle campaign alongside Caroline de Maigret, Kilo Kish and Adesuwa, she's also a hugely talented painter and is currently causing a stir in Paris after revealing that she can make bloody good music. A big fan of King Krule and Sade, Claire's sound is classic French chanson realised in full colour for 2018, then infected with her lust for life.
Keeping things nice and conceptual, Claire has decided to create a painting and/or piece of furniture inspired by each song on her forthcoming debut EP. Super-fans can collect them all! The introduction to her musical universe came a month back via a pop-y first single Vérité (complete with a six-metre-long painting). She describes her second release, Mojo, as more explosive. "Mojo is the natural attraction you have when you are surrounded by good energies," Claire told us over email. "When you are positive, you attract beauty. Mojo is the magic in the lyrics. It is the first time two lovers meet at a party. For me, my mojo was a boy. My boy. My lover, Dylan. I started music when I met him."
The accompanying music video -- dreamed up by Claire and directed by The Bardos -- is all about expressing yourself. Jumping between cornfields and a fancy apartment, we join Claire as she dances about surrounded by her own reanimated artwork, a grand piano, and her real life boyfriend cast in gold. It's a real art adventure. Watch it, then get to know the multidisciplinary artist below with these 10 fun facts.
1. Claire is 24, and she feels it.
"I feel like I'm becoming a grown-up woman. I'm still messy but probably more self-confident than when I was younger."
2. Her earliest music memory is listening to Daft Punk in her dad's Porsche.
"He had a white Porsche 944 and he loved to play Daft Punk in it. Or maybe it was the time my mom caught me by surprise dancing to Britney's Slave 4 U in my room with very explicit moves when I was seven. We listen to a lot of techno in Belgium too, and I like the intensity of it. My auntie was a DJ and my dad is madly in love with vinyl. Each morning he'd play Pink Floyd, Fela Kuti or Black Slate."
3. When somebody asks what kind of music she makes, Claire gives them this recipe.
"Music from a Belgian kid: childish, sweet like a lemon tart with a meringue topping. I mix this with a small touch of soul and African rhythms, fresh pop filled with bossa nova and jazzy notes. Because I love dancing, and I also love the heat."
4. She grew up in an old house in Walloon Brabant, deep in the Belgian countryside.
"There was a big white dog called Blake, some beautiful trees and a huge toboggan slide, which I mention a lot in my songs. The atmosphere and people were kind of modest, so I guess making art, writing songs and dancing was my way to break out of this shy bubble. I feel like in this region a lot of adults still haven't figured out where their scars come from. Belgium has the loveliest people but sometimes it's too small for you to spread your wings and dream big."
5. Claire knows the importance of following good advice.
"My father told me to not be afraid of shocking people."
6. She reckons her music would be good on a movie soundtrack. We agree.
"Vérité for La Vérité by Henri-Georges Clouzot. And Mojo for either Blue Lagoon or Et Dieu créa la femme."
7. She has a lot to say about expressing emotions through art.
"I mostly believe that emotions are like brain synapses: one emotion leads to another and this is what I like to express in my paintings. But emotions can also hide what you're really feeling. This is where it gets very tricky and interesting. When I'm in the studio, chords lead me to a certain emotion and then, once the song is finished, I add the colours. It can be nostalgia, anxiety, happiness or just attraction. I think it's best when I write a song and suddenly remember an intense emotion that I've forgotten for too long. Putting words to this feels really right."
8. The fictional character Claire most relates to is Neve Campbell in Wild Things.
"Because she's wild, boyish and poor at the beginning of the movie. She ends up being the smartest and richest girl!"
9. She launched her own line of temporary tattoos this year, but doesn't have any IRL.
"When I was younger, I always wanted to be a tattoo artist with no tattoos."
10. She has lived in Paris for six years now, and has good travel tips.
"Go to the Square Rousseau or Miznon restaurant. I hate shopping centres and the worst metro station is called Les Halles, so avoid them! Instead, walk around the city alone with your headphones and your favourite music by night."
Claire Laffut's debut EP is due for release on 9 November.
Tagged: