Photography Mitchell Sams
a brief history of kids on the catwalk
What's behind this season's youngest trend?
|
26 September 2018, 9:37am
Photography Mitchell Sams
As most great fashion things do, this all began with Martin Margiela. Back in 1989 the enigmatic Belgian designer staged a show in a Paris playground and invited a group of local kids to sit FROW. It became one of the most mythic and mysterious and feted shows of all time, after the kids stormed the runway, joining the parade of models.

Fashion is usually a very serious and stern business, and kids puncture that aura effortlessly. They bring smiles and joy and elicit some deep primal emotion in all of us. Margiela is just one example -- although maybe the most famous -- of kids on the catwalk. And it is everywhere we seem look during this season's show. We've had actual babies, pregnant models, mothers at metaphors and kid orchestras. But why?
Margiela's old boss, Jean Paul Gaultier, has created two of the most iconic baby-catwalk moment. In his spring/summer 95 show, Madonna pushed an antique pram down the runway from which she lifted a puppy, arguably the only thing cuter than a baby.
More recently Jean Paul Gaultier graced the catwalk with a pregnant Jourdan Dunn in his spring/summer 10 show, and cult London brand New Power Studio sent out a model wearing an oversized rucksack made entirely from rubber gloves, that contained a small child. Their spring/summer 11 show. Karl Lagerfeld can usually be found taking his bow at a Chanel finalé with a child in hand.
But are babies crawling and gurgling all over the catwalks a meaningful way to bring a level of intimacy and realness to the designers' collections or just fashion's latest veneration of the spirit of youth?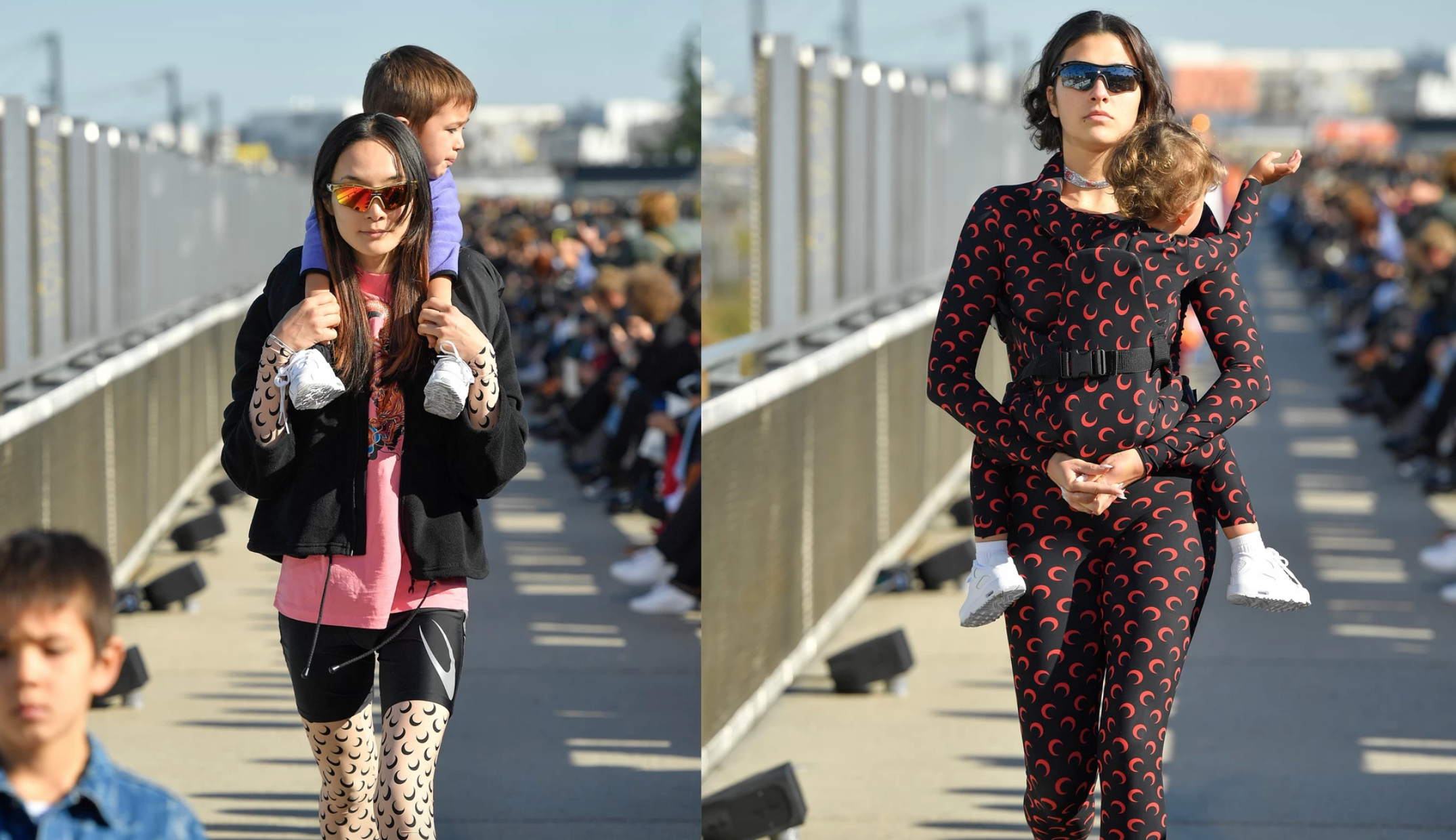 It was Marine Serre's Hardcore Couture spring/summer 19 collection, shown in Paris yesterday morning, that cemented it. In it the young French designer showcase her signature crescent moon prints on a baby carrier (complete with a baby inside). The collection notes spoke of the importance of not compromising, and of how we must "stick with it with resolution, persistence, and love." Alongside the baby in the crescent moon-print baby carrier were toddlers carried on the shoulders of their parents; the goal of Marine Serre's runway was to place couture in real, everyday life.
Eckhaus Latta's show was soundtracked by an orchestra of children banging on drums, lending the collection an air of innocence and childlike wonder. And elsewhere at NYFW, there was an actual birth, with i-D cover star and Rihanna muse Slick Woods going into labour just 14 hours after walking Riri's Savage x Fenty show.
Pregnancy was there at Gareth Pugh's show in London, too. Although the 'mother' closing his spring/summer 19 show was a metaphor rather than an actual model with a bun in the oven. The show was a powerful salute to the creativity of outsiders and was steeped in ballroom culture's extravagances and sense of community -- the matriarch as leader, provider and protector.
More literal was last season's Balenciaga menswear show, which featured a parade of IRL dads on the catwalk. Fathers and children strolled hand-in-hand down a green path in the Bois de Boulogne; "These are those same men, out of the office, relaxed and observed at their happiest," confirmed the show notes.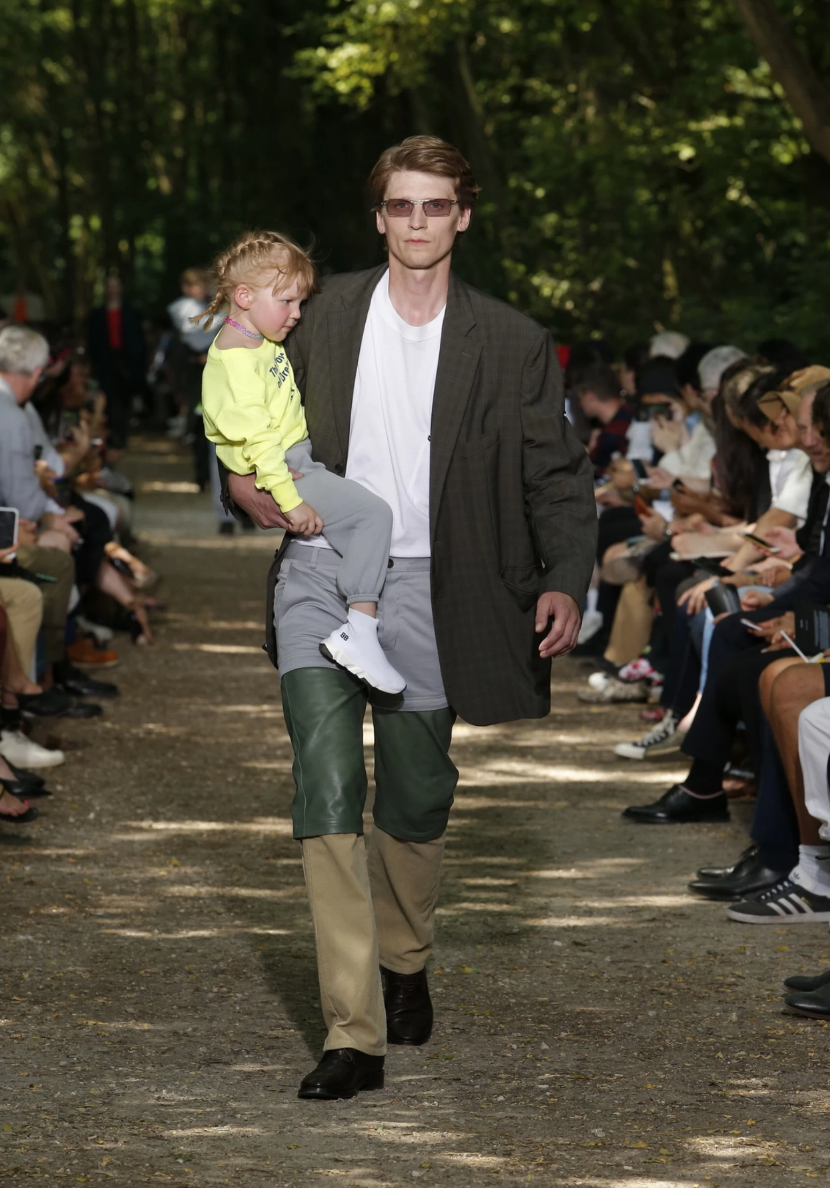 More generally, parents in fashion have acted as symbols of stability and care in unstable and uncaring worlds. But for spring/summer 19 it feels like these designers are looking towards parenthood in more functional terms - after all, the functionality of fashion is a hot topic on the catwalk right now. Where sturdy trainers, bike shorts and rain-macs were once the preserve of mums and dads, now these staples permeate through many of the oldest, high fashion houses' collections.
To progress that one step further, Marine has taken the motif of practicality and parenthood and examined it in a literal way -- taking a trend and grounding it in reality. Here's to more moments like this happening in fashion.