we got @thedailybulge to choose their top five dick pics
Hold onto your knickers ladies, it's time to objectify the objectifiers.
|
23 November 2017, 10:22am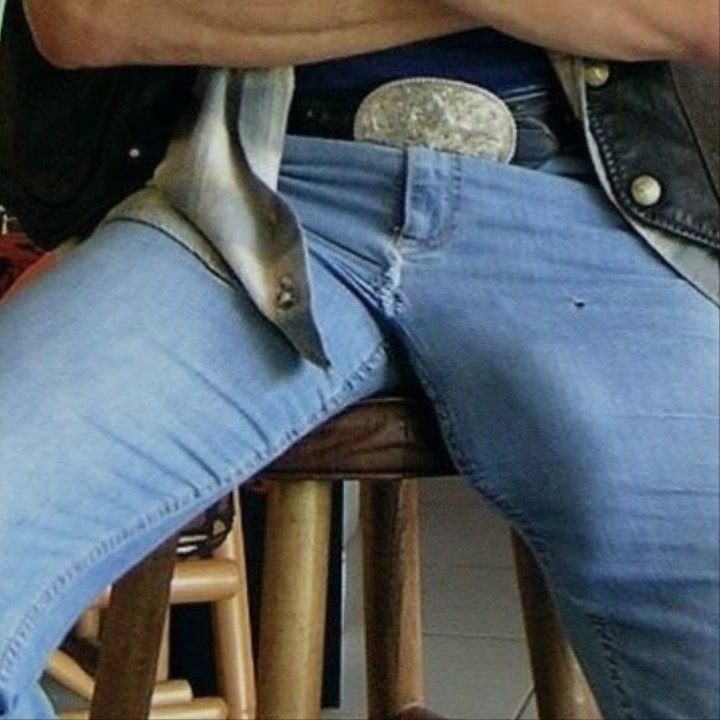 Image via Instagram
In a weekly column, we profile the profiles you weren't lolz enough to come up with as they pick their top five posts and share with us some of their Insta know-how.
Bulges are a fraught subject. Whether it's tits or arses or that little pot belly you get when you inhale a Tesco's Finest pepperoni pizza post pub, they are are literally and metaphorically a turbulent territory to navigate. One minute Kimmy K is breaking the internet with her large, latexed tush, the next the New York Post are broadcasting that omg boobs are totes back in fashion hun!
Don't even get the tabloids started on cellulite, obviously a Terrible Affliction that should be flattened out immediately with an actual iron, probably. Thrilling to know that the combination of your genetic make-up and predilection for pints dictate whether or not you'll be en vogue this season.
Unfortunately, like most body related 'issues' it's women who bear the brunt. It's our bulges that typically get fetishised and objectified. Kati and Juan of The Daily Bulge recognised this, and rightfully stepped in with an Instagram entirely dedicated to the exquisite rotund perfection that is the penis bulge. "Where," they demanded, "where is the Instagram account full of men with enormous bulges that would make my boyfriend-du-jour question his desirability?" Exactly. If us women have to be scrutinised, why can't we turn a leery lens on the lads? It's only fair.
They label their 'gram as "Equal parts penis envy, perversion, and pure appreciation for the male form." The pair have scoured the history books to bring us the best of the bulgey bunch, each drawing on their own "special bulge flavour". Think: David Bowie's spandexed front lump in the Labyrinth. Think: a young Tom Selleck straddling a surfboard. Think: every male ballerina ever.
We got them to pull together their top five bangers for your viewing pleasure. A highlights package, if you please.
5. Bruce Dickinson
"I was lounging poolside in Miami in February 2016 when I got a notification on my brand-new bulge Instagram from Juan Montoya of @montoyablackmagic. His instagram account is fairly legendary, especially in Atlanta with his eclectic mix of rock 'n' roll, culture, and original art. Attached was this magnificent photo of Bruce in all his glory. At this point, the Daily Bulge had maybe 100 followers, so getting a submission from @montoyablackmagic was basically a celebrity endorsement to me. Juan and I both lived in Atlanta and knew some people in common, but had never met each other before. As luck would have it, Juan was also in Miami that weekend so he invited me and some friends to join him for ice-skating and drag show bowling while being serenaded by Miami bass music. Just imagine me explaining to my friends that firstly, I run an Instagram account that catalogues mens' bulges, and secondly, I'm meeting up with a stranger I met through it to go ice skating in Miami. Thankfully, my friends are just as insane as me."
4. Paul Stanley
In a band as outrageously styled as KISS, it can be hard to stand out. Amidst all the glitter and facepaint,
Paul
's package still manages to command your full attention. And I can assure you: that beef is all-natural. I received a titillating DM from a loyal follower claiming she'd "had him" in the 80s. "He was incredible," she wrote, "and much better looking naked!" Tell Gene to put his tongue away -- I'd rather have Paul in my
Tunnel of Love
."
3. Robert Plant
"HE KNOWS YOU'RE LOOKING! I mean, that little smirk on his face, the giant belt buckle, where he has his hand. It's huge, he knows it's huge, and he wants you to know it's huge too. Jack White (who coincidentally also has a great bulge himself) once said, "Well, I sorta don't trust anybody who doesn't like Led Zeppelin." I'd like to add that I don't trust anybody who says they haven't stared at Plant's impressive appendage. I didn't grow up knowing about Led Zeppelin (we were more of a Hall and Oates family), so I didn't feel the full force of his bulge until I was a grown woman. If that stairway leads to heaven, I think I know what the angels are singing about."


2. Prince
"Such a small man, such a large package. Prince is always pure sex, but in this picture in particular it's almost like you can smell it dripping down his body. Prince embraced his androgyny, always straddling the line between masculine and feminine. Perhaps it's his softer side that makes his bulge all the more startling. Whether you're a boy or a girl or somewhere in between, this purple rain is guaranteed to get everyone wet."

1. David Bowie
"Jareth the Goblin King and the bulge that launched a thousand puberties. I was born in 1984 so it's not like I was around to appreciate the many previous iterations of Bowie as they happened. The first Bowie I ever laid eyes on was in a so-called children's movie about puppets and a lost little girl who is teased and tantalised by a sexy, malevolent goblin king. I'm sure there are deeper metaphors about home and family and independence that the film's writers were trying to convey, but I couldn't hear a word over the noise of that bulge. It was the first time I looked at a man's pants and really asked myself 'What the hell is going on down there?' It's a question I've been trying to answer ever since."
Bonus Bulge: David Lee Roth
"They asked us for five bulges, but what can I say -- The Daily Bulge always gives an extra inch or two, just like David Lee Roth in some eye-popping leggings. Did you feel something in your pants just jump? Of course you did. If Diamond Dave's bulge could talk, it would probably tell you that it was inspired by the size and style of Jim Dandy from Black Oak Arkansas. In fact, when Dave stole Dandy's look, he may have stolen his mojo too. Don't worry Jim, the Daily Bulge loves you too. You showed Dave how it's done, and we'll always be hot for teacher."